Apples Medley Salad is a healthy, nutritionally Balanced, High-Fiber, Low-Sodium, Vegetarian salad full of interesting flavors. Fresh Fuji Apples and sweet Medjool dates combine with juicy Pomegranate seeds, Greek Yogurt Cinnamon dressing and sliced almonds for a flavorful, colorful, delicious salad.
This recipe is an excellent choice for a side dish, light lunch, or snack! Browse in our recipe Sides index for other salads, sides and lunch ideas!
Fuji apples are the main ingredient in this recipe. Tart apples provide sweet-tart crunchiness. Juicy bursts of tart pomegranate seeds and sweet, creamy Medjool dates add more flavor and texture! Sliced almonds and Greek Yogurt Cinnamon Dressing complete this healthy salad.
I'm a homegrown, local sort of person. Buying and using exotic fruits and foods grown halfway around the world has never been my thing.
Pomegranates and Medjool dates are definitely a recent and welcome exception. They are winning a place in my family's heart. We all love them now. If you've never experienced these yummy fruits; I highly recommend them to you!
[tweetthis hidden_urls="pic.twitter.com/lJ6Qyq2R45″]Apples Medley is #healthy #HighFiber, #lowsodiumdiet #Vegetarian #salad[/tweetthis]
Medjool Dates and pomegranate seeds pair well in recipes. The sweet-tart combination of flavors satisfies the palate and adds interest to many recipes. They are so good together! Delicata Squash Sauté is another healthy, yummy side dish using this flavorful combination.
The hardest part of making Apples Medley Salad is getting the seeds out of the pomegranate! I'm finding it gets quicker with practice. At first the seed chambers baffled me. So many seeds contained in one pomegranate! Those stubborn seeds are hidden in the white pith of the pomegranate. They require a bit of hunting and cajoling to release them. Worth the process though. The pomegranate seeds are essential tangy bits of juicy flavor in this salad. And they provide beautiful color!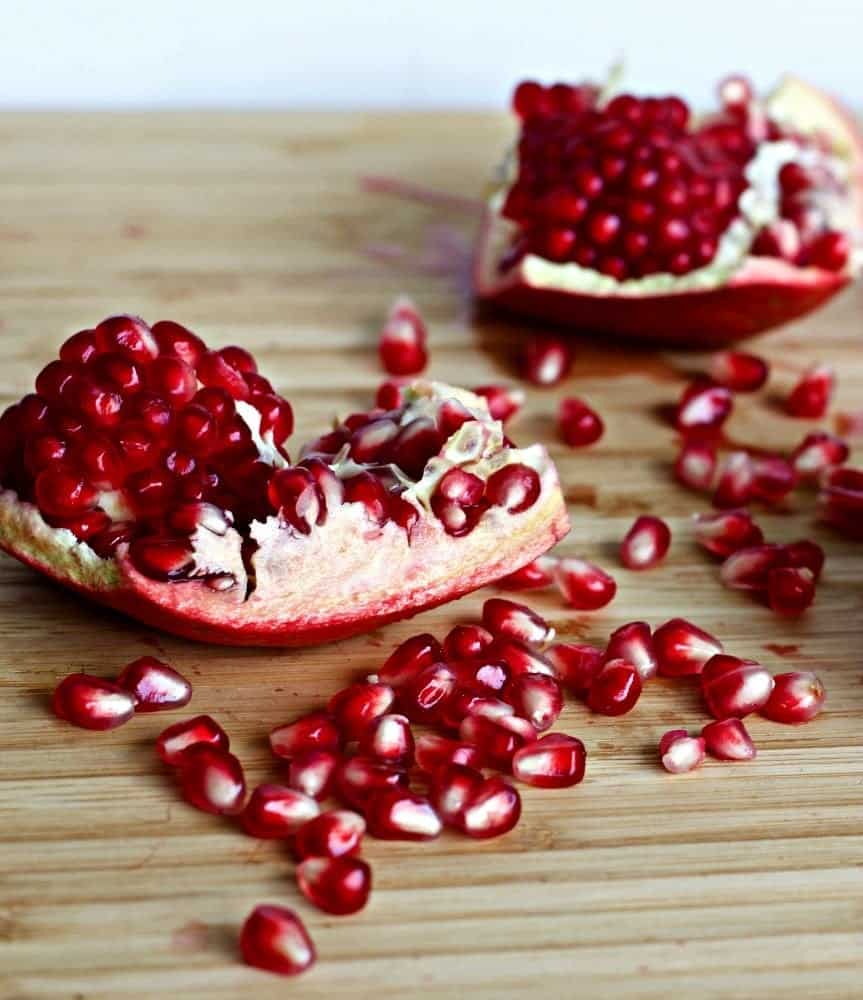 Here is how to deseed a pomegranate!
Pomegranates are designed in sections. The trick is to uncover those section pith lines. Cut through the tough outer skin in a circle about 2 inches from the end. Peel off that skin and the pith until you see the seeds and the pith lines. Now, make shallow cuts down the skin side where the pith is. Break the pomegranate into sections from the top down and pull out the seeds from each section.
If you really hate digging around in pomegranate. See if your local grocery carries harvested pomegranate seeds in containers. But fresh is best!
Apples Medley Salad Recipe:
Apples medley salad offers great crunch. It has excellent nutrition and a creamy, delicious Greek yogurt Cinnamon dressing. This salad takes less than 30 minutes to make. The dressing can be made ahead and stored covered in the fridge if you prefer.
Don't chop the apples until LAST. Otherwise they will brown before you use them. Don't soak them in lemon juice. They will get too wet and the salad will be runny.

Make the dressing before chopping. You can set it aside while you chop or put it covered in the fridge if you make the dressing ahead.
Chop the dates. they will clump together in a gushy sweet pile. Be prepared to separate them as you combine the salad.
deseed the pomegranate
Now Chop the apples
Combine the apples, dates and pomegranate seeds in a large bowl. Separate the dates so they mix well throughout the salad.
Pour on the Greek Yogurt Dressing and gently stir until thoroughly mixed.
Serve as a side or light lunch
NOTE: This time I made the salad dressing with Grace harbor Farms Cream Top Yogurt . Very rich, full fat thick yogurt! It held together well in this dressing recipe. Message is: A Good quality full fat thick yogurt will work.
I have reprinted the Greek Yogurt Dressing recipe in the printable recipe for you; for your convenience. It's a perfect compliment to this salad!
Please let me know if you have any questions in the comments. I will answer! What is your experience with this and any recipes on our blog? Your input and questions are highly valued.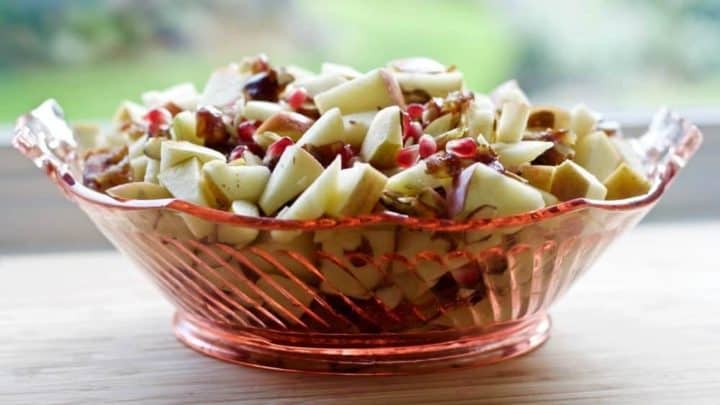 Yield:

10 servings
Apples Medley Salad
Fresh Fuji Apples and sweet Medjool dates combine with juicy Pomegranate seeds, Greek Yogurt Cinnamon dressing and sliced almonds for a flavorful, colorful, delicious salad.
Ingredients
(For the dressing)
2 Cups plain yogurt
1/4 Cup maple syrup
1/2 tsp. vanilla
1/4 tsp. almond extract
1 tsp. cinnamon
1/2 Tablespoon apple pie spice
(For the salad)
8 Cups apples, cored and chopped- leave skins on for color
8 Medjool dates, seeded and chopped into small pieces
1 Cup pomegranate seeds
1 Cup sliced almonds
Instructions
In a large bowl add dressing ingredients and whisk together and set aside. This can be made ahead and store in the fridge
Prepare salad ingredients as instructed in the ingredients list and put all into a mixing bowl
Pour the dressing over the salad and mix well
Serve immediately or refrigerate in an airtight container
Different apples with different sweetnesses require you to adjust this recipe to your taste. Do that by adjusting the sweetness of the dressing
Nutrition Information
Yield
10
Serving Size
1
Amount Per Serving
Calories

233
Total Fat

7g
Saturated Fat

1g
Trans Fat

0g
Unsaturated Fat

5g
Cholesterol

3mg
Sodium

36mg
Carbohydrates

42g
Fiber

6g
Sugar

34g
Protein

6g
Pin it:
If you are not aware of the nutritional benefits of
pomegranates
and
dates
. Follow the links!