This Baileys Mudslide is a delicious dessert cocktail full of creamy coffee flavor. Whipped cream vodka, baileys Irish cream and chilled coffee make an indulgent after dinner drink.
This delicious cocktail can be enjoyed as an afternoon beverage, or an evening pick me up. The cold coffee can be swapped out for cold brew. This will provide a bigger caffeine kick, so be mindful when you drink it. The mudslide martini resembles the espresso martini, the mudslide has a rich mocha chocolate taste.
This is a great drink to serve at a girls night, or to drink for a pregame prior to going out for the evening. The caffeine in the coffee will keep you going in the evening.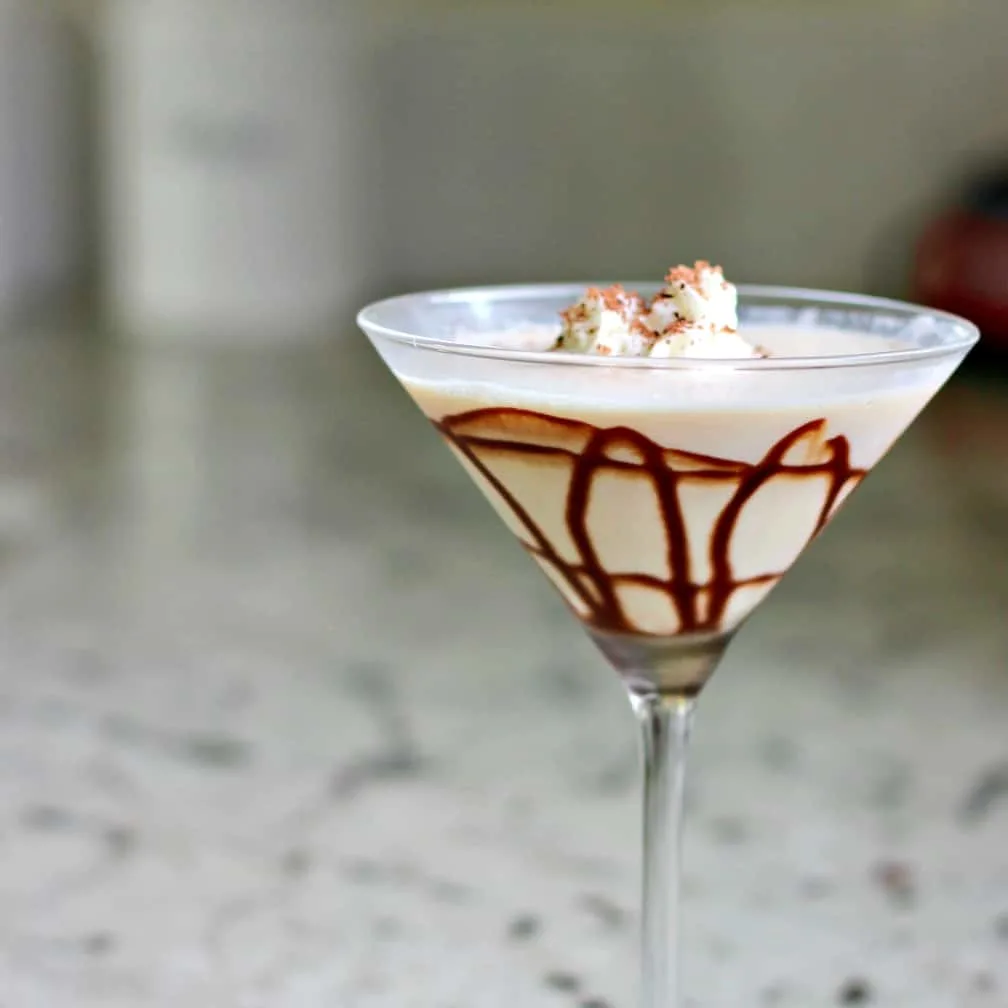 Have you ever made a whipped cream Vodka recipe? This is my first. I'm sold. It's a perfect addition to your cream based cocktails.
Whipped cream vodka doubles down on the creaminess of this Baileys Irish Cream Recipe.
When you are looking to make a creamy vodka martini like this one. The baileys and smirnoff are fantastic together.
The Mudslide Origins:
As legend has it the original Mudslide cocktail originated on Grand Cayman Island at the Wreck Bar on Rum Point in the 1950 era. Someone wanted a White Russian and the bartender had to substitute some ingredients and viola! the Mudslide was born.
The Wreck's recipe (they claim it as the original) contained absolut vodka, kahlúa, baileys or molly's irish cream & ice. They are STILL serving this recipe today.
Looking for more delicious alcoholic drinks? Check out our entire Cocktail Section.
More Delicious Martini Recipes:
Variations Of The Mudslide
The Mudslide has gone through many changes from the original Mudslide which is itself apparently a variation on the white russian.
In my research I ran into many different recipes all calling themselves the mudslide. I put the original recipe up above for you. Here are some variants in case you want to give these ideas a try.
Replace the ice with TWO scoops of ice cream. It's like a super indulgent spiked milkshake at that level. This one will bite you hard but I bet it's fantastic.
Trade out the vodka for a dark rum like Myers.
Use any coffee liqueur or chocolate liqueur.
play with the amounts of all of these ingredients to your taste. OR use our recipe which is lighter and in my opinion absolutely delicious (see it below).
The Kahlua coffee liqueur and ice cream add an over the top hit of alcohol and calories. The vanilla ice cream is well over 100 calories per scoop and the kahlua adds yet another approximately 200 calories for the 2 oz. called for in most recipes. Youch!
Baileys Mudslide Recipe:
Our Mudslide recipe is a lighter variation of the frozen milkshake Mudslide. In both calories and alcohol.
Our Baileys Mudslide Latte Martini in all it's scrumptious glory is under 200 calories with only three oz. of alcohol. Complete. So have two! You'll still enjoy lower calories. Just make sure your not the designated driver. 🙂
NOTE: We did NOT purposely make a low cal or low carb Mudslide. But it is much lighter than the ice cream version. If you want to skinny this drink down further go for it. But this is a perfect blend of flavors we love and don't want to mess with.
Our Coffee Latte martini recipe is made with Baileys Irish Cream. The Whipped Cream Smirnoff vodka works perfectly with the Irish Cream and brewed coffee.
Together they produce the creamy indulgent flavors we are shooting for in this mudslide drink.
The Method:
This is not a blender drink because it's not a frozen mudslide. You need some ice and a cocktail shaker. Shake away!
Garnish Suggestions:
As shown: Chocolate syrup drizzle, whipped cream and chocolate shavings make a pretty drink presentation.
Serve with chocolate covered espresso beans. Put one on top of the whipped cream or serve them on the side.
Try crushed peppermint hard candy at the holidays for fun and extra rich flavor.
Hot Weather Tip! Set your mudslide into the freezer for 10 minutes or so to chill it until it's getting thick. Very refreshing on a hot day.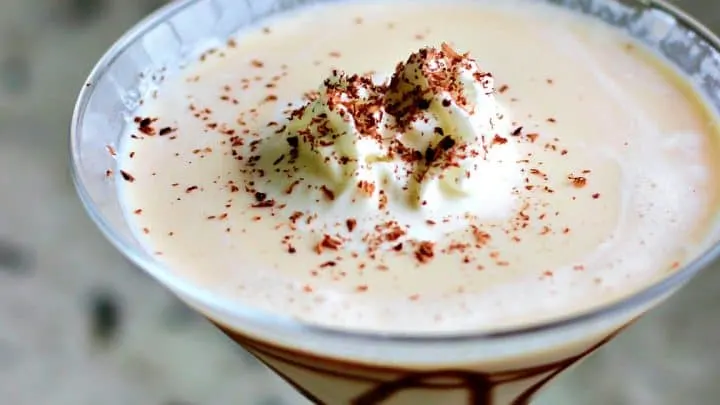 Yield:

1 cocktail
Mudslide Latte Martini
A delicious dessert martini with whipped cream vodka, baileys Irish cream and coffee.
Ingredients
1 oz Baileys Original Irish Cream
1 oz vodka
2 oz cold coffee
2 oz half and half
Instructions
Set out a martini glass
Pour the chocolate syrup (I used Hershey's brand) into a piping bag NOTE: No piping bag handy? you can use a sandwich bag or ziplock bag if they are strong enough. Just pour the syrup into your bag and snip off a tiny corner.
Drizzle the sauce around your glass in an attractive design (see the video). Set glass aside.
Fill your cocktail shaker with ice
Add the baileys, vodka, coffee and half and half into your ice filled shaker.
Firmly press the top onto your shaker and shake for 30 seconds or so.
Strain the mudslide cocktail into your prepared martini glass.
Now Top with whipped cream as shown in our video and shave some Dark chocolate over the top. Perfection!
Notes
Garnish Suggestions:
Chocolate syrup piped around the martini glass in attractive designs.
Whipped cream floated on top of the martini (see video for demonstration)
Shave dark chocolate over the top of the martini.
Serve with chocolate covered espresso beans. Put one on top of the whipped cream or serve them on the side.
Try crushed peppermint hard candy at the holidays for fun and extra rich flavor.
Hot Weather Tips:
Set your completed mudslide cocktail into the freezer for 10 minutes or so to chill it until it's getting thick. Very refreshing on a hot day.
Chill your vodka (you can keep it in the freezer since it's alcohol it will stay liquid.)
Make sure your half and half is also chilled to refrigerator temp.
Be sure to use a genuine martini glass. They are specifically shaped to keep your drink cold.
Recommended Products
As an Amazon Associate and member of other affiliate programs, I earn from qualifying purchases.
Nutrition Information
Yield
1
Serving Size
1
Amount Per Serving
Calories

196
Total Fat

8.4g
Saturated Fat

4.2g
Trans Fat

0g
Unsaturated Fat

2g
Cholesterol

30mg
Sodium

81mg
Carbohydrates

11.9g
Fiber

0g
Sugar

9.5g
Protein

1.8g
Follow Us:
We enjoy meeting you on our social networks. Follow us on Facebook, Pinterest, Instagram . Tag us with your pictures of our recipes and comment on how it went for you. We would love to see what you do with them.
We often like, comment and share your posts of our recipes on our daily Instagram stories.
Ask questions and rate the recipe in the comments section below. Please share what you did with this recipe. We are always looking for more and better ways to make homemade food. Other cooks love your ideas!
Recent Posts: