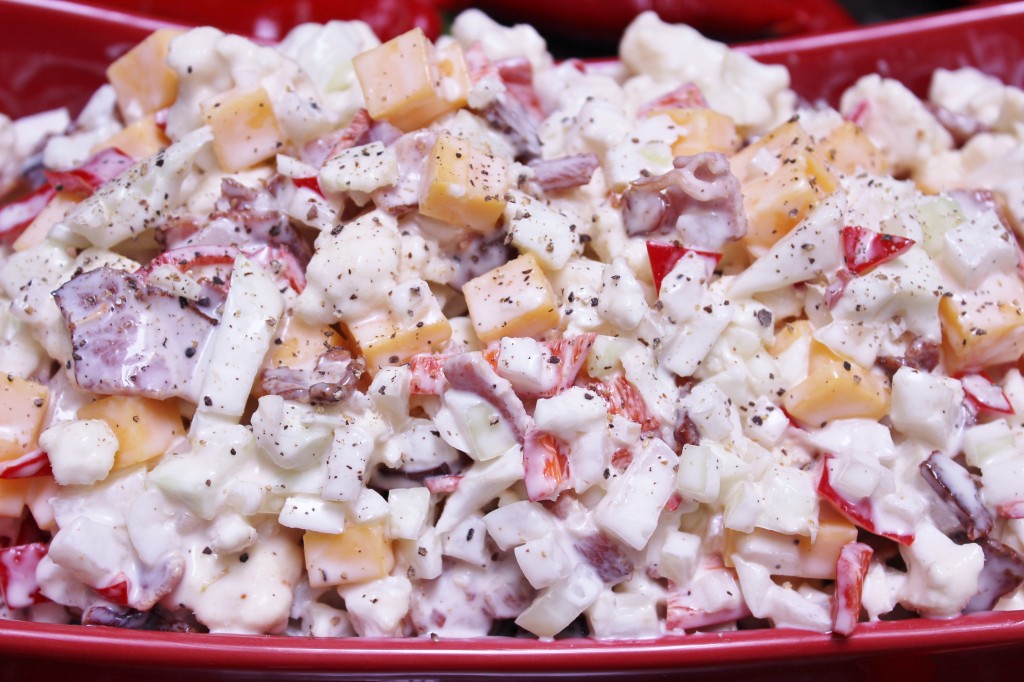 Cauliflower Bacon Salad is an addicting combination of delicious flavors. Cauliflower, bacon, cheese, peppers and onions all combined with a creamy sauce. Absolutely needs to go to your next potluck or grill night as a side. Fantastic!
I discovered cauliflower bacon salad last year when we grew a lot of cauliflower. Looking for ways to use it up; this recipe caught my eye. It instantly became a family favorite.  Put this salad on a potluck table and watch it vanish. I have had requests for this recipe every time I put it out. So here it is. If you haven't ever made this popular salad, give it a try. I think your family will enjoy it.
I can't call this cauliflower bacon salad health food. Even though it's full of lovely cauliflower, peppers and onion. The bacon, mayo and cheese kind of, well really…,what can I say? This is one fattening salad! But it's really, really good!  You want to go easy on the portions of this one if you can. That makes it perfect party food. Great for a large crowd. Everyone gets a little and that's just fine.
Enjoy the flavors, the bacon crunch, and the creamy dressing. Everyone deserves a treat once in a while. this is taste bud heaven!
Total Time: 1 hour, 20 minutes
Ingredients
1 Large head Cauliflower
1 To 1.5 lbs fried bacon medium to crispy
2 pasilla or med sweet red peppers, diced (we are using Krimson Lee Peppers)
1 medium walla walla onion, diced
1/2 Cup cheddar cheese diced
1 Cup mayonnaise or miracle whip
2 to 4 tablespoons sugar
3 tablespoons apple cider vinegar (I use braggs brand. Excellent)
Instructions
Cut bacon into 1/2 inch pieces and fry in a large frying pan until thoroughly cooked. Drain on a paper towel until needed.
Cut the cauliflower head into small bite size pieces cutting the florets tops off and breaking into small pieces. The remainder of the cauliflower dice into small pieces. Put the cauliflower into a large mixing bowl, with the peppers, onion, bacon and cheese.
(for the dressing)
In a small bowl whisk the mayonnaise, sugar and vinegar until smooth. Pour over the salad and mix thoroughly.
Chill an hour, then serve.
Recipe Source:tasteofhome.com