Cauliflower Salad is an addicting, low carb, combination of delicious flavors. Cauliflower, crisped bacon, cubed cheese, diced peppers and onions all combine with a creamy cauliflower salad dressing. It's delicious.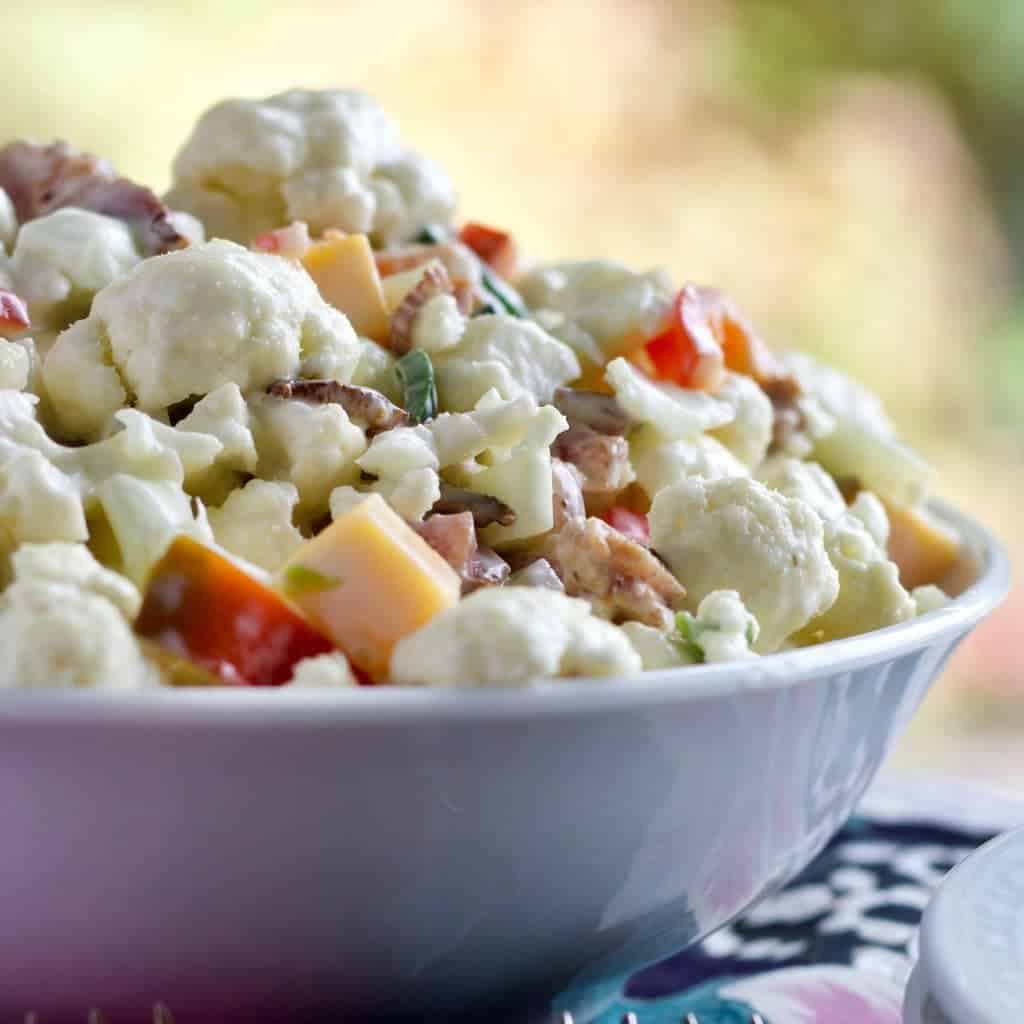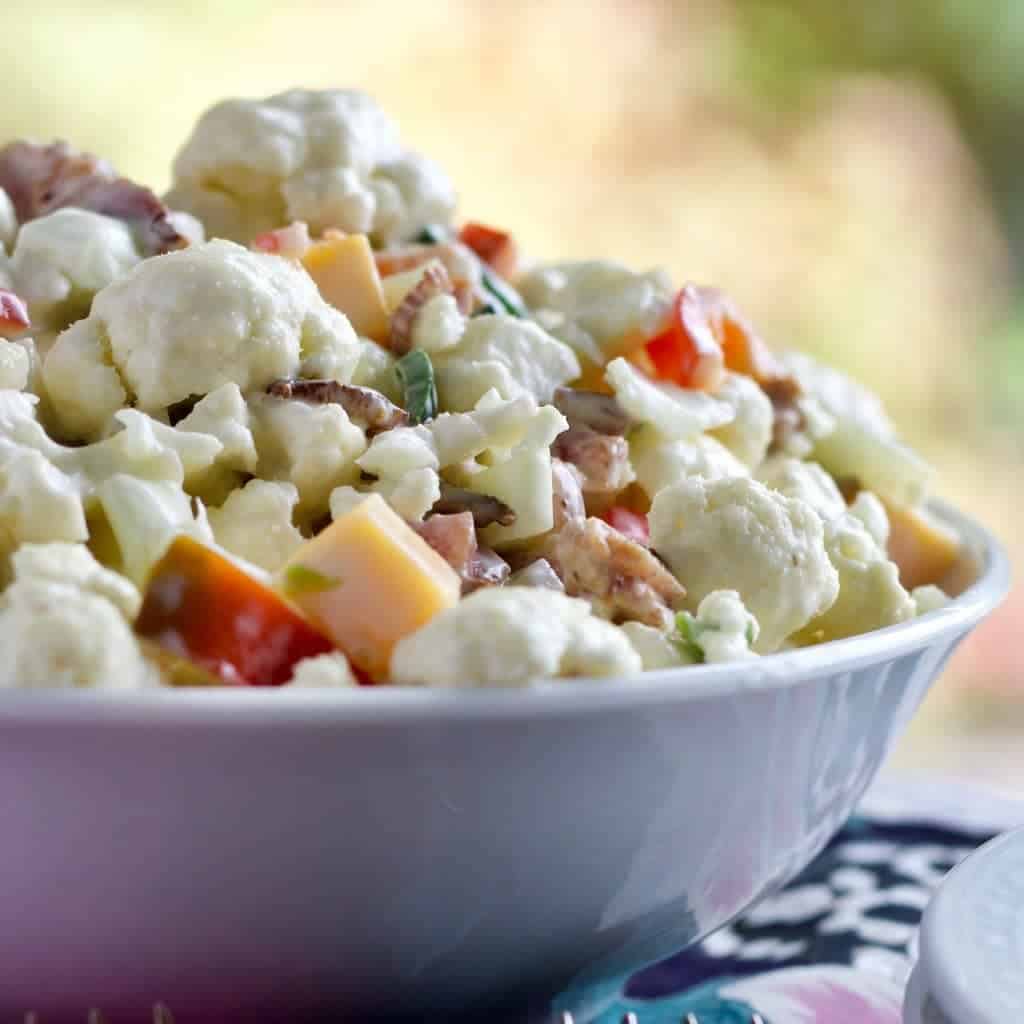 This cold salad Absolutely needs to go to your next potluck, game day party or Holiday celebration. It's a popular side dish at any event.
Our garden is a real pleasure for us. We enjoy growing all those gorgeous veggies. But using it all up at harvest can be a bit of a strain.
This recipe is a favorite way for our family to enjoy our garden cauliflower and peppers. They are both so good. We absolutely love them together in this salad.
Cauliflower Salad Recipe with peppers and Cheese:
This is a wonderful Farm to Table recipe. This cauliflower bacon salad has a lot of flavor and it's beautiful.
This salad is similar to my Cheddar Bacon Broccoli Salad. They each tantalise the taste buds with healthy crunchy veg and lots of tangy sweet flavor.
Ingredients: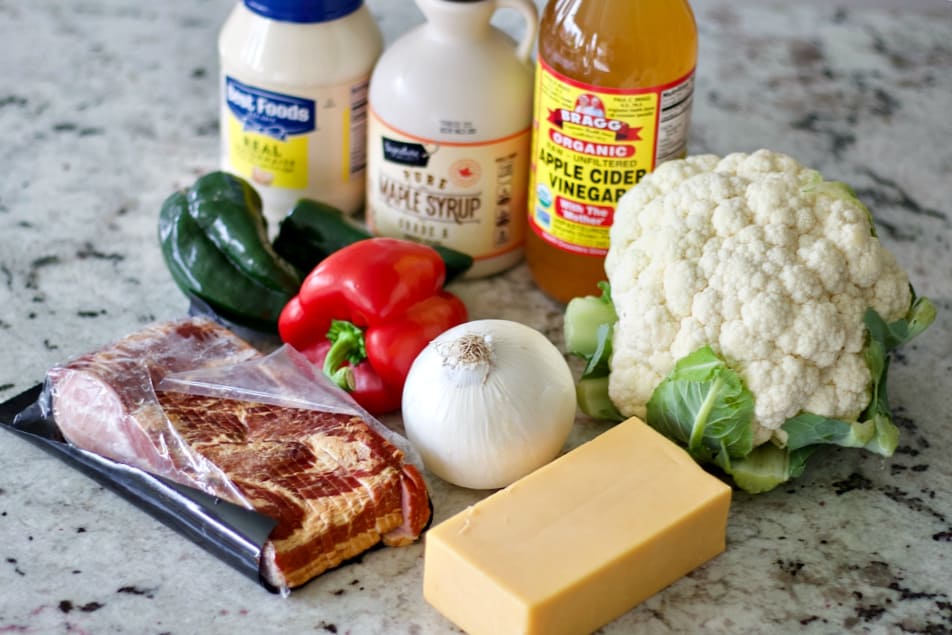 The crunchy texture of the veggies with the creamy dressing and cheese chunks are pleasing and satisfying.
The Peppers:
The variety of peppers are a bit of a wild card…Choose spicy peppers if you like some kick with your sweet and tangy dressing. I like to use one green and one red pepper for color in the salad.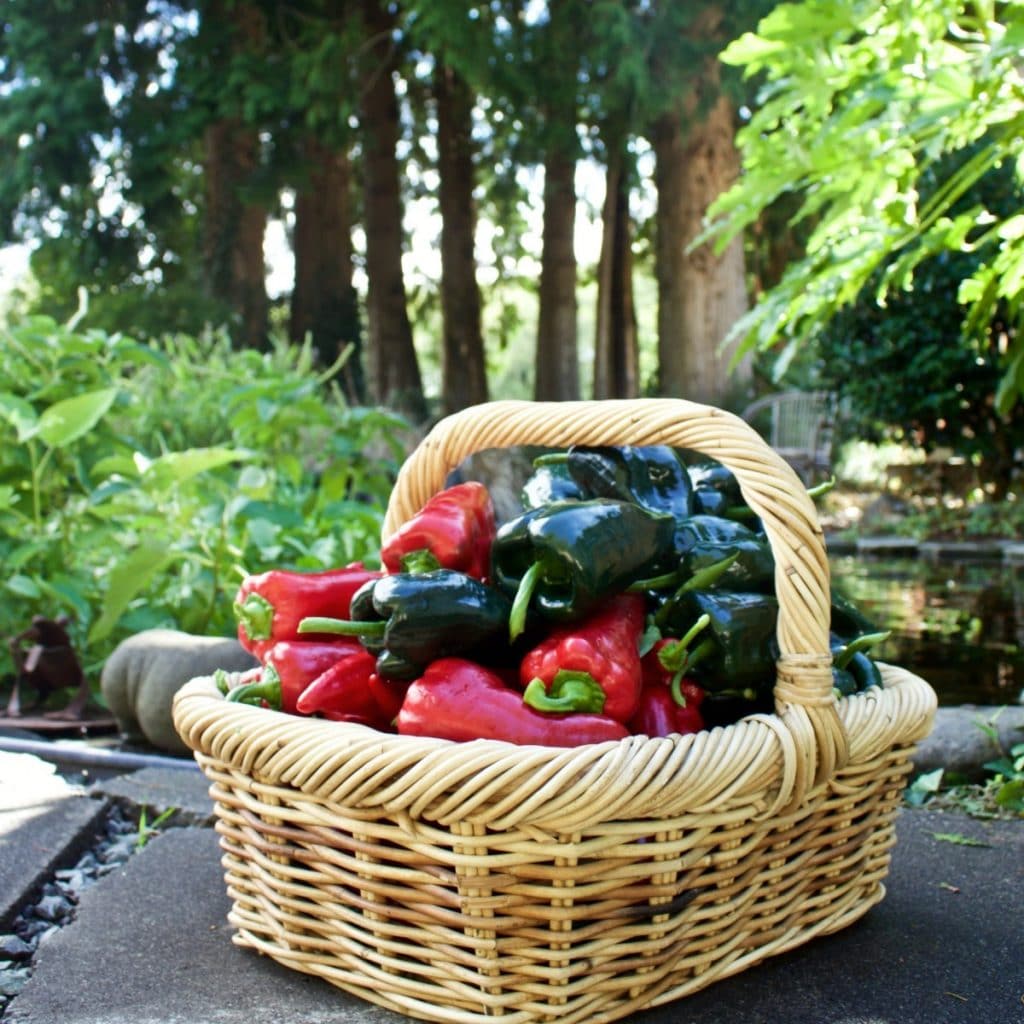 I'm using Dave's Cheyenne peppers. They are about a 4 on the pepper heat scale. That's not terrifically hot but they do stand up and say Howdy.
Pasilla peppers are milder, about a 2 on the heat scale but still offer some extra pepper flavor.
Not into heat in your salad? Choose pretty, colorful Bells then. They will be wonderfully bright, sweet and juicy in this recipe.
The Cauliflower: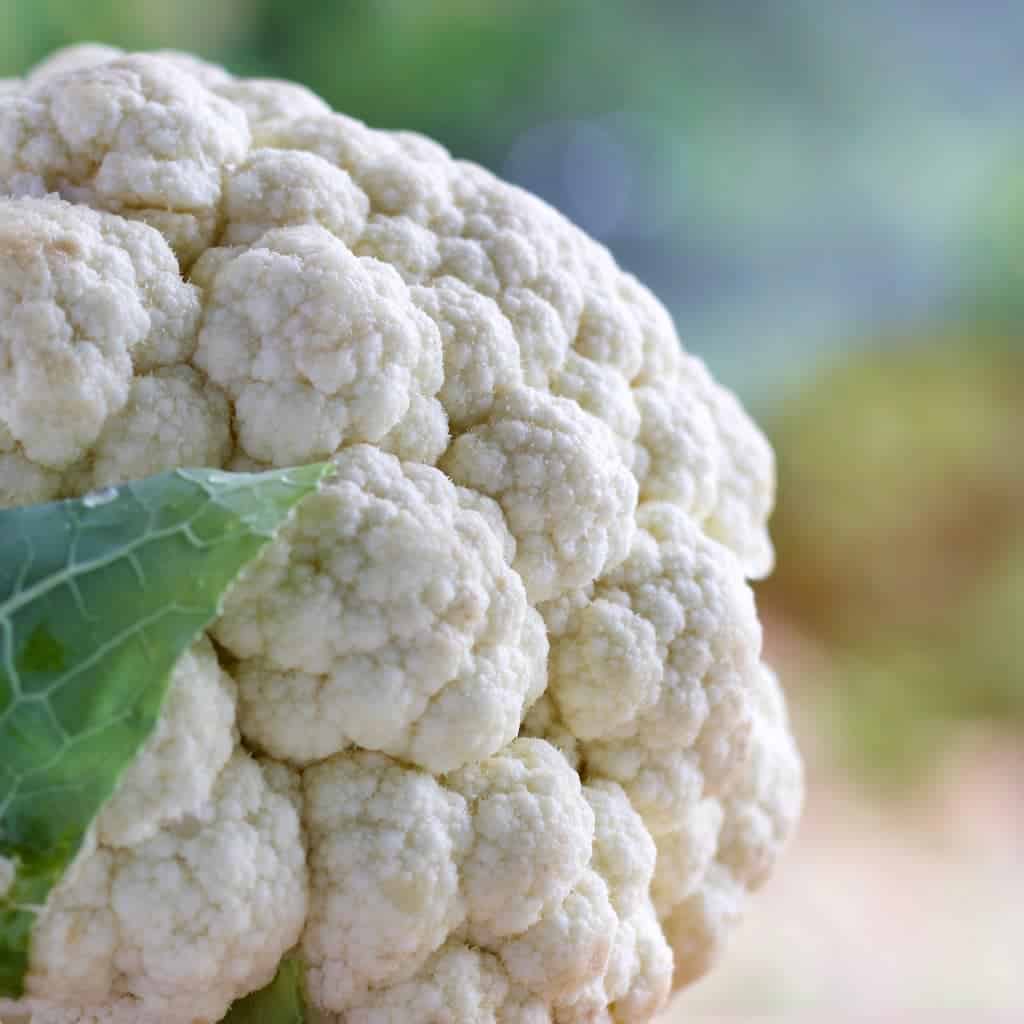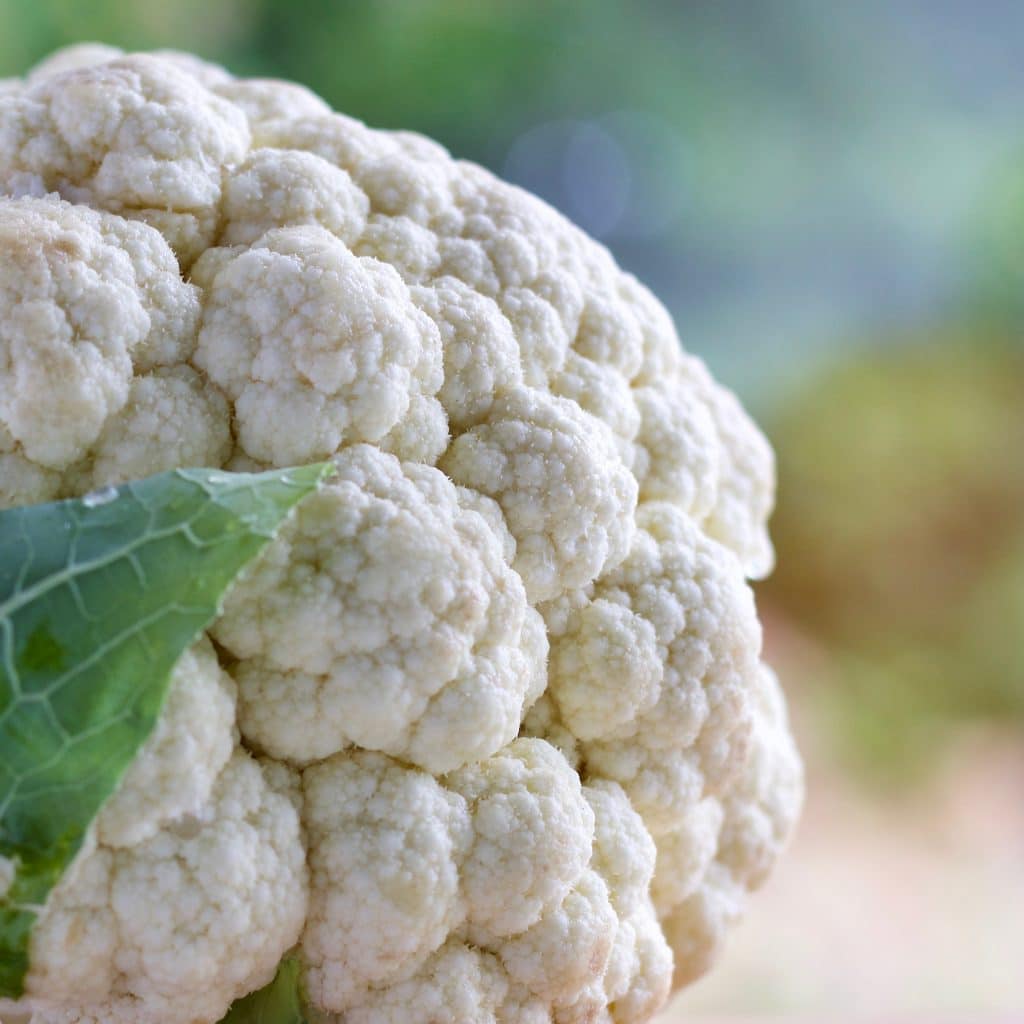 Choose a beautiful large head of cauliflower. Watch out for yellowish old spots or black moldy areas. They can be tricky to spot in a plastic wrapped head.
Your salad will look gorgeous if you begin with a perfect head of snowy white cauliflower.
This cold Cauliflower salad is full of lovely healthy cauliflower, peppers and onion.
Put this salad on a potluck table and watch it vanish. I have had requests for this recipe every time I put it out. I think your family will enjoy it.
Onions:
The onion can be a white or red onion or a Walla Walla Sweet if they are in season. A white or red will give nice colors in this salad.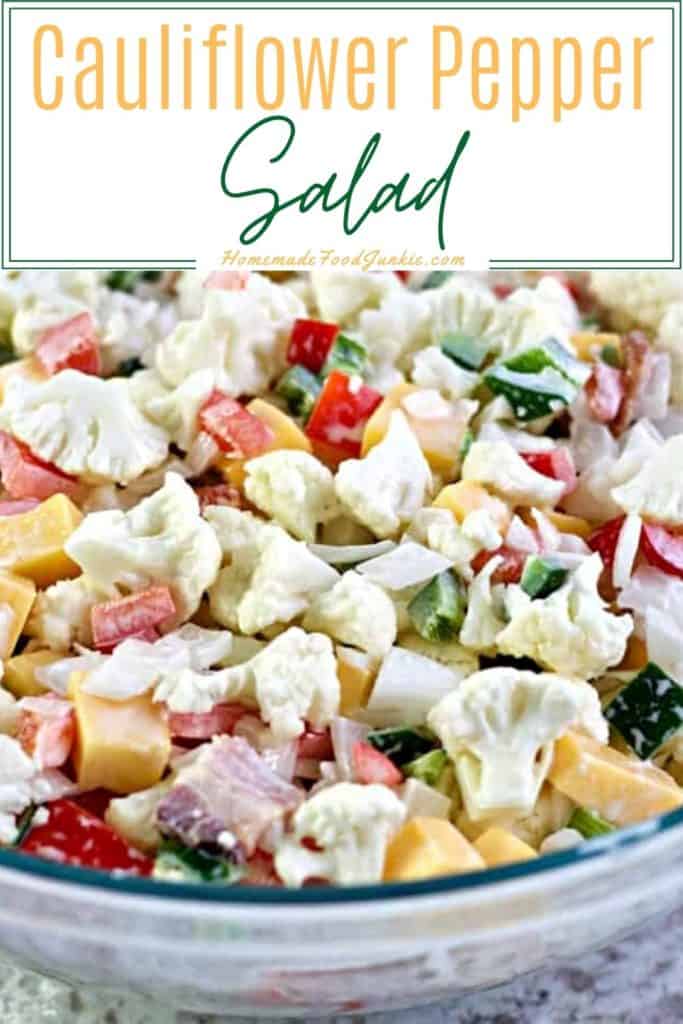 Avocado oil is an incredibly heart healthy oil. So you just made this salad a health food.
Bacon
We recommend natural bacon without all the added nitrites. Here is an article that discusses the health benefits of naturally uncured bacon. You really need to consider natural smoked meats for your family.
Yes a good quality bacon is more expensive. But the flavor is superb, and the better brands are usually lower in salt than regular cheap bacons.
Mayonnaise:
To make this salad even better for you make my homemade Healthy Mayonnaise recipe or buy an Avocado oil mayonnaise.
Cheese:
I like to use medium sharp cheddar cheese for this salad. It's a nice counterpoint to the other flavors. A pepper jack will also work nicely.
In my opinion the cheese is best when cubed rather than shredded and the cauliflower looks best in florets.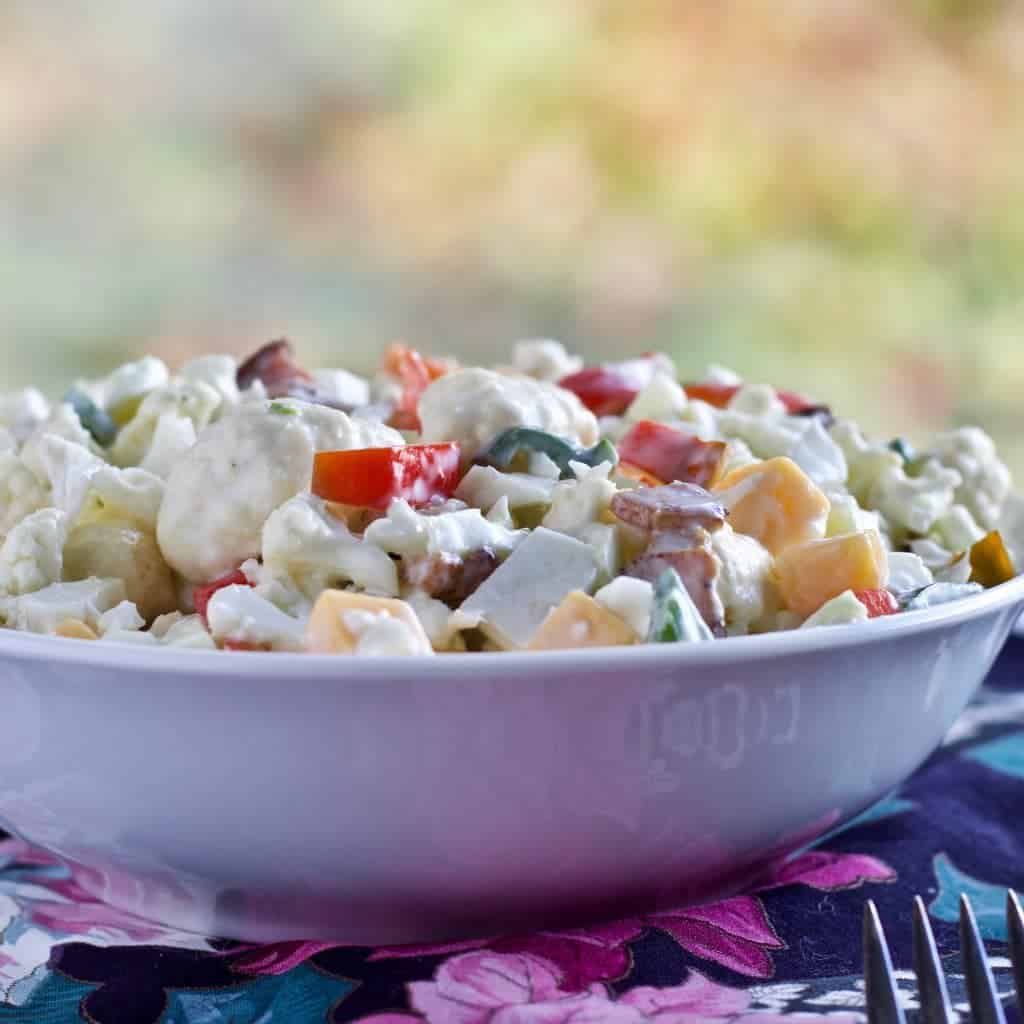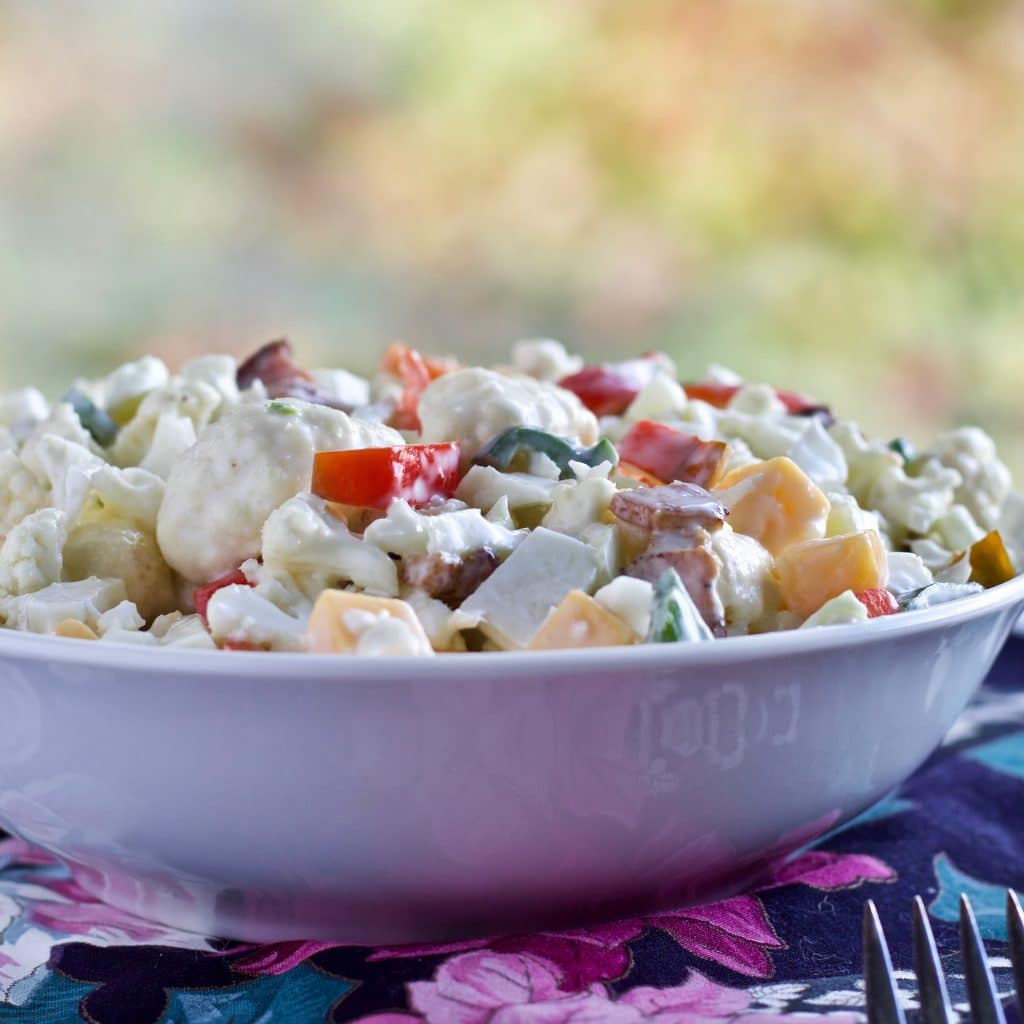 Enjoy the flavors, the bacon crunch, and the creamy dressing in this recipe. This raw cauliflower salad is taste bud heaven!
Assembly Instructions:
All the salad parts should be about the same size and the cauliflower florets make a nice presentation when hand chopped as shown.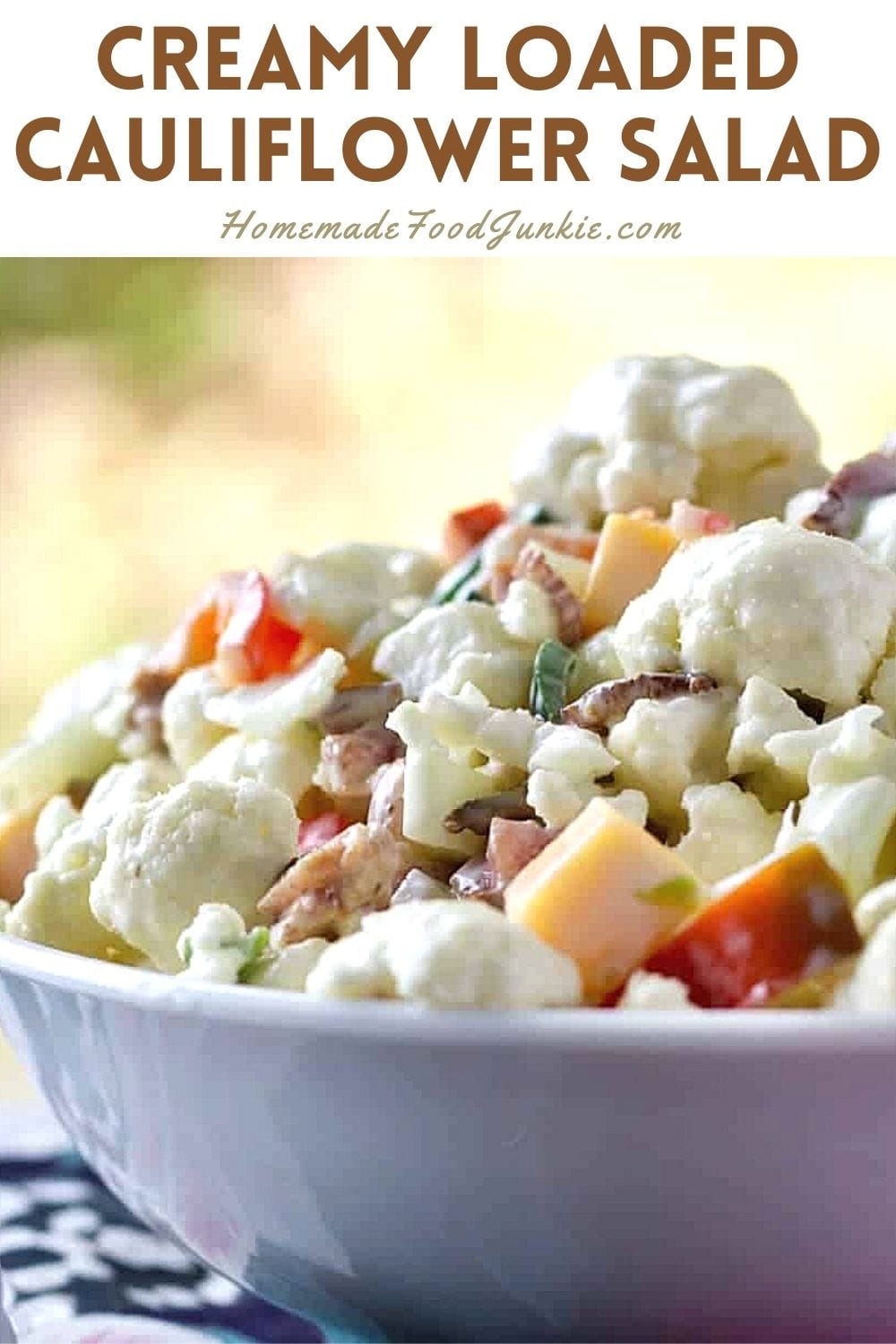 You can use your food processor for some or all of the chopping and dicing needed for this yummy side dish. Just be careful not to make the pieces too small.
Here is your Visual walkthrough for this cauliflower pepper salad. I chose to hand chop all the vegetables simple because I prefer the look of the salad pieces.
The Salad Steps:
Cut bacon into 1/2 inch pieces and fry in a large frying pan until thoroughly cooked. Drain on a paper towel until needed.
Meanwhile, Cut the cauliflower head into small bite size florets. The remainder of the edible cauliflower core dice into small pieces.
In a large bowl combine the cauliflower with the peppers, onion, prepared bacon and cubed cheese.

Cauliflower Salad Dressing:
In a small bowl whisk the mayonnaise, sugar and vinegar until smooth.
Pour over the salad and mix thoroughly.
Chill an hour, then serve.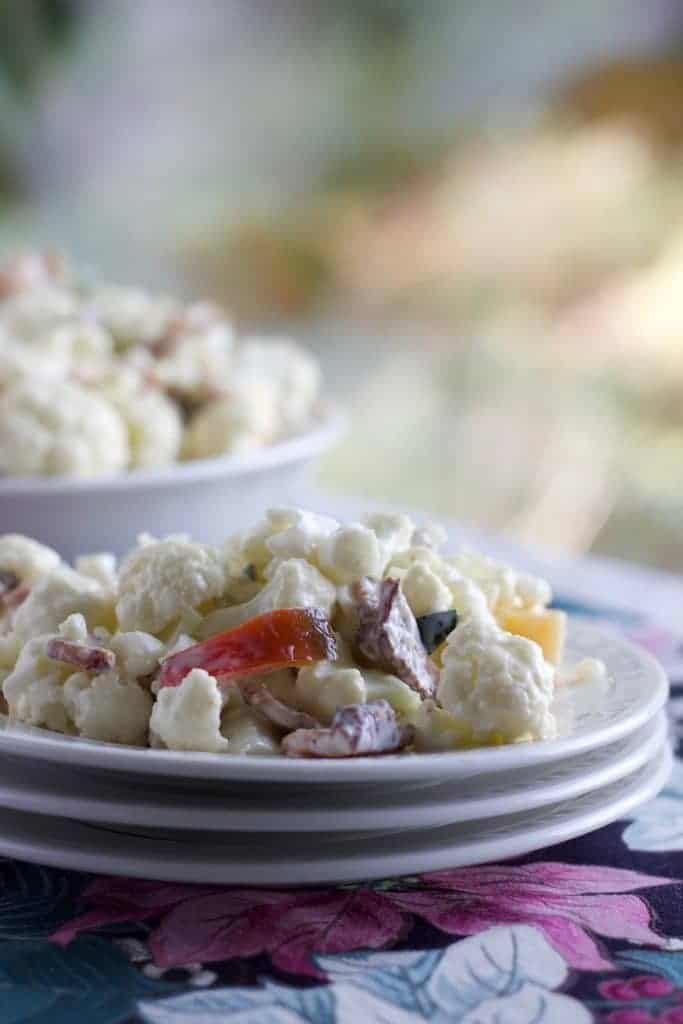 Your Printable Recipe Card: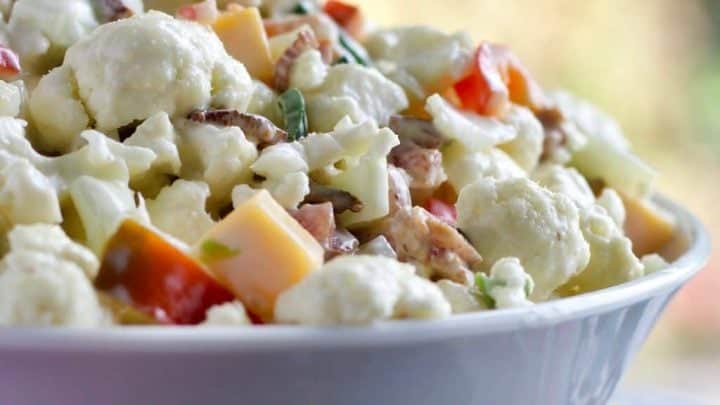 Yield:

12
Cauliflower Pepper Salad Recipe
Total Time:
1 hour
20 minutes
A crunchy low carb salad full of healthy vegetables. The creamy sweet tangy dressing provides a lovely flavor compliment to the cheddar cheese and bacon.
Ingredients
Salad:
1 Large head Cauliflower
1/2 lbs bacon, fried medium to crispy
2 pasilla or med sweet red peppers, diced (we are using Krimson Lee Peppers)
1 medium walla walla onion, diced
1 Cup cheddar cheese diced
Dressing:
1 Cup mayonnaise or miracle whip
2 tablespoons sugar, or maple syrup to taste
3 tablespoons apple cider vinegar, I use braggs brand. Excellent
Instructions
The Salad:
Cut bacon into 1/2 inch pieces and fry in a large frying pan until thoroughly cooked. Drain on a paper towel until needed.
Cut the cauliflower head into small bite size pieces cutting the florets tops off and breaking into small pieces. The remainder of the cauliflower dice into small pieces. Put the cauliflower into a large mixing bowl, with the peppers, onion, bacon and cheese.
The Dressing:
In a small bowl whisk the mayonnaise, sugar and vinegar until smooth. Pour over the salad and mix thoroughly.
Notes
This salad is ready in under a half hour but also needs to cool down in the fridge for an hour to set the flavors and get a good chill.
Nutrition Information
Yield
12
Serving Size
1
Amount Per Serving
Calories

292
Total Fat

24g
Saturated Fat

6g
Trans Fat

0g
Unsaturated Fat

17g
Cholesterol

37mg
Sodium

596mg
Carbohydrates

9g
Fiber

2g
Sugar

6g
Protein

11g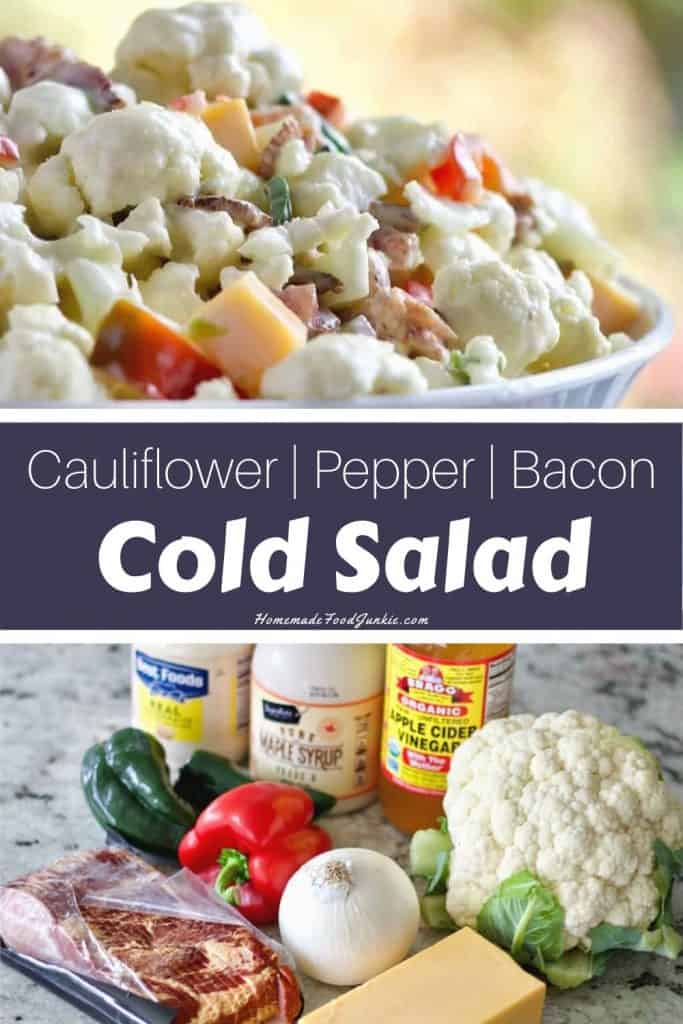 Pin it:
Recipe Source:tasteofhome.com