This Chocolate Peanut Butter Smoothie is a powerful, tasty way to get your metabolism started for the day, use as a post workout refuel, or as an afternoon meal replacement. We made this drink with hearty whole ingredients including Greek yogurt, peanut butter, milk, unsweetened cocoa powder and a dash of honey for an all natural sweetener.
This smoothie can be made dairy free or even vegan if you prefer. Simply swap out the cows milk for your choice of dairy free milk, use coconut yogurt in place of the Greek yogurt, and omit or substitute the honey for your favorite plant based sweetener.
What does Peanut Butter do in Smoothies?
A good quality, natural peanut butter will add fats, protein, and fiber to your smoothie. Peanut butter is a great addition for a creamier texture and delicious flavor. It also pairs well with additional protein powders, bananas, yogurts, dark chocolate, and flax seed for a hearty drink that delivers a variety of nutrients.
Watch our tutorial for making this delicious Chocolate Peanut Butter Smoothie
What should you not mix into a Smoothie?
Smoothies can be made from a long list of ingredients and in many difference combinations depending on your preferences and dietary needs. But in order to create the healthiest smoothies you do need to be careful what you reach for. Low quality ingredients, artificial sweeteners, and high sugar ingredients are all detrimental to you health and should be avoided.
Peanut butters filled with low quality oils and fillers
Fat free flavored yogurts
Fruit juices
Ice creams and sherbets
Is it okay to drink a Smoothie everyday?
Smoothie are a delicious and easy way to get a well rounded variety of nutrients into your diet. You can increase your vegetable intake, up your protein consumption, and consume a high amount of vitamins by drinking smoothies. But, it is important to only use high quality ingredients that don't have additional fillers, oils, and sweeteners.
This Chocolate Peanut Butter Banana Smoothie recipe is a great source of quality fats, low in sugar and high in protein making it a wonderful post workout or meal replacement drink. You could add your favorite protein powder for an even higher does of protein.
Why are bananas used in Smoothies?
Bananas are a popular ingredient found in smoothies because they add a creamy element, act as a natural sweetener, and deliver potassium and a variety of other vitamins. However, bananas are high in sugar so if you are looking to make a low carb chocolate peanut butter smoothie consider substituting the banana with avocado.
Avocados will add the creamy element will still delivering a great amount of nutrition, antioxidants and fiber.
More Delicious Smoothies
We have a great selection of smoothie recipes for your to explore. You can find them Here.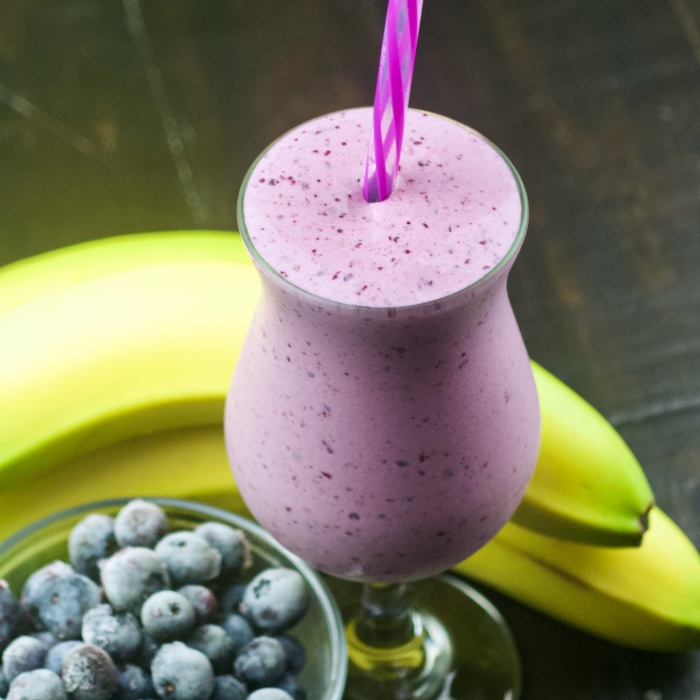 What is the best chocolate to use in a Smoothie?
Chocolate smoothies are delicious and can be found in the form of high protein smoothies for workout recovery, with peanut butter for scrumptious meal replacements, or simply as a yummy drink. The quality of chocolate is important to avoid extra sugars and deliver the best quality cocoa.
Reach for a good quality dark chocolate that has been ethically sourced and does not contain a high amount of added sugars. Look for chocolates that contain a cocoa percentage of 70% or higher which will provide antioxidants. Brands like Taza, Hu, Lindt, Ghirardelli, and Endangered Species are all fantastic options.
What else can I add to my Smoothie?
If you're looking to increase the protein or nutrients of this easy chocolate peanut butter smoothie here is a list of our favorite additions. They are all healthy, easy to add and will work to bring up the protein, fiber, and nutrition of your drink.
Flax, chia, and hemp seeds
Kefir for probiotics
High quality protein powder
Almond butter
Full fat dairy products will be higher in protein
Chocolate Peanut Butter Protein Smoothie Recipe
Chocolate Peanut Butter Smoothie Ingredients
The Chocolate Peanut Butter Smoothie tastes great and can absolutely work for a meal replacement. Greek Yogurt, Peanut Butter, and Bananas are all healthy sustainers rich in vital fats, protein, probiotics and vitamins.
1 Cup of Greek yogurt offers 24 grams of protein

.
Peanut butter is a good source of fat, just be cautious of the brand quality. We recommend an all natural peanut butter to cut out the unnecessary added oils, salts and sugars.
There are many different protein powders to choose from, just be mindful of the quality with these as well.
Bananas are well known for their place in smoothie recipes. They add a creamy element as well as lots of vitamins like potassium and a healthy amount of carbs.
Fat Free Milk is a great ingredient to add even more protein and moderate the fat in this breakfast drink. The choice of milk depends on your lifestyle and diet goals.
This powerful smoothie is full of sustaining proteins with about 300 calories.
Is a Chocolate Peanut Butter Smoothie good for weight loss?
Smoothies are popular in the wellness community and have been rising in the ranks of popularity in all communities these past decades. They are relatively easy to make, can be made to your liking, provide a tasty way to get in extra supplements and vitamins, and can even aid in either weight loss or weight gain.
As with anything, smoothies can help you reach your diet and fitness goals when prepared with the right ingredients and consumed within the right calorie amount for you. Peanut butter smoothies are a great way to satisfy your sweet cravings in a healthier way, they can also aid in protein consumption and can be made lower fat to help hold you over while not adding extra calories into your diet.
On the flip side, they can also be enjoyed by those seeking weight gain. It's all in the selection of ingredients as things like whole milk, an extra banana, yogurt, oatmeal and protein powder will do wonders in supporting muscle gain and even getting you closer to a caloric surplus to add needed fat stores.
Nutrition Information:
308 Calories/ 8 oz. glass
Fat 14 g
Carbs 34 g
Protein 19 g
Yield:

1 16 oz. glass
Chocolate Peanut Butter Protein Smoothie
Powerful protein packed chocolate peanut butter smoothie. This low sodium, Vegetarian, Gluten-​Free breakfast provides long lasting hunger curing protein to help keep you full and satisied.
Ingredients
1 Banana, Frozen
1 Cup fat free Milk
1 Cup Non Fat Plain Greek Yogurt
1 Tsp. Honey, (Or Maple Syrup)
1 Tbsp Peanut Butter
2 Tbsp Unsweetened Cocoa Powder
2 tsp. unsweetened dark chocolate -(shavings, 60 percent or higher)
Instructions
Blend all ingredients together in a blender until smooth
Adjust the milk to your liking, more milk will give you a more liquid consistency. Less will give you a thicker smoothie.
Notes
This Smoothie makes a full 16 oz cup or two 8 oz. tumblers
Substitutions:
You can replace the milk with any non dairy milk your prefer.
Don't want the carbs of the banana? Replace it with ice to keep your smoothie thick.
You can replace the Greek Yogurt with regular yogurt but the protein content in the smoothie will suffer.
The chocolate shavings are easily omitted or you can use any chocolate you have on hand.
Nutrition Information
Yield
2
Serving Size
8 oz.
Amount Per Serving
Calories

308
SaveSave
Follow Us:
We enjoy meeting you on our social networks. Follow us on Facebook, Pinterest, Instagram . Tag us with your pictures of our recipes and comment on how it went for you. We would love to see what you do with them.
We often like, comment and share your posts of our recipes on our daily Instagram stories.
Ask questions and rate the recipe in the comments section below. Please share what you did with this recipe. We are always looking for more and better ways to make homemade food. Other cooks love your ideas!
Recent Posts:
SaveSaveSaveSave