Today is our anniversary. Dave and I have been married 29 years. We are celebrating our special day with a glass of green juice from our lovely garden greens, and a week-end at home.
We spend a lot of time together here in our garden and property. To us, a special time together with a glass of green juice; we make ourselves  from our garden, is romance of the best sort. We don't usually enjoy going to a restaurant and putting ourselves through all the fuss of dressing up, driving and sitting while someone serves us a fine dinner. We are both happiest sitting on our back deck, experiencing the birds singing in our trees. We enjoy walking about in our garden and greenhouse, working on the place, as a team, to keep it up. You'd think we'd get tired of it. I don't know what's wrong with us; We just never do!
When we started this lively life adventure together; I came bundled with two small children and we quickly added three more. Raising five kids and keeping up a small, seven acre country property was a lot to do. In those days I did all the gardening, canning, freezing, drying and juicing. I stayed home and raised the kids, did the barn projects with them, and homeschooled them. Dave spent long, hard years putting the food on the table with his drywall business and worked outside keeping the yard, driveway and fields mowed. That man can never sit for long.
Nowadays, Dave is the gardener, I still do the kitchen work and we putter around more than run, like we used to. We have learned to work smarter, not harder. And to accept imperfections, like weeds, as part of living the organic life. 
See those lovely greens? Notice the little holes in the top leaves? We'll wash these up and juice them and enjoy a lovely garden juice, never minding that a few bugs enjoyed them too. Organic means we don't have to worry about drinking concentrated chemicals that could harm us. But we do have to share a bit with the wild life.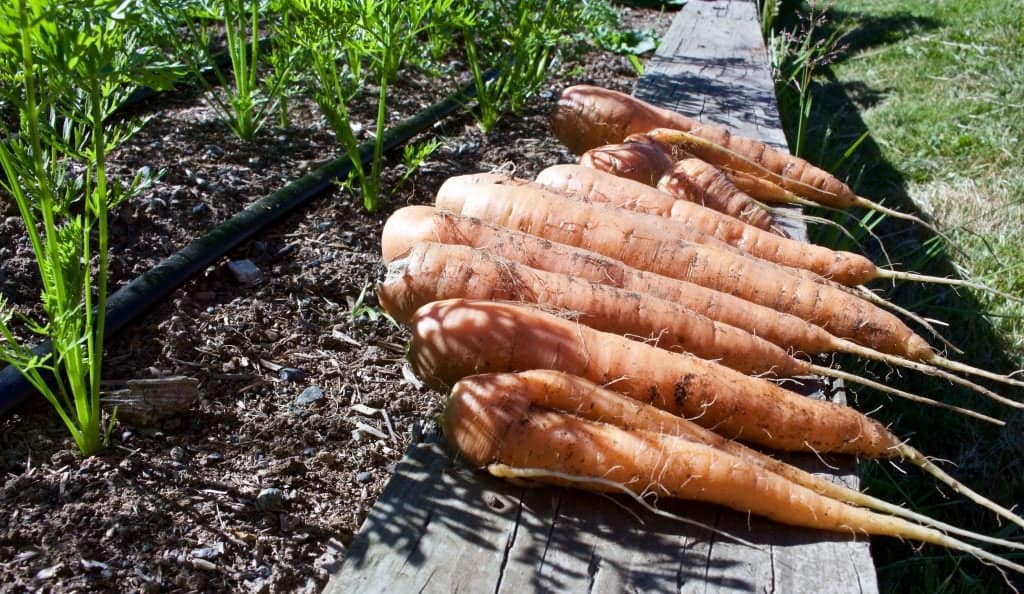 Carrots are great in green juice. They are actually necessary for a good juicing experience with our juicer. Hard veggies like carrots push the mushy greens through our juicer. Otherwise the juicer gets rather balled up with green fiber and doesn't juice as well. We enjoy greens fresh from the garden in salads, recipes like stir fries, and also in juice like this. It's a quick way to get a filling light meal that's full of nutrients and easy on the calories.
It's a fine life. We're very grateful for it. We've lived simply together for 29 years and we wouldn't change a bit of it!