Pineapple White Chocolate Macadamia Cookies are a cake like soft cookie with a pleasing blend of flavors. A yummy sweet glaze compliments the cookie.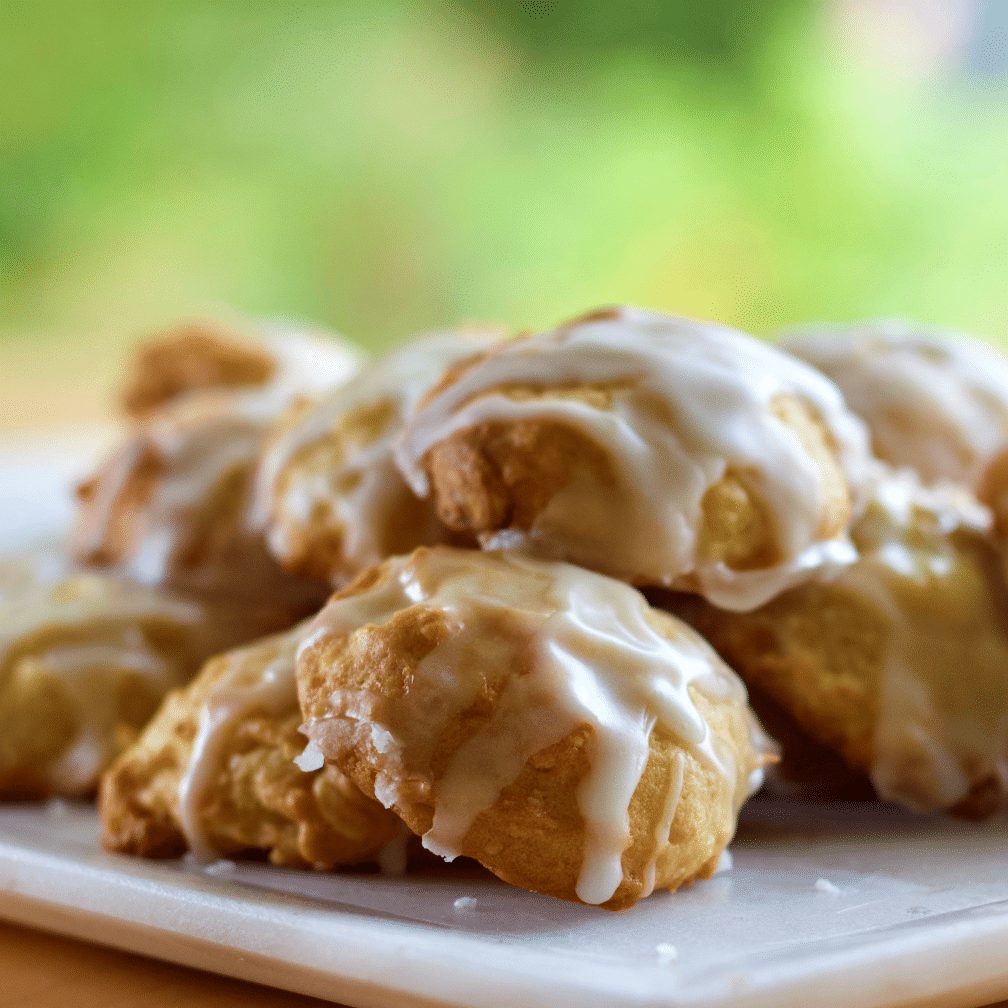 And yes….They are delicious.
I made a double batch of these cookies and took them to a family reunion. An empty cookie plate and lots of rave reviews came back home. This recipe passed through all age groups and LOTS of good cooks to win it's place on the blog.
Pineapple White Chocolate Macadamia cookie recipe came by way of our reader and recipe contributor, Miss Karen. She has contributed several interesting and REALLY good recipes to Homemade Food Junkie. I have made her Root Beer Float Cookies, Mini S'mores Cookies and now These delicious Pineapple White Chocolate Macadamia Cookies. There are more of Miss Karen's recipes waiting to get posted so keep your eye peeled. Thank you Karen. We love your recipes!
My Three year old Grandson Warren, helped make these cookies. He glued himself to my side. Warren liked pushing the food processor buttons and pouring in ingredients, stirring and he even helped hold the mixer. He thinks these cookies are amazing and so is the cookie dough 🙂
Warren didn't wait for the frosting to taste test. He likes them unfrosted just fine but also loves the glaze. We had a LOT of fun making these together. I enjoy baking with my grandchildren. You'll find many recipes with my grandkids (or their hands) in my recipes. Cooking with kids is the best!
Pineapple White Chocolate Macadamia cookies:
These cookies are reminiscent of zucchini or pumpkin cookies in texture. The pineapple keeps them moist. The baking powder gives them height and lightness. The white chocolate chips and nuts add wonderful flavor, crunch and texture. And the frosting…is made with pineapple juice for extra flavor. We just can't stay out of them!
TIP: About the glaze.
If you make the frosting loose and frost the cookies warm it becomes a sweet transparent glaze over the cookie. Make it thicker and let the cookies completely cool for a heavier more opaque look to the frosting. You can see the two effects in the cookies pictured above. The ones in focus next to each other are different because I was experimenting 🙂 It's just presentation. They taste the same.
Pineapple White Chocolate Macadamia Cookies are easy to make and the flavors are well balanced.
Process tips:
Lay the cookies on a wire rack over a silicone mat (or parchment) before glazing. The mat will catch the drips and make a nicer looking cookie.
Use a food processor( or nut chopper) to chop up the Macadamia nuts if you buy them whole like I did. They need to be chopped small and pretty even so they add a nice subtle crunch to the cookie.
The pineapple juice is RETAINED and REDUCED so it can add delicious flavor to the glaze. Don't skip this step. The pineapple flavor in the cookies is mild. It's there but not overwhelming. the Pineapple glaze is just piquant enough to make a nice balance with the sweetness of the cookie.
I used regular sized white chocolate chips. Here is the Amazon link to the mini white chocolate chips OR you can also use white chocolate chunks if you prefer.
WHEN BAKING: These cookies bake at a little lower temp and longer than some other cookie recipes. WATCH them the first time you bake a batch. My oven is hot and I had to remove the cookies at 14 minutes.
Yield:

36 cookies
Pineapple White Chocolate Macadamia Cookies
cool and frost:
30 minutes
Pineapple White Chocolate Macadamia Cookies are a cake like soft cookie with a pleasing blend of flavors. A yummy sweet glaze compliments the cookie.
Ingredients
1 CAN (8 OUNCES) CRUSHED PINEAPPLE
1/2 CUP BUTTER
1 CUP PACKED BROWN SUGAR
1 EGG
1 tsp. VANILLA EXTRACT
2 CUPS ALL-PURPOSE FLOUR
1-1/2 tsp. BAKING POWDER
1/4 tsp. BAKING SODA
1/4 tsp. SALT
1 CUP MINI WHITE CHOCOLATE CHIPS, or chunks
1/2 CUP CHOPPED MACADAMIA NUTS
1-1/2 CUPS CONFECTIONERS' SUGAR
Instructions
Drain pineapple, reserving all of the juice into a small sauce pan. Simmer for a few minutes to reduce the juice. This concentrates the flavor. Set aside.
In a mixing bowl, cream butter and sugar. Add egg; mix well. Add pineapple and vanilla; mix well.
Combine flour, baking powder, baking soda and salt; stir into the creamed mixture. Stir in the white chocolate and nuts.
Drop by teaspoonfuls 2 in. apart onto parchment lined baking sheets.
Bake at 325 F. for 17-20 minutes or until set and light golden. Immediately remove from baking sheets to cool on wire racks.
For frosting:
in a small bowl, combine confectioners' sugar with the pineapple juice to achieve a smooth spreading consistency. Frost cooled cookies.
Notes
This recipe calls for mini or chunk white chocolate. Regular white chocolate chips will also work fine.
Nutrition Information
Yield
36
Serving Size
1 frosted cookie
Amount Per Serving
Calories

142
Total Fat

6.6g
Carbohydrates

19.4g
Fiber

0.4g
Protein

1.7g
Did you make this recipe?
Please leave a comment on the blog or share a photo on Instagram
Pin it: