Soft Sourdough Cinnamon Bread with or without raisins, is a beautifully flavored and sliceable loaf. Your family will love this delicious breakfast bread. This loaf can stand alone as a moist, scrumptious slice or enjoy it toasted with butter or even peanut butter. It can also make an amazing French toast.
By incorporating honey and avocado oil into this traditional sourdough recipe, you will be able easily fold in your sugar cinnamon filling and prevent the crumb from falling apart. The honey and oil work together to build a soft, dense texture more like a sandwich bread.
We walk your through all of the steps needed to help you bake the best Sourdough Cinnamon Loaf in this post.
Originally, we made this no-knead sourdough cinnamon bread by dispersing the raisins throughout the dough during the stretch and fold stage as you see pictured above. This is a great method and we still highly recommend it and the post is built on these instructions.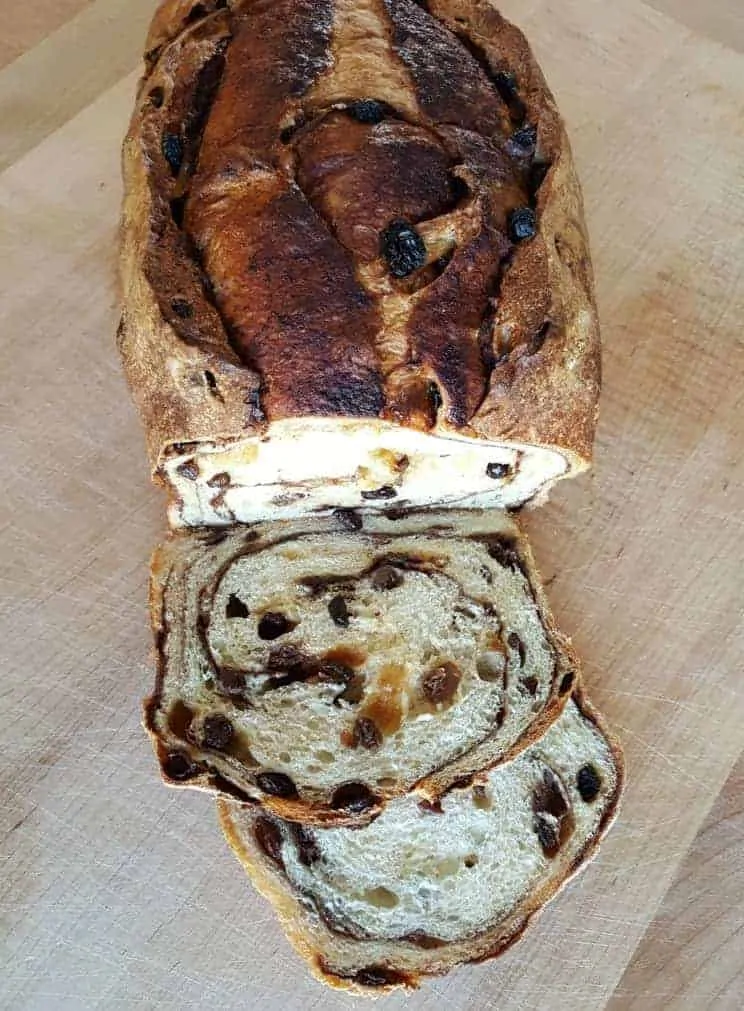 Over the years, we found this recipe also works well when the raisins are layered into the dough at the final shape of the dough into loaves. Our video uses that method. So please read the post and watch the video so you can see the two processes and decide how you want to make this sourdough cinnamon swirl bread recipe.
Putting the raisins into the rolled layers rather than dispersing them through the dough give you a sourdough cinnamon roll twist bread. It's all good.
Our video tutorial guides you through the process with a clear visual that is easy to follow
This delicious bread recipe is another winner from our Master Baker Contributor Sasha Hunter. I asked Sasha if she had a good sourdough bread recipe for homemade cinnamon bread.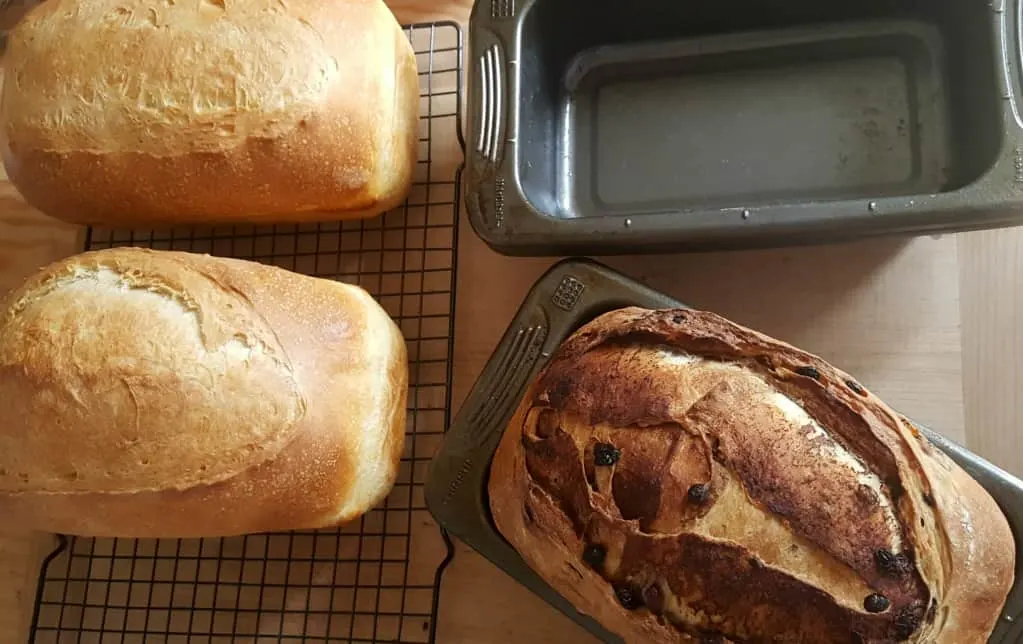 Sasha takes us through her entire baking process step by step. She shares her sure fire method of making homemade cinnamon bread with raisins. Tips and photos of every step are included, and the pictures you see are Sasha's pictures while making this bread.
Soft Cinnamon Bread Recipe with raisins
If you need more help making the recipe jump over to the Soft Sourdough Recipe post. It has a lot of information in it for you.
We begin this cinnamon raisin version of the recipe at the second stretch and fold of the process.
If you want a single Cinnamon Raisin Loaf, divide the dough at this point. Continue the recipe for the Cinnamon Raisin Loaf with one half.
Or make the whole recipe and use half for this raisin bread. The other leave plain for a delicious soft Sourdough Sandwich Bread or Sourdough Cinnamon Rolls.
Watch Our video (on the sidebar and at the bottom of the printable recipe card). It shows you a different method for incorporating the raisins. It's the easiest method if doing two different types of bread from a single batch.
Whole Wheat Cinnamon Bread Recipe
Use this recipe and replace the white flour up to 50% with a good white whole wheat bread flour. This will give you a slightly denser loaf than our sourdough white bread recipe.
If you want to make a 100 % whole wheat cinnamon bread use our Whole Wheat Sourdough Bread recipe with white whole wheat. You may want to add a bit of honey to the dough to make it sweeter for this recipe.
At the second stretch and fold start checking back to this recipe for the cinnamon raisin instructions.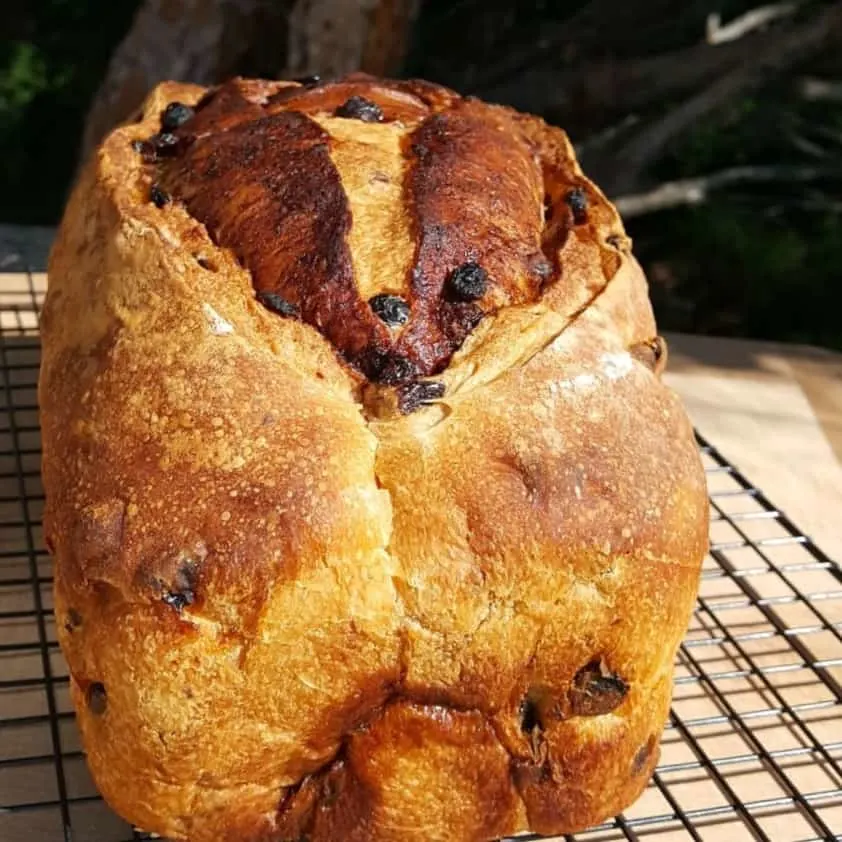 How to Make Cinnamon Raisin Sourdough Bread:
Here is the detail on how to make this no knead sourdough cinnamon bread with the raisins dispersed through the dough. To place the raisins into the rolled layers only use the method in the video.
Plump the raisins before the first stretch and fold. Mix 150 grams dry weight raisins to an equal weight of water. Allow them to soak until the raisin are completely plumped. Drain and set raisins aside until needed at the second stretch and fold.
Add the raisins into the dough at the second and third stretch and folds. Half of them in the second stretch and fold and the rest in the third.
The plumped raisins are swirled with cinnamon sugar layer. The even distribution of raisins is preferable for little pops of raisin flavor while you eat this delicious bread.
You can also…Take your dough and dump the cinnamon / sugar mix and raisins on top; or chop and fold it all into your dough with your bench scraper.
The Cinnamon Sugar Filling
Measurements for each loaf that you want to make into sourdough cinnamon bread are
1/2 cup light brown sugar or cane sugar as you prefer.
2 Tablespoons ground cinnamon.
This blend can be used as much or as little as your desire. Feel free to double the cinnamon layer or cut it down as your family prefers.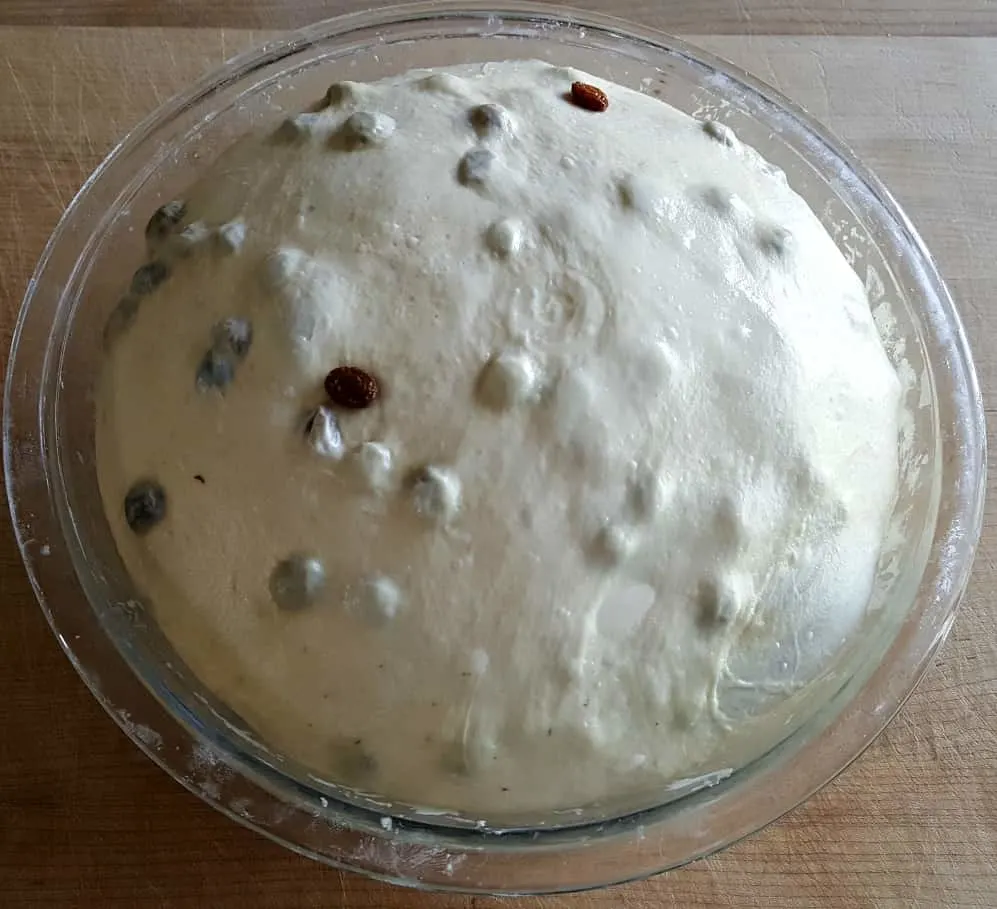 Preparing to form Sourdough Cinnamon Bread loaves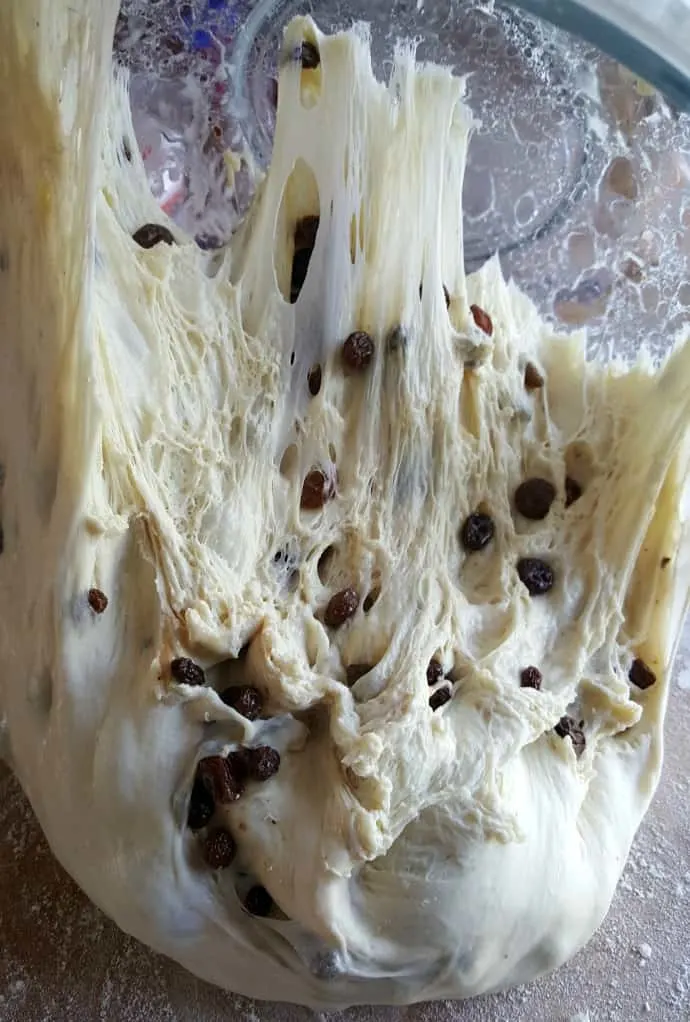 Look at the structure of this dough as it falls out of the bowl. This is what you are shooting for. The gluten is well developed.
Forming the loaves
Here is a visual guide to show you how Sasha forms her loaves and adds in the cinnamon swirl layers.
NOTE: There are two layers of the cinnamon swirl. Sasha is using brown sugar in the process pictures below. You can also choose granulated cane sugar as you prefer.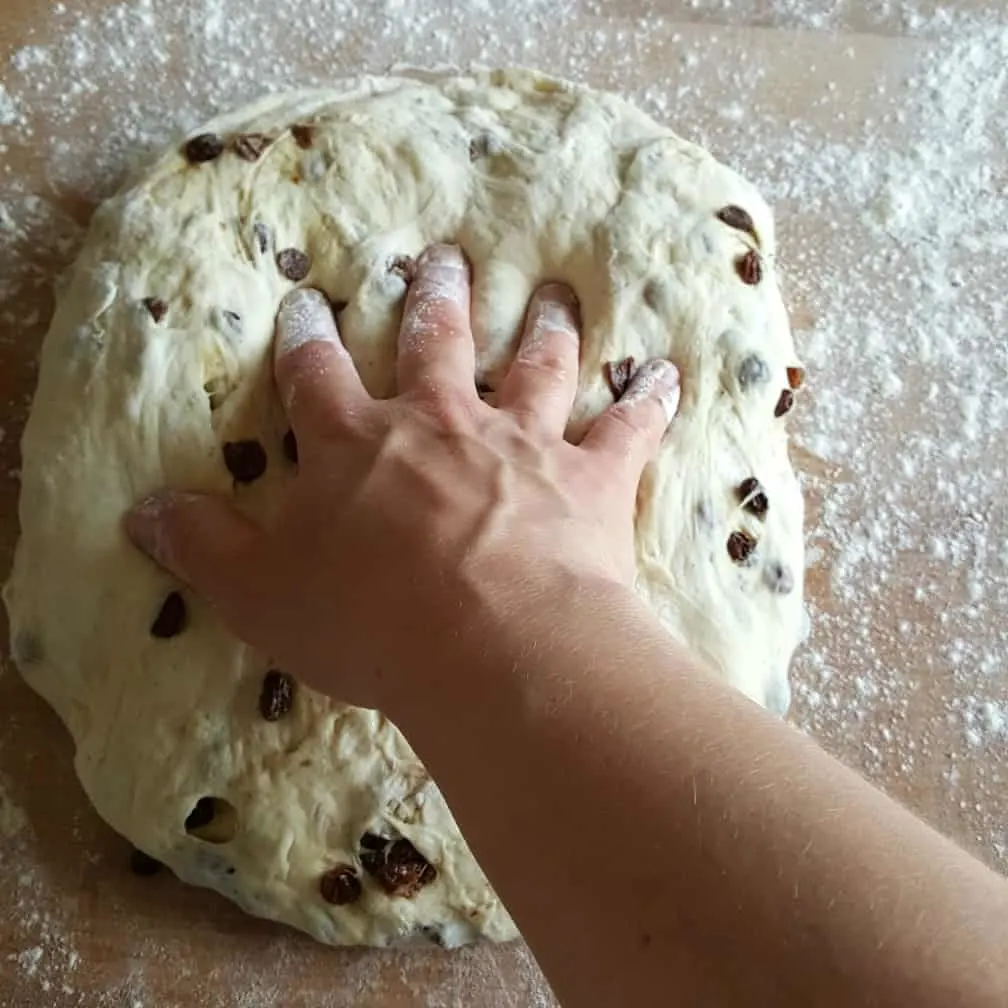 Rolling it up
The printable recipe card has all the instructions step by step. But the techniques Sasha uses is easiest to understand when you can see the process too. Watch our video for a complete recipe demonstration as well.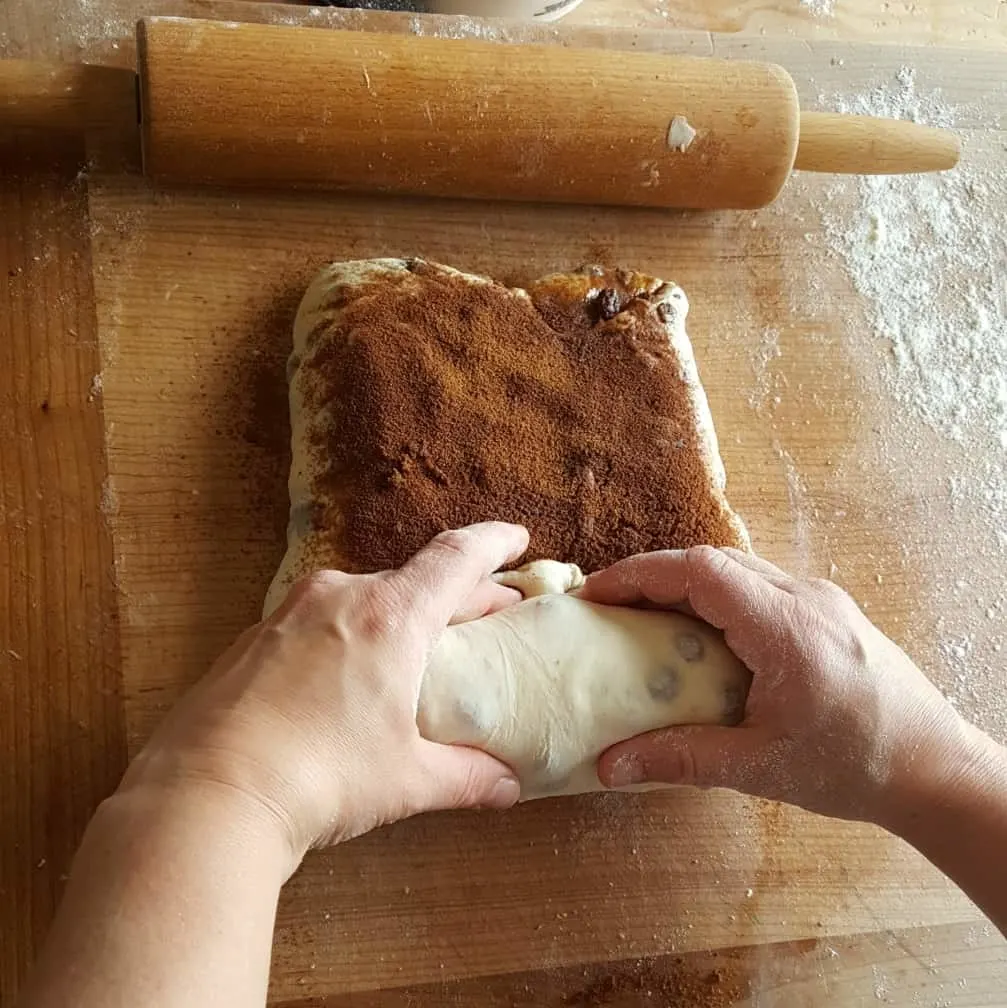 Your Printable Recipe Card: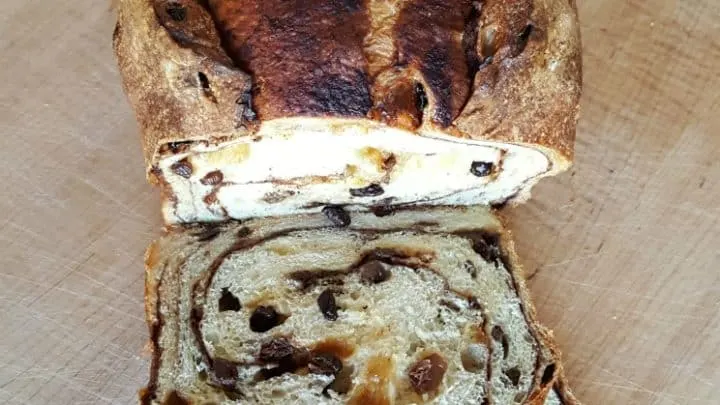 Yield:

24 slices (2 large loaves)
Sourdough Cinnamon Bread with raisins
Total Time:
20 hours
50 minutes
Beautifully swirled cinnamon bread with raisins begins with your bread recipe of choice. Her are the instructions for turning your bread recipe into a yummy cinnamon raisin bread.
Ingredients
Soft sourdough Sandwich bread dough (This makes two loaves of bread)
300 grams starter-freshly fed and active
650 grams warm water
50 grams honey
40 grams avocado oil
1000 grams White bread flour (high protein)
20 grams Salt
FOR EACH LOAF with Cinnamon and Raisin filling You will need:
2 Tablespoons cinnamon
1/2 Cup sugar- (either brown sugar or cane sugar works)
150 grams dried raisins
150 grams water
Instructions
MIXING:
Begin with a very active recently fed starter. It should pass the float test.
Set a large bowl on a digital food scale set to grams and press the tare button. The scale should read zero.
Pour in the water to weight of 650 g. Press tare.
Pour in 300 grams of starter. Press tare. The starter should form a floating mass on the water.
Add the oil. Press tare
Add the honey. Press tare.
Whisk together the starter, oil, honey and water until they are mixed.
Add the 1000 grams of flour.
Mix the flour into the water/starter with a dough hook, spatula and your wet hands until you have a shaggy ball of dough.
AUTOLYSE:
autolyse 1 hour.
Sprinkle salt across dough.
spritz with water bottle and work in the salt with wet hands.
Rest 30 mins
STRETCH AND FOLDS:
PREPARE RAISINS: Put the raisins in water and set aside for two hours. They will plump as they absorb water for a better finished baking result.
NOTE: See video for an alternate method of adding raisins by layering them in at the final rise rather than dispersing them through the dough in the stretch and fold stage.
Begin Stretch and Folds. You need 4 rounds of stretch and folds 30 mins apart. See video for technique.
Do the first stretch and fold and set timer for 30 minutes.
BEFORE the second stretch and fold cut the dough in half if you only want ONE loaf for cinnamon raisin bread. The other make as plain.
IF DISPERSING THE RAISINS INTO THE DOUGH: Pour half of the plumped raisins into the bowl and stretch the dough over them.
At the third stretch and fold pour in the remaining raisins and again stretch the dough to bring the raisins into the dough.
At the Fourth stretch and fold all the raisins will be blended evenly throughout the dough.
For more help with adding raisins to this bread dough please read the entire post and examine the photo gallery we include.
LONG COLD RISE:
Refrigerate overnight or up to 36 hours.
BENCH REST DOUGH:
Remove from fridge and warm to room temperature. (ABOUT TWO HOURS)
( If you have not yet divided the dough for loaves) Divide the dough into two equal dough balls by weight.
Bench rest an hour until dough is elastic.
SHAPE AND FINAL RISE:
Both the video and our photo gallery included in this post will help show you the details of shaping and layering the cinnamon into the dough.
De-gass dough with rolling pin and shape for pans as shown in post.
Evenly sprinkle with Half the cinnamon sugar.
Fold the outside edges of the dough to the center and close the seam.
Sprinkle remaining cinnamon sugar on the top.
Fold the FRONT corners of the rectangle to the center seam.
Roll the dough up tucking it as you roll to keep the roll tight.
Flatten the seam and pinch the ends.
Place the formed dough loaf into your oiled bread pans.
let dough do a final rise in bread pans covered loosely with plastic until they reach the top of the loaf pans.
Do an egg wash(optional) on top of the dough before baking.
Score the dough with a sharp wet blade. Make one deep slash down the length of the loaf for best rise.
BAKING INSTRUCTIONS:
Preheat oven with a pizza stone (or baking sheet) and broiler pan on oven shelf below at 400°.
Loaf pans go on top of a sheet pan onto the stone(If you have one).
Spritz loaves with water just before going into oven.
Pour water about 1/2 inch deep in the broiler pan. This creates steam.
Keep steamy for first 15 mins. Spray hot oven with water as you begin baking the loaves.
After 15 mins turn oven down to 375°.
Bake an additional 30-35 mins.
Turn loaves for even browning.
Using a digital thermometer check internal Temp of loaf. It is done at 200°. If you don't have a thermometer pop loaves out to test for hollow on bottom. Or thump the loaf. Does is have a hollow sound?
Remove from oven and cool on racks to room temperature before cutting the bread.
Notes
Alternate Method: To add cinnamon and raisins

If you decide to turn a loaf into a cinnamon swirl bread at the last minute. You can do this just before shaping the loaf. It is NOT ideal. But it will still taste great.
Take your dough and dump the cinnamon / sugar mix and raisins on top.
Chop and fold it all into your dough with your bench scraper.
I do that sometimes when I feel like making a plain loaf into a flavored loaf at the last minute.
Alternate method 2 :
It is easy to add the raisins in when making the cinnamon layers when forming the dough for the bread pans. WATCH the VIDEO below to see me use this method.

More Loaves:
This recipe is for two LARGE loaves. One plain and one cinnamon raisin bread. If you prefer to make three smaller loaves the recipe will divide into three smaller loaves.
You will have to decide at the second stretch and fold how many loaves you wish to make with raisins. Divide the dough into thirds at this point and add the raisins into the loaves as you prefer.
NOTE: If you want two loves of cinnamon raisin bread increase the raisin and cinnamon filling up by a third. The same applies if you want two loaves plain and one with the fillings. But DECREASE by a third.
Recommended Products
As an Amazon Associate and member of other affiliate programs, I earn from qualifying purchases.
Fletchers' Mill Rolling Pin, Maple - 18 inch, Dough Roller, Perfect for Skilled Bakers, Home Chef's, Great for Bread, Pasta, Cookie Dough, Fondant, Pastry, Cookies, Pie, Pizza, MADE IN U.S.A.
Nutrition Information
Yield
24
Serving Size
1 slice cinnamon bread
Amount Per Serving
Calories

217
Total Fat

2g
Saturated Fat

0g
Trans Fat

0g
Unsaturated Fat

2g
Cholesterol

0mg
Sodium

326mg
Carbohydrates

39g
Fiber

2g
Sugar

7g
Protein

5g
More Sourdough Bread Recipes: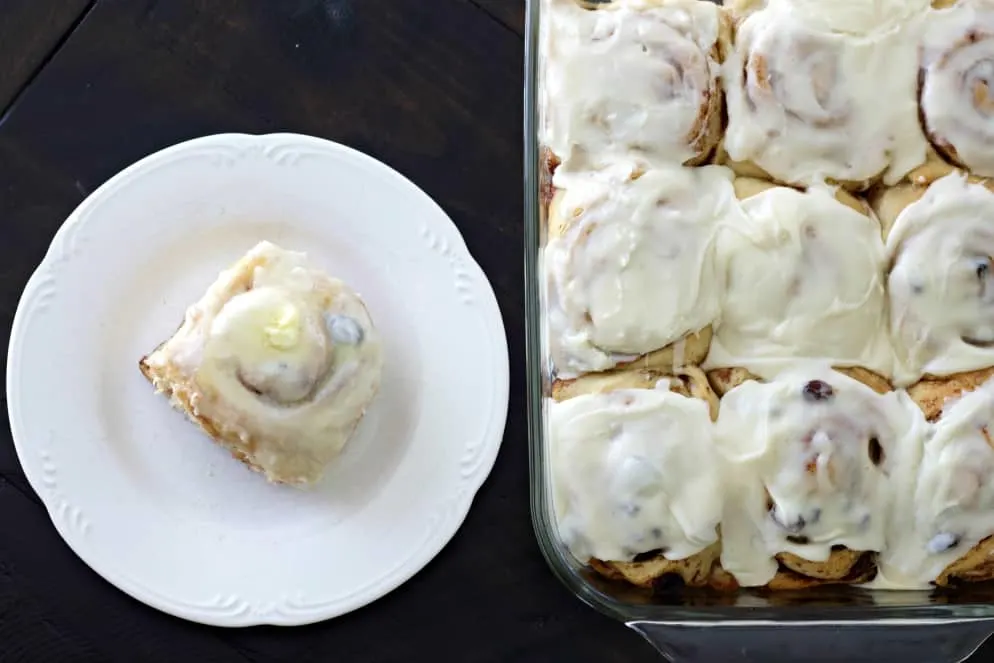 Looking for more sourdough bread? Start with these delicious recipes.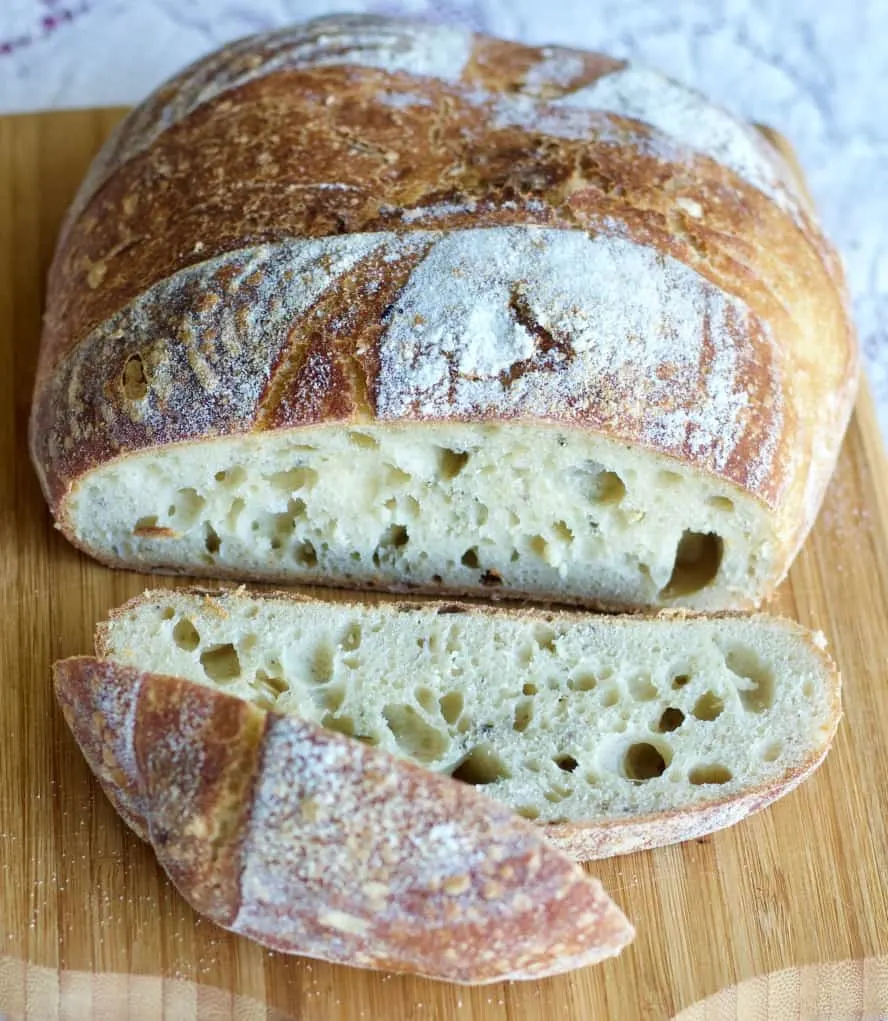 Sourcing Sourdough Starter:
All sourdough bread is only as good as the starter you use. Read our posts on how to make your own Sourdough Starter, How to properly feed your sourdough starter, and Drying Sourdough Starter.
Follow Us:
We enjoy meeting you on our social networks. Follow us on Facebook, Pinterest, Instagram . Tag us with your pictures of our recipes and comment on how it went for you. We would love to see what you do with them.
We often like, comment and share your posts of our recipes on our daily Instagram stories.
Ask questions and rate the recipe in the comments section below. Please share what you did with this recipe. We are always looking for more and better ways to make homemade food. Other cooks love your ideas!
Recent Posts: