Fresh strawberry lemonade bursting with fresh fruit flavor. This is an awesome summer drink recipe, guaranteed to please at any gathering. 
I'm a strawberry fanatic. I used to be allergic to strawberries when I was a kid. I would break out in terrible rashes and end up with a mild upset stomach. Thankfully I have outgrown my strawberry allergy and I have since then become quite the addict! I guess it's because you always want what you can't have! now that I can have them, I eat them by the bucketloads. We have a glorious strawberry patch in our yard that I absolutely love! last year we made strawberry pie, angel food cake, strawberry crisps. You name it we made it with strawberries.
If you read the first part of this post you will understand my heated emotions that I am going to describe here. I was walking in my yard last week with my husband and my cute little baby girl. I looked over to my right and I see our dog had jumped right into the strawberry patch. This would be upsetting all in itself, but what she did next was horrifying and slightly TMI. She "relieved" herself directly on top of my strawberry plants! and I don't mean the liquid kind of relief if you catch my drift. I was horrified. I just stared at her while my husband quickly got her back out of the garden fence. Needless to say, I'm a bit turned off by my beautiful strawberry patch.
For this post I went and bought strawberries from the store since mine aren't ripe yet (I still haven't forgiven my dog.) Anyway, despite all of my strawberry drama I still find them delectable. I really love cold drinks in the summertime so I figured strawberry lemonade would be just the thing! I love this recipe. It turned out so yummy!
Fresh Strawberry Lemonade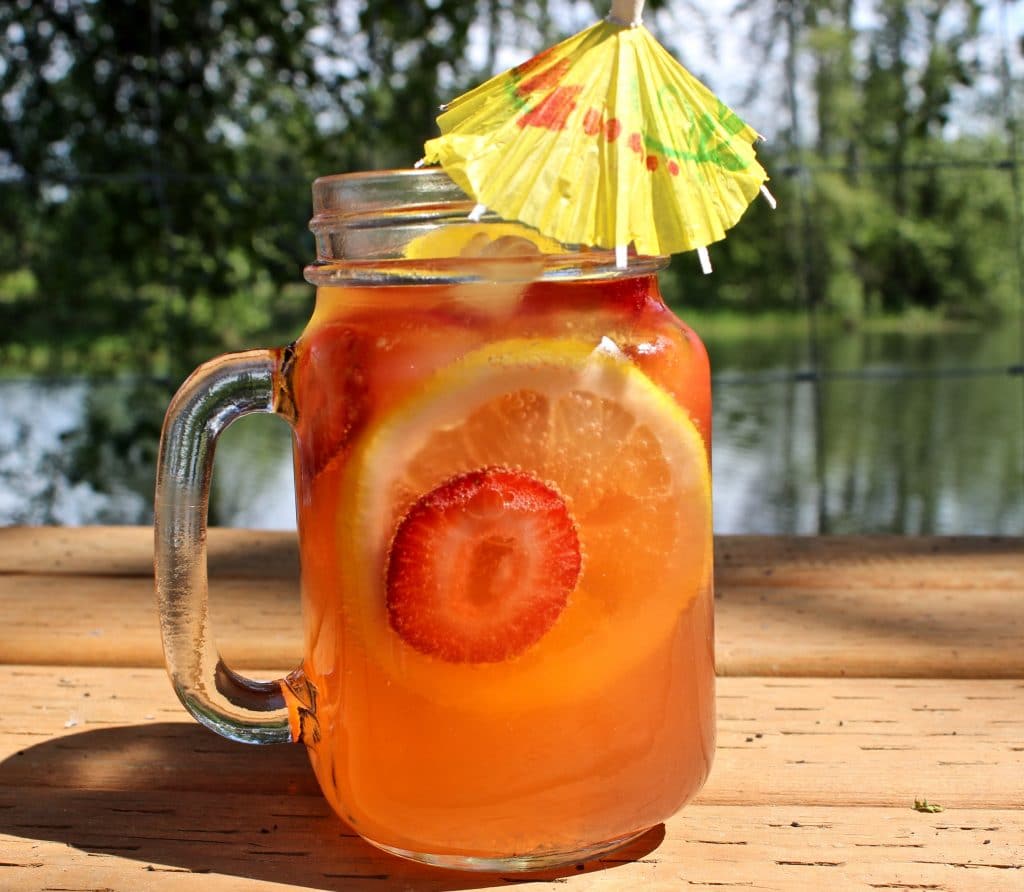 Ingredients
2 cups fresh strawberries (diced)
1 ripe lemon cut into slices
1 liter of lemonade (I used carbonated lemonade so it gave the drink a little fizz, if you can't find any use some carbonated water to replace it.)
1 cup granulated sugar
1/2 cup water
Instructions
Cut the strawberries into small pieces, place into a medium sized saucepan with 5 lemon slices.
Sprinkle the cup of granulated sugar over the fruit slices
Add in the water.
Stir the ingredients over medium heat for 10 minutes or until they are reduced to a syrupy sauce.
Strain the contents over a medium sized bowl using a wire mesh strainer.
Add the syrup from the bowl into a pitcher.
Next, add the lemonade into the pitcher.
Add in any leftover strawberries and lemon slices to give the pitcher a decorative look.
I also added in ice cubes to cool the drink quickly.
Enjoy!