Candy Coated Spoons add a touch of fun to a party table, a bit of rich sweetness to your hot drink and they make ideal gifts! Set these by your coffee pot or chocolate fountain display for party favors. Make them any way you like. Create them to fit any theme, flavor or color scheme you require. Have fun playing in the spoons!
Not too long ago I wrote a post about Homemade Hot Cocoa Mix. In that post, a spoon filled with dark chocolate added an additional note of chocolateness to a very chocolatey drink! It got me thinking about chocolate spoons; and what else might be good on them.
I found some cute mini silver plastic spoons at the dollar store. My mom gifted me with some really cool silverplate jam spoons which I needed to use in this post (because they are cute!)
Michaels had a huge sale on candy melts which work very well for this project. I had Kayti on the phone all the way through the store coaching me on what to buy! After all, this is her idea!
Candy melts were the choice for this project because:
They melt fast, and set up hard!
go through a sandwich or decorator bag easily
and you can swirl them easily with a toothpick to fill out the spoon.
Candy chunks like crushed peppermint and sprinkles adhere well to melted, unset candy melts too!
My project took shape!
As a Side Note on Candy Coated Spoons:
This is one of the most unhealthy treats on this blog. Unhealthy why? Because these are so full of chemicals they really don't qualify as food in my opinion. But they are so fun and useful for parties and foodie gifts!
Lest you think we eat like this often. NO, we don't. This is a fun treat for a special holiday playtime or an occasional indulgence with your hot drink of choice. I hope you love it. I also hope you take it in the spirit it is intended. A fun, but rare treat. Now, let's play!
How to Make Candy Coated Spoons:
You will need:
Candy meltsof whatever colors you want
peppermints, crushed; and any candy sprinkles you like
sandwich or decorator bag, one for each color candy melt
12 mini spoons(1/2 tsp. size) or 6 regular teaspoons
a toothpick or two, for smoothing the melted candy into the spoons
The Process:
Choose your colors and put each into small microwaveable containers, lids off.
Microwave about 1 minute, depending on your batch size, until a toothpick can swirl smoothy through the candy. Do NOT boil!
Scrape the melted candy into decorator bags or sandwich bags with a small corner cut off.
Fill and decorate the spoons:

Use a toothpick to distribute the candy evenly to the edge of the spoon. Alternately you could dip the spoons into a candy pot (you will use a LOT more candy) and let these set by holding and twirling them until the candy solidifies.
While the candy is still warm and accepting, sprinkle candy of your choice over the spoon. If you choose to drizzle a different color candy melt over the base color. Allow the spoon to set up firmly so the colors will be distinct.
Not much to this process really. It takes about a half hour to set up and about 10 minutes to do; unless you get really elaborate in your decorating.
The recipe amounts will yield 12, 1/2 teaspoon sized spoons OR 6 full sized teaspoons. You might lose a bit in the bags. Add extra if you plan to coat the entire spoon front and back.
If you purchase items from our Affiliate Links we may receive a commission at no extra charge to you. Thank you for supporting Homemade Food Junkie.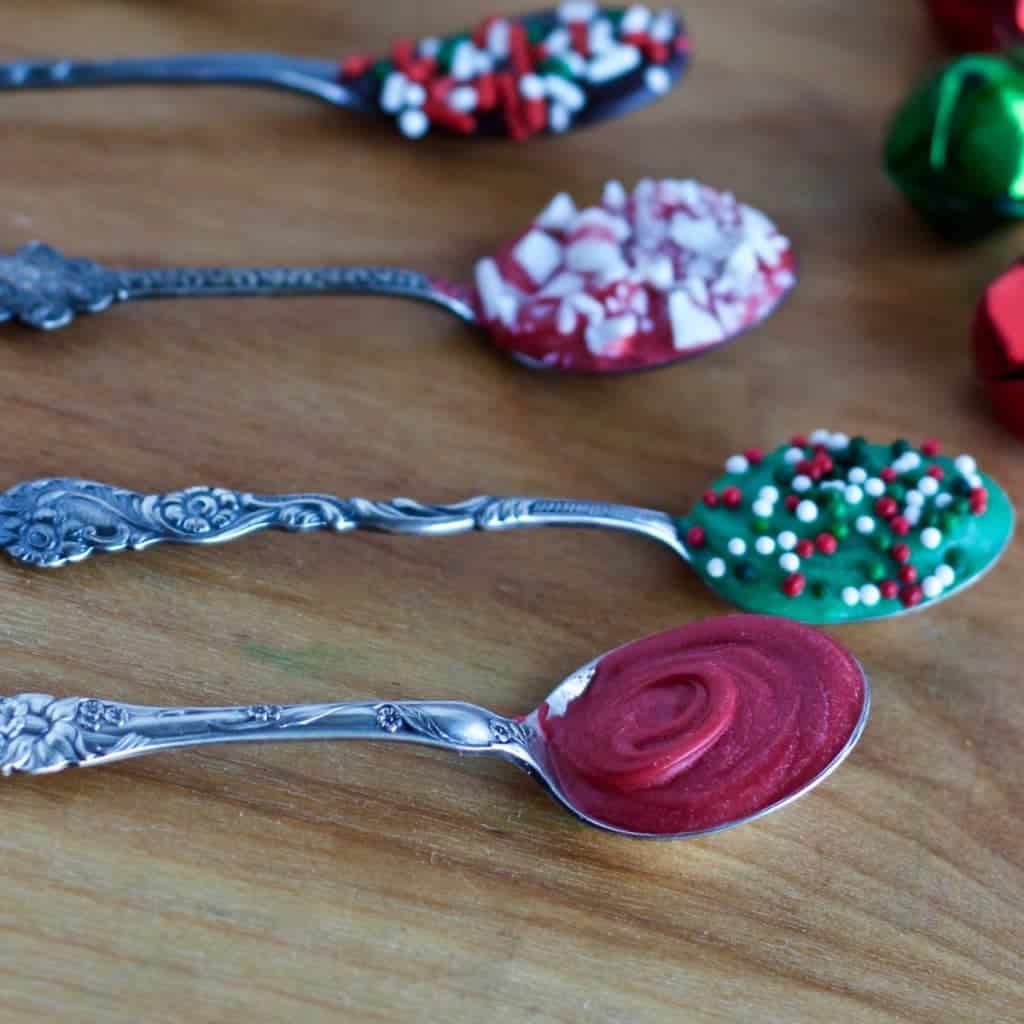 Create it:
Hopefully, some of you will share your ideas on how you do this project. I tried to drizzle white chocolate over other colors and it didn't look good. Kind of blurry. So I came up with a basic candy sprinkle idea and we can go from here. I do think these are cute. And they are very tasty too!
Fun for a party:
No one ever called me artistic. Plain, basic cook here. My children designed their own birthday parties if that gives you an idea of how challenged I am in this area! The wonderful unintended consequence was a variety of REALLY fun birthdays the kids loved! Great memories there.
Feel free to insert photos in the comments or email me showing how you invent these Candy Coated spoons. I'd love to be inspired by you! I actually almost didn't finish this post. It took me two days of photographing, in dismal light, to figure out this really is my best work right now, on this recipe:( After committing so much time to it, guess what? I'm posting it.
All of you arty readers out there….I hope you take it and run with it. This can be much better. Eventually, I'll figure out how. Presentation is not my strong suit!
INSPIRATIONAL UPDATE:
Here is a brand new idea for this craft from one of our blog readers, Brenda Grindheim, and they are wonderful!
THANK YOU! To Brenda Grindheim from Troutdale Oregon for showing us her version of this candy coated spoon craft. Her craft group took this project on and went wild. She graciously sent me a pic of her incredibly cute spoons. She loved doing this project and her group wants to do it again. The mind boggles with new ways to play with this foodie craft.
Brenda's remarks on her results
"I tried one my spoons a bit ago. I was adding it to a mug of hot milk. Following you I was eating it more than stirring it in. Very nummy. I also braved the dark cocoa. I don't like dark chocolates cuz of the bitter taste. But Yumm. Plenty sweet. So I made 6 more spoons. Only cuz I ran out of chocolate. I now see I must make many more as I enjoy hot milk b4 bed. And to gift them I think more than 1 will be appropriate. Either 3 or 5 I'm thinking."
Here's where Brenda Found her supplies:
"I got the spoons and plastic cups at $tree. The melts at Wal-Mart. The cake decorations at various stores. the only melts not used much were the dark cocoa. The red and white were most popular."
Brenda has recipes to share with us to keep your eye peeled for more foodie gifts and Holiday treats coming up. I'm so excited to share her contributions. If you have favorite recipes to share, TALK to me 🙂
The idea for using these candy coated spoons is to swirl them around in a hot cup of coffee, or cocoa. They add a bit of extra flavor and richness to your drink. I don't actually do that…Much. I might dip it in the cup a bit, but I'm a chewer. I bite off chunks of the candy and drink my drink so it melts in my mouth. Yum!
Gift it!
Your kids will love making and eating candy coated spoons with a cup of hot cocoa. Your tastebuds will approve as well when you get a bite of sweet candy off the melting spoon end.
Peppermint adds a nice brightness and refreshing zip to your cup along with the rich sweetbits. If you have a theme going for a party, these can be made into whatever color and flavor you desire!
These also make fun personal gifts with my homemade hot cocoa mix recipe. Such an easy way to say "You're special" to a friend or family member or "I appreciate you" to a coworker, teacher, or whoever!
Yield:

12 servings
Candy Coated Spoons
Additional Time:
30 minutes
Candy Coated Spoons add a touch of fun to a party table, a bit of rich sweetness to your hot drink and they make ideal gifts! Set these by your coffee pot or chocolate fountain display for party favors.
Ingredients
4 Tablespoons candy melts -melted (whatever colors you prefer)
1 Tablespoon crushed peppermint candy
1 Tablespoon sprinkles of your choice
Instructions
Melt the candies in a microwave safe bowl, in the microwave 30 seconds to 1 minute. Check them every 30 seconds
When they stir up smoothly with a toothpick they are ready
Scrape the candy melts into a sandwich or decorator bag and cut a small hole at the bag tip
Squeeze the candy into the well of a spoon. Use a toothpick to smooth the candy to the spoon edge
Now decorate and flavor as you wish with the peppermint or sprinkles
Set the spoon aside to set
Repeat with about 12 mini spoons (jam size) or 6 regular sized spoons
Nutrition Information
Yield
12
Serving Size
1
Amount Per Serving
Calories

28
Total Fat

0g
Saturated Fat

0g
Trans Fat

0g
Unsaturated Fat

0g
Cholesterol

0mg
Sodium

2mg
Carbohydrates

6g
Fiber

0g
Sugar

4g
Protein

0g
Pin it: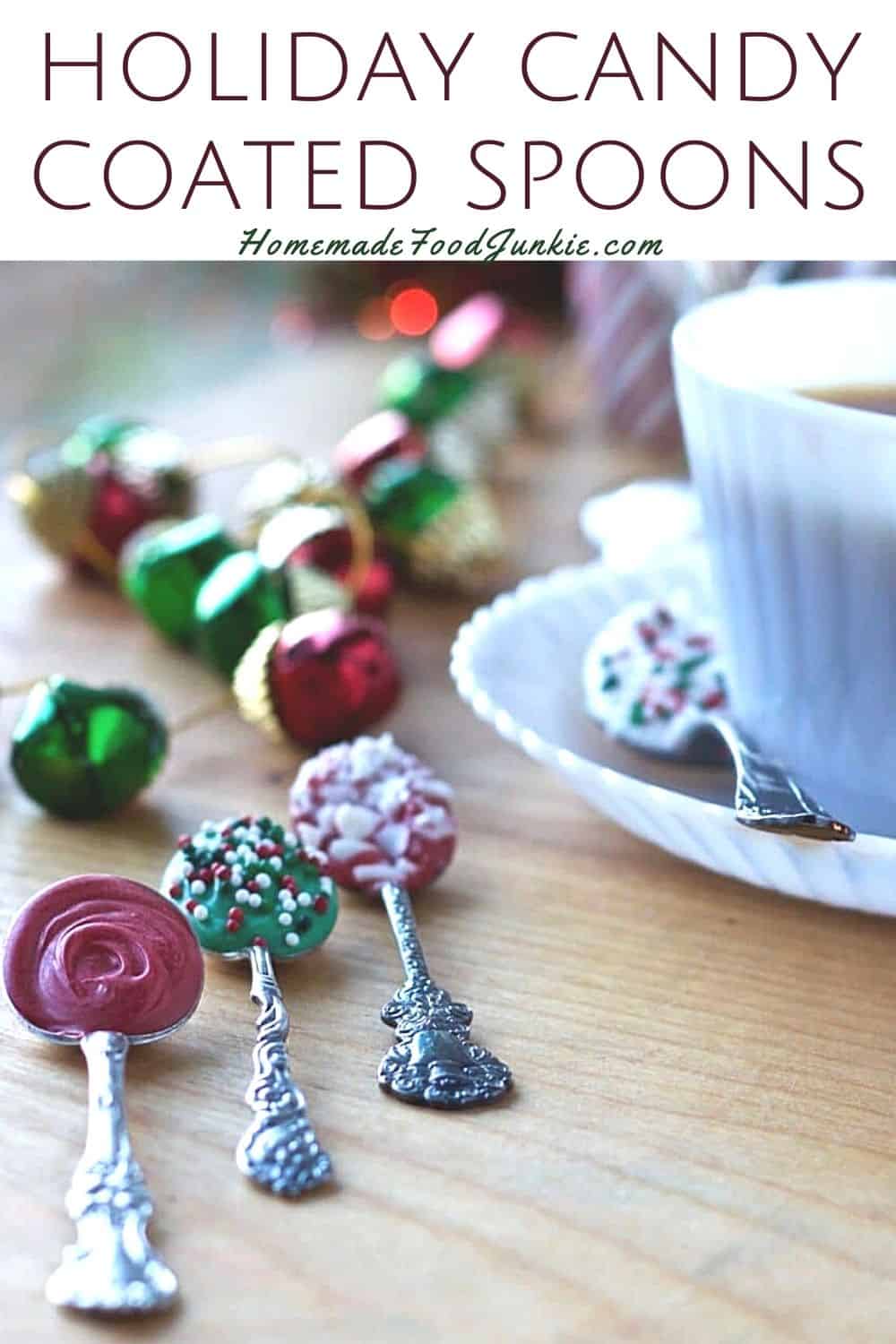 Link it: this recipe is linked at #TryABiteTues link party