The classic gin fizz is light and sparkling citrus drink with a hint of sweet to balance it all.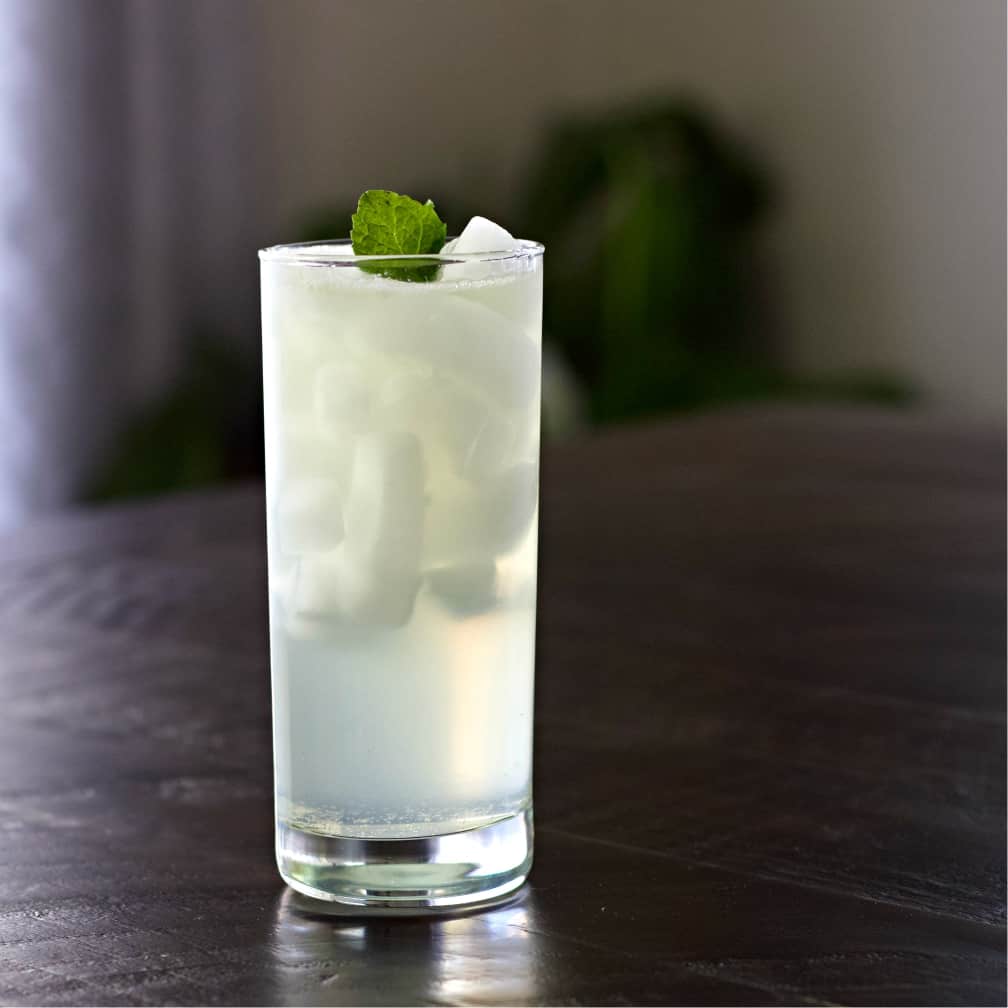 Looking for a summer gin cocktail? Try this one. It's very easy to put together and has a bite of citrus and sweet to balance the gin.
If you scroll down to the bottom of the visual guide you will find more ideas to change up this old favorite. How do you like it best?
This Gin recipe and it's variations came from my Ultimate Bar book By Mittie Hellmich. It's a great guide to all sorts of cocktails recipes and other information useful to a home bartender.
Looking for more cocktail ideas? Check out our entire cocktail section.
All the fizz alcoholic drink recipes use a citrus juice such as lime or lemon. Carbonated water provides that beautiful sparkling bubbliness.
History of This Cocktail:
What makes this Gin drink and all it's variations stand the test of time?
According to this article by WikiPedia The fizz came into popularity in the in America between 1900 and the 1940s. Known as a hometown specialty of New Orleans, the gin fizz was so popular that bars would employ teams of bartenders that would take turns shaking the drinks.
What a picture that makes. Relief teams of cocktail shakers making drinks for the clamering crowd. Who knew?
Over the years since its debut many Fizz recipe variations have found their place in the world of Juniper berry flavored distilled gins. More on that below…
Gin Fizz Ingredients:
We make this drink using London Dry gin.
We use Beefeater brand london Gin for this drink recipe. Beefeater is affordable and easily available.
I found my bottle at BevMo. It works well in this classic cocktail.
Beefeater gin
Fresh lemon
Sugar
Club soda water
The Proper Glass:
Make this delicious and classic gin recipe right at home with a Collins glass, cocktail shaker and stir stick.
This drink is VERY similar to a Tom Collins cocktail. And the fizz also uses a Tom Collin Cocktail glass (or a hi-ball glass).
The real difference between the two drinks is mostly history and a Gin named Toms. 🙂
The Hiball glass is a staple of the home bar. You will use it in many cocktail recipes. It is indistinguishable from a collins glass.
Your Visual Guide to this Recipe:
Here's a short Visual walkthrough of all the steps for you. Please also watch our short video for a complete recipe demonstration.
More Gin Cocktail Recipe Variations:
The Sloe gin fizz uses a British Red liqueur made of sloes (a type of plum) . We are curious and may find sloe gin to make this fizz.
The Ramos was made first in the new orleans Roosevelt Hotel. We'll be looking up this recipe and posting it soon.
Our cocktail book offers these different and simple recipe variations to change up this classic gin cocktail.
Silver Gin fizz: Add a beaten egg white for a frothy top
Golden Gin Fizz: add an egg yolk into the shaker and shake hard until yolk is emulsified. continue with the recipe.
Royal Gin Fizz: replace the club soda with champagne.
Grand Royal Fizz: Add 1 tsp. maraschino cherry liqueur, 1 oz. orange juice, and 1/4 oz. half and half.
NOTE: We tried the Grand Royal version. Pictured below. The dairy did curdle a bit. But it was very tasty.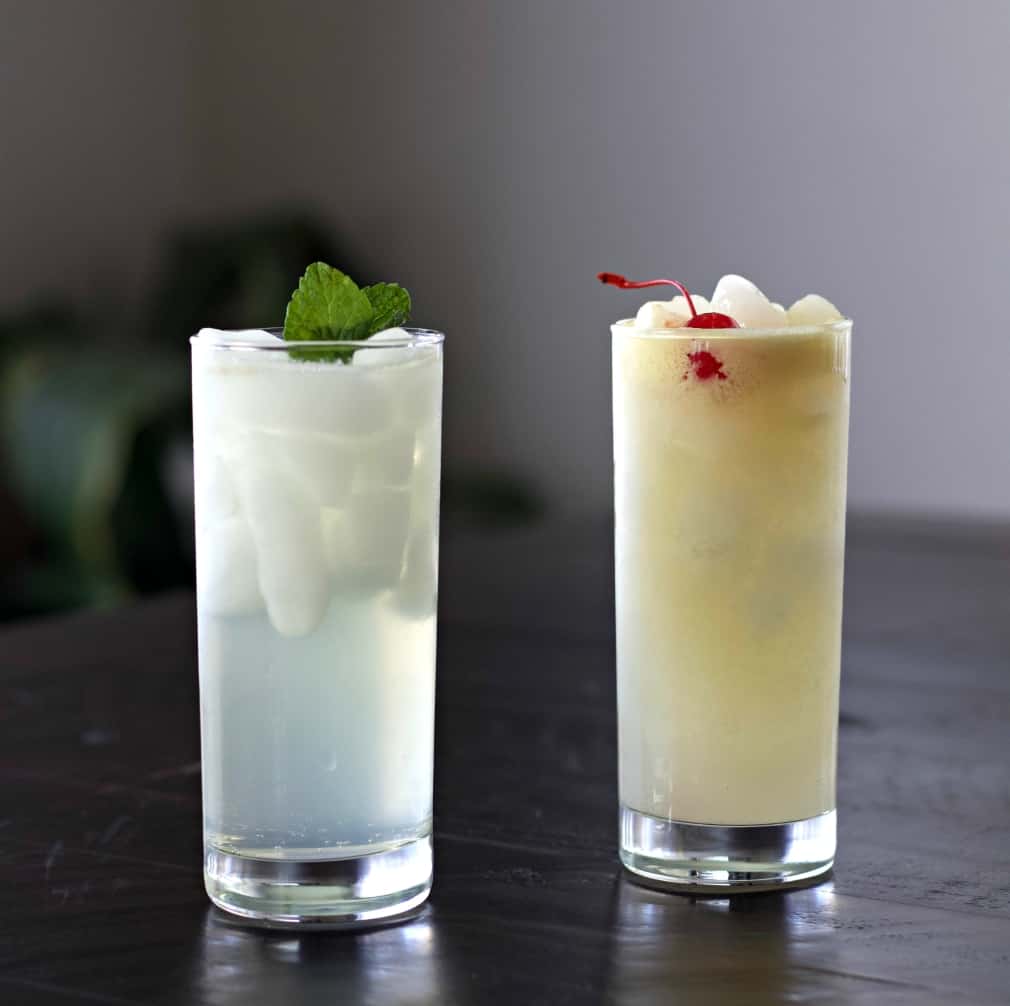 Your Printable Recipe Card:
Yield:

1 cocktail
Gin Fizz Cocktail Recipe
This Classic Gin Fizz recipe uses London Dry Gin, fresh lemon and club soda. Sparkling citrusy with a bit of sweet to brighten the flavors. top it with mint for even more pizzazz.
Ingredients
2 oz. London Dry gin
1 oz. fresh lemon juice
1 teaspoon sugar
3 oz. club soda
Instructions
Fill a cocktail shaker half full of ice
Add the gin, lemon juice and sugar
Shake the cocktail vigorously for about 30 seconds until the shaker feels very cold.
Strain the shaker contents into a Tom collins glass half filled with ice
Pour club soda to top.
Garnish with mint sprig or lemon twist.
Notes
Garnish Ideas:
Sprig of mint
Citrus peel in a twist
Citrus wedge on the side of the glass
Nutrition Information
Yield
1
Serving Size
1
Amount Per Serving
Calories

151
Total Fat

0g
Saturated Fat

0g
Trans Fat

0g
Unsaturated Fat

0g
Cholesterol

0mg
Sodium

2mg
Carbohydrates

6g
Fiber

0g
Sugar

5g
Protein

0g
We'd love to see what you do with this recipe and all of it's variations. Please tag us on Instagram with your pics and feedback on this recipe.
Please Rate this recipe and comment below. What is your experience with this gin drink? What's your favorite way to make a gin fizz?