Brighten your home for the holidays with these front door Christmas decorating ideas and some winter bling. With just a few purchases and some DIY christmas decor your front entry will invite guests inside with a bright sparkle and cozy warm feeling.
WATCH Amanda Decorate and show you her method for adding a Christmas vibe to the front door. Click the picture below to see her Christmas Front Door Decor video. Read this post to learn our tips and tricks for Decorating your front entry for the Holidays!
Our daughter, Amanda, decorated her lovely leaded Glass front door with sidelights for Christmas with me while I visited. Amanda and Nathan move quite a bit for his career.
I have visited them in Kansas, Montana and now Louisiana in six different homes over the last several years. I love seeing the different places they live. There are so many beautiful places to explore in our country.
This week I am happily immersed in Christmas decorations in Amanda's REALLY beautiful southern Louisiana home. It is fun getting into the Christmas spirit decorating for a family of six. The kids are SO excited about it all.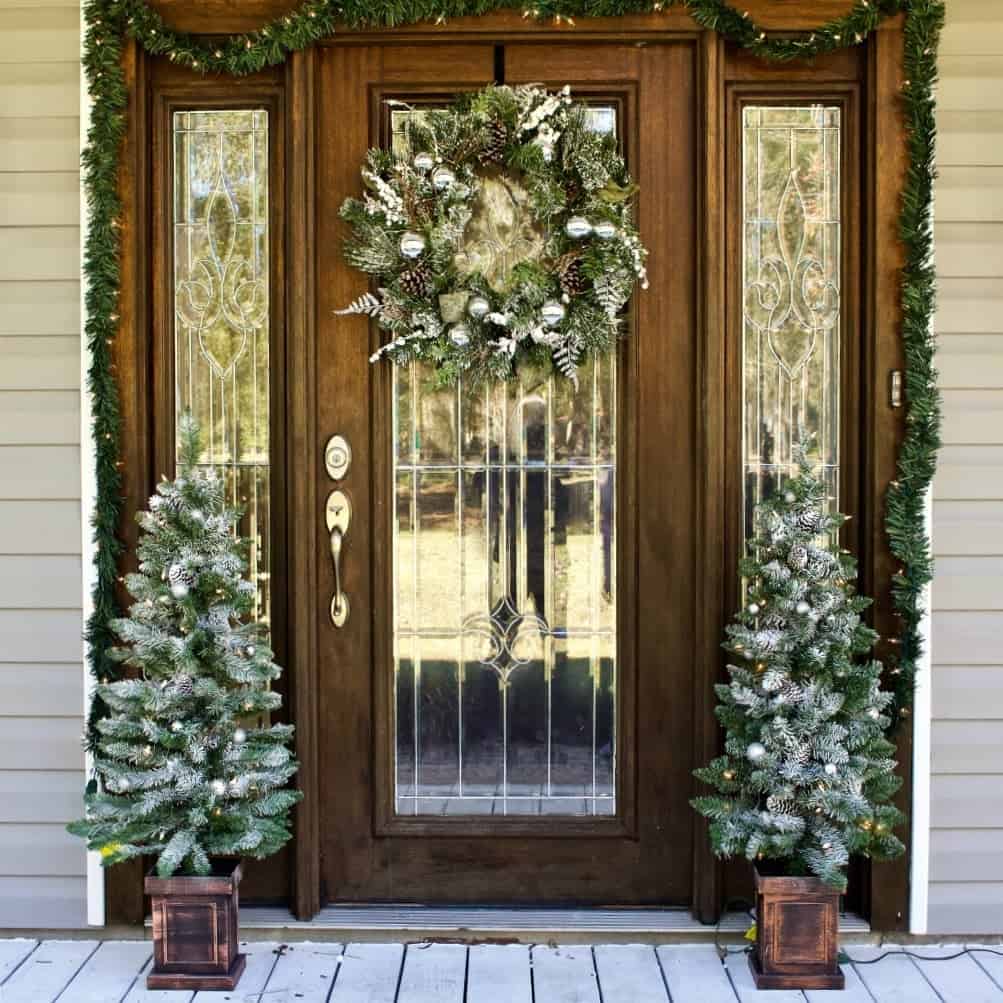 THE VISION: Amanda's style is neutral and rustic glam. What is your vision? Work with it!
A traditional, elegant look works well as a focal point for this wrap around front porch. With around $100.00 in decorations and a bit of time we created this lovely traditional rustic glam look for their front porch.
The front porch and door will remain decorated like this clear through the first of January to create a winter look in sunny Louisiana. They are not likely to see the real thing here. As home grown Northerners, they like the winter ambiance even if it's all they get.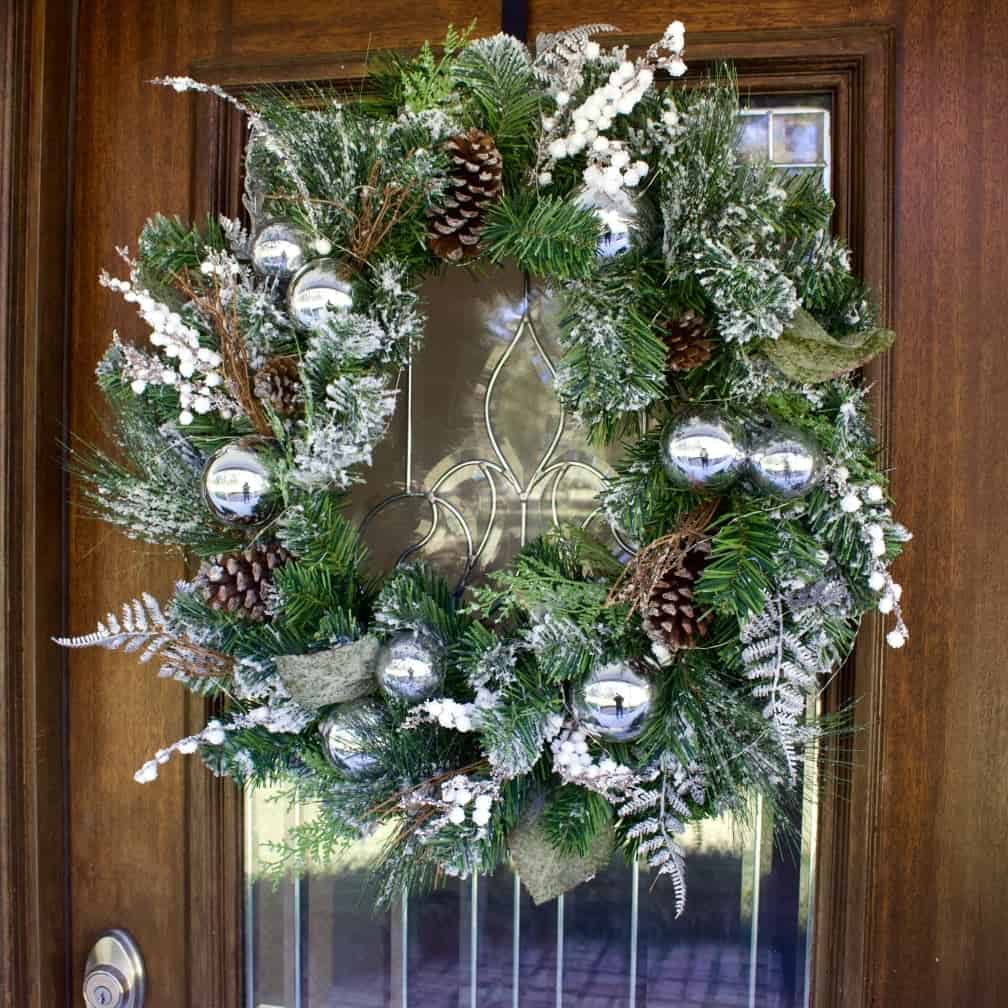 The Front Entry is a Very nice focal point at the Sandefur home. The beautiful leaded glass door needed just a bit of bling to brighten it for Christmas.
Amanda found the PERFECT wreath. She really loved it's snow and silver look with her leaded glass front door with elegant sidelights.
The Front door wreath created the focal point for the look of her front entry. With her wreath was chosen, Amanda easily came up with the rest of her outdoor Christmas decorations.
She wanted some way to really set off and compliment her leaded glass front door. She framed the door in the VERY INEXPENSIVE pre-lit garlands she found at WalMart. If she had it to do again, Amanda would have gotten a flocked garland with a bit more fluff.
We spent quite a while figuring out how to attach the pre lit garlands to her door frame without damage. But finish nails and pipe cleaners did the trick. We are NOT taking them down again so the garlands will remain unflocked!
Small silver bows on the lantern lights beside the side lights complimented the wreath and add a tiny extra sparkle. It looked nice but needed a bit more. So we hunted down these two four foot pre lit mini trees from home depot.
This is where the DIY Christmas decor part begins.
The pre lit mini trees were plain and undecorated or flocked. The wreath also had no lights. With a few materials and her glue gun we created a traditional Christmas.
Outdoor porch Christmas decorations should balance at night when lit. And they need to look like they are all getting the same weather (even if they never do get snow). SO Amanda flocked her mini trees and added Fairy lights to the wreath. much better!
Front door decorating for Christmas invites your guests inside and delights the neighbors. It's worth spending a few dollars and some time and effort to add a little Christmas joy to your home.
Amanda had the kids find some pine cones from around the yard and she bought an inexpensive container of silver ornaments for the mini trees too. It was a fun afternoon project to spray Santa Snow on the trees and hot glue the pine cones and ornaments on too.
Those little trees, the garland and the wreath will last for several years and can be changed up for other color and decorating schemes both indoors and out. That makes it worth the money and storage space they require. Every year they can be reused in different ways with a little ingenuity and small decorating tweaks.
Maybe you have mini trees already that can be upcycled to match your favorite wreath!
Lighted DIY Front Door Christmas Decorating Tips:
Find your focal point first (Amanda chose her wreath) and theme your other decorations to it.

Add Balance and highlights with:
Shape. Look at your decoration shapes and colors adjust them to create the look you want. Amanda used the garland to frame her wreath and door. She added the mini trees to bring a visual anchor and balance her front door decor.
Color and texture: Choose colors from your focal point to theme your decorations. In our example, Amanda used pine cones silver ornaments and flocking to tie her mini trees to her wreath.
Light: In the picture below of Amanda night lit front door you can see how the wreath fairy lights she added balance the wreath and bring it out at night when all the front door decoration lights are on.
Balancing all your decorations around your front door enhances the festive feel of your holiday or winter decorations. Use your own personal style to Christmas up your front entry and enjoy a warm and festive holiday season!
Here is your Printable Instructions and ideas for front door Christmas Decorating!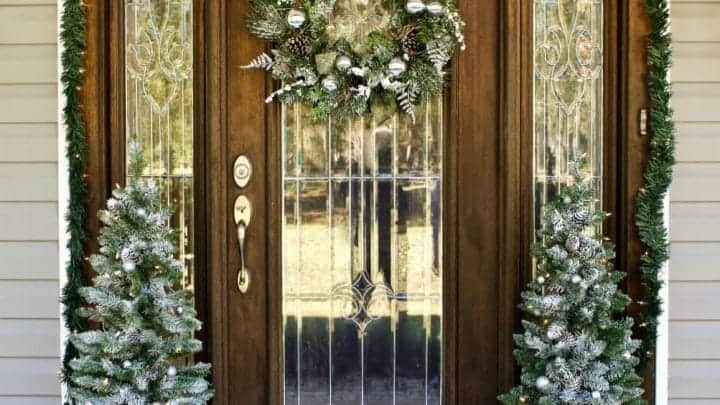 Yield:

Christmas Front Porch Decorations
Front Door Christmas Decor Ideas
Active Time:
1 hour
30 minutes
With a good focal point and some finishing touches you can create a beautiful traditional Christmas front door and porch Decor. Invite your guests into your home with a festive Christmas vibe.
Materials
purchased wreath
wreath door hanger
one set fairy lights
bows for entry lights as needed
2 purchased 48 inch high pre lit mini trees with pots
santa spray
small ornaments
Tools
painter mask
hot glue gun and glue sticks
Instructions
Weave fairy lights through the wreath
Hang wreath on the door hanger
Attach the pre-lit garland to the door frame
Apply Hot glue to each pine cone one at a time
Attach the hot glued pine cone immediately deep into the tree fronds and hold a few minutes until the glue is set. Repeat until you like the balance of cones on your tree.
To flock the trees set them in a well ventilated area (outside or garage preferred-mind the overspray)
Put on the painters mask
Apply flocking spray in short bursts to the trees
AFTER flocking Apply hot glue to each ornament and attach to the trees like you did the pine cones.
Set the trees on your porch as shown. You may further decorate the trees with bright festive bows on the pots, or fluffy white poly in the pot bottom to simulate snow.
Fill the pots with rocks to keep them stable in windy areas.
Attach bows to light fixtures as desired to compliment your decor.