Funeral Potatoes are the ultimate comfort food often brought to potlucks, memorials and holiday parties. This crispy, cheesy hash brown casserole is easy to make and always a welcomed side dish. Made with shredded potatoes, onions and peppers, cream of chicken soup, cheese, sour cream and topped with crispy corn flakes.

This is another family recipe passed down from Great Grandma Anne. It always graced the table for Easter dinner and never lasted long.
Why are they called Funeral Potatoes?
The reason for the name behind this delicious dish is due to its reputation of being a comforting side dish served at luncheons after funerals. It is particularly famous in the culture of the Church of Latter Day Saints.
We usually refer to it by its more generic name of Hash Brown Casserole, but we can understand how it got its name! You will also hear it referred to as Cheesy Potatoes, Cheesy Hash Browns, or Party Potatoes.
What can I use in place of Corn Flakes on Funeral Potatoes?
Hash Brown Casseroles are traditionally full of butter and topped off with a light layer of crunchy cornflakes mixed with more butter and topped with a light sprinkle of shredded cheese. We recommend cornflakes because they present such a rich flavor and wonderful crust, however, If you are looking to swap out the cornflakes there are for sure substitutions to choose from.
Instead of cornflakes you could use bread crumbs, crushed potato chips, or even mashed Ritz crackers. These options won't yield as crunchy a topping, but the flavor will still be fantastic.
Are Scalloped Potatoes the same thing as Funeral Potatoes?
Scalloped Potatoes, while very similar to Funeral Potatoes or Cheesy Hash Browns are different in how they are prepared. Scalloped and Au Gratin Potatoes are made with thinly sliced fresh potatoes layered in a creamy cheese sauce and baked. Though they are sometimes topped with a light sprinkle of bread crumbs, not always.
Funeral potatoes are made from shredded potatoes in a sauce of cream of soup and topped with hearty cornflakes for the iconic crunchy topping. Most Funeral Potato recipes use cheddar cheese. We prefer Colby Jack for its softer, creamier, texture and richer taste. We also add in diced peppers to accompany the onions for a richer flavor and pop of color.
Funeral Potatoes Recipe
This easy cheesy Hash Brown Casserole can be made with a bunch of variations depending on your preferences. We are sharing our family recipe that we know and love.
TIPS
Shredded hash browns like Ore Ida make the best style to use for this recipe. While cubed potatoes can be used, they just don't cook together with the other ingredients quite as well.
Thoroughly thaw your hash browns before adding them into this casserole. You can add them while frozen however, they do not mix up as well with the other ingredients and the oven time will need to be increased by at least 10 to 15 minutes.
If you're not a fan of peppers they can be omitted.
We enjoy and recommend ColbyJack cheese in this recipe. It's a bit softer than cheddar and the flavor works really well in this cheesy casserole.
Can I make Funeral Potatoes ahead of time?
Absolutely, like most casseroles Funeral Potatoes are easy to make a day or two ahead and leave covered in your fridge until needed. You will need to add 10 minutes to the cooking time if it goes into the oven at 350 degrees F.
If you are freezing Funeral Potatoes be sure to cover tightly before placing in the freezer. When you are ready to cook, remove the pan from the freezer and transfer to the fridge to thaw overnight.
Funeral Potatoes Printable Recipe Card: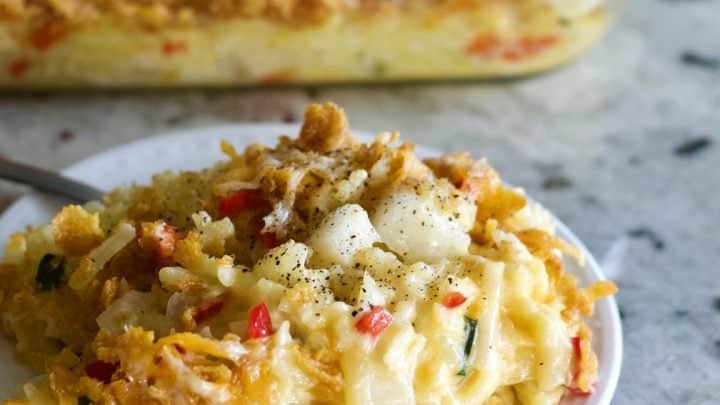 Yield:

12
Funeral Potatoes
This Potato casserole with cheese and sour cream is right up there with apple pie for favorite potluck and party foods. Known as funeral potatoes, potato casserole or hash brown casserole this recipe will comfort and delight. One of our family holiday staples.
Ingredients
2 lb. package shredded (not cubed) hash brown potatoes (thawed)
1 stick butter melted and divided plus 2 more tablespoons butter for sautè.
1 Cup diced onion (sautè with 2 Tablespoons butter until soft)
1 Cup chopped peppers (I use roasting peppers-may be sautèed with onions to make them soft)
1 Cup sour cream
2 Cups grated colby (or cheddar) cheese divided
1 10 oz. can cream soup (I used heart healthy Cream of chicken)
2 Cups Cornflakes
Instructions
Preheat oven to 350 degrees
In a large mixing bowl stir together the thawed hash browns, onions, peppers, sour cream, soup, 6 Tablespoons (3/4 Cup) melted butter and 1 Cup of the shredded cheese.
When well mixed spoon into a 9 x 13 greased casserole dish. Smooth the top.
Topping:
In a small bowl add 2 cups crushed corn flakes and 2 Tablespoons melted butter.
Mix together and spread mixture evenly over the casserole.
Sprinkle remaining 1 cup grated cheddar cheese over the top of cornflakes.
Bake 35 minutes covered.
Remove cover and bake 10 minutes more or until bubbly and golden brown.
Notes
The onions and peppers are optional in this recipe but do add more flavor, color and texture. For best results we recommend sautèing the chopped onion and pepper before adding them into the mix.
Nutrition Information
Yield
12
Serving Size
1 Cup
Amount Per Serving
Calories

384
Follow Us:
We enjoy meeting you on our social networks. Follow us on Facebook, Pinterest, Instagram . Tag us with your pictures of our recipes and comment on how it went for you. We would love to see what you do with them.
We often like, comment and share your posts of our recipes on our daily Instagram stories.
Ask questions and rate the recipe in the comments section below. Please share what you did with this recipe. We are always looking for more and better ways to make homemade food. Other cooks love your ideas!
Recent Posts: