Black Rice Quinoa Pea Salad is a delicious gluten-free, hearty salad loaded with nutritionally beneficial ingredients.
Black rice, red quinoa and peas compliment each other beautifully in this dish! The grains are both nutty and slightly sweet.  The peas are a lovely pop of color and counterpoint of flavor as well. The crunchy bits of celery, garlic powder and Feta cheese round it all out. The sunny slices of boiled egg add cheer and protein. This salad makes a filling side dish or light lunch!
We love those carby, sweet naughty treats at Christmas time. Unfortunately they make us feel like we have rocks in our guts. After a couple of weeks of eating too many goodies; we are throwing off the holiday overfed yucky feeling; with better quality food at our house! Black rice quinoa pea salad is one of my creations to bring us back to a better diet. Green juice and detox  Red lentil soup have been a great help too! Fibrous black rice and quinoa help clear the digestive system and offer anti-oxidants! Add them into your diet anytime for many nutritional benefits. This salad is easy to make and tastes great. Enjoy!
Black Rice, Quinoa, Pea salad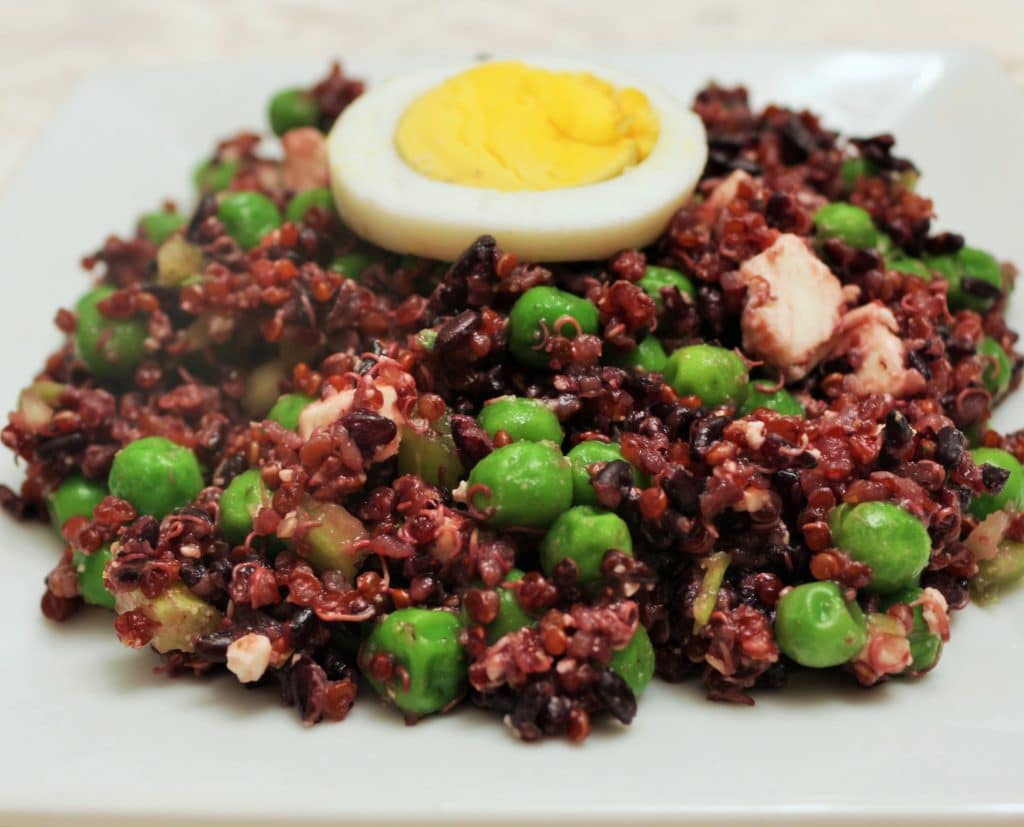 Ingredients
1 Cup Black Rice
1 Cup red quinoa
4 Cups water or broth
2 large ribs celery- minced
4 Cups frozen peas
2 cups feta cheese
3 Tablespoons Johnny's garlic spread and seasoning
3 hard boiled eggs for garnish
Instructions
Put the quinoa and rice into a large 4 quart pot with the water or broth and bring to a boil. Reduce heat to simmer until water or broth is absorbed completely into the rice and quinoa (watch so it doesn't burn!) Cool and put into a large bowl with the frozen peas and stir thoroughly. Refrigerate.
Mince the celery. After the rice is cooled completely add the celery to the rice and peas mix. Add the feta cheese and powdered garlic. Mix thoroughly and serve. Makes a great snack or side dish!