Westport Clam Fritters. Made from fresh or fresh frozen clams dug right here in Westport Washington. Made with an easy to make, seasoned breading batter; with chopped fresh veggies and fried in coconut oil! Enjoy this simple, delicious seafood dinner after a clam dig or buy clams frozen and add a salad for a quick nutritious meal!
It's a clam tide here at Westport Washington; one of the best razor clam beaches in United States! Dave and I came down for a long weekend get-a-way. We're staying with my sister Susie at her cute little beach cabin surrounded by cranberry bogs. Until I visited Susie's cabin I didn't know Cranberries are a HUGE commercial crop at Westport.( Ocean Spray Cranberries make a lot of sense now!)
Normally, Susie would be out at the beach with her clam shovel. But POURING down rain and her fair weather company (Dave and I aren't into rainy, cold beach experiences) kept her in. So she pulled some fresh frozen clams out and defrosted them for her special recipe of clam fritters. We loved them!
Westport Washington is a lovely area to visit with lots to do. The above photo gallery is interactive If you click on the pictures they will open to full size so you can how beautiful it is there. Charter boats offer all kinds of seasonal open water fishing. Salmon, tuna and lots of bottom fish.
The beaches are also a treasure trove of shellfish. Razor clams are abundant here and oh so good! Clamming is a family activity. Read all about our family vacations at the beach in my Mom's Homemade Clam Chowder Recipe! Load up the kids and go! But maybe not in January!
If you're like me, not really into seafood; you might enjoy beach walks, woodland hikes, or shopping in the fun little shops in Westport. The scenery is absolutely fabulous. A wonderful get-a-way spot. Dave and I love our visits to Westport!
Recipe Notes and Walkthrough for Westport Clam Fritters:
Prepare your fresh clams. If you need help cleaning them look at the videos links below. Susie is a master at preparing clams. She has made two tutorial videos to help you.
After your clams are defrosted or fresh cleaned; chop them up fine.
Chop up your preferred vegetables. Susie considers green onions a must for the best flavor. Add garlic shallots, peppers and whatever you prefer. We had some cooked bacon and threw that in. It tasted great! Just make sure your fritters hold together. Use a stickier batter(maybe add an extra egg) if you're using a lot of veggies and mince them fine!
Follow the directions to make a batter. Add your seasonings and vegetables and stir them up.
Now add in your clams, stir it all up and put it into your heated coconut oil, by large spoonful's. Susie made it clear that depending on what ingredients, flour mixes, and eggs you use.
The batter can  be adjusted by adding more dry batter mix or more eggs to accommodate your ingredients. Too loose and the fritters will fall apart. Too sticky and they may burn or have uncooked middles. I'm including the picture of the seasonings she uses in case you need to improvise.
Coconut oil is a great choice for this recipe. The heat is only medium high so it won't damage the healthy properties of coconut oil. Olive oil would be destroyed at this temperature and, in fact, goes toxic when overheated. Save that one for your salad dressings! Avocado oil would also work here. It's a healthy high heat oil.
        *****************************************************************************
Susie has made some videos about properly cleaning clams. These videos are really helpful if your cooking with freshly dug clams. They are sandy! These three short videos will take you through the process from live caught to fully cleaned.
Clam cleaning part one
https://www.youtube.com/watch?v=mKoEGRWk4Ms
Clam Cleaning part two
https://www.youtube.com/watch?v=jKyxTYPQhAs
Clam Cleaning part three
https://www.youtube.com/watch?v=gTxuHNYIloM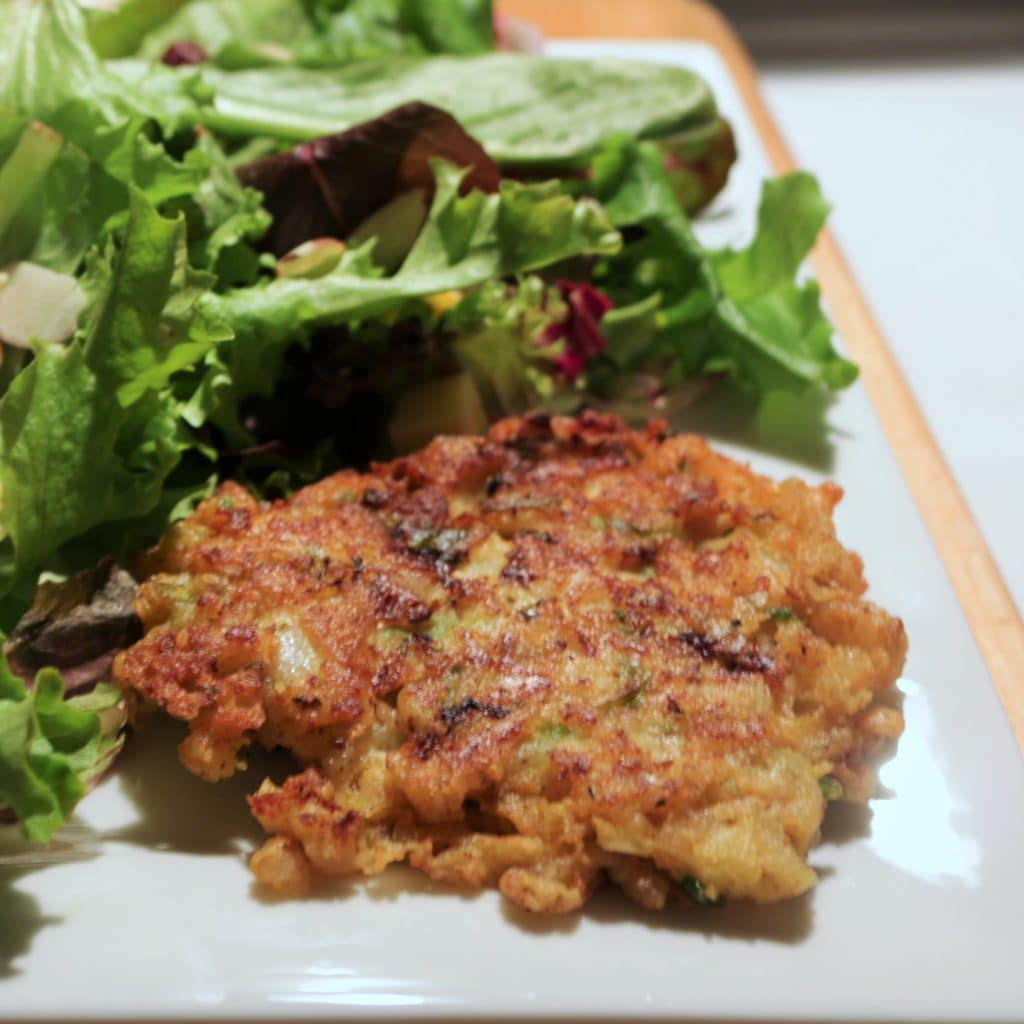 Ingredients
4 Cups minced razor Clams
1/2 Cup cooked minced bacon-un-drained
6 to 8 green onions-minced
2 eggs
1/2 tsp.baking powder
1/4 tsp. garlic salt
1/8 tsp. Black pepper
1 tsp.Trader Joes Everyday Seasonings or equivalent
1/2 Cup Pride of the West All- purpose Batter Mix or bisquick
1/2 Cup Whole Wheat Flour
1 Cup milk
11/2 Cups coconut oil or canola or avacado oil
Instructions
Make the batter:
Whisk together the dry ingredients in a large bowl. Add milk, eggs and seasonings to taste. Sir well until the consistency is like pancake batter.
Add bacon, onions and clams (optional mushrooms, rolled oats, peppers, garlic shallots ect.).
Heat the coconut oil to a depth of one inch in a large skillet on medium heat.
Spoon the fritter batter into the heated coconut oil and cook till golden.
Flip the fritters and cook until golden.
Enjoy these clam fritters. Susie sends this recipe with her compliments!