Brining and Roasting turkey produces a juicy, flavorful bird. Take the traditional turkey dinner up a level. Learn how to brine and roast your Turkey for sensational flavor and a truly juicy bird.
Have you ever brined a turkey? I have brined a turkey three times using this method. It produced great results every time so I feel confident that this recipe will do you well.
The first time I brined a 14 lb. thawed frozen bird. This year I upped the poundage to 20 lb. I still used the same recipe and the same amount of brine.
Our turkey turned out juicy and full of good flavor.
I put the fresh bird (be sure to fully defrost a frozen turkey prior to putting it into the brining solution) into my five gallon cooler.
I covered it completely in brine as the recipe instructs, overnight, in my fridge. The next morning, I prepared the bird according to this recipe and convection roasted it as the recipe suggests.
The resulting Turkey is without doubt the best I have ever made.
Note: This turkey is fresh and organic. I really wanted the best for this bird. We got it. Everyone loved it. The leftovers are juicy and flavorful and made a great Homemade Turkey soup and Leftover Holiday Pie!
However, The first time I brined a turkey it was a cheap, frozen Jenny O Turkey. It turned out fantastic as well. So you don't need organic turkey for a great outcome. It's just healthier 🙂
Brining and Roasting Turkey:
The process of brining and roasting turkey is not difficult. I recommend you plan ahead so you have your cooler ready(orbrining bag) and the room set aside in your fridge. That takes strategy on a holiday, and an extra day. But it's worth it.
I suggest you ask other people to bring the make ahead chilled salads and desserts. Your fridge will have plenty of room to store them once your turkey is out of the way.
TIP: I used my 20 quart cooler to store the brine and turkey one time I brined. Worked great but took a lot of room. The last time I used a brining bag I purchased at the store. The brining bag will make it easier to fit the turkey into your fridge.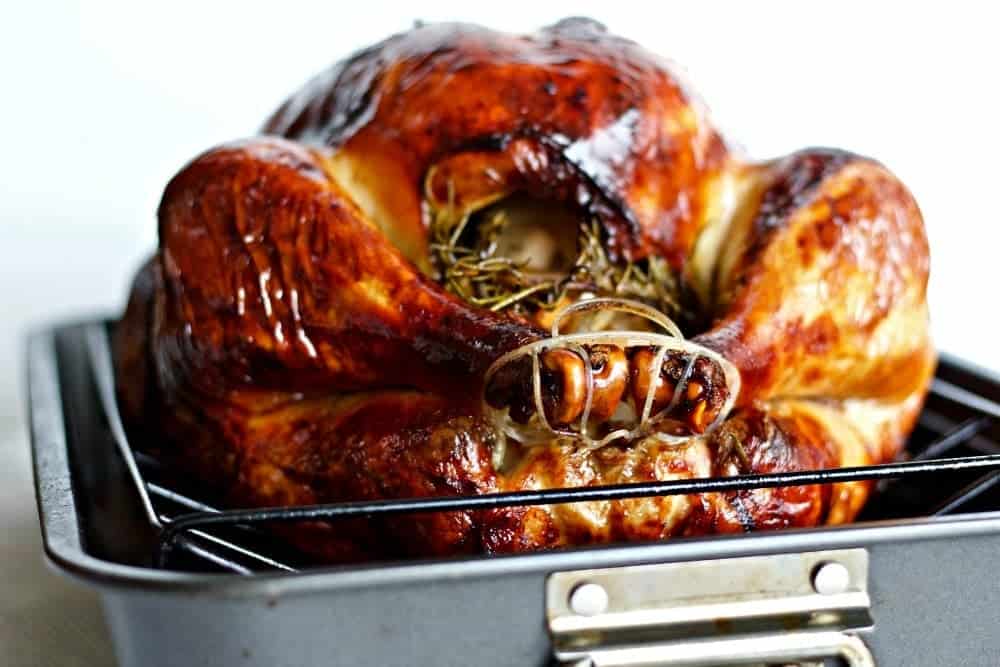 Wondering what to do with the leftover bones? Don't Throw them out. Learn how to Make healthy and delicious Bone Broth!
Too much turkey leftover? Make Turkey Jerky Dog Treats for the pups. It easy and very healthy for them.
Your Printable Recipe Card: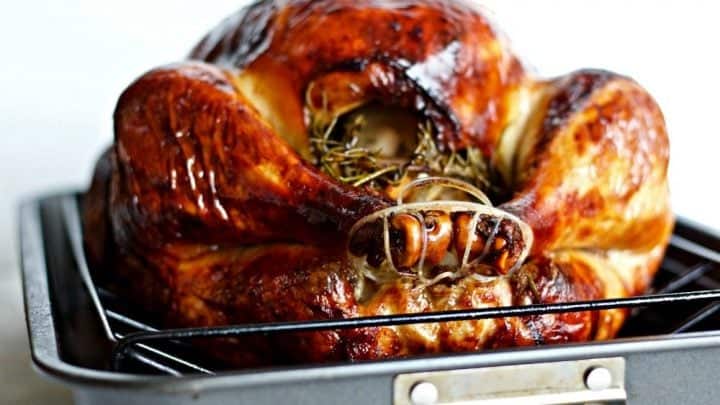 Yield:

one brined and roasted turkey
Brining and Roasting Turkey
Additional Time:
20 minutes
Total Time:
12 hours
20 minutes
The best, most simple turkey brine recipe I have found is this one. The flavor this brine gives the bird is amazing and the meat is REALLY juicy!
Ingredients
For the Brine:
3/4 cup kosher salt
1/2 Cup Honey
32 ounces low-sodium chicken broth (or Turkey Broth)
1 tablespoon black peppercorns
6 sprigs fresh rosemary
1 (12- to 14-pound) fresh or thawed turkey, neck and giblets removed
Stuffing ingredients:
1 onion, peeled and cut in half and sliced thin
1 Fuji or Honeycrisp apple, quartered
1 garlic bulb, halved
4 sprigs fresh rosemary
1/3 cup melted coconut oil
Instructions
For the brine:
Bring 4 cups water to a boil in a saucepan.
Add salt, honey, broth, peppercorns and rosemary into the saucepan stirring to dissolve salt.
Cool at room temperature, then refrigerate until needed.
About 6 to 8 hours before you plan to roast your turkey, place brine mixture in a large clean bucket, stock pot or cooler and stir in 1 gallon of ice water.
Place turkey in the bucket, breast side down, cover and refrigerate 6 to 8 hours or overnight. Make sure the turkey is fully submerged, adding more ice water if necessary.
To roast the turkey:
Preheat the oven to (Convection roast mode if you have it) 450°F. Remove turkey from brine and rinse thoroughly, inside and out, with cool water and pat dry.
Discard brine solution.
Season turkey cavity with salt and pepper.
Stuff turkey with onion, apple, garlic and rosemary.
Place on a roasting rack set inside a large roasting pan and tuck the wings back.
Brush the entire turkey with avocado oil or other oil, that is stable at high heat.
Cover breast portion with foil and place turkey on lowest rack in oven and roast 30 minutes.
Turn the heat down to 350°F and roast 2 to 2 1/2 hours longer, until a thermometer reads 165°F when inserted between the breast and thigh without touching the bone.
Remove foil from breast about 45 minutes before the turkey is done.
Remove turkey from pan, place on a platter and tent with foil. Let the turkey rest 20 minutes before carving.
Notes
The video below shows you how to buttermilk brine a turkey. This is also a great brine to use when roasting a turkey. Just make the brine you prefer and follow the cooking instructions for roasting here. OR if you want to bake your turkey, follow the video baking instructions. Either method will give you a great bird.
Recommended Products
As an Amazon Associate and member of other affiliate programs, I earn from qualifying purchases.
Nutrition Information
Yield
10
Serving Size
8 0z.
Amount Per Serving
Calories

218
Total Fat

10g
Saturated Fat

7g
Trans Fat

0g
Unsaturated Fat

2g
Cholesterol

74mg
Sodium

8551mg
Carbohydrates

22g
Fiber

1g
Sugar

19g
Protein

11g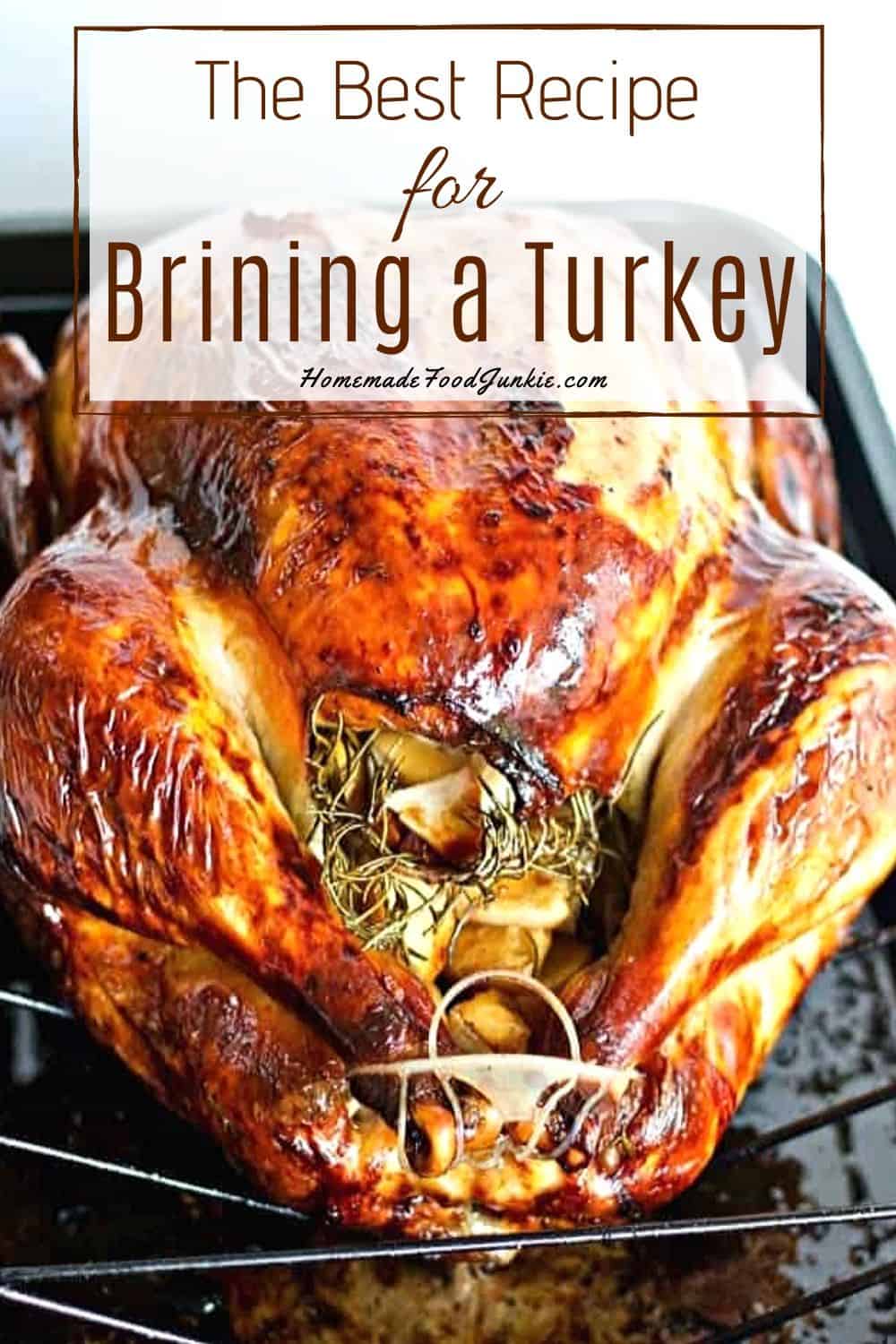 Pin it: