Brining and Roasting Turkey produces a juicy, flavorful bird that infuses flavor and richness down to the bone without a rub or injection. This simple method takes some planning ahead, but the results are well worth it.
In this post we are sharing our favorite basic herb and salt brine recipe, but we also have a Buttermilk Brined Turkey recipe that is fantastic as well. It just uses a different recipe but still yields juicy, flavor filled results and a tender bird.
If you find yourself with turkey dinner leftovers, consider turning them into a new dinner like this Homemade Turkey Soup or Leftover Holiday Pie.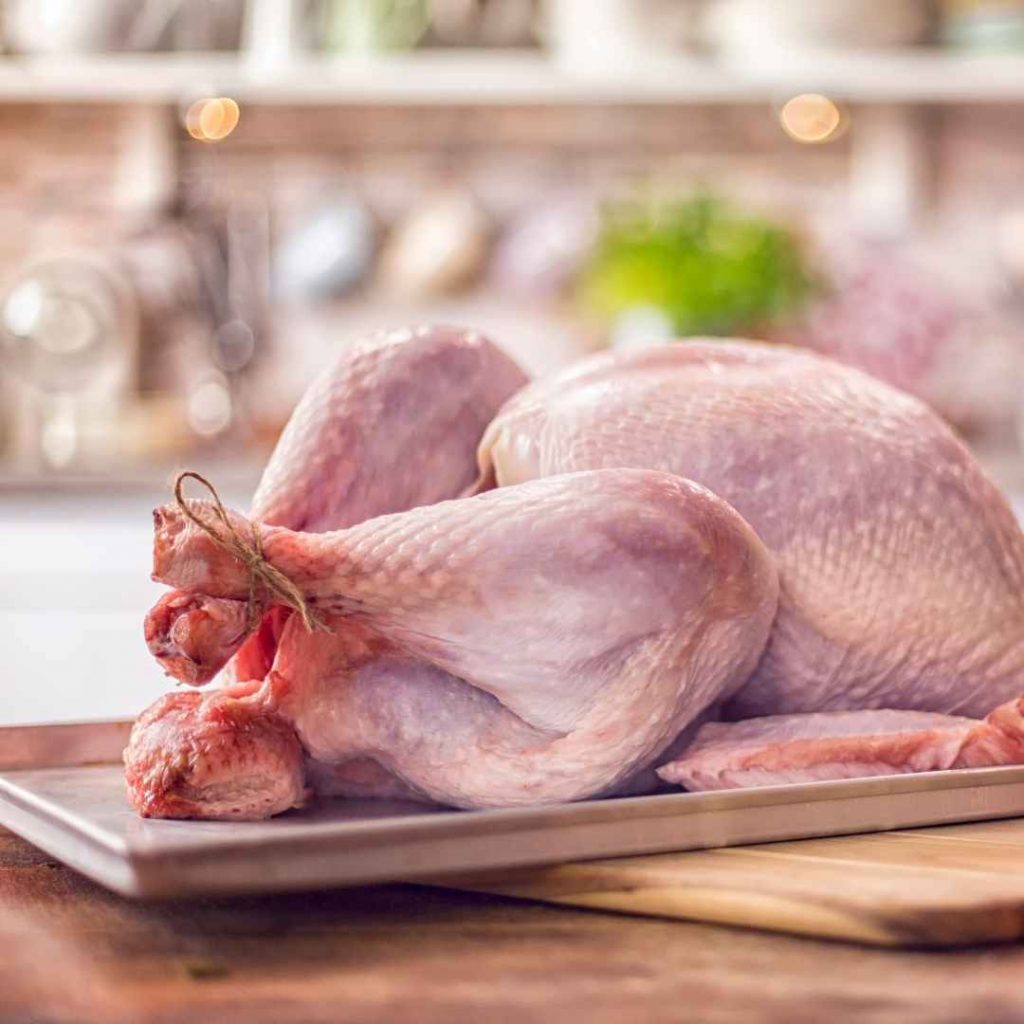 Is Brining a Turkey worth it?
The process of Brining and Roasting Turkey is not difficult, but it does require you plan ahead so you have your cooler or brining bag ready and the room set aside in your fridge. In our opinion, it is absolutely worth it. Brining brings flavor to the otherwise mild bird and will help retain moisture that many turkeys lose during the cooking process.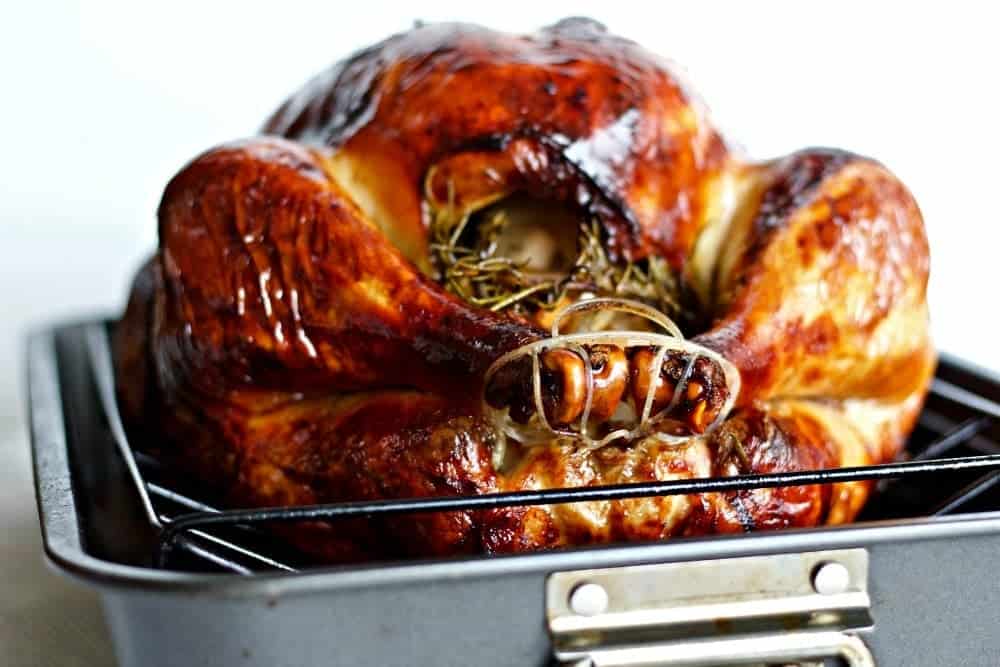 How long should you Brine a Turkey?
Brining is a long process that takes planning but the results are well worth the wait. Most recipes recommend brining the turkey for anywhere from 6 hours up to 18 hours. It is important to follow the recipe for the correct brine time, as allowing the turkey to brine for too long will result in an overly salty bird and even a spongy texture.
We brine our turkey overnight or roughly 8 hours, rinse it thoroughly and allow it to dry completely before cooking. This creates a moist and flavorful interior meat with a beautifully crisp, flavorful skin.
What is the formula for Brine?
A simple salt brine is the most basic brine and roughly follows the ratio of 1 tablespoon salt for every cup of water.
You can add extra herbs into your brine to infuse more flavor which is what we did. Our salt brine also includes honey, black peppercorns, fresh rosemary, and low sodium broth for added flavor infusion.
What is the best salt for Brining?
Kosher Course Salt is an excellent choice for a salt brine. It will dissolve fully because the crystals are thin, flat and flaky. Other salts may require you heat some of the water in order to get the salt to dissolve fully before adding it to the brine container with the bird.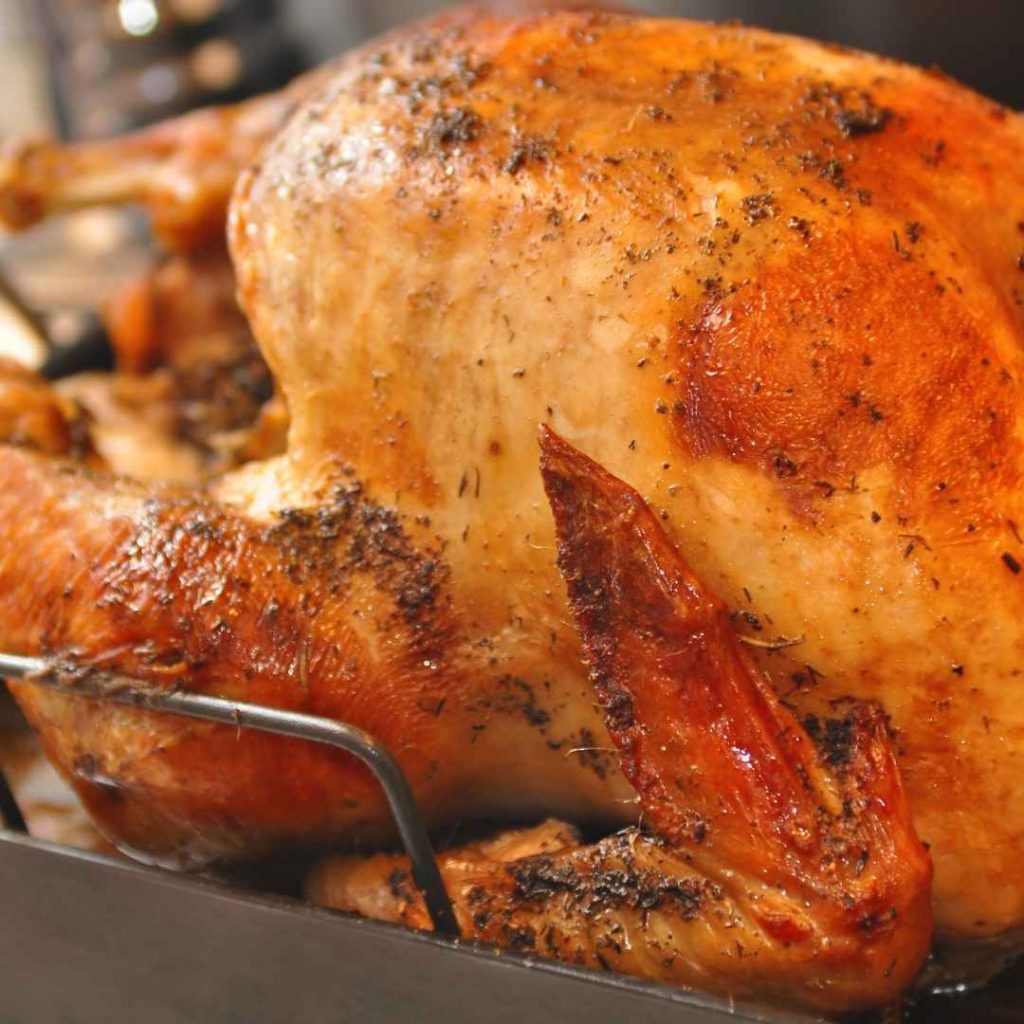 Do you have to refrigerate a Turkey while Brining?
Yes, a turkey needs to be kept cold while brining. Raw turkey cannot sit out at room temperature even while brining, so make sure you have a spot in your fridge large enough to store the turkey in it's brining container or bag.
Your Printable Recipe Card: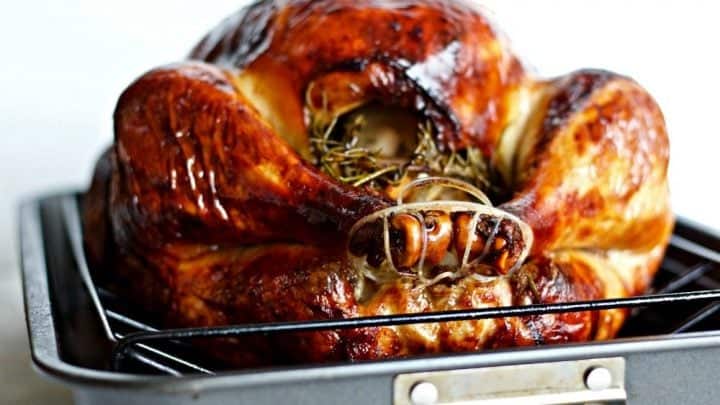 Yield:

one brined and roasted turkey
Brining and Roasting Turkey
Additional Time:
20 minutes
Total Time:
12 hours
20 minutes
The best, most simple turkey brine recipe I have found is this one. The flavor this brine gives the bird is amazing and the meat is REALLY juicy!
Ingredients
For the Brine:
3/4 cup kosher salt
1/2 Cup Honey
32 ounces low-sodium chicken broth (or Turkey Broth)
1 tablespoon black peppercorns
6 sprigs fresh rosemary
1 (12- to 14-pound) fresh or thawed turkey, neck and giblets removed
Stuffing ingredients:
1 onion, peeled and cut in half and sliced thin
1 Fuji or Honeycrisp apple, quartered
1 garlic bulb, halved
4 sprigs fresh rosemary
1/3 cup melted coconut oil
Instructions
For the brine:
Bring 4 cups water to a boil in a saucepan.
Add salt, honey, broth, peppercorns and rosemary into the saucepan stirring to dissolve salt.
Cool at room temperature, then refrigerate until needed.
About 6 to 8 hours before you plan to roast your turkey, place brine mixture in a large clean bucket, stock pot or cooler and stir in 1 gallon of ice water.
Place turkey in the bucket, breast side down, cover and refrigerate 6 to 8 hours or overnight. Make sure the turkey is fully submerged, adding more ice water if necessary.
To roast the turkey:
Preheat the oven to (Convection roast mode if you have it) 450°F. Remove turkey from brine and rinse thoroughly, inside and out, with cool water and pat dry.
Discard brine solution.
Season turkey cavity with salt and pepper.
Stuff turkey with onion, apple, garlic and rosemary.
Place on a roasting rack set inside a large roasting pan and tuck the wings back.
Brush the entire turkey with avocado oil or other oil, that is stable at high heat.
Cover breast portion with foil and place turkey on lowest rack in oven and roast 30 minutes.
Turn the heat down to 350°F and roast 2 to 2 1/2 hours longer, until a thermometer reads 165°F when inserted between the breast and thigh without touching the bone.
Remove foil from breast about 45 minutes before the turkey is done.
Remove turkey from pan, place on a platter and tent with foil. Let the turkey rest 20 minutes before carving.
Notes
The video below shows you how to buttermilk brine a turkey. This is also a great brine to use when roasting a turkey. Just make the brine you prefer and follow the cooking instructions for roasting here. OR if you want to bake your turkey, follow the video baking instructions. Either method will give you a great bird.
Recommended Products
As an Amazon Associate and member of other affiliate programs, I earn from qualifying purchases.
Nutrition Information
Yield
10
Serving Size
8 0z.
Amount Per Serving
Calories

218
Total Fat

10g
Saturated Fat

7g
Trans Fat

0g
Unsaturated Fat

2g
Cholesterol

74mg
Sodium

8551mg
Carbohydrates

22g
Fiber

1g
Sugar

19g
Protein

11g
Follow Us:
We enjoy meeting you on our social networks. Follow us on Facebook, Pinterest, Instagram . Tag us with your pictures of our recipes and comment on how it went for you. We would love to see what you do with them.
We often like, comment and share your posts of our recipes on our daily Instagram stories.
Ask questions and rate the recipe in the comments section below. Please share what you did with this recipe. We are always looking for more and better ways to make homemade food. Other cooks love your ideas!
Recent Posts: