This delicious Apple Pie Cheesecake is a merger of two well loved desserts, the iconic cheesecake and the humble apple pie. A silky vanilla cheesecake baked into a butter graham cracker crust, finished with a rich, apple cinnamon topping.
Cheesecake is a favorite dessert for many of us, and this one is the perfect treat for a warm summer afternoon, or a cozy autumn evening. We make our own apple pie filling with fresh apples for a flavorful, slightly crunchy apple top; but, if you want you can always use a canned apple filling for a scrumptious finish to this cheesecake.
In this post we are sharing all of the tips for getting the perfect, creamy cheesecake as well as how to whip up your own apple pie filling. Your home will smell amazing and everyone will be asking for a second slice.
How do I make Apple Pie Cheesecake?
An apple pie cheesecake is a very simple dessert that tastes like something you would be served at a high end restaurant. Simply whip up a vanilla cheesecake and bake it into a pie crust or a graham cracker crust. Next, make up your apple pie filling with either fresh or frozen apple slices; you can also opt for a pre-made apple pie filling. Top your cheesecake with the apple cinnamon mixture, cool and enjoy.
The beauty of cheesecakes is that they can be topped with an array of extras, fillings, drizzles and more. An apple pie cheesecake is the perfect way to take your love of apple pie and bring it together with the luscious cheesecake.
If you need a gluten free cheesecake, follow the directions for this cheesecake and use any gluten free crust.
More Cheesecake Recipes: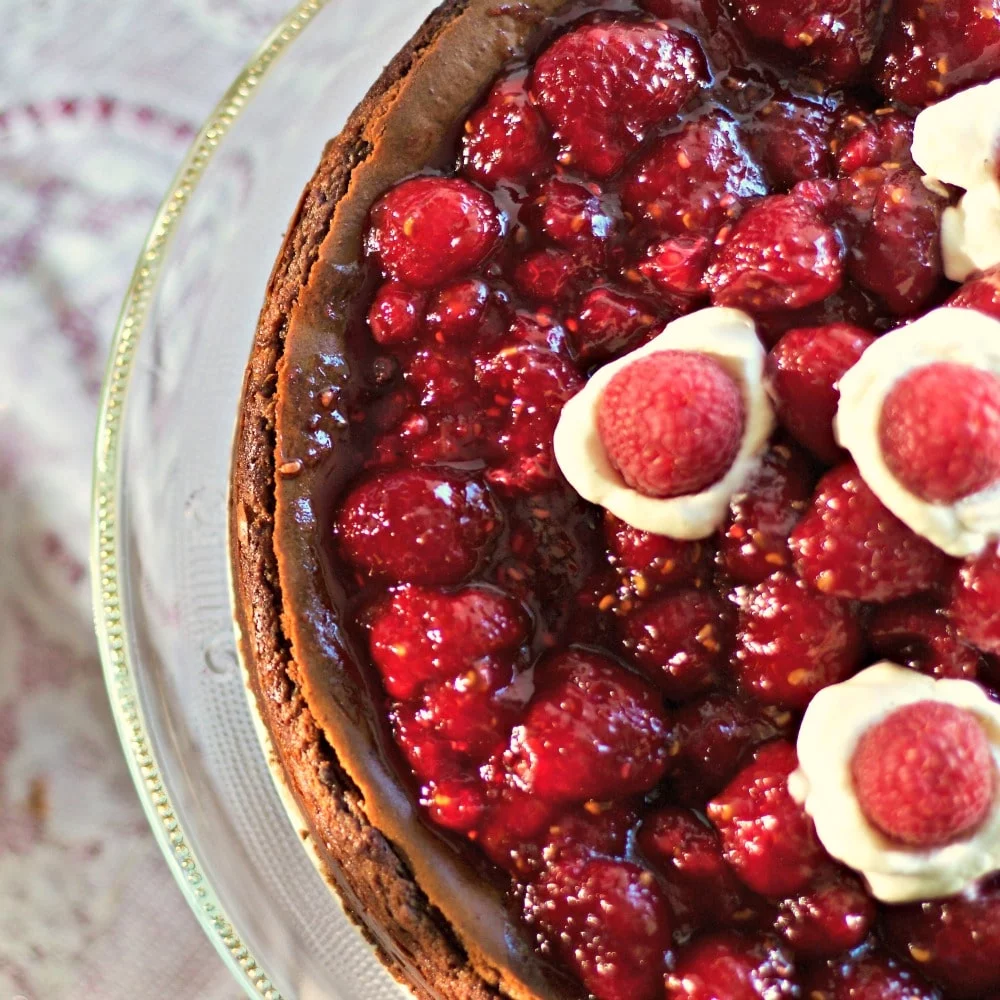 What is the secret to making a good cheesecake?
Cheesecakes can be an intimidating dessert for some folks, and while it's true they do take some technique and practice, they really aren't a challenging feat once you learn the details of success. We are sharing our best tips for cheesecake success.
Your cream cheese should always be at room temperature, a cold cream cheese will not mix fully and will likely leave small lumps throughout the batter.
Use a well-oiled springform pan for the easiest release that wont break your cheesecake.
Sour cream is an extra ingredient that you want to include. Sour cream will add more moisture to your batter and bring the tangy flavor up.
Be careful not to open the oven door while it is baking. Opening the oven will allow the heat to escape and can cause your cheesecake to collapse and fall.
A water bath can prevent your cheesecake from drying out and cracking.
Once you cheesecake is baked turn off the oven, crack the door slightly and leave your cheesecake in allowing it to cool slowly while it sets. This will also prevent collapse and cracking.
Take care not to over-mix the batter. Over mixing your batter will allow air into your batter, this can lead to excess rise will usually results in a collapsed or cracked cheesecake.
Don't over bake the cheesecake. Over baking your cheesecake will cause it to dry out and crack, a cheesecake is done when it is just golden brown with a slight jiggly to the middle.
Presentation:
Presentation is key if you are serving this dessert for an event or holiday gathering. A well thought out presentation will help your dessert stand out and will draw your guests in with the visual beauty of the centerpiece.
This antique cake stand was part of my great Grandma Andrles' set and I am so excited to be displaying this lovely dessert on her dishes. It is admired just as much as the dessert that it holds.
Do I need to use a water bath for my cheesecake?
Go to my Crustless Cheesecake recipe for compete instructions on water bathing a cheesecake it you want to do that. This recipe does not require it, especially since the apple filling will cover any small cracks should they appear. But if you would like to use a water bath you certainly can.
The Crust:
Preheat oven to 350 degrees.
Coat a 9-inch springform pan with coconut oil or melted butter.
Put graham crackers in your food processor and pulse into graham cracker crumbs.
Add the oil or butter, water and cinnamon .
Pulse until the crust forms a dough that holds together.
Press firmly into the bottom and slightly up the sides of the prepared pan. Set in fridge until needed.
Tips for a perfect cheese cake filling:
When making a cheesecake you need to use room temperature ingredients for the best, smoothest texture. So set out the eggs, sour cream and cream cheese ahead of time.
Do not over mix the eggs. Egg proteins are delicate and must not be over mixed or the texture of your instant pot cheesecake will get clumpy. For best texture and a dense creamy cheesecake add the eggs at the end and mix on low speed until just combined.
Cool the finished cake and chill overnight for best flavor.
Electric Hand Mixer Method:
You may use a stand mixture, but do be careful as it is very easy to over mix the batter with a stand mixture. A hand mixture is what we recommend as it keeps your attention, making it less likely you over mix the batter.
Use an electric mixer hand mixer on medium speed and beat the cream cheese until fluffy and smooth.
Slowly mix in the eggs and sugar until smooth.
Stir in the sour cream, almond, vanilla extract, and lemon juice.
Mix until smooth.
Pour the filling over the crust and spread evenly.
Bake for 60 minutes or until the center is set.
Cool completely.
Refrigerate for at least 4 hours before serving.
Food Processor Method:
For best results you will need a large bowl food processor.
Pulse the cream cheese until it's smooth then add in the other ingredients, except the eggs and pulse until mixed.
Now add the eggs one at a time and pulse once or twice each, until just mixed.
Use a spatula to pull the cream cheese off the sidewalls of your food processor or bottom as needed.
Pour the batter into the springform pan and cook as directed.
Fresh Apple Topping:
You can make your apple pie filling as your cheesecake cooks to save time and have it ready to go when your cheesecake is cooled. Simply set it in the fridge until the cheesecake is ready to be topped.
Cut and core the apples
Make the apple pie filling as described
Cool the topping completely to room temperature before spreading on the top of your cooled room temperature or cooler cake.
Make this Recipe Ahead:
If you want to make this apple pie cheesecake ahead of your event you can bake the cheesecake and store it in the fridge without the apple topping for 1 week. Simply bake it, allow it to cool fully, wrap it tightly and place it in the fridge. Make the apple topping and finish it when you are ready to serve it.
Freezing:
This cheesecake can also be stored in the freezer if needed. Bake as directed, allow it to cool at room temperature. Cover it tightly with plastic wrap ensuring there are no gaps or holes, then cover it with aluminum foil and label it being careful to include the date as well.
This apple pie cheesecake can be frozen for up to 2 months without the topping.
Cheesecake Nutrition:
The printable recipe card has your complete nutritional information.
Your Printable Recipe Card: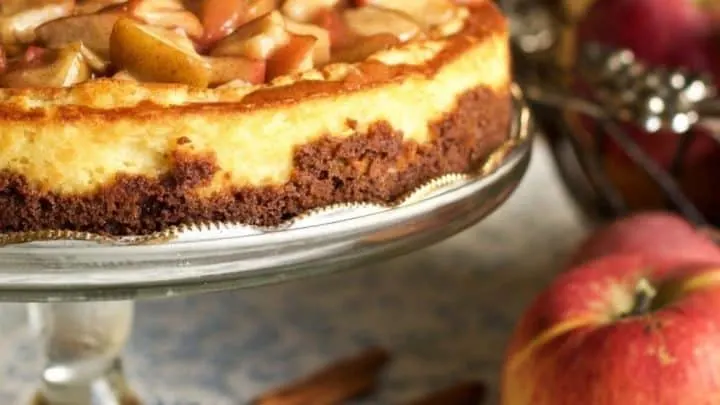 Yield:

16
Apple Pie Cheesecake Recipe
Total Time:
5 hours
30 minutes
This delicious Apple Pie Cheesecake is a merger of two excellent desserts. The apple pie filling sits on top of a wonderful low-fat cheesecake surrounded by a crunchy graham cracker crust. The flavors compliment each other beautifully!
Ingredients
CRUST:
1 1/2 cups graham cracker crumbs (one sleeve of grahams crushed)
5 Tablespoons Butter
1/4 Cup sugar
½ teaspoon cinnamon
CHEESECAKE FILLING:
3-8 oz packages cream cheese
4 eggs
3/4 cup sugar
3/4 Cups sour cream
1 teaspoon pure vanilla extract
1 tsp. almond extract
1 teaspoon lemon juice
TOPPING:
1 -21 oz can apple pie filling, or homemade fresh (about 4 cups chopped apples) or frozen apple pie filling
2 tablespoons sugar
2 teaspoons cinnamon
1 Tablespoon cornstarch
2 Tablespoons water
Instructions
CRUST INSTRUCTIONS:
Coat a 9-inch spring form pan with grease.
In a medium bowl combine graham cracker crumbs, coconut oil, water and cinnamon. Press into the bottom(and slightly up the sides) of the prepared pan.
Set crust in fridge until needed.
CHEESECAKE FILLING INSTRUCTIONS:
Preheat oven to 350 degrees.
Use an electric hand mixer in a large bowl (OR use your food processor)to beat the cream cheese until fluffy and smooth.
Slowly mix in the sugar until smooth.
Stir in the sour cream, almond, vanilla extract, and lemon juice. Scrape down the sides of the bowl as needed.
Add each Egg saparately and mix until smooth after each addition.
Pour the cheesecake filling over the crust and spread evenly.
Bake for 60 to 70 minutes or until the center is set. Cool completely. Refrigerate for at least 4 hours before serving.
TOPPING INSTRUCTIONS WITH CANNED APPLE PIE FILLING:
After the cheesecake has been thoroughly chilled and set:
in a small bowl combine the apple pie filling, sugar, and cinnamon.
Mix to blend.
Spread over the top of the cheesecake.
It's ready to serve!
TOPPING INSTRUCTIONS WITH FRESH APPLES:
Cut and core 3 medium apples.
Mix in granulated sugar and cinnamon to taste.
Place the spiced apple pieces and 1/4 Cup water into a two quart pan on medium high heat.
Whisk together 1 Tablespoon cornstarch to 2 tablespoons water in a small bowl.
Add cornstarch mixture to the apples and Stir until boiling.
Reduce heat to medium and boil about a minute or so until the pie filling thickens.
Cool topping in refrigerator separate from the cheesecake.
When both the cheesecake and pie filling are cold spoon the pie filling onto the cheesecake. Serve.
Notes
Baking Tips:
make SURE to oil your springform pan bottom and sides.
Line the bottom of your springform pan with parchment paper before pressing in the crust if you want to remove it from the pan to serve.
Do NOT open your oven door until baking is completed. The cheesecake may fall. Look through the glass to check for doneness.
You want the top to be golden brown. The apple filling topping will fill in the depression if your cheesecake falls slightly.
AFTER the cheesecake is baked LEAVE IT in the oven with the heat OFF and the oven door slightly cracked. This will allow the cheesecake to properly set and minimize the risk of it falling.
Remove from oven and cool to room temperature. Now chill for 4 to 24 hours before serving.

Make this Recipe Ahead:

This cheesecake can easily be made ahead one or two days. Wrapped to keep air off it this cheesecake recipe will hold up to a week. NOTE: Top the cheesecake at serving
Freeze it:
You can freeze this cheesecake easily without the topping.
Tightly wrap the cake and freeze up to two months.
Defrost in the fridge one day ahead of serving. Top at serving for best results.
Recommended Products
As an Amazon Associate and member of other affiliate programs, I earn from qualifying purchases.
Nutrition Information
Yield
15
Serving Size
1
Amount Per Serving
Calories

290
Total Fat

12g
Saturated Fat

7g
Trans Fat

0g
Unsaturated Fat

4g
Cholesterol

60mg
Sodium

181mg
Carbohydrates

41g
Fiber

1g
Sugar

33g
Protein

5g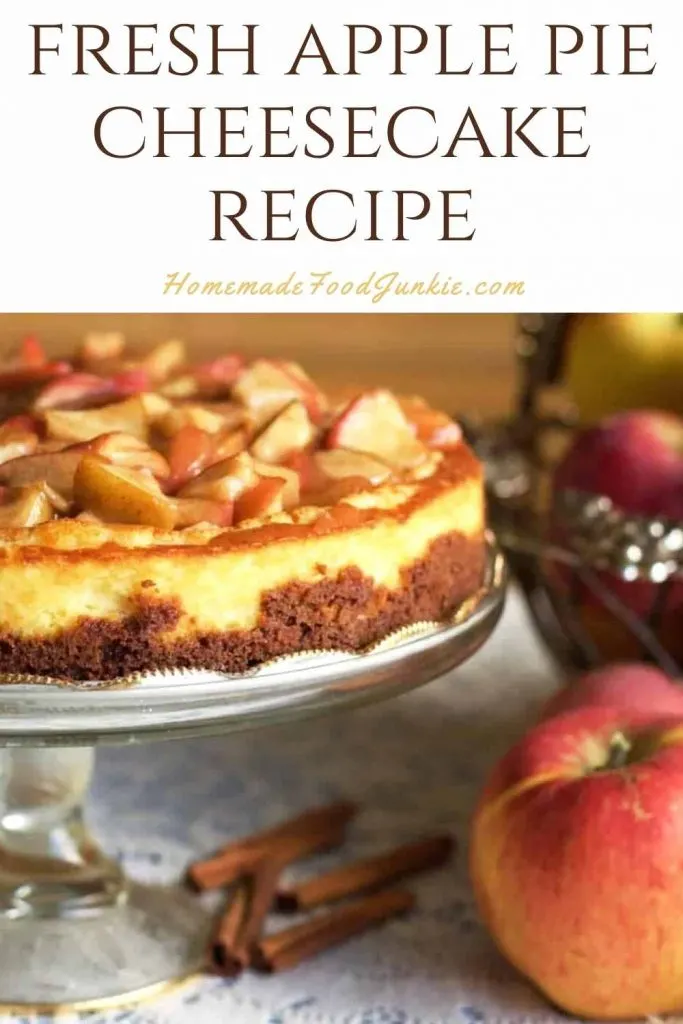 Follow Us:
We enjoy meeting you on our social networks. Follow us on Facebook, Pinterest, Instagram . Tag us with your pictures of our recipes and comment on how it went for you. We would love to see what you do with them.
We often like, comment and share your posts of our recipes on our daily Instagram stories.
Ask questions and rate the recipe in the comments section below. Please share what you did with this recipe. We are always looking for more and better ways to make homemade food. Other cooks love your ideas!
Recent Posts:
I adapted this recipe from skinnykitchen.com