Gorgeous, rich, Gluten free, high fiber, dessert! Healthy ingredients make this decadent chocolate raspberry cheesecake easy to love. Put this treasure on your
Holiday dessert table and watch it quickly vanish!
Cheesecake is a definite favorite at our house as you will find if you search around in our cheesecake section…. And then I made THIS cheesecake… hands down all the family loves this yummy dessert! From the chocolate-almond crust to the rich, creamy chocolate cheesecake filling, to the lovely fresh raspberry topping. Flavor heaven!
I often replace ingredients with healthier choices in recipes.
Chocolate Raspberry Cheesecake came fully formed, as I like it; no adjusting necessary. My family is used to me sneaking in a new healthy ingredient once in awhile. Coconut oil is my staple cooking and baking oil now. They all love it!
Low fat options have been on my shopping list forever. I'm learning more and more about what fats do for us; which fats we need and those to avoid . Choosing healthier ingredients makes baking fun, creative and… healthy. Love that!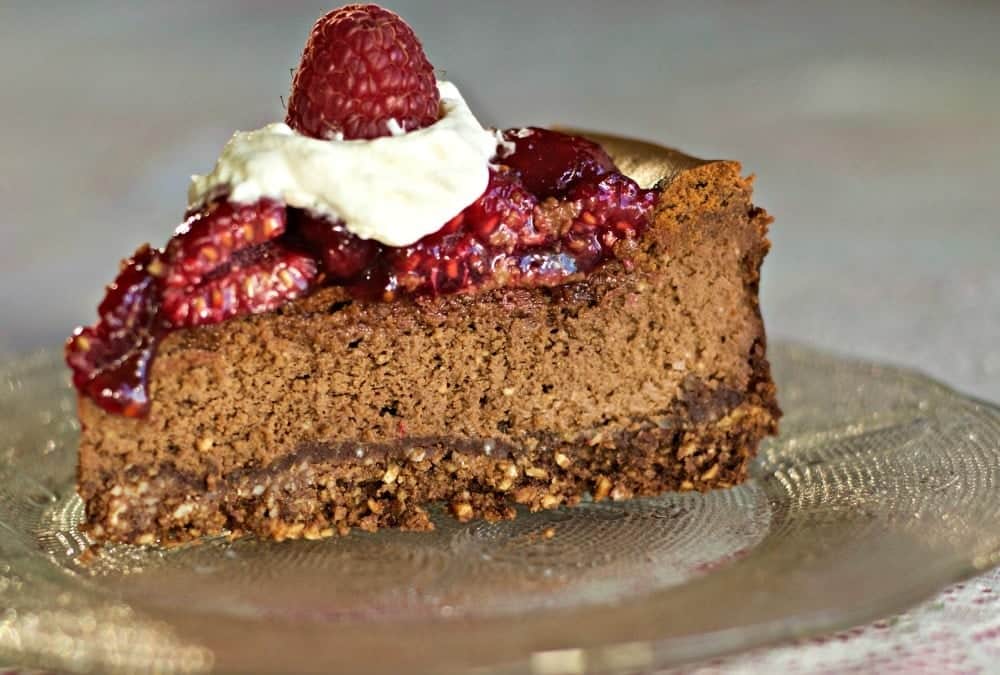 Chocolate Raspberry Cheesecake is perfect for a special day that needs celebration. Birthdays, anniversary, holiday or Valentines day. Make this for a crowd or just for your special Love. They will love it!
[tweetthis hidden_urls="pic.twitter.com/jW1j2HbCKo"]Gorgeous, rich #glutenfree #highfiber #ValentinesDay #dessertrecipe #fresh #raspberries[/tweetthis]
Chocolate Raspberry Cheesecake Recipe:
This is an easy recipe. There are three basic parts. All easily accomplished. I have tips and suggestions in the points on the recipe instruction they apply to. Happy baking!
Crust :
Melt chocolate in your microwave in a small microwaveable pot for about a minute. Or heat on the stove on very low heat. stir and set aside.
Pulse Almonds and oats in a food processor until they are a fine crumb consistency.
In a medium bowl stir together, almond mixture, melted chocolate and coconut oil.
Add to a greased 9″ springfoam pan and press crumbs evenly on bottom and 1″ up the sides of the pan.(or just do the bottom, it will be thick. I used a fork to press down the crust. Then my fingertips to smooth it out).
If you find the crust hard to form; cool it a bit(15 min) while preparing the filling and complete shaping the crust when it is a little cooler than your finger tips.
Preheat oven to 350 degrees:
Filling :
Melt chocolate as you did for the crust, turn off heat when completely melted.
Chocolate should still be warm when adding to the filling.
Using an electric mixer, beat cheeses in a large mixing bowl until light and fluffy and smooth textured.
Add sugar, eggs individually, yogurt and vanilla beating after each addition until ingredients are fully incorporated.
Pour warm chocolate into mixture and mix until chocolate is well combined.
Pour filling into prepared crust, place on a cookie sheet and bake on the center oven rack 45 minutes, or until top is set. Some giggle should be visible in the center.(I did not use a water bath. When the cheesecake was fully cooked I did leave it in the oven and hour with the oven door cracked a bit.)
Leave cheesecake in it's spring form pan while cooling on a rack, to room temperature. Cracks appearing in the top and settling are normal and will be filled with the topping.(Mine did not crack. But it did fall about an inch!)
Cool in the refrigerator until firmly set, about 2 to 3 hours.
Remove from the refrigerator and allow to set at room temperature about 5 minutes.
Run a warm knife around the outside of the cheesecake before releasing sides of springfoam pan.
Leave the cheesecake on the bottom part of the springfoam pan for easy serving. (I did remove it to a cake plate with no trouble once thoroughly cooled, but this is a crumbly crust!)
Sauce :
In a small sauce pan over medium heat, add jelly and stir until melted, remove from heat.
Add raspberries to warm jelly and gently toss to coat.
Pour raspberry sauce evenly over the top of the cheesecake and refrigerate until ready to serve.
Yield:

12 servings
Chocolate Raspberry Cheesecake
Total Time:
5 hours
25 minutes
Gorgeous, rich, Gluten free, high fiber, dessert! Healthy ingredients make this decadent chocolate raspberry cheesecake easy to love.
Ingredients
(Cheesecake Chocolate almond Crust)
1 Cup raw almonds with skins
1 Cup old-fashioned oats
3 Tablespoons coconut oil, melted
2 oz. bittersweet chocolate, melted
(Cheesecake Filling)
2 ounces bittersweet chocolate, broken into small pieces
16 oz. cream cheese room temperature
1/2 Cup ricotta cheese
1/2 Cup sugar
2 large eggs
1/2 tsp. pure vanilla extract
1/4 Cup Greek yogurt, plain
(Sauce topping)
1/2 Cup raspberry jelly
1 pint fresh raspberries
Instructions
Preheat oven to 350 degrees F
Crust:
Melt chocolate on the lowest heat setting in a small pot. Stir occasionally to avoid burning, or use a double boiler
Pulse Almonds and oats in a food processor until they are a fine crumb consistency
In a medium bowl stir together, almond mixture, melted chocolate and coconut oil
Press into a 9" springform pan and press crumbs evenly on bottom and 1" up the sides of the pan.
Tip - Place plastic wrap over the fingers of one hand and press the crumbs in place. If you find the crust hard to form; cool it a bit while preparing the filling and complete shaping the crust when it is a little cooler than your finger tips
Filling:
Melt chocolate as you did for the crust, turn off heat when completely melted. Cover and leave pan on burner while preparing filling. Chocolate should still be warm when adding to the filling
Using a stand mixer, beat cheeses in a large mixing bowl until light and fluffy and smooth textured
Add sugar, eggs individually, yogurt and vanilla beating after each addition until ingredients are fully incorporated
Pour warm chocolate into mixture and mix gently until chocolate is well combined
Pour filling into prepared crust
Place on a cookie sheet and bake on the center oven rack 45 minutes, or until top is set. Some giggle should be visible in the center
Leave cheesecake in the springform pan while cooling on a rack, to room temperature, about 3 to 4 hours
Cracks appearing in the top and settling are normal and will be filled with the topping
Place plastic wrap over the pan and refrigerate overnight or until completely chilled
Remove from the refrigerator and allow to set at room temperature about 5 minutes
Run a warm knife around the outside of the cheesecake before releasing sides of springform pan. Leave the cheesecake on the bottom part of the springform pan for easy serving
Sauce:
In a small sauce pan over medium heat, add jelly and stir until melted, remove from heat
Add raspberries to warm jelly and gently toss to coat
Pour raspberry sauce evenly over the top of the cheesecake and refrigerate until ready to serve
Nutrition Information
Yield
12
Serving Size
1
Amount Per Serving
Calories

402
Total Fat

28g
Saturated Fat

15g
Trans Fat

0g
Unsaturated Fat

11g
Cholesterol

73mg
Sodium

148mg
Carbohydrates

30g
Fiber

5g
Sugar

17g
Protein

10g
Pin it:
Recipe Source: Skinny moms.com