Brown Rice Quinoa Blend is low-​fat, low-​sugar, dairy-​free, gluten-​free side dish cooked in organic chicken stock or your favorite vegetable broth.
This brown rice and quinoa recipe is a healthy food that provides about a quarter of your daily protein needs.
This lovely blend makes an excellent side for meats, or a delicious base for pour over meals, stir fries or it can be mixed into salads.
Learn how to mix this grain blend into our Fall Garden Salad. If makes a filling healthy meal replacer!
I designed this grain blend for my Crock Pot Mediterranean Chicken. This is a versatile idea.
How to cook quinoa:
Any quinoa can be cooked just like rice. That's why this blend is such a great recipe.
Cooking red quinoa is about the same as cooking white quinoa. In fact, I have used them both in this recipe with no trouble.
FYI: Quinoa can have a bitter outer coating if it's not prewashed. For best flavor rinse the quinoa prior to cooking.
Quinoa cooking time is about the same for all varieties. So the quinoa cooking instructions in this recipe will work for whatever quinoa type you have on hand.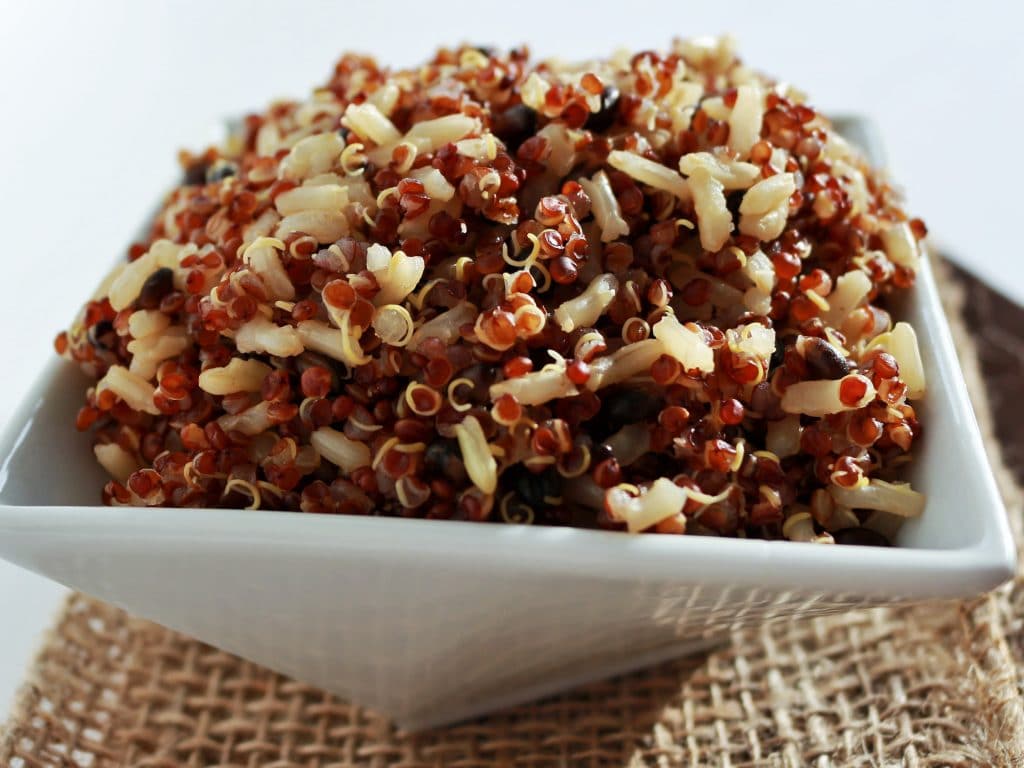 The blend pictured here is a Trader Joe Brown Rice Blend with Daikon radish seeds and red quinoa.
Cooking brown Rice:
The tricky part of this blend recipe is not the quinoa. It's the rice. Short grain brown rice is going to cook differently than long grain brown rice.
As you see in the video Wild rice takes up to 40 minutes to cook. So the quinoa is added halfway through.
Short grain brown rice is a tougher rice and may require a bit longer to cook than your quinoa.
Cook the recipe and test the rice before removing the pot from your stove. If it needs longer and the liquid is dried up add 1/2 Cup or so of water and 10 minutes more to the cooking time.
The quinoa should hold up fine to a bit more time in the pot as long as you don't run the pot dry. That creates a burned mess in your pot bottom.
Honestly you can use any rice and any quinoa to make this blend. Just watch your cooking times.
I like Trader Joe's brown rice blend because it uses Daikon radish seeds and other yummies. NOTE: This rice blend is NOT gluten free so use a different type of rice if your a celiac.
I have used basmati rice for this blend and white quinoa. That makes a whiter side, great for changing up your color scheme and giving a bit different, but still delicious, flavor.
Quinoa makes a fantastic partner for rice. Quinoa is full of fiber and protein.
This blend provides healthy carbs that will encourage your body to slow down the digestive process and help keep your digestive track cleared out.
I'm using red quinoa. It is a very high fiber, beautiful quinoa. Red quinoa and brown rice blend make a pretty side dish.
Brown Rice Quinoa Blend Recipe:
Brown Rice Quinoa Blend Recipe Instructions:
Boil Chicken broth (or vegetable broth) and add in the quinoa and rice bend.
Stir together lightly
Cover and reduce heat to simmer for 25 minutes. This is done when all the liquid is absorbed in the grains. Don't let it scorch!
Remove from heat and keep covered until ready to serve. Cool if you are adding this blend to a salad. This blend stores well in the fridge for up to a week if tightly covered.
Serving Suggestion: Try adding this Brown rice quinoa blend into a Spinach salad or our Fall Garden Salad for a light dinner replacement. We love salads at harvest time.
Large salads with this brown rice quinoa blend are healthy and filling. HINT: Use leafy greens with more texture like romaine lettuce, kales are especially good, or spinach.
They all partner well with this robust quinoa brown rice grain blend.
Here's how I make a salad with this rice blend.
This blend works really well with bold, thick greens like kale, broccoli, and kohlrabi.
Add some color with small carrot or celery chunks, tomatoes and cauliflower.
Add protein with cheeses like goat or feta, even cheddar works.
Nuts(chopped walnuts are a favorite of ours) and seeds (like pumpkin, and sunflower) are also perfect protein and texture additions for a hearty dinner replacement salad.
Deli meats (not highly salted or processed) like organic salami, is a real flavor booster!
Top it with with a flavorful salad dressing like my creamy balsamic dressing. So yummy!!
Brown Rice Quinoa blend is a wonderful meat side dish. It's one of our favorite healthy sides for chicken.
Like our Balsamic Peach Mango Grilled Chicken or Pan Fried Chicken .This Brown Rice quinoa blend is also great with pork or beef. A good basic side that offers lots of food value with it's carbs.
Add this healthy side dish and a salad or roasted veggies to your favorite meat dinner.
Further serving suggestions:
Add a bag of frozen peas and carrots
Saute 1/2 Cup of diced onions and a couple of cloves of garlic and add them in after cooking this blend
after cooking add seasonings to the blend to compliment your meal.
Other flavorings, condiments and sauces you may enjoy with your perfect brown rice quinoa blend:
soy sauce
balsamic vinegar
salt and pepper
Brown sugar
Brown rice quinoa blend is a healthy, filling grain dish, just waiting to surprise you with it's wonderful flavor and texture.
There are so many ways to use this wonderful Brown rice Quinoa blend. Let your creative juices flow!
How do you use this recipe? All constructive and creative recipe ideas are welcome here. Our readers benefit from others experience. We'd love to hear from you.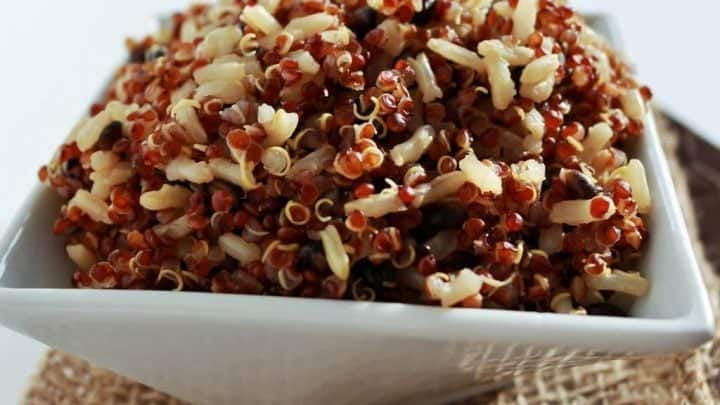 Yield:

6 servings
Brown Rice Quinoa Blend
This healthy Brown Rice Quinoa Blend is full of great texture and flavor. This complex, healthy carb is a good addition to hearty salads, soups and other dishes as a side.
Ingredients
1 Cup Red Quinoa
1 Cup Brown Rice Blend, I'm using Trader Joes today but any brown rice blend will work. Or just plain brown rice.
4 Cups organic chicken broth, or vegetable broth
Instructions
Boil Chicken broth and add in the quinoa and rice bend.
Stir together lightly
Cover and reduce heat to simmer for 25 minutes. This is done when all the liquid is absorbed in the grains. For a short grain brown rice you may need a little more liquid and cooking time (5 minutes)at the end.
Check the grain tenderness before removing it from your stove. Don't let it scorch!
Remove from heat and keep covered until ready to serve. Cool to room temperature or lower if you are adding this blend to a salad.
Notes
This Brown Rice Quinoa grain blend stores well in your fridge for up to a week if tightly covered.
The TYPE of rice you use will matter in this recipe. If using a short grain brown rice follow the instructions but expect the brown rice to be a bit firm. For a softer rice use a bit more liquid and extend the cooking time by five minutes.
Nutrition Information
Yield
6
Serving Size
3/4 Cup
Amount Per Serving
Calories

140
Total Fat

2g
Saturated Fat

0g
Trans Fat

0g
Unsaturated Fat

1g
Cholesterol

3mg
Sodium

730mg
Carbohydrates

27g
Fiber

2g
Sugar

1g
Protein

5g