The Black Russian cocktail is a classic vodka cocktail with a dark rich coffee liqueur flavor. Only those two simple ingredients. Just pour and stir. So good!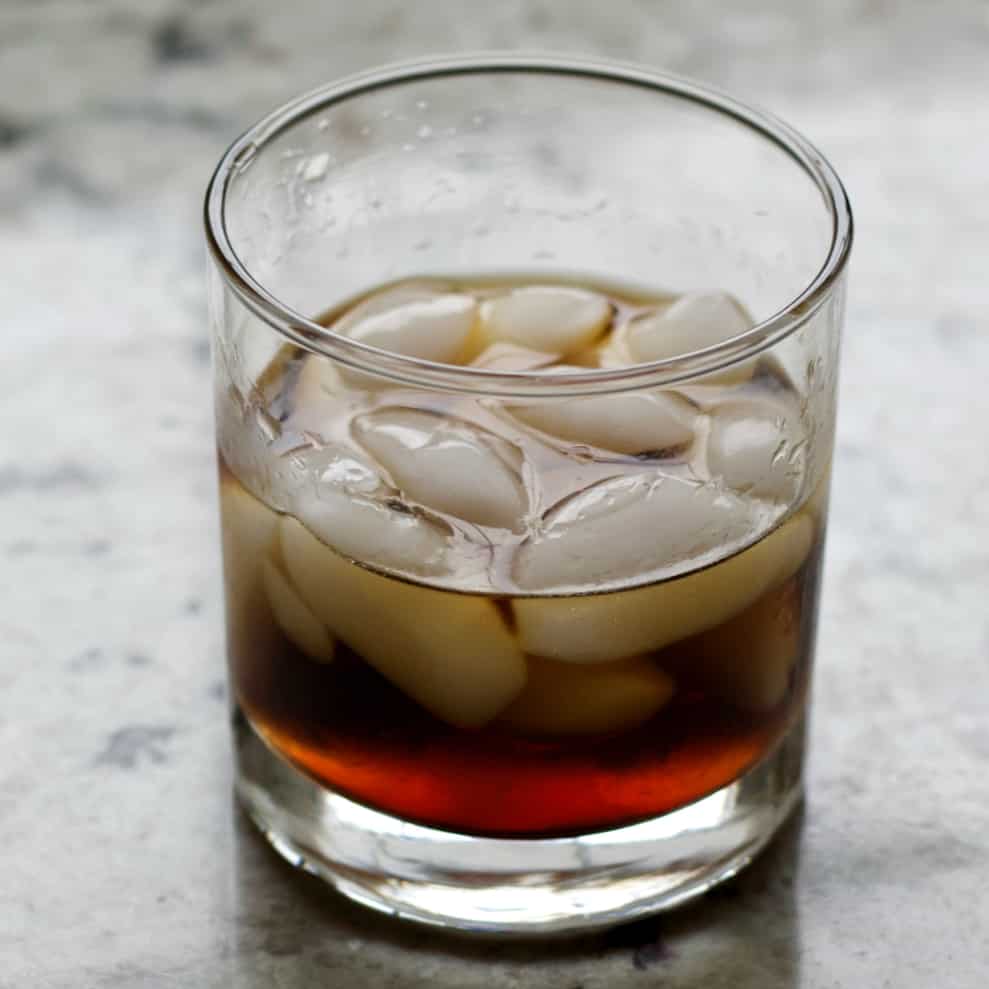 I'm a sweet cocktail fan. The black Russian is a bit strong for my taste. Especially when made according to the IBA specifications. Lots of vodka and just a little kahlua.
Most of the recipes for this drink are a bit less high test than that. Mine uses just 2 oz. of vodka to every oz. of kahlua. Even that is strong for me.
However, my sister loves it that way. So this cocktail post is for her. And for you.
Black Russian Two Ways:
Watch me make the Black Russian cocktail recipe in TWO versions in the video. The traditional recipe makes a deep flavored cocktail with strong notes of vodka and coffee with a hint of rum from the kahlua liqueur.
I made my own personal version I call Twisted Black Russian. If you love coffee and vanilla…
The Twisted black russian is a delicious blend of cold brew, vanilla vodka, and kahlua all mixed together to blend into a coffee cocktail. It's a big hit in my house.
The traditional black russian is my sisters personal favorite. She enjoys a bit of strength in her alcoholic drinks. I'm more of a light weight. Yep I am.
More Kahlua Drinks:
If you want more yummy ways to use up your bottle of kahlua coffee liqueur take a look at these cocktail. All delicious kahlua drinks.
History of the Black Russian:
The Black Russian history began in a bar as most cocktails do. All the bartenders have their very own way of making it by now I'm sure. Here's how the marriage of vodka and kahlua started.
According to WikiPedia:
"This combination first appeared in 1949 and is ascribed to Gustave Tops, a Belgian barman, who created it at the Hotel Metropole in Brussels in honor of Perle Mesta, then United States Ambassador to Luxembourg. (She had a very colorful party life with lots of famous people).

This cocktail owes its name to the use of vodka, a typical Russian spirit, and the blackness of the coffee liqueur."

WikiPedia
And there you have it. You'll find the traditional black Russian cocktail in about any bar or cocktail lounge. It's a popular well drink.
Kahlua and vodka are great mates. It all started with the Black Russian made as a signature drink for our aforementioned Perle Mesta. She was a very popular hostess amongst the rich and powerful.
Eventually someone decided to tone it down a bit with cream and so… the White Russian. And now the versions of this drink are endless. Including my Twisted Black Russian Coffee Drink.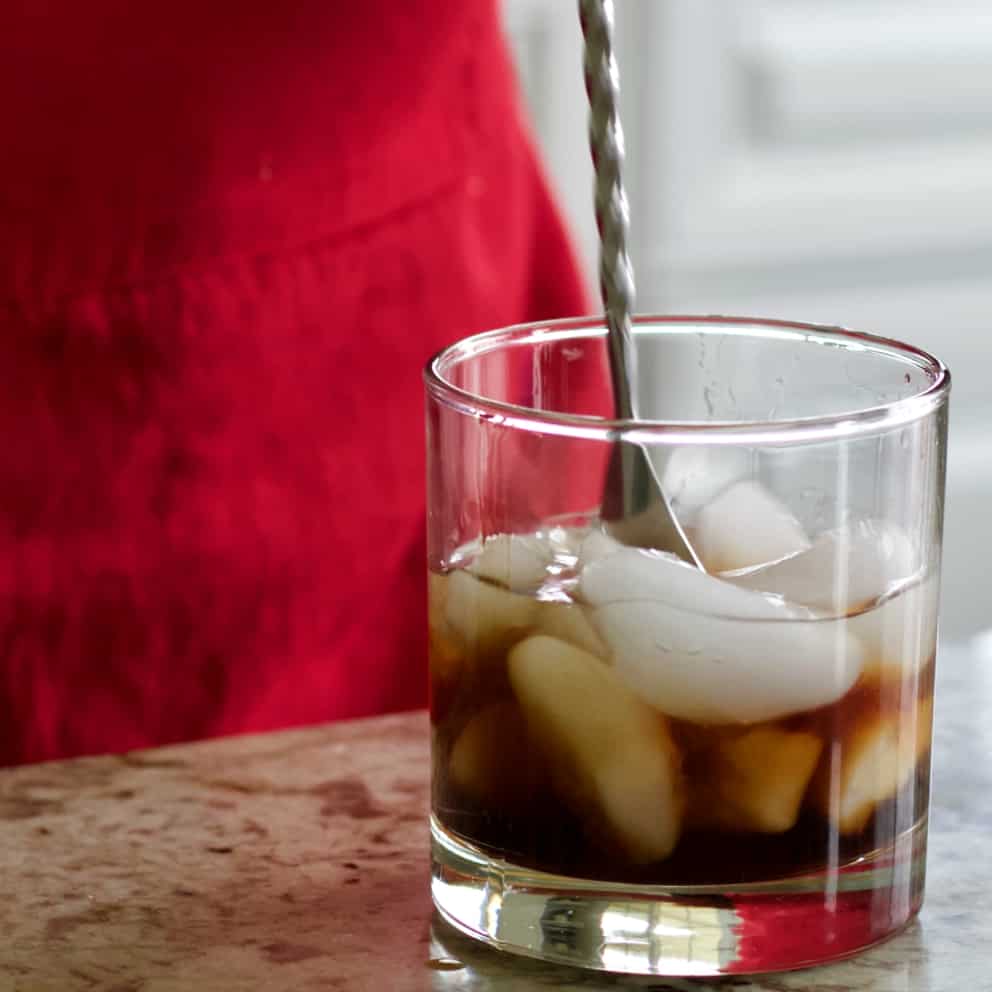 The Glass:
Black Russians are traditionally made in an old fashioned glass. Any short 10 or 12 oz. whiskey or scotch glass like these will do the trick.
Use VERY smooth vodka for a good Black Russian. You'll spend a bit more but the result is worth it.
Black Russian Recipe:
The standard recipe contains five parts vodka to two parts coffee liqueur, per IBA specified ingredients. WOW. That is a LOT of alcohol in one cocktail.
Most of the recipes I see are similar to mine. It seems to be a popular proportion.
I use a two parts vodka to one part coffee liqueur recipe and that is fine. That is Excellent!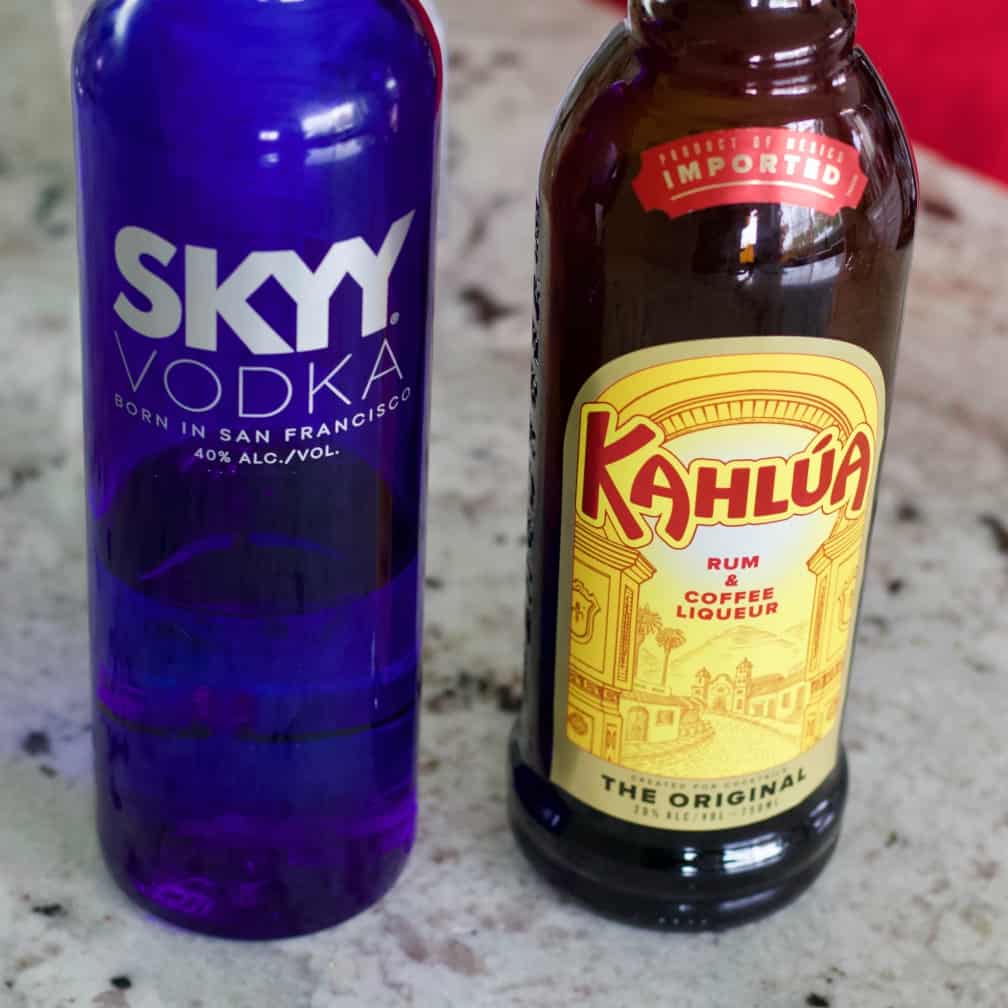 If you love more vodka feel free, but watch it. One of these will hit you pretty hard at Happy Hour.
Black Russian Drink Ingredients:
The classic Black Russian is a cocktail of vodka and coffee liqueur. Just those two ingredients.
Skyy vodka (or other high end smooth vodka)
kahlúa rum and coffee liqueur
Old fashioned glass half filled with ice.
pour ice half full into a whiskey glass and pour alcohol over top, stir with a cocktail stirrer and serve immediately.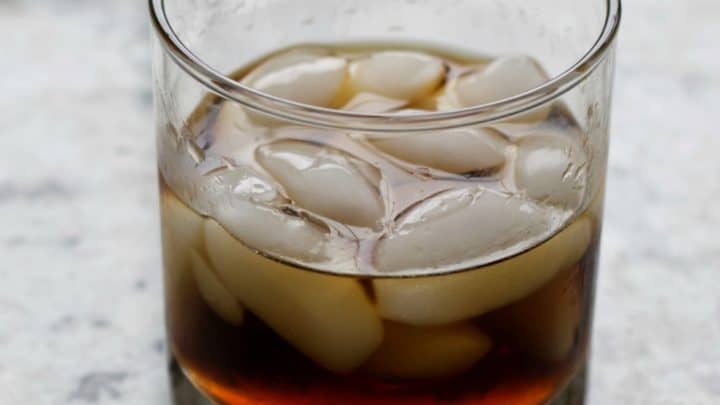 Yield:

1 cocktail
Black Russian Cocktail Recipe
The Black Russian cocktail is a classic dark vodka cocktail with a rich coffee liqueur flavor.
Ingredients
2 oz vodka (use high end smooth vodka)
1 oz Kahlua
Instructions
Put ice half full into an old fashioned glass
Add the Vodka
Pour Kahlua over the top
Stir with a cocktail stirrer
Serve immediately.
Nutrition Information
Yield
1 cocktail
Serving Size
10 oz.
Amount Per Serving
Calories

343
Total Fat

0g
Saturated Fat

0g
Trans Fat

0g
Unsaturated Fat

0g
Cholesterol

0mg
Sodium

6mg
Carbohydrates

22g
Fiber

0g
Sugar

22g
Protein

0g