Looking for a light lunch? Here's an idea! Crostini with Goat cheese is easy to make, healthy and delicious!
We love summer! The fresh tomatoes and peppers are ripening this week! We have waited all these months. Dave has babied his plants and watched with an eagle eye for every need they may have. His reward is here! Our Tiburon peppers and Arbason Tomatoes are gracing these Crostinis today. The flavor is out of this world delicious!
These are the toppings we will be using today…along with a bit of bacon, (Dave's idea).
Crostini with goat cheese
We have never tried crostinis before. We decided to give them a try because they are toast(which we love) in a brand new way! Use an Artisan bread like this one, baked in the oven and brushed with a high quality organic extra virgin olive oil infused with our homegrown herbs. Yum!! Dave brought home some goat cheese from the store the other night with a loaf of fantastic artisan bread. This seemed like the perfect moment to leap into a new dimension in our menu.
Instructions:
Preheat the oven to 350 degrees Fahrenheit
Slice the bread into 1/2 inch slices (or 1/4 inch for very small 2 inch diameter appetizers)
Brush the bread with olive oil on one side, let soak in a bit, and arrange on baking sheet oil side down.
Brush the top side of the bread with oil.
Bake 15 minutes until the bread is golden brown and toasted. Cool.
Meanwhile prepare your toppings as desired.
Spread the crostinis with goat cheese.
Top as desired
Garnish the crostinis as desired with fresh herbs
Sprinkle with balsamic vinegar
We have had goat cheese in salads and thought it ok. But this is the first time we have used it for a spread. Goat cheese is good! At least the brand we tried was. Not too strong or goaty. A nice mild cheese with just a bit of tang to perfectly offset our toppings and the balsamic vinegar. Perfect!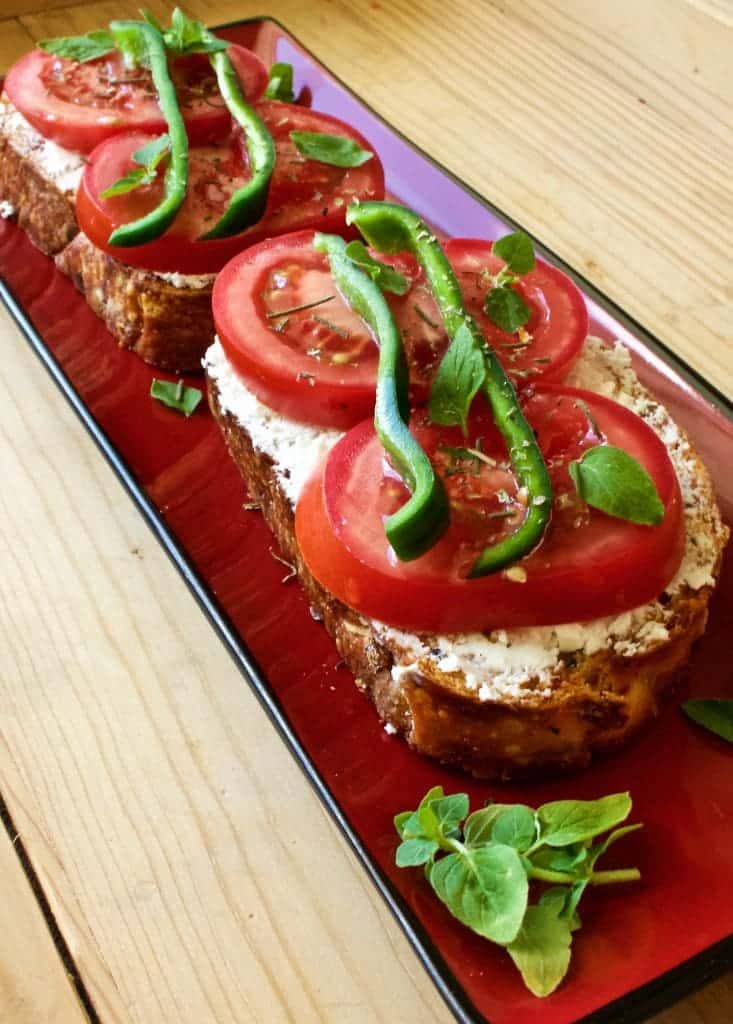 Total Time: 20 minutes
Nutrition Information:
124 calories/ Serving
Number of servings: 20
Fat

8 g

Carbs

9 g

Protein

4 g
Your Printable Recipe:
Yield:

20 crostini
Crostini with Goat Cheese
A simple light lunch, party food or snack made with fresh herbs, goat cheese and your fresh toppings. Don't forget the balsamic drizzle for just the right pop of flavor to bring it all together. So good!
Ingredients
1 loaf Artisan bread, -cut into 20 pieces
4 oz. Olive oil, infused with your favorite Italian herbs as desired
6 oz. Goat Cheese
Fresh herbs for garnish
Toppings as desired, vegetables, cooked bacon...whatever.
1 tsp. Balsamic Vinegar, to taste
Instructions
Preheat the oven to 350 degrees Fahrenheit
Slice the bread into 1/2 inch slices (or 1/4 inch for very small 2 inch diameter appetizers)
Brush the bread with olive oil on one side, let soak in a bit, and arrange on baking sheet oil side down.
Brush the top side of the bread with oil.
Bake 15 minutes until the bread is golden brown and toasted. Cool.
Meanwhile prepare your toppings as desired.
Spread the crostinis with goat cheese.
Top as desired
Garnish the crostinis as desired with fresh herbs
Sprinkle with balsamic vinegar
Nutrition Information
Amount Per Serving
Calories

124
Pin it: