Enjoy the rich decadence of Blackberry Cheesecake Ice Cream. Frozen Blackberry cheesecake is to die for! No egg custard required!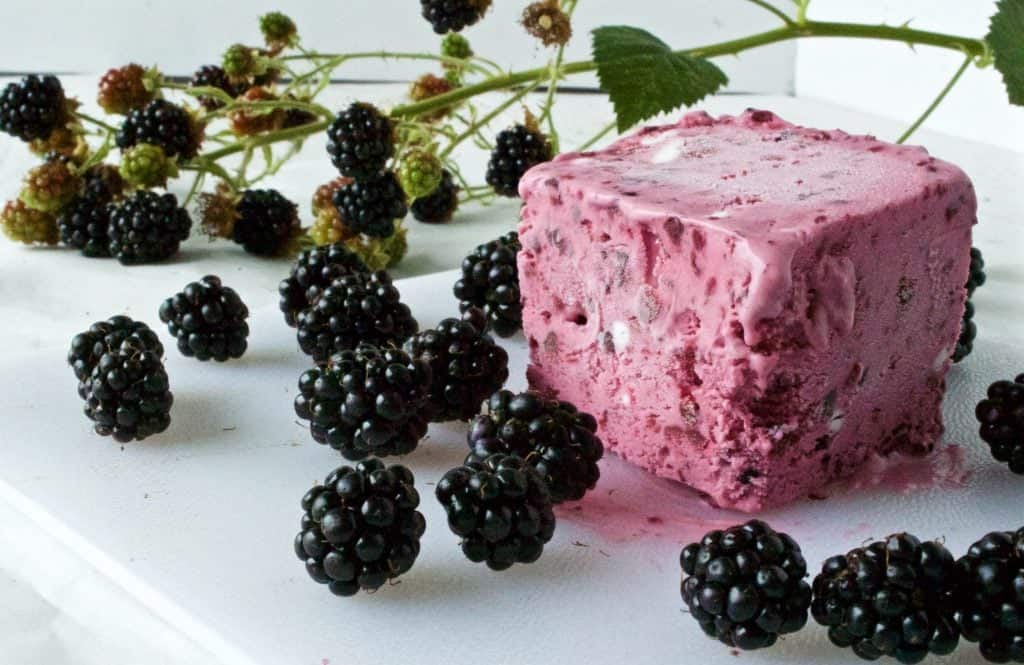 Yes indeedy, I like this recipe! Let me count the ways
Making ice cream in my freezer bowl Cuisinart ice cream maker is so easy. The ice cream turns out every time with a lovely texture and flavor. We are really enjoying this new kitchen toy!
This is the EASY ice cream to make! No long waiting for the ice cream to set in the freezer after it's mixed. Just mix up your ingredients, pour it in the ice cream machine. Set the timer for 15 minutes. Make your blackberry sauce. Pour it into the firming up ice cream when the timer dings. Five minutes later you can eat it! The entire process takes less than an hour.
I don't mind making a custard for delicious creamy ice creams like French Vanilla bean ice cream or Dark Chocolate Cherry Ice Cream. BUT, Blackberry Cheesecake Ice Cream recipe has creamy without the eggy custard so no cooking necessary!
Best of all it is SO yummy! Easy and yummy win for me every time!
Using fresh blackberries is always a plus around here in mid summer.
Those voluminous blackberry vines are producing MASSES of free, organic blackberries for us right now and will continue to do so for about a month, weather permitting. We are blessed and cursed by these viney pests.
Today they are a blessing since blackberries are extremely healthy berries to eat, taste amazingly fresh off the vine, and they freeze well!
Blackberry Cheesecake Ice Cream:
One note about this recipe. You can use fresh OR frozen berries. But if you use frozen, drain them well so they don't dilute the recipe too much.
Instructions:
In a stand mixer fitted with a mixing paddle, or with an electric hand mixer, beat the cream cheese until very smooth, scraping down the bowl sides, as needed.
With the mixer running add 1 cup sugar, salt, vanilla, heavy cream and lastly the Greek yogurt; one at a time until the mixture is smooth.
Turn on the ice cream maker and pour this mixture into the freezer bowl. Set a timer for 15 minutes.
Meanwhile mix together the blackberries and sugar until sugar is dissolved. Puree this mixture if you don't like the seedy texture. Set aside.
When the timer goes off slowly add the blackberry mixture, a little at a time, until the ice cream fully incorporates the blackberry mixture. Mix another 5 minutes or until firm.
This is REALLY thick ice cream and will set to a firm soft set that can be immediately eaten. Or put it into a freezer container and set until hard. This thick, creamy textured ice cream will need about 10 minutes to set out on the counter before serving, for ease of scooping.
After you make this delicious ice cream try topping it with this OPTIONAL BLACKBERRY SAUCE: So good!
Ingredients:
2 cups fresh washed blackberries (frozen works as well. reduce water in sauce as instructed)
1/4 Cup Sugar to taste
2 tablespoons cornstarch mixed with 4 tablespoons water(for frozen, thawed watery berries-eliminate the water and use blackberry juices-you can drain some off into a bowl and mix the cornstarch in that way- then pour it into the gently boiling berries.
Put the blackberries and sugar into a 2 quart pot on the stove and heat to boiling. Add the cornstarch mixture and whisk constantly on medium high heat for a minute or until the sauce thickens to your needs. Remove from heat and get it REALLY cool in the fridge before pouring it over your ice cream. Remember this sauce will continue to thicken as it cools.
If you really love blackberries, like we do, pour this sauce over the finished ice cream for extra yummy! This is a dynamite sauce for an ice cream sundae!
Yield:

10 servings
Blackberry Cheesecake Ice Cream
Additional Time:
40 minutes
Enjoy the rich decadence of Blackberry Cheesecake Ice Cream. Frozen Blackberry cheesecake is to die for! No egg custard required!
Ingredients
12 oz cream cheese
1 1/4 Cup granulated sugar, divided
1/2 tsp. salt
2 tsp. vanilla extract
1/2 Cup greek yogurt
1 Cup heavy cream
1 1/2 Cups blackberries
Instructions
In a stand mixer fitted with a mixing paddle beat the cream cheese until very smooth, scraping down the bowl sides, as needed
With the mixer running add 1 cup of your sugar, the salt, vanilla, heavy cream and greek yogurt; one at a time. Mixing until all ingredients are smooth and creamy
Turn on the ice cream maker and pour this mixture into the freezer bowl. Set a timer for 15 minutes
Meanwhile mix together the blackberries and remaining sugar until sugar is dissolved. Puree this mixture if you don't like the seedy texture. Set aside
When the timer goes off slowly add the blackberry mixture, a little at a time, until the ice cream fully incorporates the blackberry mixture. Mix another 5 minutes or until firm
This is REALLY thick ice cream and will set to a firm soft set that can be immediately eaten. Otherwise, put it into a freezer container and set until hard
This thick, creamy textured ice cream will need about 10 minutes to set out on the counter before serving, for ease of scooping
Nutrition Information
Yield
10
Serving Size
1
Amount Per Serving
Calories

315
Total Fat

20g
Saturated Fat

12g
Trans Fat

0g
Unsaturated Fat

6g
Cholesterol

62mg
Sodium

234mg
Carbohydrates

30g
Fiber

1g
Sugar

28g
Protein

4g
Pin it: