This homemade Strawberry Ice Cream recipe is the perfect summertime treat. Made with fresh strawberries, whole milk, cream, and sugar, this recipe is creamy and rich with a beautifully sweet natural strawberry flavor and gorgeous soft pink hue.
Strawberry is one of the most popular kinds of ice cream and is well loved for the delicate flavor, and how well it pairs with other desserts, and fellow ice creams like vanilla, chocolate, and mint. Our homemade recipe is easy to make and can be enjoyed as a soft serve, or hard set ice cream depending on your preference.
What is the secret to creamy ice cream?
Dairy is the most important ingredient when making an ice cream since the key contributor to the creaminess is the fat that dairy contains. Whole milk and cream are the best choices and will give you the thickest and creamiest ice cream every time. Half and half can be used, and of course there are plenty of plant based options, but the won't provide the same level of silky creaminess.
Why is my homemade strawberry ice cream icy?
Icy ice cream is arguably the most common problem with homemade ice cream. Large ice crystals form during the freezing process making it gritty and crunchy. This is usually caused by too much water in the mixture, or an excessively long freezing time.
Homemade ice cream is usually stable for a few days in the freezer, longer than that and you will most likely notice ice accumulation on the top and possibly throughout.
Another common reason for icy ice cream is too little dairy. The fat content of dairy provides the thick, creamy consistency of ice cream. If you don't have enough dairy, crystallization will occur much faster.
What is the easiest way to make homemade ice cream?
An ice cream maker will be the best choice for making homemade ice cream. There are so many on the market these days and they don't have to cost a lot.
The Cuisinart Ice Cream Maker is the one we use and we cannot recommend it enough. It comes with a recipe book which is where this strawberry ice cream recipe is originally from.
This strawberry ice cream is eggless so this is not a creamy custard recipe. For a creamy, decadent, rich ice cream recipe go take a look at our Chocolate Cherry Custard Ice cream. We also love our Toffee Bits N Chocolate, and decadent Blackberry Cheesecake Ice Cream.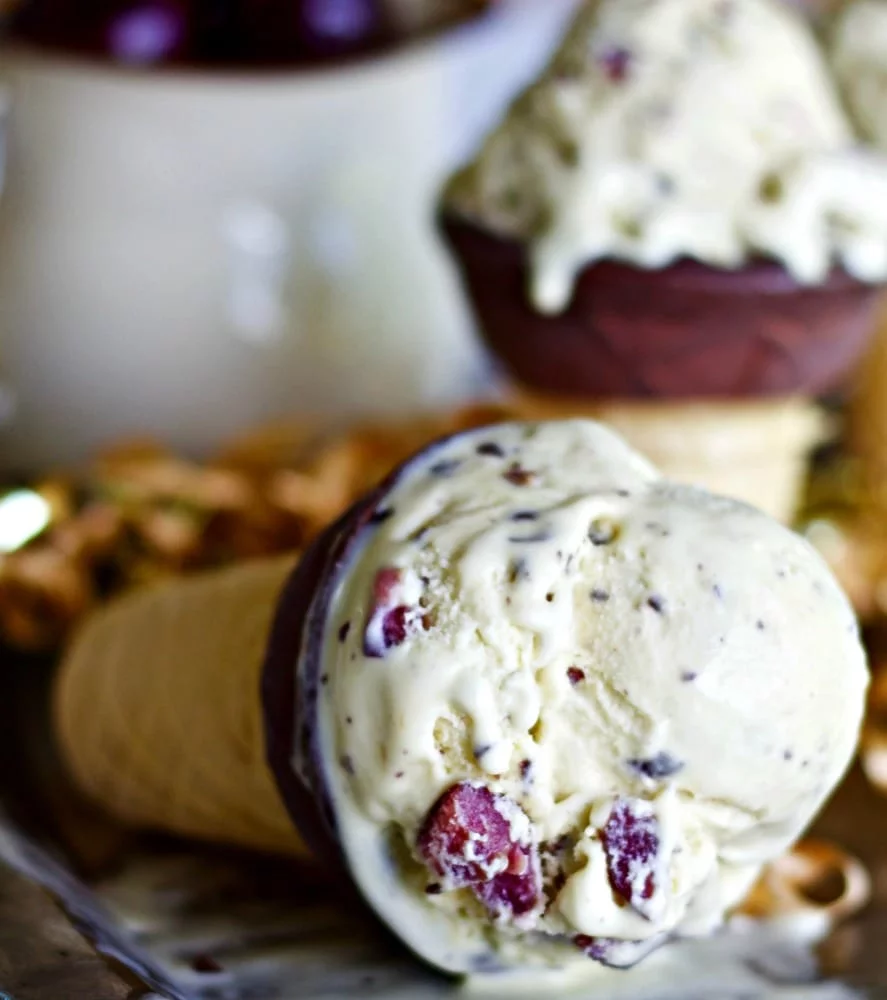 Enjoy this ice cream hard or soft set
This ice cream sets up hard in the freezer so you'll want to let it sit out on the counter about 10 minutes, if you let it hard freeze. It tastes amazing fresh out of the ice cream maker but it starts out soft…so eat fast!
We recommend putting it in your freezer a couple hours to let it set up a bit after it's done in the machine.
How can I serve Strawberry Ice Cream?
This ice cream is one of the most popular flavors and can definitely hold it's own. But, if you want to dress it up, here are some ideas.
Drop pieces of diced strawberry into the ice cream
Add white or semi sweet chocolate, nuts, or mint leaves to change up the flavor
Make it into a delicious strawberry cheesecake ice cream
Serve with fresh brownies or cookies
Use to make strawberry soda floats
Spread this ice cream over your favorite graham cracker crust to make an ice cream cake
Serve alongside a fresh lemon loaf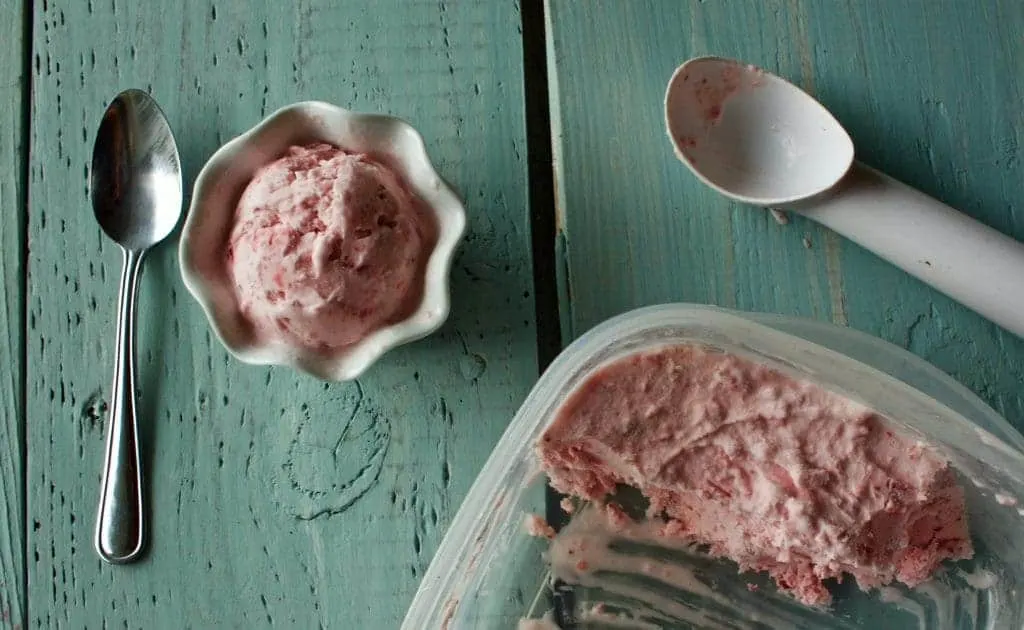 Yield:

10 servings
Fresh Strawberry Ice Cream
Total Time:
3 hours
30 minutes
This is the VERY first ice cream recipe I made with my brand spanking new Cuisinart Ice Cream Maker. I waited to get an ice cream maker until I was sure the freezer bowl method of making ice cream at home had been perfected. I'm convinced it has!
Ingredients
1 1/2 Cups fresh strawberries
3/4 Cup whole milk
2/3 Cup granulated sugar
pinch salt
1 1/2 Cups heavy cream
1 1/2 tsp. vanilla extract
Instructions
Pulse strawberries in a food processor with the copping blade until chopped or pureed to your preference. Set aside
In a medium bowl whisk to combine milk, sugar and salt until sugar is dissolved
Stir in the heavy cream and vanilla until smooth and blended
Stir in the reserved strawberries until fully incorporated
Cover and refrigerate until chilled, about an hour but you can do this the night or morning before use
Follow the directions for your ice cream maker
Enjoy your ice cream soft serve or freeze longer in an airtight container for a firmer to hard set
Notes
Frozen strawberries will work if strawberries are out of season
Nutrition Information
Yield
10
Serving Size
1
Amount Per Serving
Calories

195
Total Fat

14g
Saturated Fat

9g
Trans Fat

0g
Unsaturated Fat

4g
Cholesterol

42mg
Sodium

31mg
Carbohydrates

17g
Fiber

1g
Sugar

17g
Protein

2g
Follow Us:
We enjoy meeting you on our social networks. Follow us on Facebook, Pinterest, Instagram . Tag us with your pictures of our recipes and comment on how it went for you. We would love to see what you do with them.
We often like, comment and share your posts of our recipes on our daily Instagram stories.
Ask questions and rate the recipe in the comments section below. Please share what you did with this recipe. We are always looking for more and better ways to make homemade food. Other cooks love your ideas!
Recent Posts: