Full of fresh lemon flavor, this moist lemon cake decorates a table beautifully all by itself. Easy beginner recipe for budding bakers and decorators and what a beauty when your done!
Kayti convinced me to bake this cake so she could decorate it.  She has gotten into making cupcakes in a big way for the blog but this is our first full on cake! I have never made one from scratch since I was a teen ager. I don't, as a rule, make a lot of sweets, or at least I didn't until recently! Cakes were never on my list of desserts because they are boring to eat and full of gooky shortening and cake mixes…blah! I would rather do a cheesecake (me smiling), or a bar dessert …or cookies!!!
Consider me converted! This scratch recipe stayed moist and delicious with fresh lemon flavor. No greasy taste from shortening because Kayti uses butter. I highly recommend you make a true buttercream frosting like this one if your baking a cake. And bake from scratch! Wow what a difference. Kayti uses only fresh ingredients and bakes all her cupcakes from scratch and they are amazing! So it follows, cakes made from those delicious cupcake recipes will also be fantastic. This one was!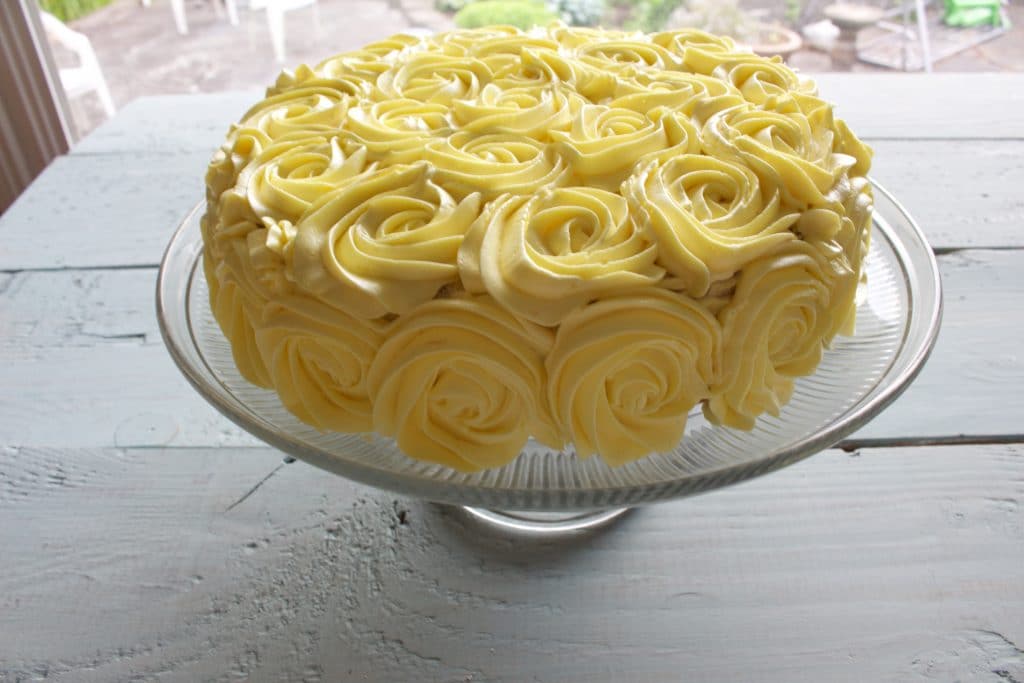 I made this cake from Kayti's recipe for Lemony Lemon cupcakes. I just doubled the recipe and it made a perfect amount for this cake. After it was baked and cooled Kayti took over and swirled on those pretty yellow roses using the frosting recipe called for in Lemony Lemon cupcakes. We were both pretty happy with how it turned out. I will say the lemon cake is VERY moist. We had it around for three days and it was perfect the whole time. It doesn't rise quite as much as some cakes might so it makes almost a torte look. This is very effective with the swirled rose pattern frosting. A high cake would take two layers of roses. This cake only has one around the sides. We really enjoyed the amount of cake relative to the frosting.
As you can see this cake is moist. I took this pic two days after it was made and it's still moist and fresh down to the last bite! The frosting held up too. It didn't get crusty. Just pure lemon lightness. YUM! You could make a three layer cake with this recipe by tripling the recipe and it would not be overly high but would be over the top delicious! I may try that one day and let you know how it goes.
This is not difficult to do. I had never made a cake in, like EVER, from scratch and it turned out great. Kayti had NEVER decorated a big cake with roses and has only been decorating cupcakes for a couple of months. She recommends you go look here on you tube for a tutorial on the rose pattern technique.
Ingredients
(Cake batter:)
2 1/2 cups cake flour
1 teaspoon baking powder
1 teaspoon baking soda
1 teaspoon salt
1 cup sour cream, room temperature
2 tablespoon grated lemon zest
1/2 cup lemon juice
1 teaspoon vanilla extract
1cup unsalted butter, room temperature
2 cup granulated sugar
4 large eggs, room temperature
(Frosting:)
2 sticks unsalted butter, room temperature
2 1/4 cups powdered sugar
1 teaspoon vanilla extract
2 tablespoons heavy cream
1 tablespoon lemon zest
3 tablespoons fresh lemon juice
Yellow food coloring paste
Instructions
Preheat oven to 350F. grease 2-9 inch round cake pans. Lightly coat the pans w flour.
Sift the flour, baking powder, baking soda and salt together.
In another bowl, whisk sour cream, lemon zest, juice and vanilla.
Beat butter and sugar together on medium speed in a bowl until light and fluffy. Beat in eggs, one at a time, until thoroughly blended.
Reduce the speed to low and beat in 1/3 of the flour mixture, followed by half of the sour cream mixture. Repeat with another 1/3 of the flour mixture and the remaining sour cream mixture. Beat in the remaining flour mixture until just incorporated.
Pour batter equally into the greased and floured 9 inch baking pans
Bake 35 minutes or until a toothpick inserted into the center of the cake comes out clean.
Frosting:
Beat butter for a few minutes until the color is light and the consistency is fluffy.
Add powdered sugar and turn your mixer on low, beat until the sugar incorporates with the butter. Add vanilla, heavy cream, lemon zest, juice and coloring paste, beat on medium speed for another 3 minutes, or until buttercream becomes light and fluffy.
Decorate the cake first with a light crumb coat and then make roses around the cake with a rose swirl pattern, as shown, with a Wilton 2D tip.