This tender Lemon Rose Cake is bursting with bright lemon flavor and a sweet tangy flavor. Perfect as a beginner cake with a fresh, homemade lemon buttercream piped into rosettes; this lemon cake recipe is completely scratch made for amazing flavor and unbeatable texture.
Layer cakes are the ultimate feat in the baking world. They are intimidating and often scare off many beginner bakers; but they don't have to be! We will be walking you through exactly how to bake and build this darling Lemon Rose Cake with beautiful rosettes.
We have a large selection of scratch made cupcakes. Our Lemony Lemon Cupcake is the recipe that we used to make this Lemon Rose Cake.
Visit our Cupcake Corner on the blog for all of our recipes, or click any of the ones below to go to that recipe.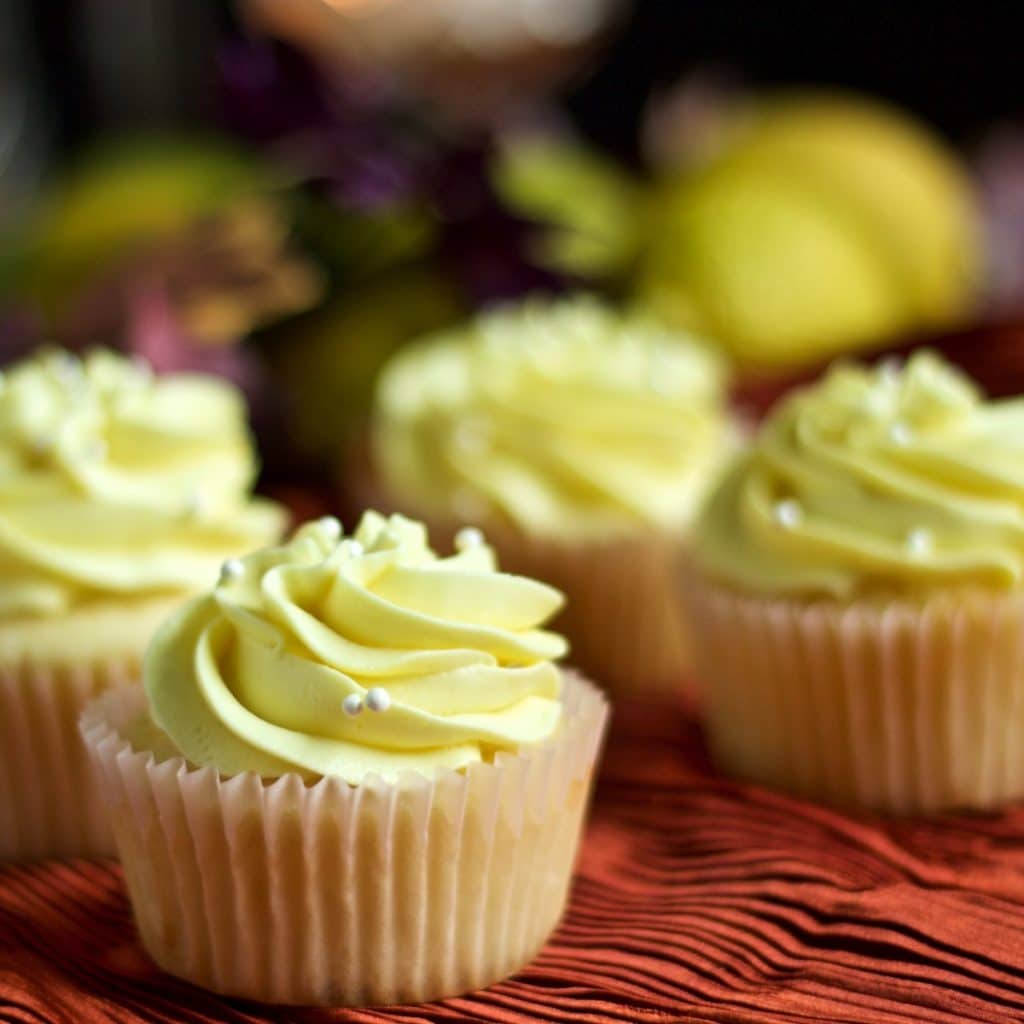 What makes a cake made from scratch moist?
When baking a cake from scratch the ingredients are very important. Good quality ingredients, proper technique, and correct measurements are necessary for a successful cake. Starting with the base of your cake, the flour. Cake flour is a must because it is sifted many times over to yield a soft, fluffy texture that cakes need.
Using good quality dairy ingredients like whole milk, sour cream, and even buttermilk will add flavor and fluffiness to your cake batter and infuse a higher level of moisture.
What makes a cake even more light and fluffy?
Mixing your cake properly in order to infuse air into the batter will lighten the cake texture and allow it to rise as it bakes. Be careful not to over mix as it will push the air out of the batter and create a dense consistency that will likely fall when baking.
The use of baking soda and baking powder will also help the cake leaven and rise. Ensure that your dairy ingredients like butter, eggs, and milk are at room temperature, this will help them combine and cream to a smooth consistency and help prevent over mixing.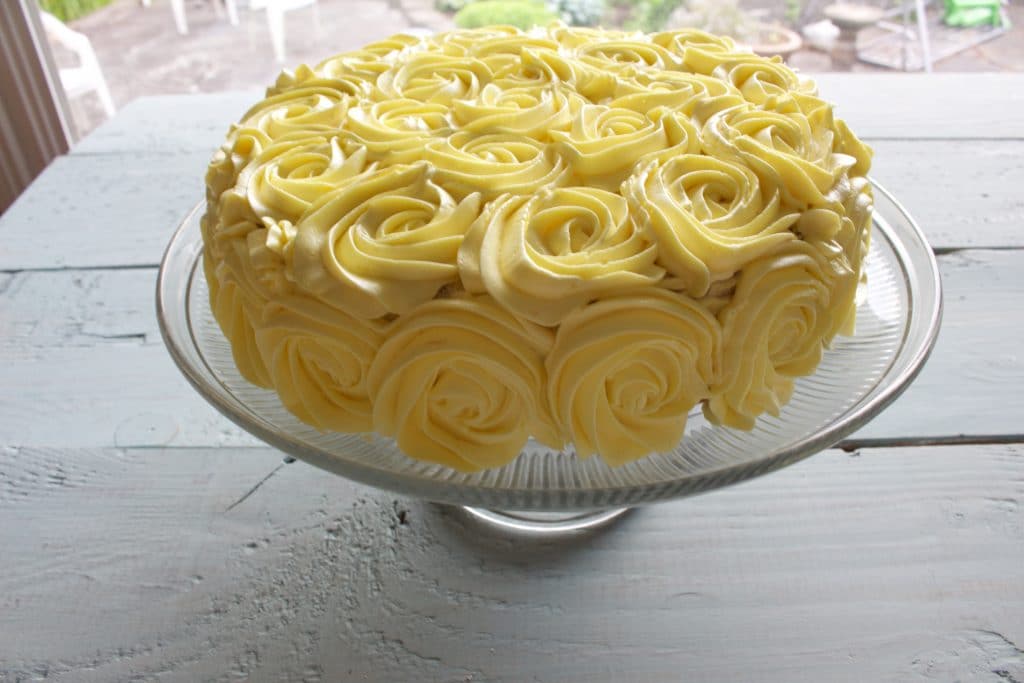 How long do you beat butter and sugar until fluffy?
To properly cream your butter and sugar, mix together in a stand mixer or with a handheld mixer on medium speed for 1-2 minutes or until light in color and fluffy in texture. Do not over mix or the creamed butter and sugars will begin to break down and separate.
What happens if you over mix cake batter?
Over mixing cake batters can lead to dense, flat cake sponges. Not something any of us want when we are expecting a fluffy layer cake. Over mixing cake batters can also result in large air bubbles that get baked into the cake sponges. This is known as 'tunneling' because the air travels through the batter, rising upwards creating large air holes or tunnels.
What is the best buttercream for beginners?
American Buttercream is the easiest frosting for beginner bakers to make. It is creamy, very sweet and wonderfully fluffy. This buttercream will provide a strong, stable frosting for you to decorate cakes without sacrificing the flavor. This frosting is made from sugar, softened butter, vanilla extract, heavy cream, lemon zest, and a bit of fresh lemon juice for a rich, citrusy flavor.
How do you create rosettes in buttercream?
Creating a rosette pattern with buttercream is very simple once you get the hang of it. Use a Wilton 2D tip and swirl in an outward pattern starting in the middle of each rosette.
If you are new to cake decorating, we recommend you go look here on YouTube for a tutorial on the rose pattern technique.
How do I assemble a Lemon Rose layer Cake?
Assembling a layered cake is a simple process made easier by using the proper techniques and not rushing. By avoiding some of the common pitfalls many people fall into you will have great success layering and decorating your cake.
Once your cakes are baked let them cool, remove from the cake pans and transfer to cooling racks.
Cool completely and then wrap them tightly in plastic wrap. Place them in the freezer until they are lightly frozen.
Remove the cake sponges from the freezer and unwrap. Cut the dome off the top of each layer if needed in order to create a flat surface.
Make the lemon buttercream
Place the bottom sponge on a cake stand
Using a spatula, spread buttercream over the middle of the cake sponge. Spread to the outer edges in an even layer.
Place your top cake sponge gently on top of the buttercream filled bottom sponge.
Use the buttercream to do a light 'crumb coat'. Once this is done move the cake to the fridge allowing the crumb coat to firm up.
Transfer buttercream into a decorators bag fitted with a Walton 2D tip.
Finish decorating the cake by creating rosettes all over the cake.
Yield:

20 servings
Lovely Lemon Rose Cake
Additional Time:
20 minutes
Total Time:
1 hour
15 minutes
Full of fresh lemon flavor, this moist lemon cake decorates a table beautifully all by itself. Easy beginner recipe for budding bakers and decorators and what a beauty when your done!
Ingredients
(Cake batter:)
2 1/2 Cups cake flour
1 tsp. baking powder
1 tsp. baking soda
1 tsp. salt
1 Cup sour cream, room temperature
2 Tablespoons lemon zest
1/2 Cup lemon juice
1 tsp. vanilla extract
1 Cup unsalted butter, room temperature
2 Cups granulated sugar
4 large eggs, room temperature
(Frosting:)
2 sticks unsalted butter, room temperature
2 1/4 Cups powdered sugar
1 tsp. vanilla extract
2 Tablespoons heavy cream
1 Tablespoon lemon zest
3 Tablespoons fresh lemon juice
Yellow food coloring paste
Instructions
Preheat oven to 350F.
Cakes:
Grease 2-9 inch round cake pans and lightly coat the pans with flour
Sift flour, baking powder, baking soda and salt together
In a separate bowl whisk sour cream, lemon zest, lemon juice and vanilla together until creamy
In a stand mixer blend butter and sugar together on medium speed in a bowl until light and fluffy
Beat in eggs, one at a time, until thoroughly blended
Reduce the speed to low and slowly add in 1/3 of the flour mixture, followed by half of the sour cream mixture
Repeat with another 1/3 of the flour mixture and the remaining sour cream mixture
Beat in the remaining flour mixture until just incorporated
Pour batter equally into the greased and floured 9 inch baking pans
Bake 35 minutes or until a toothpick inserted into the center of the cake comes out clean
Frosting:
Beat butter for a few minutes until the color is light and the consistency is fluffy
Add powdered sugar and turn your mixer on low, beat until the sugar incorporates with the butter
Add vanilla, heavy cream, lemon zest, juice and coloring paste, beat on medium speed for another 3 minutes, or until buttercream becomes light and fluffy
Decorate the cake first with a light crumb coat and then make roses around the cake with a rose swirl pattern, as shown, with a Wilton 2D tip
Nutrition Information
Yield
20
Serving Size
1
Amount Per Serving
Calories

395
Total Fat

22g
Saturated Fat

13g
Trans Fat

0g
Unsaturated Fat

7g
Cholesterol

94mg
Sodium

227mg
Carbohydrates

47g
Fiber

0g
Sugar

33g
Protein

3g
Follow Us:
We enjoy meeting you on our social networks. Follow us on Facebook, Pinterest, Instagram . Tag us with your pictures of our recipes and comment on how it went for you. We would love to see what you do with them.
We often like, comment and share your posts of our recipes on our daily Instagram stories.
Ask questions and rate the recipe in the comments section below. Please share what you did with this recipe. We are always looking for more and better ways to make homemade food. Other cooks love your ideas!
Recent Posts: