Our Festive Cherry Almond Cupcake flag cake adds a touch of patriotism to a party table.
These tasty cupcakes are welcome at any patriotic gathering that honors our great nation and those who have bravely served.
This cupcake flag is easy to make. It's a perfect centerpiece for a party Themed for Memorial Day, Veterans Day Presidents Day, Fourth of July or labor day.
The flag cupcake arrangement makes a great patriotic centerpiece.
Memorial day weekend is a fun and exciting weekend. Many of us get 4 day weekends this holiday.
There are lots of bbq's and parties to attend. People kick off the camping season…
Need More Cupcake Ideas?
Amongst all of the fun and festivities, find a moment to reflect on those who have given the ultimate sacrifice to our nation. And honor those disabled veterans who came back changed forever.
My husband and I are both veterans of the USAF. My husband deployed three times.
I have several personal friends that deployed overseas into hostile areas. Some right into the heart of the fighting.
They didn't know what danger and uncertainty awaited them. Many of our deployed Military service men and women do not return.
Many of them return with wounds, of the spirit and body.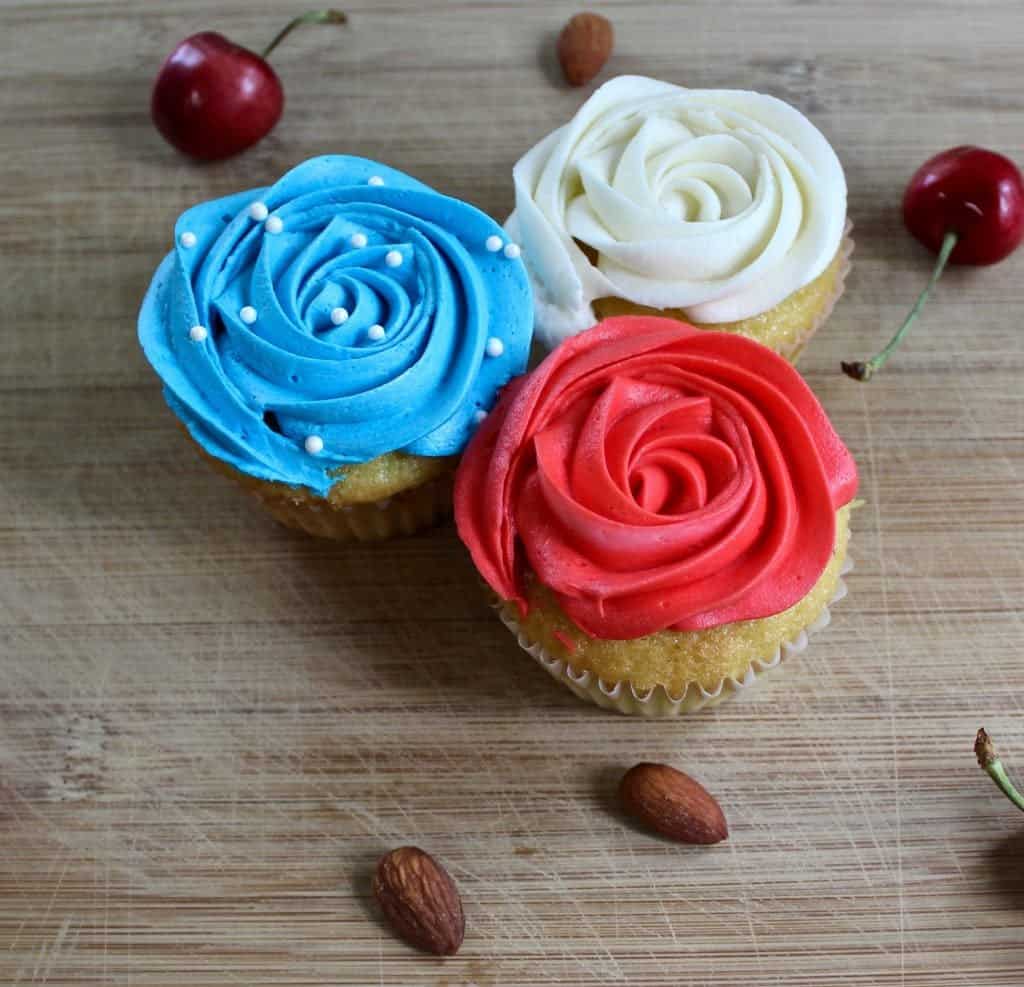 I worked in a military hospital, stateside, as a surgical technician for years.
I assisted in many surgeries on young servicemen and women who suffered injuries overseas.
A lot of those injuries were life changing and challenging. Their valor and bravery astonishes me. It was a humbling experience that I will never forget.
I witnessed countless retirement ceremonies for those who have served 20 plus years in our military.
Tears often streamed down the faces of those honored.
The memories they have are bittersweet. Military retirees who hold great pride in their service. It's well deserved.
Please take a moment this Memorial Day to remember those who have given the ultimate sacrifice for our great nation.
To honor our veterans ( and have loads of delicious fun), I made this cupcake flag display. This cupcake flag cake arrangement is perfect for your Memorial Day parties. Think ahead to the Fourth of July!
If you're a fan of almond cake make this recipe. It's a beautifully flavored and textured cupcake.
Of course you can make these for any occasion. And theme and decorate these beauties however you want.
This cupcake recipe is very easy to make and the decorating is as hard as you want to make it. Watch the video to see the easy technique I used.
Cherry Almond Cupcake Flag Cake Recipe:
These cupcakes are really so yummy. The cake is almond flavored and the frosting is smooth, silky cherry buttercream. It's a wonderful combination.
The flag centerpiece is simple to make and very festive on your Patriotic Party table. You will love this recipe. Just change out the frosting colors to theme this cupcake recipe for any event.
Your Printable Recipe Card:
Yield:

30 frosted cupcakes
Festive Cherry Almond Cupcakes
Festive Cherry Almond Cupcakes add a touch of patriotism to a party table. These tasty cupcakes are welcome at any gathering that honors our great nation and those who have bravely served. These cupcakes are easy to make, delicious grab food. The flag arrangement makes a great party table focal point!
Ingredients
2-1/2 cups cake flour
2-1/2 tsp baking powder
1 tsp baking soda
1 tsp salt
4 lg eggs
1-1/2 cups granulated sugar
3 tsp almond extract
1 cup light olive oil (or canola oil)
1 cup buttermilk
Frosting:
1 cup unsalted butter (softened)
5 Tbsp whipping cream
4 cups powdered sugar
1 tsp cherry extract
1 tsp almond extract
Instructions
CUPCAKES:
Preheat oven to 350 F
Whisk together flour, salt, baking powder, and baking soda in a small bowl and set aside.
In a bowl with an electric beater, beat eggs until they are thoroughly mixed, add in sugar and continue mixing.
Add in oil and vanilla until they are thoroughly mixed in as well.
Add 1/3 of the flour mixture and mix until it is incorporated
Add 1/3 of the buttermilk and mix thoroughly.
Continue alternating adding in ingredients until they are all mixed in.
Fill cupcake liners 1/2 full.
Bake 12-14 minutes checking often to ensure doneness.
Cool on a wire baking rack.
FROSTING AND DECORATING
Beat the butter alone for 2 minutes until it is light and fluffy.
Add in the powdered sugar, beating thoroughly between additions.
Next add the whipping cream and beat thoroughly.
Finally, add in the extracts.
Make enough colored frosting for 6 blue cupcakes, 9 red cupcakes, and 9 white cupcakes. I also used white pearls for the stars.
Use a 2 D piping tip in piping bag to decorate each colored cupcake. Watch the video for the technique.
Nutrition Information
Yield
30
Serving Size
1 frosted cupcake
Amount Per Serving
Calories

278
Total Fat

15g
Saturated Fat

6g
Trans Fat

0g
Unsaturated Fat

9g
Cholesterol

44mg
Sodium

187mg
Carbohydrates

34g
Fiber

0g
Sugar

25g
Protein

2g
Pin it: