Chocolate chip cookie dough cupcakes with eggless cookie dough baked into the center of a delectable vanilla cupcake. This cupcake is choc full of mini chocolate chips and Topped off with a light and fluffy vanilla buttercream frosting. Yumm…
Chocolate chip cookie dough cupcakes make any potluck, party or foodie event better. This lovely light vanilla cupcake recipe is filled with an edible cookie dough. These gourmet cookie dough stuffed cupcakes are sinfully delicious. Everyone loves them.
And this eggless cookie dough recipe is food safe at room temperature. The beautifully textured vanilla cake is topped with a light, fluffy buttercream frosting. Sprinkle a few mini chocolate chips on top and viola!…A lovely chocolate chip cupcake recipe filled with decadent cookie dough. A marvelous combination of flavors and textures. Your mouth is going to love this.
Please note: The cookie dough is eggless. However, Our vanilla cupcake recipe DOES contain eggs. ONLY the cookie dough is eggless. For an ENTIRELY eggless cupcake recipe you will need to use an egg substitute in the vanilla cupcake recipe.
Who doesn't love eating raw cookie dough? You can even buy it in tubs now. Many companies make a wonderful business off America's obsession with raw cookie dough.
Cupcakes with cookie dough are marvelous too. Your family is going to love this cupcake recipe from scratch. It's a process…but so worth it. And WAIT till you try this cupcake frosting recipe. It's perfect for this gourmet cupcake recipe.
Chocolate Chip Cookie Dough Cupcakes Recipe:
Chocolate Chips cookie dough cupcakes are made in steps. The first step is making the cookie dough, then the cupcakes, and finally the frosting. Here are some tips on making this recipe.
The Cookie dough:
This recipe features a vanilla cupcake with a ball of cookie dough baked into the center of the cupcake. The cookie dough is nice and soft in the center so it tastes marvelous in the vanilla cake.
You make the cookie dough and form it into 1 inch balls. Then freeze them. This helps the dough ball retain their distinct shape in the cupcake during baking.
You definitely want to make sure the cookie dough balls are frozen solid before you bake them into the batter. I froze mine about 12 hours. Also, Making the cookie dough the night before breaks up the work quite a bit. 🙂
Tips for Success on Making Vanilla Cupcakes:
Room Temperature Ingredients: Ensure that your eggs, butter, and milk are all at room temperature. This helps in achieving a smoother batter and better incorporation of ingredients.
Measuring Ingredients: Use proper measuring cups for dry and liquid ingredients to ensure accuracy. Level off the dry ingredients with a flat edge for precise measurements.
Don't Overmix: Mix the batter until just combined after adding the dry ingredients. Overmixing can lead to tough cupcakes.
Baking Time: Keep a close eye on the cupcakes as they bake. Every oven is different, so start checking for doneness a couple of minutes before the recommended time.
Quality Vanilla Extract: Use high-quality pure vanilla extract for the best flavor. Avoid using artificial vanilla flavoring.
Frosting Techniques: If you're new to frosting, practice different piping techniques on a piece of parchment paper before decorating your cupcakes.
Storage: Store your cupcakes in an airtight container at room temperature for a day or two, or in the refrigerator for longer freshness. Allow refrigerated cupcakes to come to room temperature before serving.
This is an easy filled cupcake recipe. However, it does require some time. So PLAN AHEAD with this one.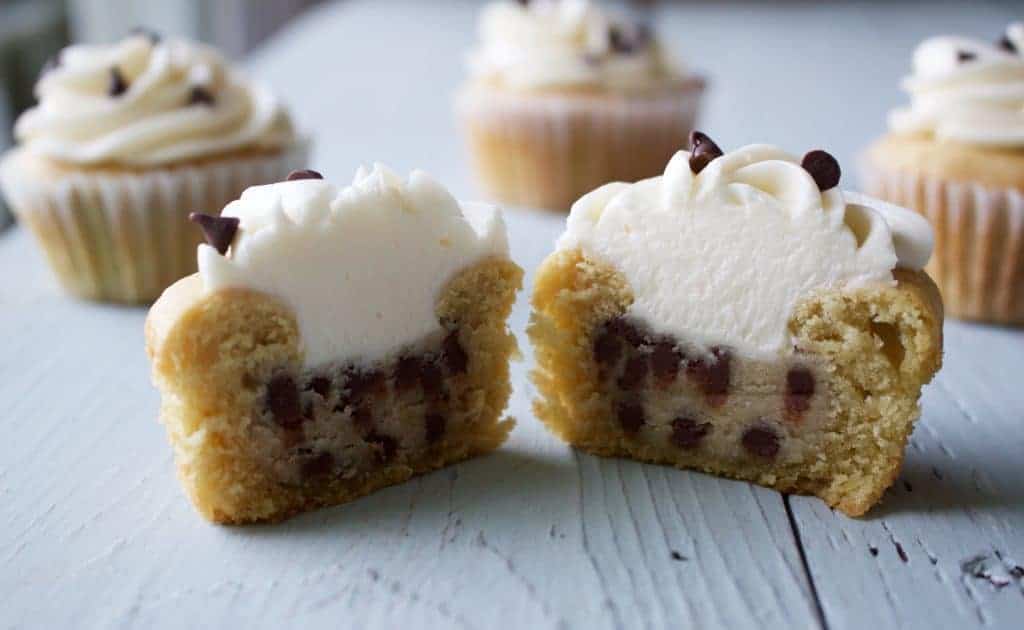 These cupcakes make a lovely party dessert for a grown up birthday or special event. Kids love them too so this dessert recipe is great for a multi age event. cookie dough cupcakes are great all year round!
Cupcakes Cookie Dough Buttercream Frosting Tips:
Buttercream is simple to make once you know how. Creating a smooth, creamy, and delicious buttercream frosting requires a few key techniques. Here are some tips to help you make the best buttercream frosting for your cupcakes:
Use Quality Ingredients: Start with good-quality unsalted butter and pure vanilla extract. The flavor of your buttercream will be greatly enhanced by using high-quality ingredients.
Soften the Butter: Allow the butter to come to room temperature before making the frosting. Softened butter blends more easily, resulting in a smoother texture.
Adding and Mixing The Sugar:
Gradually Add Sugar: When adding powdered sugar to the butter, do it in batches. This prevents a cloud of sugar from flying out and helps the sugar mix evenly.
Sift the Sugar: Sifting the powdered sugar before adding it to the buttercream helps prevent lumps and results in a smoother consistency.
Mix on Low Speed: Start mixing the butter and sugar on low speed until they are combined. This prevents the sugar from scattering and creating a mess.
Beating the Frosting Correctly:
Beat Until Light and Fluffy: Once the sugar and butter are combined, increase the mixer speed to medium-high and beat the mixture until it's light, fluffy, and pale in color. This usually takes a few minutes.
Add Vanilla and Salt: Add vanilla extract and a pinch of salt to enhance the flavor of the buttercream. The salt helps balance the sweetness.
Getting the Frosting Texture Right:
Gradually Add Liquid: If your buttercream recipe includes any liquid (such as milk or cream), add it gradually. This helps you control the consistency of the frosting. Start with a small amount and add more as needed.
Scrape Down the Bowl: Occasionally stop the mixer and scrape down the sides and bottom of the mixing bowl. This ensures that all the ingredients are evenly incorporated.
Adjust Consistency: If the buttercream is too thick, you can add a little more liquid (milk or cream) to achieve the desired consistency. If it's too thin, gradually add more powdered sugar.
Avoid Overmixing: Be careful not to overmix the buttercream once you've achieved the desired consistency. Overmixing can cause the buttercream to become too soft or lose its structure.
Texture Fixes: If your buttercream becomes too soft or runny, you can try placing it in the refrigerator for a short time to firm it up before re-whipping. If it's too stiff, gradually add a small amount of liquid and re-whip.
Piping and Decorating:
If you're planning to pipe the buttercream onto cupcakes, use a piping bag and your preferred piping tip. Practice your piping techniques on a piece of parchment paper before decorating the cupcakes.
Store Properly: Store any leftover buttercream in an airtight container in the refrigerator. When you're ready to use it again, let it come to room temperature and re-whip it to restore its texture.

I decorated the cupcakes with the swirl technique. I used a Wilton 2D tip and mini chocolate chips on top. I demonstrate it for you in a video in this post.
Freezing Chocolate Chip Cookie Dough Cupcakes:
For best results, freeze the cupcakes with no frosting. Its very difficult to retain the best texture, hydration and flavor of the frosting when thawed.
While some frostings can be frozen, they suffer changes in texture and consistency during freezing and thawing. It's best to frost the cupcakes after they've been thawed for the best results.
Freezing Unfrosted Cupcakes:
Cool Completely: Allow the cupcakes to cool completely after baking before you start the freezing process. This helps prevent excess moisture buildup inside the packaging.
Wrap Individually: Wrap each unfrosted cupcake tightly in plastic wrap. This helps protect the cupcakes from freezer burn and preserves their freshness.
Place in an Airtight Container or Freezer Bag: Place the wrapped cupcakes in an airtight container or a heavy-duty freezer bag. Make sure to remove as much air as possible from the container or bag before sealing.
Label and Date: Write the date on the container or bag so you can keep track of how long the cupcakes have been in the freezer. Cupcakes are best consumed within 1 to 3 months of freezing.
Freeze: Place the container or bag of cupcakes in the freezer. Make sure to position them in a way that they won't get crushed.
Thawing and Serving:
Slow Thawing: To thaw the cupcakes, transfer them from the freezer to the refrigerator. Allow them to thaw slowly and evenly overnight or for several hours.
Room Temperature: Once thawed, let the cupcakes come to room temperature before serving. This helps restore their texture and flavor.
Frosting: Once the cupcakes are fully thawed and at room temperature, you can frost them using your chosen frosting.
Frosting and Decorating After Thawing:
If you're planning to frost and decorate the cupcakes after thawing, here's what you can do:
Thaw Cupcakes: Follow the instructions mentioned above to thaw the unfrosted cupcakes.
Frosting: Once the cupcakes are fully thawed and at room temperature, apply your chosen frosting and any additional decorations.
Serve: Serve the cupcakes once they are fully frosted and decorated.
By following these steps, you can enjoy your frozen chocolate chip cookie dough filled cupcakes with the same delicious taste and texture as when they were freshly baked
The Chocolate Cookie Dough Cupcakes Printable Recipe:
Yield:

24 frosted cupcakes
Chocolate Chip Cookie Dough Cupcakes
Additional Time:
12 hours
Total Time:
12 hours
36 minutes
Chocolate chip cookie dough cupcakes with eggless cookie dough baked into the center of a delectable vanilla cupcake. This cupcake is choc full of mini chocolate chips and Topped off with a light and fluffy vanilla buttercream frosting. Yumm…
Ingredients
For the Cookie dough Filling:
1 cup mini chocolate chips
2 sticks unsalted softened butter
4 tbsp milk
1 tbsp vanilla
2-1/2 cups flour
3/4 cup brown sugar
3/4 cup granulated sugar
1/4 tsp salt
For the Cupcakes:
3 sticks unsalted butter, softened
1 cup milk
4 large eggs
2-2/3 Cups flour
1-1/2 cups packed brown sugar
1 tsp baking powder
1 tsp baking soda
1/4 tsp salt
2 tsp vanilla
For the Frosting:
1-1/2 sticks unsalted softened butter
3 cups powdered sugar
1 tsp vanilla extract
2 tbsp milk (more as needed)
Instructions
Cookie Dough Filling:
Beat together butter and sugars in a large mixing bowl.
Beat until it is smooth and creamy.
Next, beat in vanilla and milk until smooth.
Add the flour and salt and beat until just combined.
Stir in the chocolate chips by hand (do not mix with the mixer)
Roll the dough into 1-1 1/2 balls and place on ungreased cookie sheet.
Make 24 round cookie dough balls, and cover with plastic wrap on cookie sheet.
Freeze for 12-24 hours or until frozen solid. You will put these into the cupcake batter FROZEN when needed.
Cupcakes:
Preheat oven to 350 F
Combine the butter and brown sugar, beat until it is light and fluffy.
Mix in the eggs one at a time. Make sure you scrape the bowl down between additions.
Combine the flour, salt, baking soda, and baking powder in a medium bowl.
Alternate adding the dry ingredients to the batter with the milk.
Make sure they are completely mixed in.
Finally, blend in the vanilla.
Fill the cupcake liners 1/2 full. Place a frozen ball of cookie dough into each cupcake liner after you have added the batter. The cookie dough will stick out above the batter and that's okay.
Bake for 16-18 minutes or until the batter is light brown around the edge of the cookie dough ball.
Remove to cooling rack and cool completely before frosting.
Frosting:
Beat the butter alone for 2 to 4 minutes until it is pale, light and fluffy.
Add in the powdered sugar slowly beating until it is thoroughly mixed in.
Add the vanilla and the milk next, start with 2 Tablespoons of milk and test the consistency. I ended up using 4 tbsp of milk.
Decorating:
I decorated the cupcakes with a Wilton 2D tip and set mini chocolate chips on top. Watch the video for helps on the swirl technique.
Notes
Plan this recipe ahead to make it easy on you. Make the cookie dough a day ahead and freeze the cookie dough balls.
Nutrition Information
Yield
24
Serving Size
1 frosted cupcake
Amount Per Serving
Calories

517
Total Fat

28g
Saturated Fat

17g
Trans Fat

1g
Unsaturated Fat

9g
Cholesterol

98mg
Sodium

254mg
Carbohydrates

63g
Fiber

1g
Sugar

41g
Protein

5g
More Delicious Cupcake Recipes:
Looking for more Creative Filled Cupcake ideas? Head over to cupcake corner. We have many yummy cupcakes for you to try. Here's a tasty preview of our many cupcakes.
Follow Us:
We enjoy meeting you on our social networks. Follow us on Facebook, Pinterest, Instagram . Tag us with your pictures of our recipes and comment on how it went for you. We would love to see what you do with them.
We often like, comment and share your posts of our recipes on our daily Instagram stories.
Ask questions and rate the recipe in the comments section below. Please share what you did with this recipe. We are always looking for more and better ways to make homemade food. Other cooks love your ideas!
Recent Posts: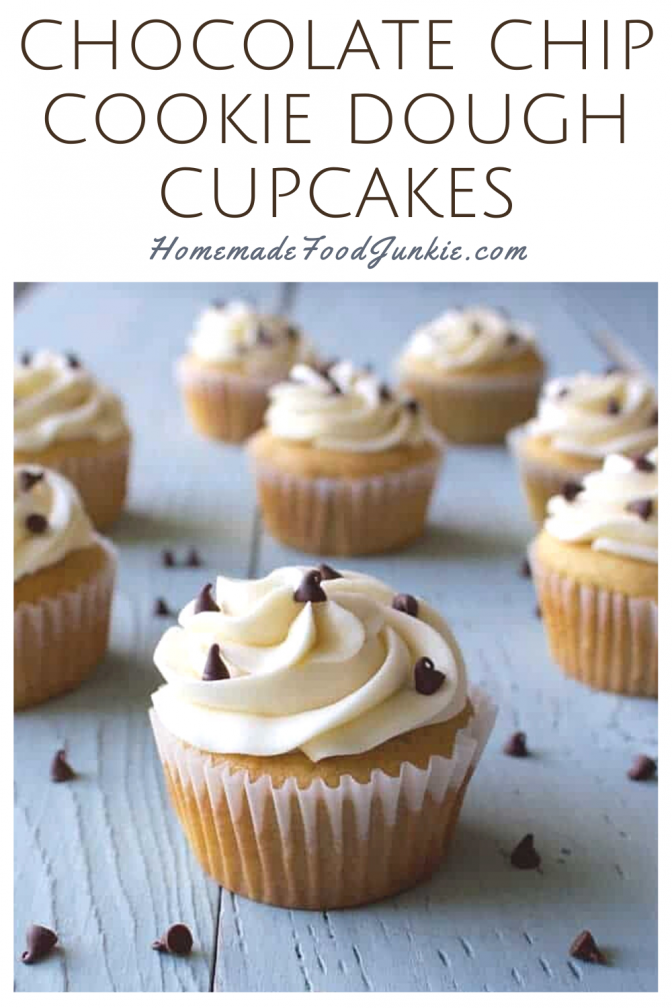 Recipe adapted from: Lifeinthelofthouse.com