Yummy chocolate cookies and cream cupcakes with bits of cookies and cream bars baked into the center. The cupcakes are topped off with a delicious Oreo buttercream frosting.
I absolutely love cookies and cream! I am such a huge fan. It's definitely one of my top favorite if not my very favorite candy bars! You really can't go wrong with milk chocolate and bits of crunchy chocolate baked into the candy.
When I first started making cupcakes I had no idea that you could literally toss just about any frozen chocolate candy into the center and it would bake right in. When I found out it was easy to incorporate candy into cupcakes, my world of cupcake baking expanded exponentially.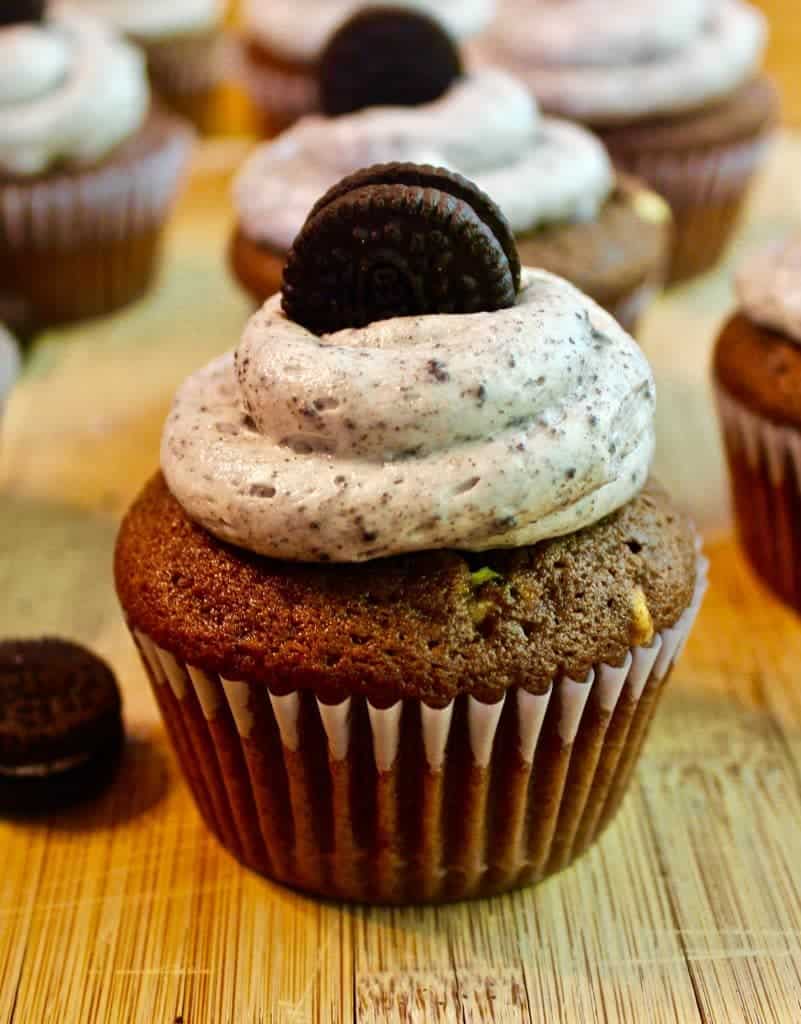 Looking for MORE cupcakes recipe ideas? Head Over to cupcake corner!
My Easter Egg cupcakes. are my first effort at candy filled cupcakes. I baked an entire Cadbury egg into the center of the cupcakes and they turned out so delicious and cute.
Now I've made two other candy filled cupcakes. Decadent Snickers Cupcakes, and Reese Peanut Butter Cupcakes. Check them out too!
We really enjoy candy cupcakes recipes. This Oreo cupcake also has mini oreo cookies. I mixed Oreo crumbs right into the frosting! Going up a level of indulgence here.
If you love candy and cookies this recipe will ring all your happy notes.
Cookies And Cream Cupcakes Recipe:
This chocolate cupcake recipe tastes absolutely phenomenol. It really hit the nail on the head with a beautiful combination of light and fluffy cake with delicious chocolaty flavor. My husband is super picky and critical of chocolate cupcakes and he loved this recipe!
These are pretty simple to make.
TIPS:
Follow the directions exactly.
Do NOT overmix your cupcake batter.
Cool completely before frosting.
The Decorating the Frosting:
This frosting is decorated with a simple swirl. It will look more like a warm blanket of cozily swirled yumminess than a tightly formed swirl due to the add ins.
I used a Large Circle Tip to make the design you see here. The frosting needs a fairly big opening to get all the goodies through the tip.
The mini oreo on top is optional but I really like the look.
Your Printable Recipe Card:
Yield:

24 frosted cupcakes
Cookies and Cream Cupcakes
Yummy chocolate cookies and cream cupcakes with bits of cookies and cream candy bars baked into the center. The cupcakes are topped off with a delicious Oreo buttercream frosting.
Ingredients
For the Cupcakes:
1/2 cup unsweetened cocoa powder
3 large eggs
1/2 cup hot water
2-1/4 cups flour
3/4 teaspoon baking soda
3/4 teaspoon baking powder
1/2 teaspoon salt
1-2/3 cup granulated sugar
1 tablespoon vanilla
3/4 cup sour cream
2 lg cookies and cream hershey's candy bars (broken into small pieces)
1 cup butter (2 sticks, cut into small pieces)
For the Frosting:
1 cup unsalted butter (room temperature)
4 cups powdered sugar
1-/2 tsp vanilla
3-4 tbsp milk
1/2 cup crushed mini Oreos with filling removed
Instructions
CUPCAKES
Preheat oven to 350 F
Line cupcake tin with cupcake liners.
Mix together the flour, baking soda, baking powder, and salt in a medium bowl, set aside.
Whisk together the unsweetened cocoa powder and the hot water in a small bowl.
Heat butter and sugar together in a medium bowl on the stove on medium to low heat setting.
Heat and whisk until they are just combined and melted together.
Add in the cocoa powder mixture to the butter and sugar mixture.
Remove from heat and blend with an electric beater for 4-5 minutes until it is cool.
Add in eggs one at a time mixing thoroughly between additions.
Mix in vanilla
Finally alternate adding in the flour and the sour cream in additions of thirds until they are completely blended in.
Once the batter is finished, crumble up cookies and cream bars and add them to the batter, fold in the cookie bar, do not blend with the electric blender.
Bake in the oven for 15-18 minutes or until a toothpick can be inserted and comes out cleanly.
FROSTING:
Beat butter with an electric mixer for 2-3 minutes until it is pale and fluffy.
Slowly adding powdered sugar and beat in between additions.
Add in the vanilla extract next mixing thoroughly.
Add the milk in and mix to desired consistency.
Next, remove the cream filling from the mini Oreos and place in a plastic sandwich bag. Crush the cookie portion until it is fine powder. You do not want any chunks of Oreo left if you are planning on decorating with an icing tip! it clogs the tip.
beat the Oreos into the frosting mixture until it is combined.
Decorate the cupcakes after they are completely cooled.
Enjoy!
Recommended Products
As an Amazon Associate and member of other affiliate programs, I earn from qualifying purchases.
Nutrition Information
Yield
24
Serving Size
1 Frosted Cupcake
Amount Per Serving
Calories

399
Total Fat

21g
Saturated Fat

12g
Trans Fat

0g
Unsaturated Fat

7g
Cholesterol

71mg
Sodium

210mg
Carbohydrates

51g
Fiber

1g
Sugar

37g
Protein

4g
Pin it: