Yummy chocolate cookies and cream cupcakes with bits of cookies and cream bars baked into the center. The cupcakes are topped off with a delicious Oreo buttercream frosting.
I absolutely love cookies and cream! I am such a huge fan. It's definitely one of my top favorite if not my very favorite candy bars! You really can't go wrong with milk chocolate and bits of crunchy chocolate baked into the candy.
When I first started making cupcakes I had no idea that you could literally toss just about any frozen chocolate candy into the center and it would bake right in. When I found out it was easy to incorporate candy into cupcakes, my world of cupcake baking expanded exponentially.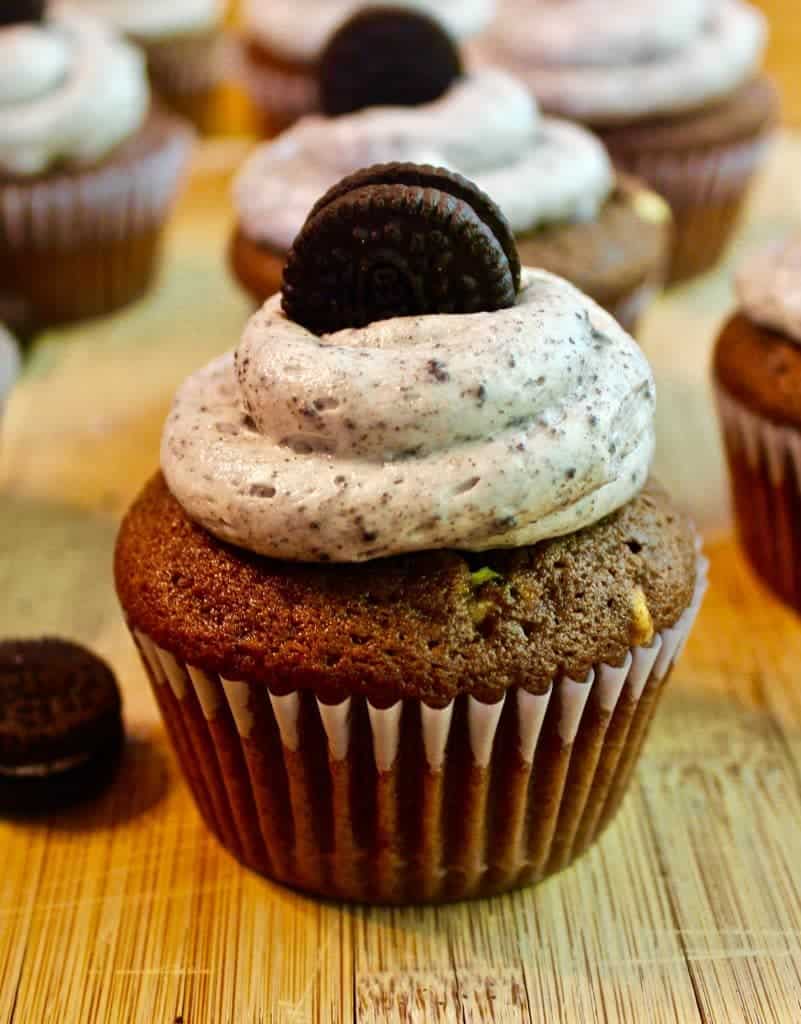 Looking for MORE cupcakes recipe ideas? Head Over to cupcake corner!
My Easter Egg cupcakes. are my first effort at candy filled cupcakes. I baked an entire Cadbury egg into the center of the cupcakes and they turned out so delicious and cute.
Now I've made two other candy filled cupcakes. Decadent Snickers Cupcakes, and Reese Peanut Butter Cupcakes. Check them out too!
We really enjoy candy cupcakes recipes. This Oreo cupcake also has mini oreo cookies. I mixed Oreo crumbs right into the frosting! Going up a level of indulgence here.
If you love candy and cookies this recipe will ring all your happy notes.
Cookies And Cream Cupcakes Recipe:
This chocolate cupcake recipe tastes absolutely phenomenol. It really hit the nail on the head with a beautiful combination of light and fluffy cake with delicious chocolaty flavor. My husband is super picky and critical of chocolate cupcakes and he loved this recipe!
These are pretty simple to make.
TIPS:
Follow the directions exactly.
Do NOT overmix your cupcake batter.
Cool completely before frosting.
The Decorating the Frosting:
This frosting is decorated with a simple swirl. It will look more like a warm blanket of cozily swirled yumminess than a tightly formed swirl due to the add ins.
I used a Large Circle Tip to make the design you see here. The frosting needs a fairly big opening to get all the goodies through the tip.
The mini oreo on top is optional but I really like the look.
Your Printable Recipe Card:
Pin it: