Adorable Coffee Cupcakes with Salted Caramel Frosting. These cupcakes have a wonderful coffee overtone topped off with a delicious hint of salted caramel in a beautiful and rich frosting.
I have two addictions in this world. Neither are good for me in large quantities. Unfortunately, I tend to consume very large quantities of both my addictions.
Cupcakes and coffee.
Yep, I'm completely and hopelessly addicted to both.
I now have my father addicted to my Mocha Cupcakes with espresso buttercream frosting and my Easy Iced Coffee. He LOVES coffee.
Coffee isn't SO bad. Recent studies suggest coffee actually has some health properties to it. Coffee has antioxidants. That is excellent news.
It can boost your memory. And that delicious injection of caffeine helps you survive the work day. Wonderful. Coffee is health food. 🙂
Unfortunately the same cannot be said for cupcakes. OR coffee buttercream frosting.
My mother has valiantly tried to make "healthy" cupcakes. My stubborn sugary taste buds just want the ooey gooey sweetness of delicious and sugary cake.
So we have come to a compromise. I get to bake my coffee cupcakes (and many other goodies too)as long as mom can even it out with healthy food.
I have a whole section of homemade cupcakes for you I call cupcake corner. Enjoy!
But I digress. Back to my two addictions. I have managed to combine them all into one.
I made this absolutely addicting and yummy coffee cupcake. Then I topped it off with this flavorful mocha buttercream frosting AND topped it off with a drizzle of salted caramel sauce. Can you say yummy?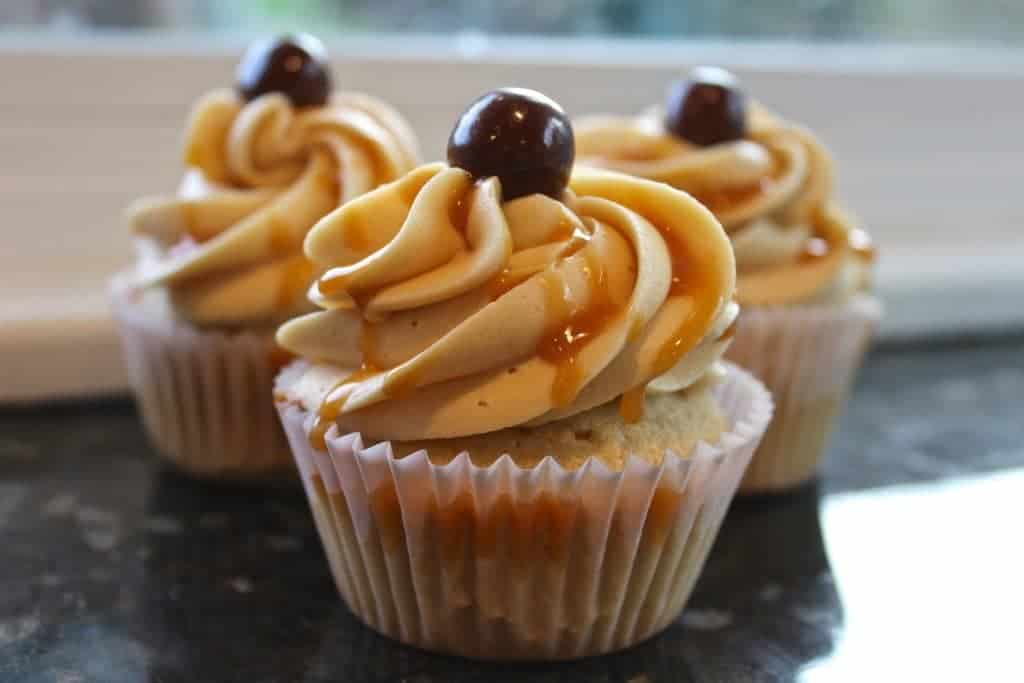 Coffee Cupcakes with Salted Caramel Frosting Recipe:
These beautiful mocha cupcakes were not terribly difficult to make. I must admit I cheated a little and I did not make the salted caramel from scratch.
We DO have a fantastic recipe for Homemade Buttermilk Caramel Sauce. And Inger's single ingredient Caramel spread recipe is also on the blog now. I highly recommend them for the best flavor.
Inger's caramel spread will need to be diluted to a sauce consistency with water or milk if you choose that recipe.
Of course, we had neither of these homemade caramel sauce recipes on the blog the day I made this Coffee cupcake recipe.
SO, I ran to the store and grabbed a jar. I will blame my adorable 2 month old. She's cute but slightly cranky these days. She does not love MaMa ignoring her in the kitchen.
CUPCAKE BAKING TIPS:
Before you begin: Keep ALL ingredients at room temperature. This includes the coffee, butter and eggs.
MIXING: Thoroughly cream the butter and sugar BUT do not overmix the eggs. So the order of operations of this recipe is important. Overmixing is going to create a denser drier cupcake. After creaming the butter and sugar keep the mixing to just what's needed to combine the ingredients well. It is ESPECIALLY easy to overmix this batter using your stand mixer. An electric hand held mixer giver you better control if you have one.
For extra coffee flavor in your cupcake add a teaspoon or two of espresso powder into the dry ingredients.

This cupcake is similar to some coffee cake muffin recipes. It's not as light as some of our other cupcakes. You'll need your spatula to help this batter into your cupcake liners. It won't pour well.
FROSTING TIPS:
DON"T over warm your butter. It should not be more than about 70 degrees. Over warm butter will not stand up to the mixing time required.
The directions say cream the buttercream for 3 to 5 minutes. DO IT! Your buttercream will have MUCH better texture if you let it develop. Look at the video if you need help with this.
Use a 1/4 to 1/2 tsp. of espresso powder in the frosting IF you love coffee flavor and don't mind the changed look.
DECORATING TIPS:
after the cupcakes are completely cooled cut the domed top to level with the cupcake liners. (this makes frosting them easier)
Use a 1M wilton tip in a decorator bag. Swirl from the OUTSIDE edge and cling to the edge for one circle HOLDING YOUR DECORATOR BAG straight up. When you run into your first circle continue swirling the frosting to the inside of the last circle until you reach the center of the cupcake.
To release the frosting press a bit of frosting out while giving the tip a little press and lift. This gives you a place for the coffee bean.
IF your swirling design gets muddy looking set the decorator bag into your fridge a FEW minutes. The buttercream provides a much better edge to it's design if you keep if cooler. As you use it your hand warm the frosting up too much.
Drizzle the caramel sauce out of a tiny round decorator tip or use a sandwich bag with a tiny hole in the bottom side.
Place an espresso bean on the top of your drizzled frosting.
Sprinkle the cupcakes LIGHTLY with a larger grained sea salt if desired.
We all LOVED these cupcakes.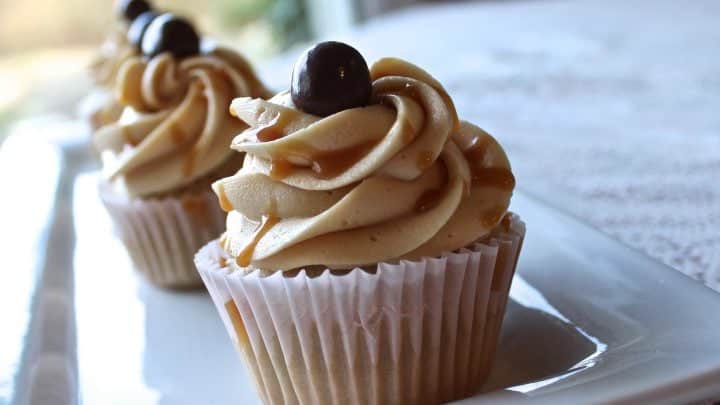 Yield:

12 cupcakes
Coffee Cupcakes Salted Caramel Frosting
Coffee Cupcakes with Salted Caramel Frosting have wonderful coffee overtones topped off with a delicious hint of salted caramel in a beautiful and rich frosting.
Ingredients
1/4 Cup Chilled Strong Coffee (I brewed a fresh pot of french roast and stuck 1/4 cup in the fridge)
1 tsp. Espresso powder (optional- for stronger coffee flavor)
3/4 Cup Granulated Sugar
1/2 Cup Room Temperature Butter (1 stick)
2 Tsp Vanilla Extract
3 Large Eggs
1-1/2 Cups Flour
1-1/2 Tsp Baking Powder
1/4 Tsp Salt
FROSTING
1/2 Cup Room Temperature Salted Butter (1 stick)
1/2 Cup Salted Caramel Sauce (plus extra for drizzle garnish)
1 Tsp Vanilla Extract
1/4 Tsp. espresso powder (optional- use for a coffee flavored frosting)
2 Cups Confectioners Sugar
Garnish:
12 chocolate covered espresso beans
Caramel sauce for drizzling over the frosting as desired.
Instructions
Mix together softened butter and granulated sugar, make sure they are thoroughly combined.
Next add eggs one at a time
Add Vanilla extract next, mix thoroughly.
Sift together flour, baking powder, and salt.
Add 1/3 of the flour mixture and 1/8 of the chilled coffee to the liquid mixture.
Mix well and continue alternating adding in the flour and the coffee until everything is mixed well.
Taste the batter and add the espresso powder to taste.
Fill cupcake liners 2/3 full with the batter.
Place in the oven and bake at 350 Degrees F.
Bake for 18-20 minutes or until a toothpick can be inserted and comes out cleanly.
FROSTING
Cream 1 stick of softened butter for 3-5 minutes until it is light and fluffy.
Next slowly add in the powdered sugar and mix well between additions.
Add the vanilla extract and mix it in.
Add the Salted caramel next and thoroughly blend it into the frosting.
The frosting should be thick but light and airy.
Place in a piping bag and pipe frosting onto the cupcakes.
Place the remaining salted caramel sauce in a piping bag with a small circle tip.
Drizzle slowly over frosted cupcakes.
Garnish with a chocolate covered espresso bean.
Notes
This is a thicker cupcake batter than some of our other cupcake recipes. It bakes a domed top almost a muffin cupcake. Add more coffee to the batter to thin it down if you like but the baking time may be affected.
Decorating tips:
After the cupcakes are COMPLETELY cooled cut the domes off the top of the baked cupcakes. A level surface gives best results for the swirl topped frosting.
Using a Wilton 1M tip in your decorator bag. Swirl the frosting around the cupcake starting at the outside edge and moving slightly inward for each new circle as desired.
Put the caramel sauce in a sandwich bag with a tiny hole in one corner. Drizzle the sauce in lines over the frosting as you desire.
Top the frosted cupcake with an espresso bean of your choice. There are many varieties that will look on these cupcakes.
Nutrition Information
Yield
12
Serving Size
1 cupcake
Amount Per Serving
Calories

374
Total Fat

17g
Carbohydrates

54g
Protein

4g
Pin it:
Coffee Cupcakes Salted Caramel Frosting is featured on Sprinkles and Sprouts 20 Delicious Ways To Enjoy your Coffee Lots of lovely ideas for coffee recipes there!
Recipe Inspired By: Cookingclassy.com and Sweetasacookie