Crock Pot Beef Fajitas are a easy low carb, low sodium, low sugar meal. Make them with homemade flour tortillas for a new level of delicious homemade flavor.
Hello from Great Falls Montana! I'm spending the week in this interesting, historical city helping my daughter Amanda and her family move into their beautiful new home in this beautiful state. They had a huge transition to make from Dodge City Kansas and my mom, my youngest son Evan and I came over to help. We are through most of the hardest 'move in' work and the internet is hooked up so I'm making a post for dinner tonight. It's beautiful here. I have never seen Montana before. It's  really pretty state! I'm amazed and humbled that Lewis and Clark walked this area and discovered the series of waterfalls called Great Falls, and explored over the Rocky mountains. Wow people were tough in those days!
A great big shout out to Heidy from the Shamrock patch blog for guest posting while I'm out of town this week. Go here to see her amazing recipe for healthy wild rice citrus salad. Heidy has a whole repertoire of fantastic recipes on her blog. I encourage you to check out McCallamsShamrockPatch to learn more about our friend Heidy.
I'm also giving my fellow blog administrator Kayti, who is also my youngest daughter, a shout out. Thank you Kayti for all you have done to keep things going while I'm of of town. She has been a rock! You readers may have noticed recently several of our blog posts are authored by Kayti. She has a deep love of cupcakes and is experimenting with some really amazing recipes. Try her Champagne Raspberry cupcakes for a delicious treat.
Now onto the homemade crock pot Beef Fajitas. These are an easy meal for a busy day. It doesn't even take much crock pot time!
Cut the steak into strips and brown it with your seasonings
Put the steak and drippings into the crock pot on high for a few hours until the meat is loose and deeply seasoned.
Add the onion and pepper strips and throw them in with the meat for the last hours of crock pot time.
Make your homemade tortillas. (I highly recommend making these homemade tortillas for best flavor) Ifyour in a screaming hurry, just microwave somestore bought flour tortillas.
Assemble your fajitas and season them to taste. Add your condiments and enjoy!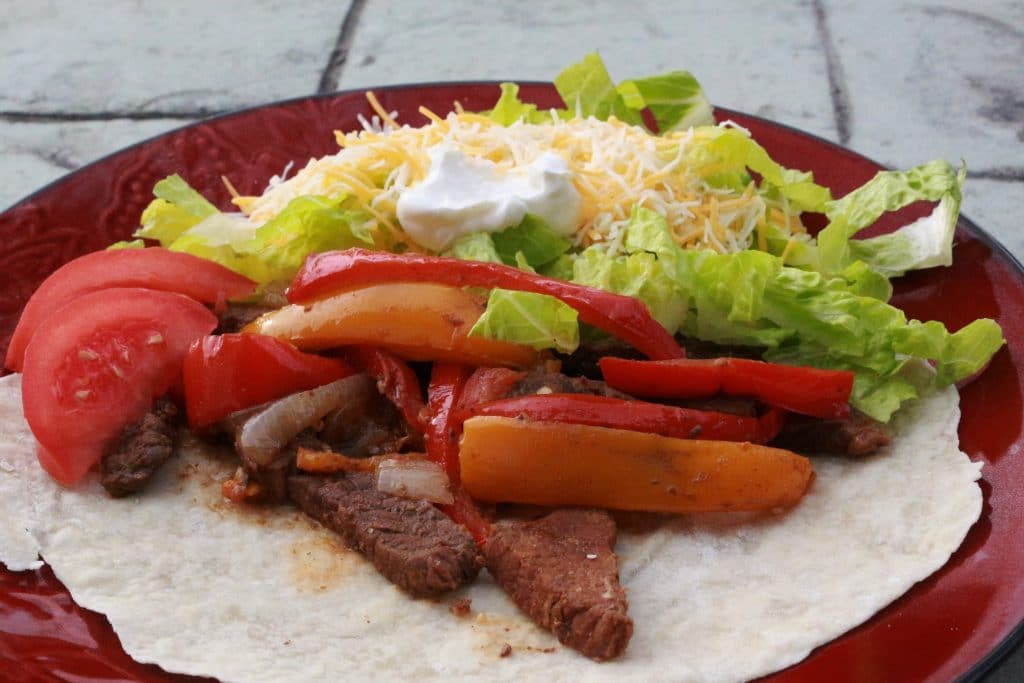 Ingredients
2 lb. Sirloin steak sliced into long strips
2 tsp. fajita seasonings to taste
1 tsp. chili powder
Salt and pepper to taste
1/2 tsp. onion powder
1 tsp. Cumin
1 tsp. smoked paprika
1 tsp. oregano
1 tsp. fresh garlic-minced
1 onion sliced into long strips
1 sweet peppers(or hot to taste) sliced into long strips
1/2 head lettuce or other greens sliced into long fine strips
12 flour tortillas(I recommend homemade)
1 Cup Mexican blend cheese
Sour cream to taste
Salsa to taste
Instructions
Browned the sliced beef strips in a large frying pan with the seasonings
Put the browned beef into a crock pot with the drippings and set on high for 2 hours.
Add the onions and peppers to the beef and cook another hour or until done.
Make the homemade flour tortillas
Assemble the fajitas by placing the tortilla on a single serving plate
Add several beef, onion and pepper strips
Add sour cream, cheese and lettuce to taste