This Game Day Chili is a hearty, flavorful meal that combines authentic chili seasonings and spices with ground beef, beans, corn, peppers, and tomatoes. Perfect for your Sunday night football dinner, a dutch oven campfire meal, or a warm winter meal. It takes the classic chili recipe and brings it into a hearty stew style meal.
Finish it with our spicy Mexican Cornbread or a side of warm tortilla chips and salsa, and our chilled Moscow Mule.
What is the difference between Texas Chilis and other Chilis?
Traditional Texas chilis are a bare bones chili consisting of meat and a thick chili paste. Texas chili contains no beans, tomato ingredients or extra veggies. It makes a great base for baked potato bars, chili dogs, chili nachos and chili cheese fries.
Our chili is far from traditional but we love it. The seasoning is made from scratch and gives a deep, rich flavor while the extra ingredients enhance the experience and fill you up with a hearty full sized meal.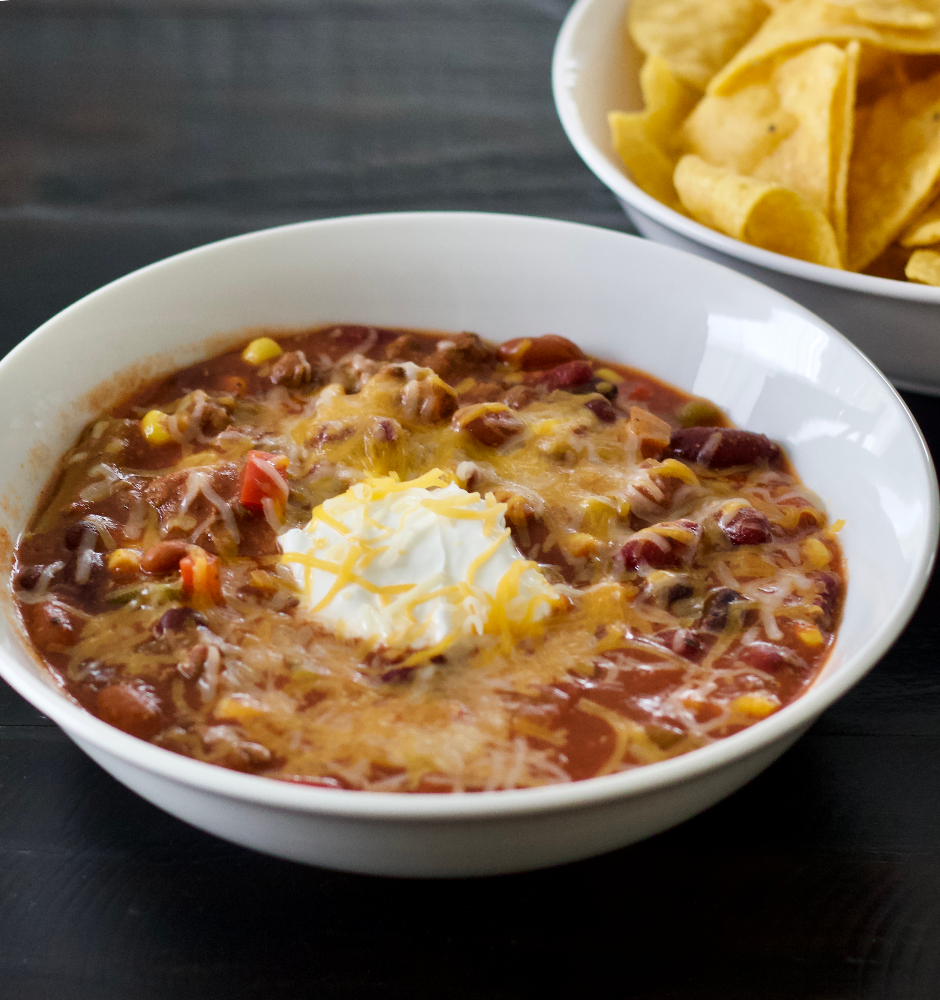 How do I make my Chili taste better?
Chili is all about the flavor development and there are certain ingredients you can add that will take your chili to the next level. Things like cinnamon, a good quality dark chocolate, and coffee are all popular additions. Dark beer can also be used to bring a full bodied, rich undertone to your chili and help balance out the tomato and peppers.
Regardless of what spices and ingredients you use, it is important to cook chili low and slow to allow for flavor development and give the spices a chance to marinate and blend.
How do I add richness to Chili?
Chili is all about flavor depth, and a thick texture that is pourable and satisfying. One of the reasons this recipe is so amazing is the use of aromatics like onions, peppers, and dark beer. The use of ingredients with strong flavors will create a rich chili that stands out.
Some other additions that are popular, though often times missed are cinnamon and dark chocolate. Both deepen the spices used in chili like cumin and peppers, adding palpable interest and mellowing out any acidity from tomato based ingredients.
What kind of beer is best for Chili?
If you choose to add beer to your chili, you want to use a dark brew with a deep, rich flavor. Lager, porter, or any stout beer will be a great choice as they are low on the hops scale and have a strong presence in the chili. They will make the chili hearty and well balanced. Using beer in a crockpot chili recipe will help the infusion of flavor and making a thick consistency that chili is known for.
If chili is your thing, click on any of the recipes below to explore our collection
Looking to make your Chili unique?
Veering away from the traditional style even more will definitely make your chili stand out. Ingredients like squash or sweet potato will not only thicken the dish, but will also bring a subtle sweetness. Turmeric, fenugreek, or sumac will layer warming and more complex flavors that will draw attention and enrich the experience.
For a Southwestern flair add things like smoked paprika, mesquite seasoning, black cardamom, chipotle peppers, even liquid smoke. All of these ingredients will bring that wonderful smoky undertone to the chili, elevating the beef and bringing a slight grilled flavor that no one is expecting.
Prepare the chili with pork or chunks of steak for a very rich stew like dish. Both of these meats will be wonderful seared and browned before being added to the chili, brining their own flavor boost to the dish.
What kind of toppings can I put on Chili?
Whether you are serving your family, or laying out an array of options for a large crowd to top their chili, this list of chili toppings is sure to be a hit. If you are building a chili bar, we suggest preparing a crock-pot chili recipe that will stay warm, and setting out toppings for folks to choose from. This creates an easy buffet style setting where folks can serve themselves.
Sour cream
Fresh chopped jalapenos
Diced red onion
Scallions
Crumbled queso fresco
Minced cilantro
Shredded sharp cheddar cheese
Diced tomatos
The ingredients are ones that are most commonly found in our pantry. This easy chili is a great stand alone meal, but can also be paired with your favorite chili sides and game day snacks. We think it makes the best chili recipe ever, and that's saying a lot, because we have a wide selection of delicious chilis.
Substitutions:
If you are looking to change things up, or if you are missing some of the ingredients listed, here are some ideas for substitutions. It can be made as a killer vegetarian chili recipe if you omit the beef, making it a chili beans recipe; or keep it a delicious chili con carne recipe like we have.
Your favorite canned bean can be used in place of the kidney beans.
Omit the canned corn or green beans if you are out.
To really heat up the chili choose a hotter pepper like jalapeños instead of bell pepper.
If you don't have the ingredients for the chili seasoning recipe use chili powder or smoked paprika or your favorite chili spice blend.
Homemade Chili Seasoning Mix:
We love this spice blend of seasonings for delicious chili flavor. Just whisk these ingredients together and use all at once. This is a great seasoning blend to make ahead of time and store for future use, making things like a slow cooker chili recipe, or chili casserole even easier.
1 tsp basil
2 tsp ground cumin
2 tsp white sugar
4 tsp chili powder
1 Tbsp onion powder
1 Tbsp garlic powder
OPTIONAL: For a HOT chili add 2 Tbsp. dried red pepper flakes or ground cayenne pepper
2 Tbsp all purpose flour (a thickening agent)
Flour is how we thicken the chili. If you are gluten free you can replace it with cornstarch or arrowroot.
What are the best sides to serve with Chili?
Chili is a wonderful base meal to build around. It can be served alongside a variety of dishes and dips both hot and cold. Here is a list of our favorites.
Jalapeno cheddar cornbread muffins
Fritos corn salad
Honey butter skillet corn
The famous Cadillac Margarita
Jalapeno corn coleslaw
Cheesy corn fritters
Goat cheese and jalapeno stuffed peppers
Cowboy caviar with chips
Your Printable Recipe Card and Chili Nutrition information:
Below is our printable recipe card. If you do choose to print out the recipe the pictures will not print. This is to save you paper and ink.
Please also watch our recipe demonstration video for a complete walkthrough of making this homemade chili recipe on the stovetop.
The recipe card also includes instructions for crockpot and the instant pot for a crazy easy chili recipe
Yield:

10
Game Day Chili Recipe
Total Time:
1 hour
20 minutes
This is a high fiber, dairy free Chili. It's our absolute favorite EASY homemade chili recipe. It makes a lot. This delicious chili is very satisfying and filling. The recipe includes a homemade chili seasoning mix. Your family and friends will love it.
Ingredients
For the Chili:
2 Tbsp olive oil
1.5 lbs. ground beef
1 8 oz. can of tomato sauce
2 15 oz. can tomato sauce
1 15 oz. can diced tomatoes
1 15 oz. can red kidney beans
1 15 oz. can chili beans
1 15 oz. can three bean blend
1 15 oz. can green beans
1 15 oz. can corn
2 bell peppers- chopped
2 Tbsp of minced garlic
1 onion
2 Tbsp brown sugar
1 tsp. salt
1 tsp.Black pepper
12 oz. can of beer (optional)
Homemade Chili seasoning Mix:
1 tsp basil
2 tsp ground cumin
2 tsp white sugar
4 tsp chili powder
1 Tbsp onion powder
(OPTIONAL)1 Tbsp ground cayenne red pepper
1 Tbsp garlic powder
2 Tbsp all purpose flour*
Instructions
Prep:
Whisk together all Homemade Chili seasonings.
Chop onion, garlic, and bell pepper.
Drain water from cans of green beans and corn before adding to pot.


Make the Chili:
Set a large pot on the stove on medium heat and add the oil.
Add the beef and the salt and pepper.
Brown ground beef and break into small pieces.
Remove the meat and set aside.
Add the chopped fresh vegetables into the pot and sautè until tender.
sprinkle in the minced garlic.
Pour in all the tomato sauce. Stir.
Add the meat back into the pot.
Pour in all the remaining canned goods. (add the beer now if using)
Stir it together.
Add the homemade chili seasoning mix and brown sugar into pot, and stir.
Bring chili to a boil, then reduce heat and let simmer for about 1 hour.
Serve with sharp cheddar cheese and sour cream.
CrockPot Instructions:
Whisk together all Homemade chili seasonings. Set aside.
Brown ground beef in a frying pan, chopping finely. Meanwhile, chop onion, garlic cloves, and bell pepper. Set aside.
In your 5 qt. crock pot put the cooked hamburger and veggies as described above.
Add all the canned goods and seasonings and stir until well mixed.
Set your crock pot to high for four hours or low for 6.
Serve.

Instant Pot Chili:
Set the instant pot to sautè and heat the oil.
Brown the beef and break it into small pieces. Remove from pot.
Add the chopped fresh vegetables to the instant pot and sautè until tender.
Pour the cooked meat back into the pot.
Pour in the tomato sauce, garlic and prepared canned goods.
Add the beer if using
Add the homemade Chili Seasoning mix and brown sugar.
Lock the lid.
Set the pot to stew function.
Quick release when done.
Garnish and serve.
Notes
A wonderful recipe for large crowds or cold gloomy days. A bowl of warm comforting chili. Easily made from mostly pantry items.
* The flour is how we thicken chili for this recipe. If you are gluten free omit the flour in the mix. You can replace it with cornstarch or arrowroot.
Recommended Products
As an Amazon Associate and member of other affiliate programs, I earn from qualifying purchases.
Nutrition Information
Yield
12
Serving Size
1
Amount Per Serving
Calories

508
Total Fat

17g
Saturated Fat

5g
Trans Fat

1g
Unsaturated Fat

9g
Cholesterol

61mg
Sodium

1270mg
Carbohydrates

57g
Fiber

14g
Sugar

15g
Protein

34g
Follow Us:
We enjoy meeting you on our social networks. Follow us on Facebook, Pinterest, Instagram . Tag us with your pictures of our recipes and comment on how it went for you. We would love to see what you do with them.
We often like, comment and share your posts of our recipes on our daily Instagram stories.
Ask questions and rate the recipe in the comments section below. Please share what you did with this recipe. We are always looking for more and better ways to make homemade food. Other cooks love your ideas!
Recent Posts: