Taco Chili Mac and Cheese is an easy to make family friendly dinner. Combine ground beef, kidney beans, RoTell diced tomatoes, cheese and spices all in one pot for a tasty mess free meal.
This dinner is a creamy, Mexican style pasta dish that can be made to suite your preferences, making it the best chili mac recipe. It is commonly made with macaroni pasta, lean beef, diced onion and fresh cheese for a hearty hamburger helper style dinner. You can however dress it up by adding ingredients such as corn, beans, peppers and more.
For this recipe we are walking you through our favorite way for how to make chili mac.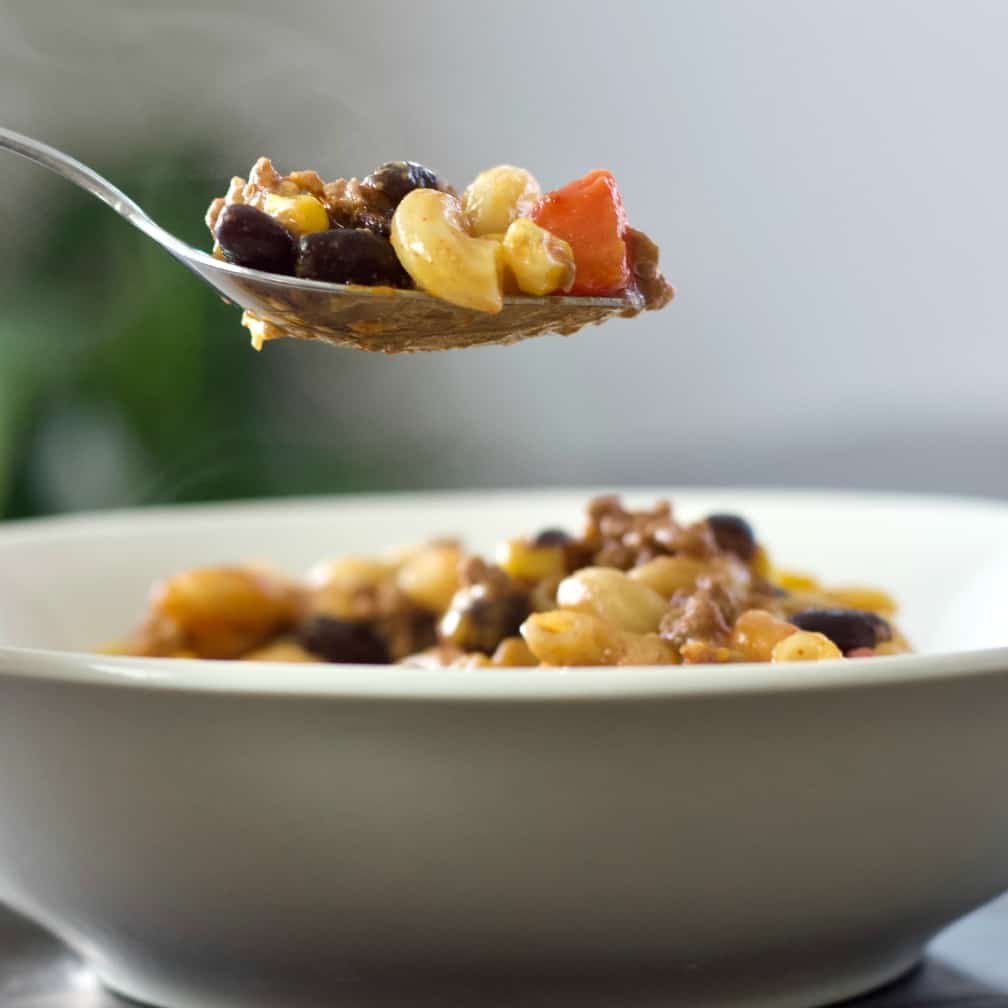 Is Chili Mac the same as Goulash?
Although similar in style, Chili Mac is not the same as a Goulash as they included different spices and ingredients. This meal is often made with beans, corn, chili powder and similar spices to give the chili flavor. A traditional Goulash is made with potatoes, carrots, peppers and celery, and includes seasonings such as paprika and oregano. The origins are modest and are rooted in northern European culture as a hearty dinner.
How can I make this Chili stand out?
If you are looking to improve your chili game and create a meal with interesting and more complex flavors than is found in most chilis, the secret is in the seasoning and flavor development. This particular recipe is made to be quick and easy, so it uses a basic blend of spices. But here are some ideas for how you could bring it into the next league.
Add cinnamon for a sweet note and deep woody flavor
A good quality dark chocolate will offset the acidity of tomatoes and peppers, and introduce earthy tones
Dark stout beer will add a rich, full bodied flavor to the chili
And lastly, a slow low cook will allow the ingredients to marinate and infuse, developing a richer flavor.
Can you use packaged taco mix?
You can use a packaged taco mix to season for this dinner. In fact, it is our favorite way to season this easy skillet recipe. It is a great way to use what you have on hand, and keep this meal simple to make. The spices are very similar and you can rest assured the flavor will be fantastic.
Is Chili Mac a midwest dish?
The history of this delicious comfort dinner places the origins in Cincinnati, Ohio around 1922. It secured its place as a staple midwest dish, but is loved by Americans all over the United States. There are many variations and folks love to make it their own by adding a personal flair with the ingredients used. Chili mac can be prepared as simple or complex as you desire.
More easy recipes using hamburger
Ground beef is a wonderful staple meat to have in your kitchen. It is high in protein and extremely versatile allowing you to make dinners of all flavors and styles. If you are looking for some variety try our Hamburger Pie, Beef Noodle Skillet Dinner, or the Instant Pot Beef Sausage Noodle Dinner which is one of our most popular dinner recipes.
What sides go good with Chili?
Can you freeze one pot chili mac and cheese?
If you have leftover Chili Mac, or you are making this dinner for a future meal, you can very easily freeze a pasta based chili for up to 3 months, making it a great freezer meal for your family. Once you are done cooking allow it to cool completely, then transfer to a freezer safe container. Be sure to date it so you know when it needs to be eaten by. When you are ready to eat it, move it to your fridge and allow it to defrost overnight.
You can reheat it in single servings by using your microwave, or transfer all of it to a large pot and slowly heat through on your stovetop. If additional liquid is needed, you can add some water, or more broth.
It really is like a homemade hamburger helper recipe, Mexican style. This dinner is one of the easiest ground beef recipes on our "go to" recipe list. It's not only simple but also has very little mess to clean up.
Chili Mac Ingredients:
You probably already have most of these ingredients in your refrigerator and pantry. If you don't have some of the exact ingredients you can absolutely use difference ones. The beauty of this cheesy chili mac is that it is versatile and easy to personalize to fit your needs and preferences.
Substitution Ideas:
Talk about easy pasta recipe. Here are a few ideas for what works if you're out of something.
2 to 4 boxes of Mac and Cheese can replace the noodles depending on how many you have. Reduce the broth by half for 2 boxes. Fewer noodles need less liquid.
If your really in a pinch replace the cheddar cheese with the cheese packet in the mac and cheese entirely. This is not ideal. Real cheese will give superior flavor and create a better homemade chili mac and cheese.
Any cheddar type cheese, Mexican blend or Colby cheese blend will work for this recipe.
Use your favorite salsa with a small can of diced tomatoes if no RoTell tomatoes are handy. Or add diced tomatoes and cut up some jarred spicy peppers like jalapeño or pepperoncinis.
Any canned beans can replace the black beans.
Make your own homemade version of taco seasoning with chili powder, cumin and red pepper flakes.
NOTE: All these substitutions will affect the final result of the recipe. Be sure to adjust the recipe to your family's taste and needs.
Visual Guide:
Here is a walkthrough of the steps to make this quick and easy chili mac and cheese . Please Also watch our video for a complete demonstration of this one pot skillet chili mac.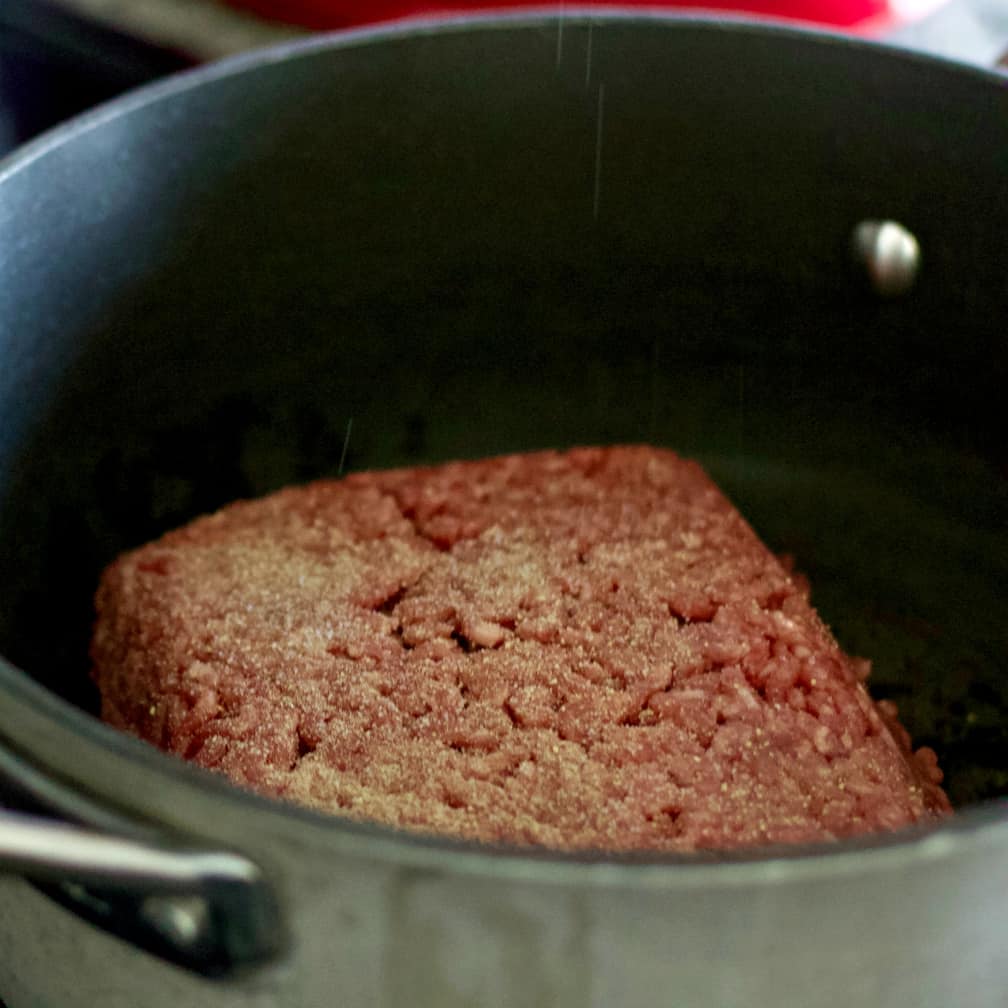 Your Printable Recipe Card:
Yield:

10 servings
Taco Chili Mac and Cheese Recipe
A REALLY simple one pot beef noodle dinner with a taco twist. Made completely from scratch with the help of one taco seasoning packet. The whole family will love this easy dinner.
Ingredients
2 Tablespoons oil
1 lb. hamburger
2 Tablespoons garlic powder
1 tsp. salt
1 tsp. pepper
1 can RoTell tomatoes
1 14 oz. can kernel corn
1 14 oz. can black beans
1 14 oz. can tomato sauce
1 Cup milk
1 Cup chicken stock
1 1/2 Cups Elbow noodles
1 taco seasoning packet
2 Cups sharp cheddar cheese-shredded
Instructions
Use a deep 12 (or larger) skillet (3 inch minimum depth)
Set the stove to medium heat and place the oil in the skillet.
Add the hamburger and sprinkle the garlic powder, salt and pepper over the meat.
Break up the hamburger into small pieces.
Cover the skillet and brown the hamburger.
Drain all the fat from the hamburger.
Return the meat to the skillet and add in the RoTell tomatoes, corn, beans and tomato sauce.
Stir it all together.
Pour in the milk and chicken stock
Bring the mixture to a boil.
Stir in the elbow noodles.
Reduce the stove temperature to simmer and cook covered for 15 minutes or until the noodles are soft.
Uncover the pot and stir in the taco seasonings.
Sprinkle the shredded cheese over the top.
Cover and let simmer 5 more minutes or until the cheese melts.
Notes
Substitution Ideas:
2 boxes of Mac and Cheese can replace the noodles
If your really in a pinch replace the cheese with the cheese packet in the Mac and cheese entirely. This is not ideal.
Use your favorite salsa with a small can of diced tomatoes is no Rotell tomatoes are handy. OR add diced tomatoes and cut up some jarred spicy peppers like jalapeño or pepperoncinis.
Any canned beans can replace the black beans
Use 2 Tablespoons chili powder and 1 Tablespoon cumin with red pepper flakes to taste to replace the taco seasonings
Nutrition Information
Yield
10
Serving Size
1
Amount Per Serving
Calories

472
Total Fat

25g
Saturated Fat

12g
Trans Fat

1g
Unsaturated Fat

11g
Cholesterol

72mg
Sodium

1290mg
Carbohydrates

38g
Fiber

5g
Sugar

5g
Protein

25g
Follow Us:
We enjoy meeting you on our social networks. Follow us on Facebook, Pinterest, Instagram . Tag us with your pictures of our recipes and comment on how it went for you. We would love to see what you do with them.
We often like, comment and share your posts of our recipes on our daily Instagram stories.
Ask questions and rate the recipe in the comments section below. Please share what you did with this recipe. We are always looking for more and better ways to make homemade food. Other cooks love your ideas!
Recent Posts:
Tag us with your pictures of this recipe on instagram and Facebook. Comment and rate the recipe.