The Black Raspberry Chambord drink is bright and refreshing. It tastes like sparkling raspberry juice with a kick and a hint of lime.
it only takes three ingredients to build this delightfully fizzy mixed drink. Stir them in a an ice filled glass and enjoy a sparkling light alcoholic beverage.
The lime and tonic balance the black raspberry liqueur intense sweetness. It's still a sweet drink but not overpowering.
Find all of our Alcoholic Drinks in our Cocktail Section. Here's a few of our sweet drinks to get you started.
What is Chambord Liqueur?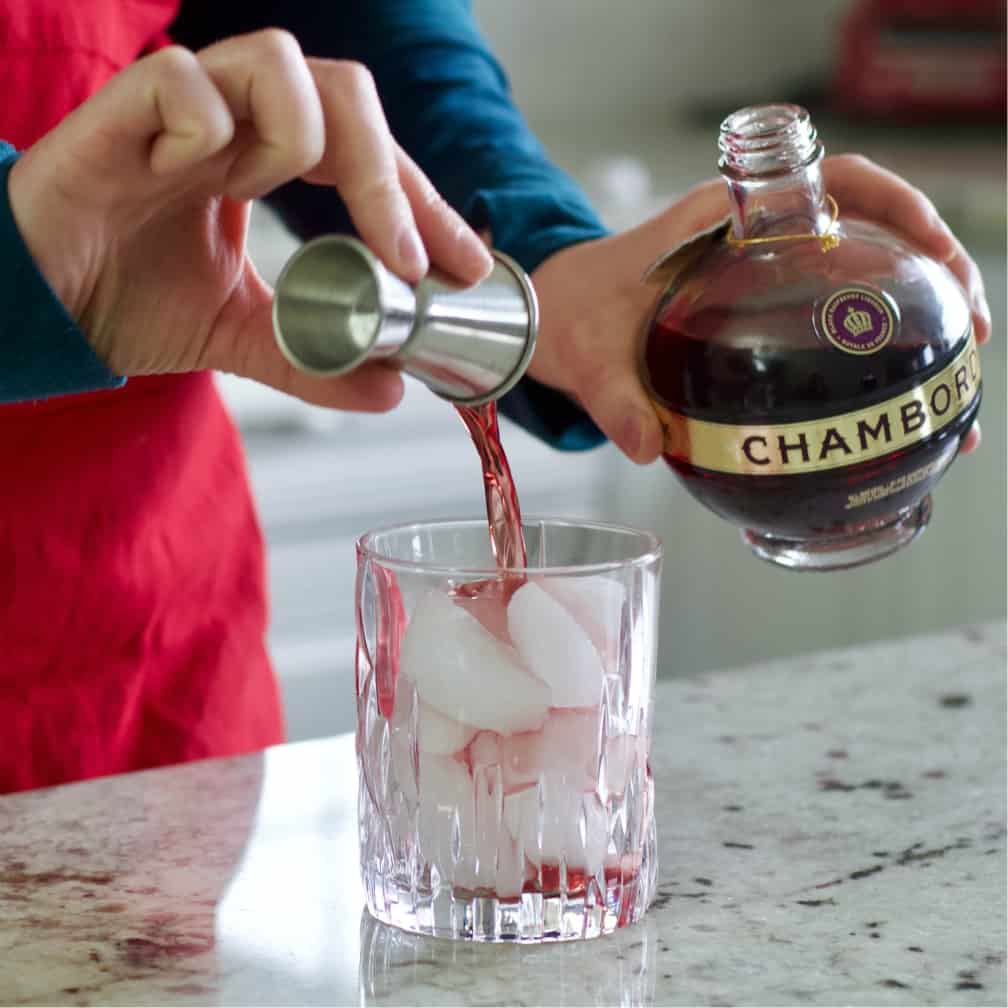 Chambord is a Black raspberry liqueur made in the Loire valley in France.
Fresh Blackberries and raspberries berries are infused with French spirits and distilled with Madagascar vanilla, cognac and various herbs.
The result is this flavorful raspberry liqueur. We also used Chambord in our Peanut Butter And Jelly Cocktail. That's another wonderful Chambord drink you are going to want to try. Pictured and linked above.
Don't let the Chambord price scare you off.
The little bottle you see in our ingredient photo was purchased at BevMo for around $20.00. But a little does go a long way.
The flavor is pretty darn amazing. It lasts well in your liquor cabinet. Keep a bottle handy for mixing with gin, vodka and other alcohols when you want a bit stronger drink.
With an alcohol percentage of 16.5% per volume this Chambord cocktail can be enjoyed anytime.
This is a very good alcoholic beverage for an afternoon sipper by the pool or a light girls night drink.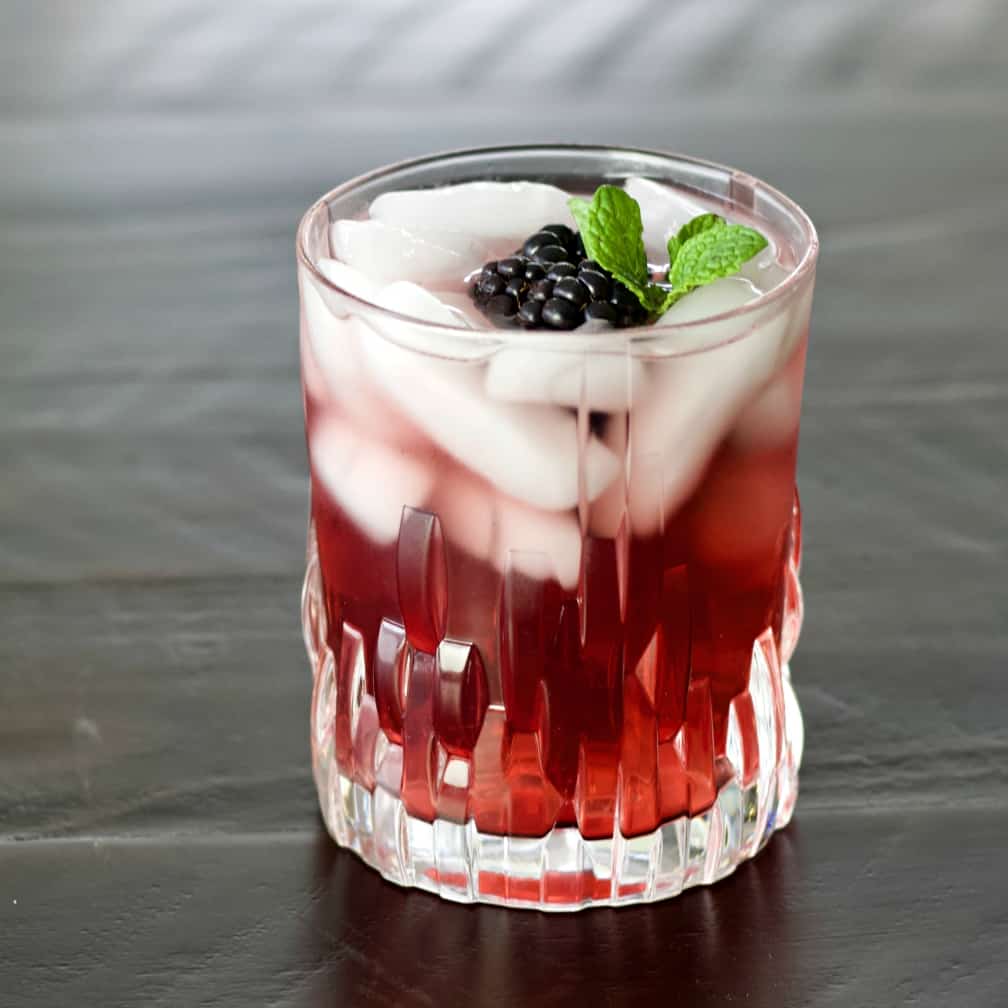 This cocktail is another Kayti original. I enjoy playing around with various flavor and textures in drinks. This one tastes like sparkling raspberry juice.
If you're looking for a light alcoholic refreshment. This is a good choice.
Responsible drinking is our motto. You'll have no problem going about daily life if you take a break with one of these. Enjoy!
Ingredients: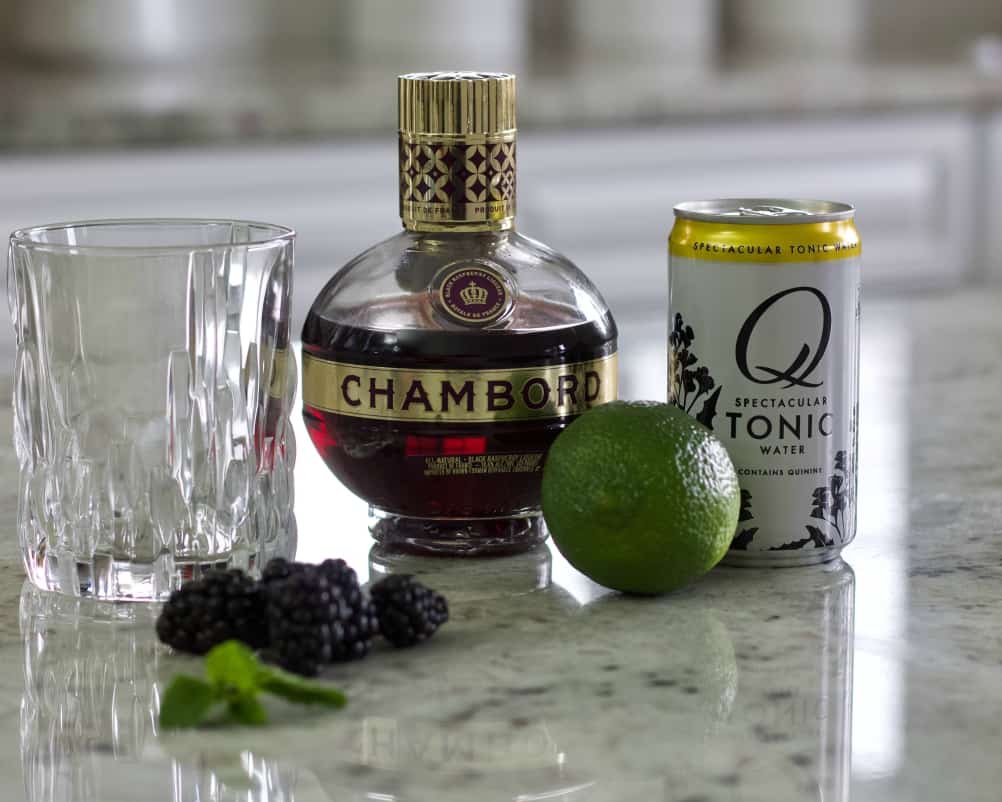 Ingredients List:
We chose Q tonic water with quinine. It's flavor and fizz make a perfect partner with the sweetness of the chambord.
I actually enjoy Q tonic water even by itself. I can't say that about most tonics. This one is well balanced and makes a great mixer for the Chambord cocktail.
Visual Guide:
Here's how to make this simple stirred drink. Please also watch our video for a quick demonstration. Below you will find the printable recipe. Enjoy!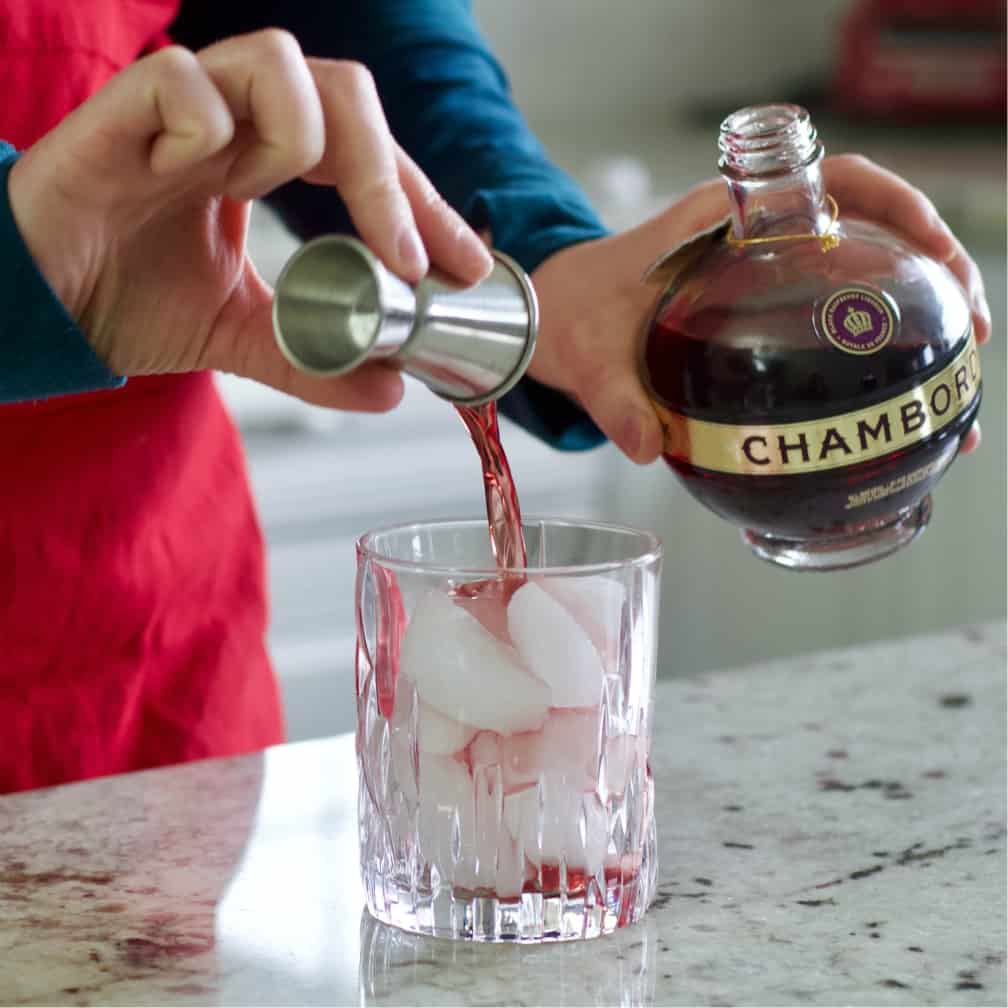 Your Printable Recipe Card:
Yield:

1 cocktail
Sparkling Black Raspberry Chambord Drink
The Black Raspberry Chambord drink is bright and refreshing. It tastes like sparkling raspberry juice with a kick and a hint of lime.
Ingredients
2 oz. Chambord Liqueur
1/4 oz. fresh lime juice
3 oz. tonic water
ice to fill glass
Instructions
Fill a 10 oz. scotch or whiskey glass with ice
Pour Chambord over the ice.
Squeeze lime juice into the chambord
Slowly Add tonic water to fill glass
Stir the drink to mix.
Garnish as desired
Notes
Garnish Suggestions:
Drop three fresh blackberries into the top of the drink.
Arrange a sprig of fresh mint near the berries
Nutrition Information
Yield
1
Serving Size
1
Amount Per Serving
Calories

180
Total Fat

0g
Saturated Fat

0g
Trans Fat

0g
Unsaturated Fat

0g
Cholesterol

0mg
Sodium

14mg
Carbohydrates

29g
Fiber

0g
Sugar

29g
Protein

0g
We here at Homemade Food Junkie appreciate your feedback on our recipes. Comment below to let us know how you enjoyed this Chambord Drink Recipe.
Please tag us on instagram with your Pictures of our recipes and Post them to our Facebook Page. Welcome to our community.