This stew recipe for the instant pot features hearty stew meat, freshly chopped vegetables and a richly flavored beef stock with red wine.
Make this beef and vegetable stew recipe in about an hour. Pressure cooking makes it so much easier to create a healthy sustaining meal in short order.
No more watching the pot on your stove top.
This beef stew recipe makes a LOT. Enjoy the leftovers for days. This recipe is versatile and easy. Make this filling stew with your favorite vegetables.
Serve it over hot cooked rice for even more staying power. Your family will love this easy dinner.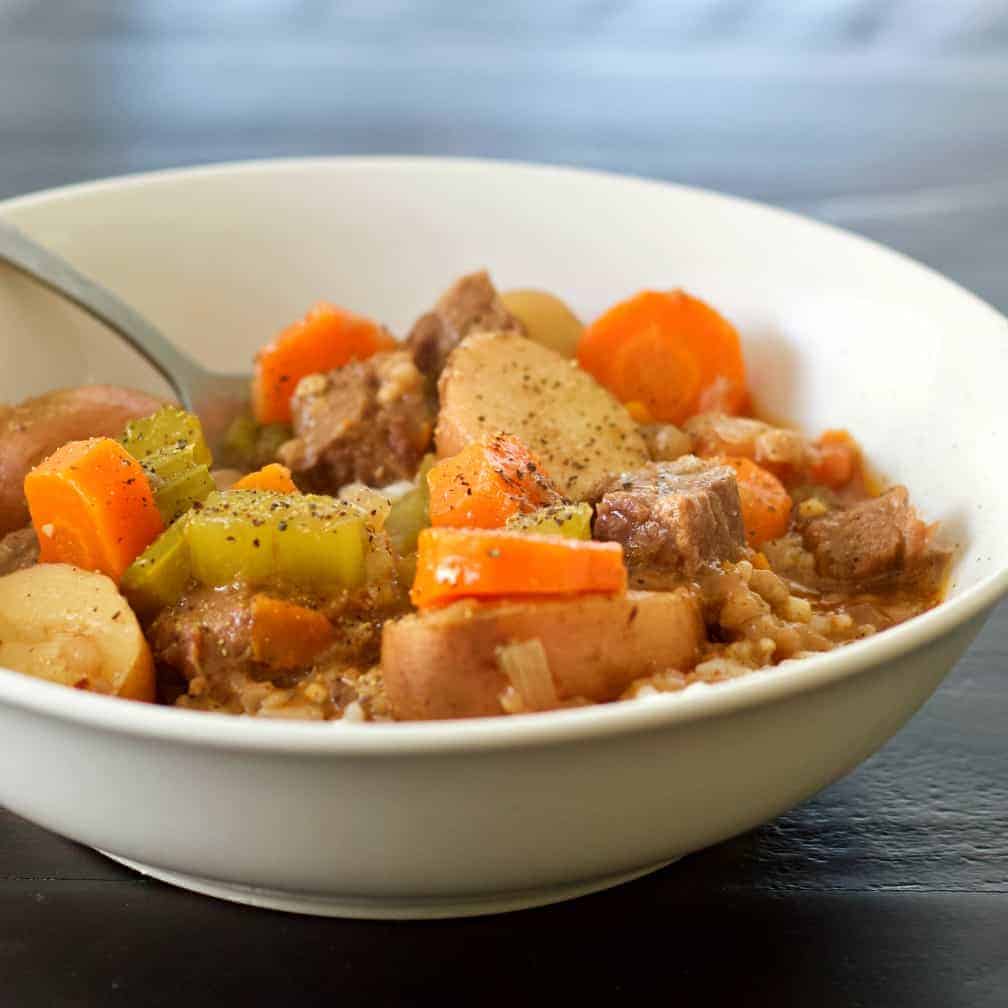 More Beef Stew Recipes:
Looking for more beef stew inspiration? Check our our other Instant pot recipes featuring beef stew. We love stew in many different versions. Take your pick.
Easy Instant Pot Beef Stew Recipe:
What is deglazing?
Deglazing is a term we use in cooking. It's very important in many recipes for flavor building. This stew benefits greatly from the red wine deglaze.
All those crusty bits left in the bottom of your pot after browning are full of flavor and need to go into your stew broth. Deglazing is how you accomplish that.
Here is how you deglaze the instant pot.
Brown your flour coated meat in oil as directed.
You will see a crust form in the pan bottom as you continue this browning process.
Remove the browned meat from the pot to reveal the bottom of your instant pot.
Continue on sautè mode on medium heat.
Pour in the wine (or water or broth)
Stir gently with a sharp spatula.
As you stir the wine will dissolve the crusty bits and meld them into a thick rich base for your stew.
NOTE: When browning try not to BURN your meat to the pan bottom or your deglazing will not go well. Adjust the sautè temperature on your instant pot to avoid burning if necessary. Watch the video for a complete demonstration of deglazing
Ingredients:
NOTE: A yummy option for serving this stew is to cook white rice (not pictured) as a side while the stew pressure cooks. Then put a cup of rice in your bowl and pour the stew over it. Fantastic and filling.
Substitutions:
The ingredients for this simple meal are easy to find in your pantry and freezer. But here are some ideas for substitutions if you are out of something.
The richness of this stew broth is greatly enhanced by the red wine deglazing step. However, If you are out of red wine you can deglaze with beef broth or even water if the broth is running low.
If you choose to omit the red wine you may want to add a bit more of your favorite spices.
I like Montreal steak seasonings for jazzing up my beef flavor.
2 Tablespoons Worcestershire sauce is also a great substitution for the wine.
Add your extra spices in with the flour and use it to coat the meat while browning.
Visual Walkthrough:
Here is a quick visual guide to making this quick beef stew in the instant pot. Please Also watch our video for a complete recipe demonstration (including deglazing the pot).
Your Printable Recipe Card:
Yield:

10
Easy instant Pot Beef Stew
This stew recipe for the instant pot features hearty stew meat, freshly chopped vegetables and a richly flavored beef stock with red wine. Make this beef and vegetable stew recipe in about an hour.
Ingredients
1/3 Cup Flour
1/2 tsp. salt
1/2 tsp. black pepper
3 lbs. beef stew meat (cut into 1 inch pieces)
2 Tablespoons oil
1/2 Cup red wine
1 large onion (yellow or white)
2 to 4 stalks celery
1 lb. red boiler potatoes
3 large carrots
2 Tablespoons minced garlic
2 1/2 cups beef stock
2 Tablespoons tomato paste
Instructions
On a Cutting Board:
chop all the vegetables into small pieces. Set aside.
In a large bowl:
Pour the flour and spices into a large bowl. Mix well.
Add the stew meat to the flour mixture.
Stir the meat until all the pieces are well coated.
In the Instant pot:
Add the oil to the instant pot and set the pot to sautè.
Brown the meat evenly on all sides. (I do this in small batches until all the meat is browned.)
Remove the browned meat to the large bowl.
Pour wine into the instant pot and stir until the pot is deglazed and the drippings are thick.
Add the browned meat back into the instant pot.
Add the chopped vegetables into the instant pot.
Pour in the beef stock.
Stir in the tomato paste.

Cooking instructions:

Set the pot to manual high pressure for 20 minutes. Natural release the pot for 10 minutes. Then Quick release.
Serving Suggestion:

Serve over hot cooked white rice.
Nutrition Information
Yield
10
Serving Size
1
Amount Per Serving
Calories

378
Total Fat

12g
Saturated Fat

4g
Trans Fat

1g
Unsaturated Fat

8g
Cholesterol

135mg
Sodium

356mg
Carbohydrates

18g
Fiber

2g
Sugar

3g
Protein

48g
We here at Homemade Food Junkie appreciate your feedback on all our recipes and posts. Please tag us with your pics of our recipes on Instagram @homemadefoodjunkie, post on our Homemade Food Junkie Facebook page, comment on our youtube channel and also comment below.