Instant Pot beef and bean stew is an easy one pot meal. This filling and delicious Four Bean beef stew is full of rich flavor, fiber, protein and nutrients.
Four Bean stew is an easy dinner is quick to whip up in your instant Pot. This delicious dinner is filling and a good budget friendly meal. This stew makes great leftovers.
Hearty winter stews like this one are SO much simpler when made in your electric pressure cooker.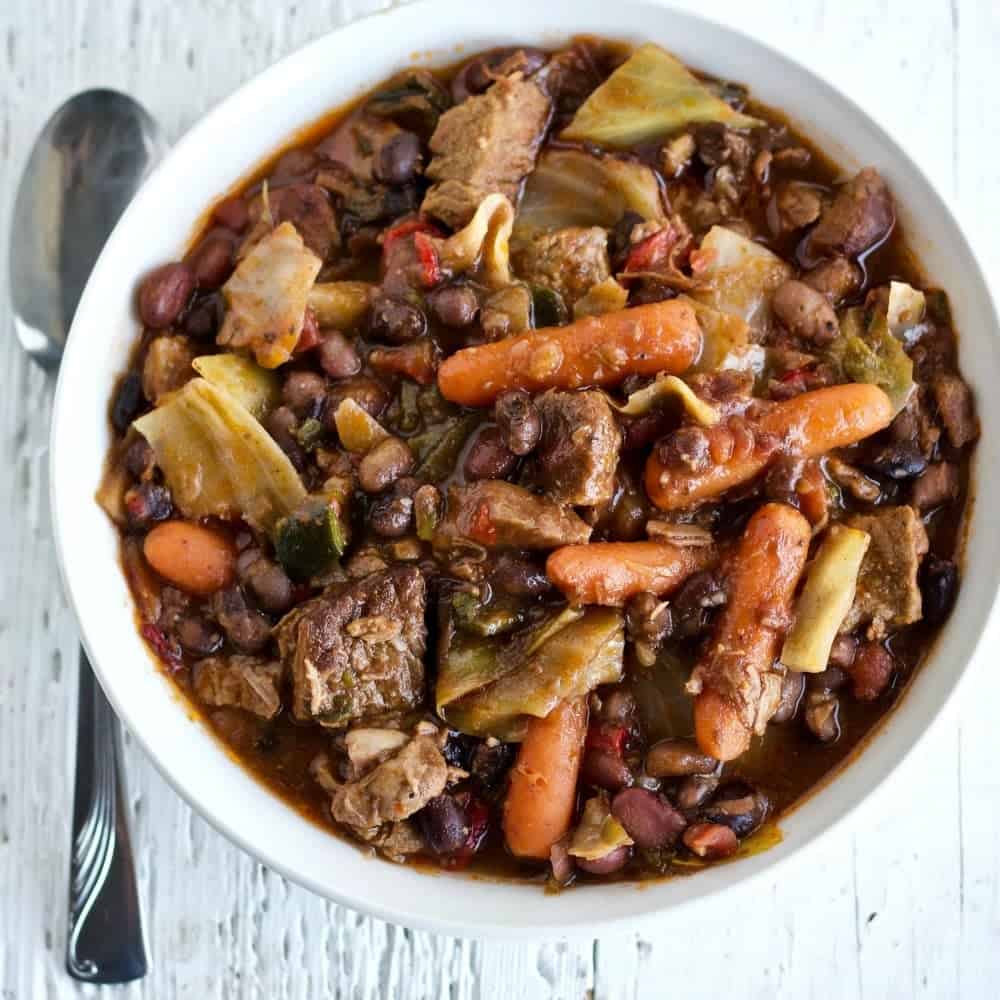 The Instant Pot is bringing dried beans recipes back into my kitchen. I can now cook them up from UNSOAKED to perfectly done cooked beans in about a half hour.
But much faster cooking time is not the only reason to make dried beans recipes in your instant pot.
Pressure cooker beef stews maximize the healthy nutrients in your beef stew meat recipes and save a few bucks.
Our Instant pot six gun chili recipe and Instant pot bean and sausage soup recipe also use unsoaked dried beans that are completely cooked in the instant pot in 30 minutes or so. Make your beef stew bean
Dried Bean recipes are VERY healthy for you and make a great bean stew recipe.
All Beans are full of healthy carbs with a TON of fiber and nutrients. Adding beans to a hearty stew makes a lot of sense. We ate this stew with NO other carbs. It really is tasty, healthy and filling enough to stand alone as your lunch or dinner.
This article by SFGate explains why dried beans are better nutritionally than canned. The added salt in canned beans results in high sodium levels which can be unhealthy. Dried beans do not contain any added salt.
How to Cook Dry Beans in the Instant Pot:
One more thing about this new frontier of cooking. I'm making my OWN dried bean blend. It's easy to mix up your family's personal favorites. I just bought a bunch of different beans of about the same size and put them together into this pretty mix.
All you need to keep in mind is your beans in your personal blend should have about the same cooking times so they come out of the instant pot perfectly cooked.
Turn this recipe into Instapot beef bean soup. Simply reduce the stew meat chunks to a small size that will fit handily on a spoon. Then dilute with more liquids to your desired soupy consistency.
Here's How to cook beef stew in the instant pot. IT'S SO EASY!
After you finish cooking the beans remove them to a separate bowl.
use the saute function and brown the beef chunks with the beef stew seasonings.
add in the remaining ingredients.
Set the pot for stew and go take a break.
Instapot Beef Stew is Full of chunks of delicious, hearty beef. This recipe has 42 % of your daily protein needs in just one meal. It also accounts for 20 % of your carbs.
Beef stew ingredients are all pretty healthy if you keep the sodium content down. So look for low sodium cans in you worry about that. And the dry beans will reduce the sodium in this recipe a lot. Just don't add extra salt while cooking them.
But they are really healthy carbs with LOTS of fiber that will do your body good. All that and it's naturally low in fat too. Win win!
I bought my 6 quart DUO Instant Pot and then I bought a Glass Lid. I love using them together for saute' and slow cooking. The glass lid also makes storing the leftovers in the fridge a breeze. I've linked some of my favorite instant pot accessories below for you.
Instant Pot Bean Stew Recipe with Beef
This is NOT a set it and forget it recipe. This recipe is done in a couple of different stages. But it is an easy beef stew. Promise!
The Instant Pot will take good care of you.
Each step is no fuss and you will have lots of down time to do other things with your day.
I put approximate times into the different stages. As you can see this instant pot beef bean soup recipe goes pretty quick with lots of rests for you. Enjoy.
Yield:

12 servings
Instant Pot Four Bean Beef Stew
Total Time:
1 hour
15 minutes
An easy way to make a meaty beef stew with dried beans. No soaking the beans! Instant pot magic!
Ingredients
1/2 Cup dried small red beans
1/2 Cup black-eyed peas
1/2 Cup navy beans
1/2 Cup black beans
5 Cups water
1/2 Cup chopped jarred, fresh or frozen roasted peppers
2 Tablespoon avocado oil-divided
1 1/2 lb. stew meat
14 oz. Can tomato sauce
1 14 oz. can diced tomatoes
1/2 Tablespoon Montreal Seasoning
1/2 Tablespoon marjoram
1/2 small cabbage chopped into serving sized pieces
2 Cups baby carrots
Instructions
Cook the Beans:
Pour the oil, beans and water into your instant pot.
Seal the lid and press the BEAN function key. Set the timer for 25 minutes.
When the instant pot is finished hit the cancel button and Quick Release
Pour the beans into a bowl retaining the cooking liquid. Set bowl aside till needed.
Rinse the instant pot cooking pot and dry.
Cook the meat:
Set the pot to sauté, pour in 1 Tablespoon avocado oil and the stew meat. Season to taste with the Montreal seasonings and cover with the glass lid (If you have one).
Brown the meat on all sides.
Once the meat is browned (about 15 minutes), turn off the instant pot.
Add the remaining ingredients( except the cooked beans). Put the pressure cooker lid on and seal it.
Press the meat button. It will automatically cook for under pressure for 20 minutes.
Once the instant pot is done push the off button and Quick Release.
Add the cooked beans and stir:
Open the lid and pour the cooked (still warm) beans with the liquid in them into the pot.
Stir and serve.
Nutrition Information
Yield
12
Serving Size
1 1/2 Cups
Amount Per Serving
Calories

204
Total Fat

7g
Saturated Fat

2g
Trans Fat

0g
Unsaturated Fat

5g
Cholesterol

56mg
Sodium

325mg
Carbohydrates

14g
Fiber

5g
Sugar

4g
Protein

22g
Follow Us:
We enjoy meeting you on our social networks. Follow us on Facebook, Pinterest, Instagram . Tag us with your pictures of our recipes and comment on how it went for you. We would love to see what you do with them.
We often like, comment and share your posts of our recipes on our daily Instagram stories.
Ask questions and rate the recipe in the comments section below. Please share what you did with this recipe. We are always looking for more and better ways to make homemade food. Other cooks love your ideas!
Recent Posts: