Instant Pot Bone Broth is an easy, frugal method for making a healthy bone broth for your family. With the convenience of your Instant Pot this long process becomes much shorter with no pot minding involved.
Bone broth is an incredibly healthy drink for you to add into your daily routine. Just one cup a day delivers high amounts of minerals, natural collagen, protein and calcium. Your homemade soups will also taste amazing when made from a homemade broth; the flavor cannot be beat and all of the nutrition that we love about soups will be present from the homemade broth.
Cooking whole roasts, bone in hams, whole chickens and turkeys are an excellent way to cook. However, most of us simply discard the bones when we are done. To make the most out of your purchase, make a healthy broth from the bones. This ensures that nothing goes to waste, and allows you to reap the nutritional benefits that are found in bones.
The video shows you how to turn your leftover hambone into an amazingly good for you and favor filled bone broth.
If you find yourself with more meat then you can use, consider making Turkey Jerky Dog Treats for your pups and bone broth for your family. Both methods are easy, cost conscience, and very nutritious.
One of our favorite family soups is Hambone. It can be packed with nutritious and filling beans, delivers amazing flavor and pairs perfectly with our Homemade Dinner Rolls.
Is pressure cooker Bone Broth as healthy?
Yes, by cooking bone broth in your pressure cooker or Instant Pot you are receiving all of the nutrients that you get when you cook bone broth in a slow cooker or stockpot. The Instant Pot simply saves time and helps to tenderize the bones faster.
Why is Bone Broth so healing?
Bone broth is loaded with benefits that just get better when you use organic, high quality carcasses. Bone broth is anti inflammatory, packed with collagen, calcium and iron which helps hair, skin and nail health. Supports strong joints, a natural sleep aid because it delivers magnesium, as well as healthy amounts of sodium to replenish electrolytes in the body.
What are the best bones to make Bone Broth out of?
Though all bones can be used to make a flavorful homemade soup base, not all bones are ideal for creating a nutrient packed broth. Some bones hold higher levels of collagen, more fat which equals flavor, and denser quantities of minerals. The best bones to use for chicken or beef bone broth would be
Knuckles
Feet
Joints
Oxtail, shanks or short ribs
Marrow bones
Instant Pot Bone Broth requires two things that are different from a soup stock.
Adding an acid to the pot, like vinegar, and allowing the acid to sit in the pot of water and mostly meat free bones for at least 30 minutes. This extra step leeches out minerals from the bones into your bone broth as they cook.
You must cook the bones until they crumble. In the instant pot this can be done in four hours for a turkey carcass. Bone broth requires going to the cooking stage where the bones are so fragile even the big heavy ones crumble in your hands. At this point they can easily be turned into bone meal for the garden or put down the garbage disposal. You can also crush them for dog food or feed the crushed bone to chickens.
What are the health benefits of Homemade Bone Broth?
Drinking about a cup of bone broth on a daily basis is a very healthy practice. Loaded with natural collagen, good for digestion, and high in minerals like magnesium, iron and calcium; here are a few ways bone broth will nourish your body.
Animal bones provide a nutritious by product of your meaty meals for free if you are otherwise discarding those bones. Think Thanksgiving turkey, roast beef bones and the Christmas ham carcass. Make bone broth instead of throwing out that carcass. And then make nutritious recipes like Turkey Soup or Beef Stew.
Adding in chicken feet. They are full of collagen and really jelly up the broth. If you are looking for bones ask friends and family to save them for you in the freezer. You can find them in the butcher shops and your local grocers occasionally.
Bone broth is full of excellent nutrients like collagen, amino acids, trace minerals and gelatin.
Bone broth is an excellent base for soups, stews and gravies. Make them from nutritious bone broth and your diet improves your health. Homemade Chicken Soup is a health food.
Tips For Instant Pot Bone Broth Recipes
The very best nutritional practice is to find and collect bones from only organic grass fed meats.
Raw bones can be used but roasting your bones before making them into bone broth improves the flavor noticeably. Roast the bones on a baking sheet at 425 degrees F for about 30 to 45 minutes until the bones smell up the kitchen with savory goodness.
To add further flavor and nutrients you may season or add extras to your bones. We love to use garlic, peppers, carrots, and onions.
Before turning on the instant pot allow the bones and water to set with added vinegar about a half hour to help leach the nutrients out of the bones and into the broth.
When making bone broth keep cooking the bones until they are fragile and easily crushed in your fingers. This ensures the bones have given all they can to the pot.
Strain the bones out of the broth and chill the broth. The broth should solidify into jelly when cold.
Bone broth can be frozen or simply stored in the fridge in a jar until needed.
You can pour the hot bone broth into tempered Mason jars or any airtight containers and store in your fridge.
To use the bone broth, remove the container from fridge and pull off the hardened fat layer. The clear brown jellied mass is your bone broth. You want a broth with a lot of jiggle. This nutritious substance is now ready to freeze for later or become the base for healthy soups and stews.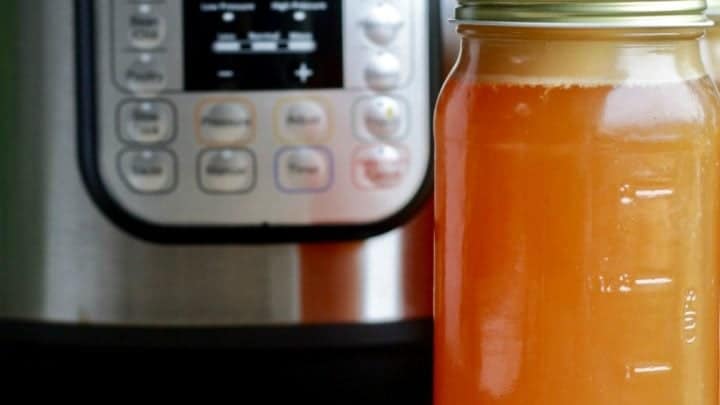 Yield:

24 cups
Instant Pot Bone Broth
Total Time:
4 hours
15 minutes
Instant Pot bone broth is a healthy, frugal by product of your meat bones otherwise wasted. This recipe makes leftover meat bones into a healthy drink or base for soups, sauces and gravies.
Ingredients
2 tsp. apple cider vinegar, This varies. Add this amount if filling the instant pot clear to the fill line. Reduce is necessary.
Veggies, herbs and seasonings as your prefer, you don't have to add any. This is for flavor only
Any Roasted bones to fill the instant pot half full (or close to fill line).
Water to fill the pot to fill line, don't go over the fill line in your IP insert.
Instructions
Put your roasted or leftover bones in the Instant Pot.
Add veggies, apple cider vinegar, and salt.
Add water until the pot is filled. Be sure to fill to the FILL line on your instant pot insert. Do not go over or your pot may not get to pressure.
Wait 30 minutes to allow the vinegar to leach nutrients out of the bones and into the broth.
Press the manual function and set to high pressure.
Set the cook time time to 240 minutes or 4 hours for large heavy bones.Chicken bones can be set to 120 minutes or two hours.
When the instant pot beeps and is done natural pressure release the pot.
Strain out the bones and extras in the broth until it is as clear as you want it. The veggies can remain in the broth to make a soup base if you prefer but the bones must come out.
Cool in your fridge overnight. A jelly will form with a hard fat layer on top. You can keep it in the fridge like it is in the instant pot insert or some other covered container a week or more undisturbed with the fat layer on top.
To use the bone broth remove the container from fridge and pull off the hardened fat layer. The clear brown jellied mass is your bone broth. This nutritious substance is now ready to freeze for later or become the base for healthy soups and stews.
If you have some bones that are still hard but most are fragile you can save the hard bones(freeze if necessary) and cook them with your next batch until they are crumbly.
Notes
This nutritious substance is now ready to freeze for later in ziplock freezer bags or become the base for healthy soups and any recipe calling for broth. Alternately you can pour the hot bone broth into tempered Mason jars or any airtight containers and store in your fridge until needed.
The nutrition information here is wildly inaccurate. However you make your broth will determine how healthy it is and how many calories you ingest. But it won't be very many calories and they should be good for you 🙂
Nutrition Information
Yield
24
Serving Size
1 cup
Amount Per Serving
Calories

2
Total Fat

0g
Saturated Fat

0g
Trans Fat

0g
Unsaturated Fat

0g
Cholesterol

0mg
Sodium

2mg
Carbohydrates

0g
Fiber

0g
Sugar

0g
Protein

0g
Follow Us:
We enjoy meeting you on our social networks. Follow us on Facebook, Pinterest, Instagram . Tag us with your pictures of our recipes and comment on how it went for you. We would love to see what you do with them.
We often like, comment and share your posts of our recipes on our daily Instagram stories.
Ask questions and rate the recipe in the comments section below. Please share what you did with this recipe. We are always looking for more and better ways to make homemade food. Other cooks love your ideas!
Recent Posts: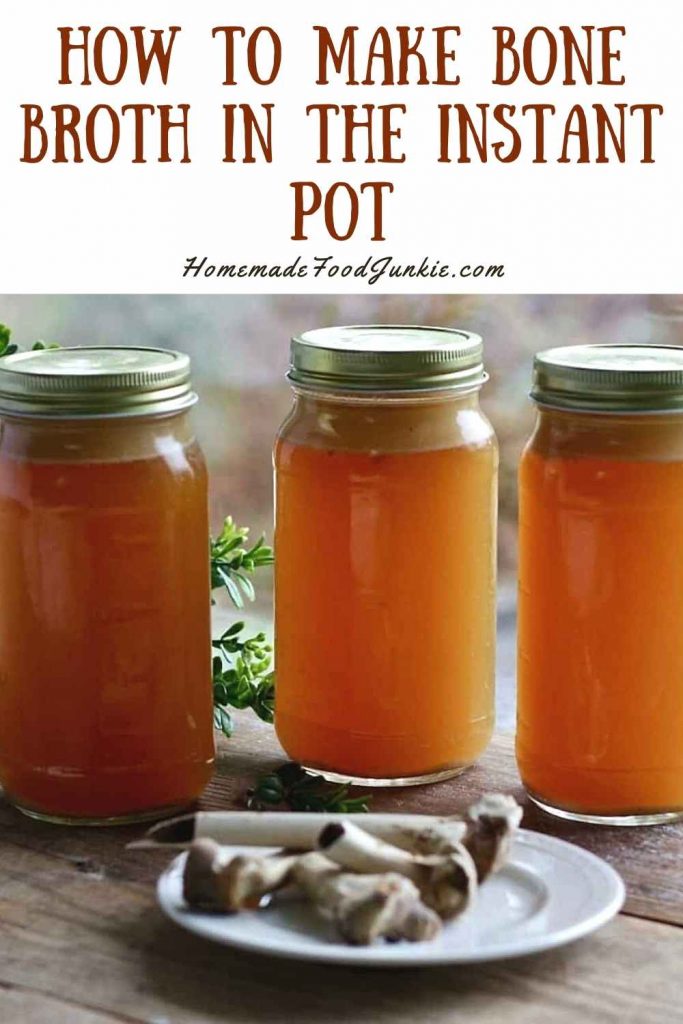 FURTHER READING:
Epicurus article on difference between bone broth and stock
Wellness Mama- Bone Broth Benefits
Dr. Axe- any and all possible health benefits for bone broth. Very long article but informative.
Patio of Pots: Article on how to make garden bone meal from bone broth bones.
SaveSave
SaveSave