Instant Pot Bone Broth is an easy frugal method for making a healthy bone broth for your family. Instant Pot set it and forget technology makes this long process much shorter with no pot minding involved. At the end just open the pot. Strain the broth out of the crumbly bones and chill it!
Cooking whole roasts, bone in hams, or whole chickens or whole turkeys are a cheap way to cook. BUT…to make the purchase really pay off you have to use those bones. Fussing over a pot of bones on the stove requires way more time and patience than most of us have.
Even though the bone broth is SO worth the work.
Watch me make Hambone Broth and Turn it into Hambone Bean Soup in my instant pot. It's SO easy!
I use my trusty instant pot to create bone broth. The video shows you how to turn your leftover hambone into an amazingly good for you and FLAVORFUL bone broth. Freeze some and make the rest into soup! That's healthy cooking and your using up every bit of the expensive meat.
I received a free grocery store Turkey and forgot it in the freezer…for about two years. Not feeding that ole thing to the family but NOT throwing it out either. So I made Turkey Jerky Dog Treats and bone broth. Both turned out extraordinary. And they were free to make other than a tiny bit of electricity.
I have made soup stock from all KINDS of bone recipes for soups and stews over the years. One of our favorites is Hambone soup. I always made it In My HUGE stock pot on the stove.
It bubbled along on low for a long long time…LONG time. (at least a whole day, maybe two)I occasionally stirred it, added more water if necessary, and finally strained out the bones and made soup. Just like my Ma and Grandma and those of old forever.
Now with the instant pot We are no longer strapped to the stove for two days to make a good healthy soup base. Set it and forget it is the instant pot way. Love that!
Delicious hambone soup uses up Hambone leftovers for a scrumptious, healthy cozy meal.
Back in the day (Before Instant Pot) When I did occasionally cook a carcass on my stove in the huge soup pot for days. Sometimes It produced a broth that jellied when chilled. If I cooked it WAAY long once or twice the bones even crumbled. But it was always an accident and I didn't realize that was a good thing.
I was in it for the money and the extra flavor. I wanted to use the bones to make a cheap yummy soup! My mom raised me as she was raised: to be a frugal cook. No wasting! Did you know cooking the bones makes a healthier homemade soup? Just keep cookin those bones.
Let's make bone Broth:
FRUGAL LIVING TIP: (Since we are talking about saving money, Try This!)
Buy two fully cooked Rotisserie Chickens (about 3 pounds each) Take them home, pull the meat and freeze it in one pound freezer bags for meals and de bone the chickens.
For less than the price of a 2 lb package of Pulled R. chicken.(Currently over $11.00)
you'll harvest :
3 to 4 POUNDS of pulled seasoned fully cooked (freezable) rotisserie chicken meat
a batch of bones for instant Pot bone broth to yield 3 to 4 quarts of freezable bone broth.(depending on the amount of water you use.)
and a nice bunch of skin and fat for a

doggy treat. (Please remember this is an unhealthy treat for dogs in large quantities. I recommend chopping or blending the skin and fat and mixing it with water, then freeze in ice cube trays and hold the frozen cubes in a ziplock bag for a cool summertime doggy reward. You can freeze in ANY size you deem safe for your dog so they don't choke if they won't lick or bite the cubes)
Here's the Math:
PRE-Pulled and Bagged Rotisserie chicken meat is currently $4.45 per pound. The whole cooked rotisserie chickens were about $5 dollars each.
Pulling the meat yourself takes the meat down to $2.49 per pound ( I get three to four pounds of pulled chicken meat off two rotisserie chickens.) That's almost $2.oo /lb. savings or $6.00 for just three pounds.
Now add in the chicken bone broth, (3 and 1/3 quarts of broth from these two rotisserie chickens).
That's an additional savings of about $8.00 for chicken bone broth. depending on the price you pay for bone broth at your store.
$14.00 savings from just purchasing your own rotisserie chicken, pulling the meat and making your own bone broth.
Instant Pot Bone Broth requires two things that are different from a soup stock.
Adding an acid to the pot, like vinegar, and allowing the acid to sit in the pot of water and mostly meat free bones for a while (At least 30 minutes). This extra step leeches out minerals from the bones into your bone broth as they cook.
AND you must cook the bones to crumbly. This takes FOREVER on the stove, like two days. In the instant pot I accomplish this in four hours for a Turkey carcass. Bone broth requires going to the cooking stage where the bones are so fragile even the big heavy ones crumble in your hands. At this point they can easily be turned into bone meal for the garden or put down the garbage disposal. You can also crush them for dog food if you like…or feed the crushed bone to chickens!
The health benefits of Homemade Bone Broth:
Why is bone Broth Good For you? Do you know drinking about a cup of bone broth on a daily basis is a very healthy practice? Here's a few ways bone broth will nourish your body.
Animal Bones provide a nutritious by product of your meaty meals (Bone broth and stock) for free if you are otherwise wasting those bones. Think Thanksgiving Turkey, leftover Rotisserie Chicken bones, roast beef bones and the Christmas ham carcass. Make bone broth instead of throwing out that carcass. And then make nutritious recipes like Turkey soup or beef stew.
Adding in chicken feet (I know..but they are full of collagen) really jellies up the broth. If you are looking for bones ask friends and family to save them for you in the freezer. Good reason to go visiting 🙂 You can find them in the butcher shops and your local grocers occasionally. Worth asking!
Bone broth is full of excellent nutrients your body craves. Like collagen, amino acids, trace minerals and gelatin. Is it the big miracle cure for all your ills? Doubtful. But it IS very healthy and supportive for your body.
Bone broth is an EXCELLENT base for soups, stews and gravies. Make them from nutritious bone broth and your diet improves your health. Just like Grandma used to make. Homemade Chicken Soup is REALLY a health food!
TIPS For Instant Pot Bone Broth Recipes:
The very best nutritional practice is to find and collect bones from only organic grass fed meats.
Not enough leftover bones to do a batch of bone broth? Freeze em! Save up a loads worth and then make the broth.
Raw bones can be used but roasting your bones before making them into bone broth improves the flavor noticeably. Roast the bones on a baking sheet at 425 degrees F for about 30 to 45 minutes until the bones smell up the kitchen with savory goodness. Now into the Instant pot!
To add further flavor and nutrients you may season or add extras to your bones. (garlic, peppers, carrots, onions…).
Before turning on the instant pot Allow the bones and water to set with added vinegar about a half hour to help leach the nutrients out of the bones and into the broth.
When making bone broth keep cooking the bones until they are fragile and easily crushed in your fingers. This ensures the bones have given all they can to the pot.
Strain the bones out of the broth and chill the broth. The broth should solidify into jelly when cold.
Bone broth can be frozen or simply stored in the fridge in a jar until needed.
Alternately you can pour the hot bone broth into tempered Mason jars or any airtight containers and store in your fridge.
To use the bone broth:
remove the container from fridge and pull off the hardened fat layer.
The clear brown jellied mass is your bone broth.
This nutritious substance is now ready to freeze for later or become the base for healthy soups and stews.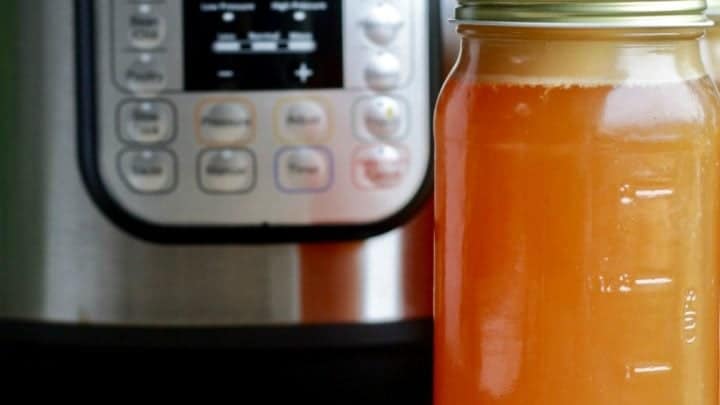 Yield:

24 cups
Instant Pot Bone Broth
Total Time:
4 hours
15 minutes
Instant Pot bone broth is a healthy, frugal by product of your meat bones otherwise wasted. This recipe makes leftover meat bones into a healthy drink or base for soups, sauces and gravies.
Ingredients
2 tsp. apple cider vinegar, This varies. Add this amount if filling the instant pot clear to the fill line. Reduce is necessary.
Veggies, herbs and seasonings as your prefer, you don't have to add any. This is for flavor only
Any Roasted bones to fill the instant pot half full (or close to fill line).
Water to fill the pot to fill line, don't go over the fill line in your IP insert.
Instructions
Put your roasted or leftover bones in the Instant Pot.
Add veggies, apple cider vinegar, and salt.
Add water until the pot is filled. Be sure to fill to the FILL line on your instant pot insert. Do not go over or your pot may not get to pressure.
Wait 30 minutes to allow the vinegar to leach nutrients out of the bones and into the broth.
Press the manual function and set to high pressure.
Set the cook time time to 240 minutes or 4 hours for large heavy bones.Chicken bones can be set to 120 minutes or two hours.
When the instant pot beeps and is done natural pressure release the pot.
Strain out the bones and extras in the broth until it is as clear as you want it. The veggies can remain in the broth to make a soup base if you prefer but the bones must come out.
Cool in your fridge overnight. A jelly will form with a hard fat layer on top. You can keep it in the fridge like it is in the instant pot insert or some other covered container a week or more undisturbed with the fat layer on top.
To use the bone broth remove the container from fridge and pull off the hardened fat layer. The clear brown jellied mass is your bone broth. This nutritious substance is now ready to freeze for later or become the base for healthy soups and stews.
If you have some bones that are still hard but most are fragile you can save the hard bones(freeze if necessary) and cook them with your next batch until they are crumbly.
Notes
This nutritious substance is now ready to freeze for later in ziplock freezer bags or become the base for healthy soups and any recipe calling for broth. Alternately you can pour the hot bone broth into tempered Mason jars or any airtight containers and store in your fridge until needed.
The nutrition information here is wildly inaccurate. However you make your broth will determine how healthy it is and how many calories you ingest. But it won't be very many calories and they should be good for you 🙂
Nutrition Information
Yield
24
Serving Size
1 cup
Amount Per Serving
Calories

2
Total Fat

0g
Saturated Fat

0g
Trans Fat

0g
Unsaturated Fat

0g
Cholesterol

0mg
Sodium

2mg
Carbohydrates

0g
Fiber

0g
Sugar

0g
Protein

0g
PIN THIS POST: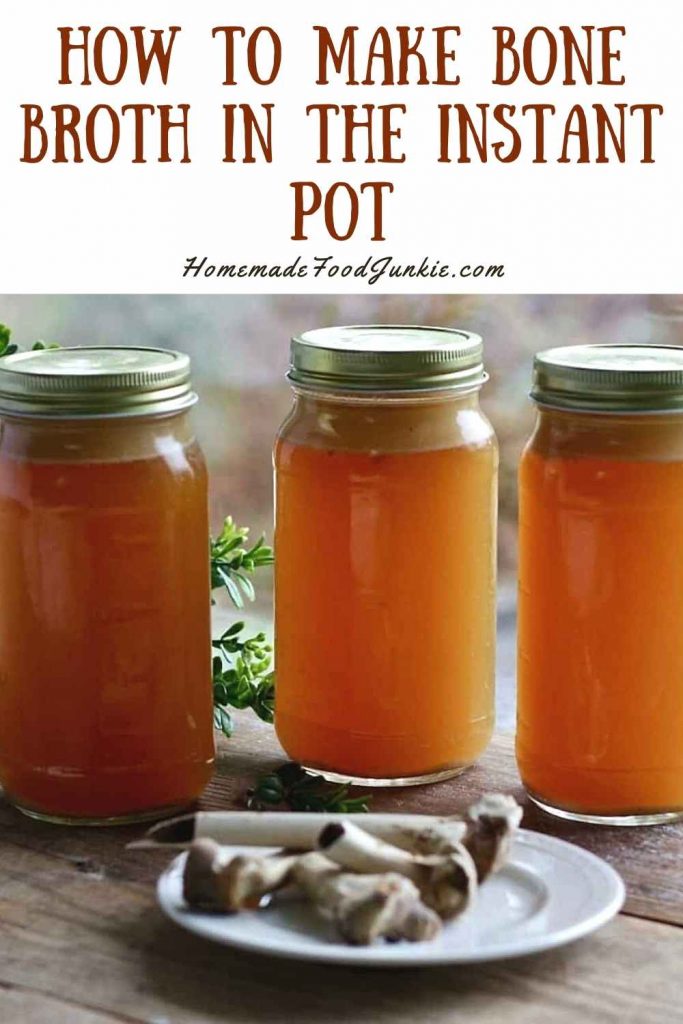 Follow Us:
We enjoy meeting you on our social networks. Follow us on Facebook, Pinterest, Instagram . Tag us with your pictures of our recipes and comment on how it went for you. We would love to see what you do with them.
We often like, comment and share your posts of our recipes on our daily Instagram stories.
Ask questions and rate the recipe in the comments section below. Please share what you did with this recipe. We are always looking for more and better ways to make homemade food. Other cooks love your ideas!
Recent Posts:
FURTHER READING:
Epicurus article on difference between bone broth and stock
Wellness Mama- Bone Broth Benefits
Dr. Axe- any and all possible health benefits for bone broth. Very long article but informative.
Patio of Pots: Article on how to make garden bone meal from bone broth bones.
SaveSave
SaveSave