We are an affiliate of ButcherBox. If you purchase through our affiliate link we may receive a small commision. thank you for supporting Homemade Food Junkie.
Chicken noodle minestrone is a hearty Mediterranean Chicken Minestrone full of large shell pasta. This soup is nutritionally Balanced, High-Fiber, Dairy-Free. It is full of decadent rich flavor. You'll never guess it's good for you!
A warm homemade chicken noodle soup recipe is always welcome on a cold, rainy, very windy day. We are in the middle of a wind storm now. Nothing better than a rich sustaining soup. Yummy!
Looking for more soups? Check out our Soup Section for more great homemade soup, stews and chili ideas.
This rich minestrone soup is full of Italian flavor with a base of marinara sauce. Sun dried tomatoes, beans, garden fresh veggies and bacon add lots of gorgeous flavor too.
It's a wonderful chicken recipe. Full of astonishing flavor partners that work really well together. And it's a hearty meal in a bowl. This easy one pot dinner is very satisfying.
Minestrone Comfort Food
Dictionary.com defines Minestrone as

"a thick vegetable soup, often containing herbs, beans, bits of pasta, etc.,

and served with Parmesan cheese."
It doesn't mention chicken or other meats but it also doesn't forbid meat. Beans, vegetables and a marinara sauce are completely in line with this Italian cuisine.
Enjoy the warm comforting italian flavors and healthy ingredients this soup recipe offers. Your family will love this easy dinner.
Recipe notes on Chicken Noodle Minestrone:
Creating this soup recipe was an adventure. I had a concept I wanted. An Italian flavor I could almost taste in my mind. I focused on that flavor.
Eventually this chicken soup recipe happened and morphed into Minestrone. Recipe development Success.
As usual, I started by digging around in my fridge and cupboards and pulling out possibilities. Turns out I am well stocked with soup making ingredients.
Minestrone Ingredients and the process:
Bacon:
I love to add bacon into a lot of my recipes. My grandma taught me that. The flavor a little bacon can add is amazing really. Use natural bacon that is free of the nasty chemicals we shouldn't eat.
For decades we would not touch bacon due to the icky chemicals in it.
Fortunately there are more choices for natural uncured bacon now. We have found it our grocery store from a local butcher. They do wonderful smoked meats like bacon and sausage without all the added chemicals that are so bad for us. Butcher Box monthly subscription box also has a delicious natural bacon.
Dave had just brought in some garden vegetables still hanging on through the fall. I have a jar of homemade sun dried tomatoes, homemade marinara sauce and assorted other pantry items to add in.
Brown the Chicken:
Use an organic boneless, skinless chicken breast and natural, minimally processed bacon with no bad chemicals. Cook them together with bruschetta or Italian seasonings for a gorgeous full richly flavored meat.
Browning the meat is a critical step in building this soup. You are going to reap maximum flavor from browning the chicken with the bacon and seasonings. Each bite of chicken will be immersed in wonderful flavors.
Browning the chicken will give your meat a better texture. Just throwing raw chicken into your soup pot and boiling it till cooked will make the chicken rubbery and flavorless.
You can use rotisserie chicken for this soup. It is still best to cook it with the bacon and seasonings before adding it to the soup pot. Rotisserie chicken is already seasoned so you will need to blend the seasonings to your taste.
The soup broth is rich and deep because the flavors are built into it from the start.
This is a great recipe and chicken dinner. It's very versatile. You can adjust it to suit yourself.
Pasta:
I love the large pasta shells. They fill will the soup broth and provide a warm cup of soup in every bite.
You can choose any pasta you prefer or have on hand. The large shells really are a great fit for this recipe though. Egg noodles might not be sturdy enough for the rich saucy broth we are creating here.
The Soup Broth:
In the background of the below picture is my easy homemade marinara sauce. That is what I'm using as my soup base today. So flavorful.
This soup is built with chicken broth, Marinara sauce other flavor boosters like balsamic vinegar. These are non negotiable if you want the flavor this recipe has to offer.
You can use whatever Marinara sauce you prefer. Jarred sauce will work great. Try a roasted garlic flavor.
Sun Dried Tomatoes:
I chose our homemade marinated sun dried tomatoes for the extra body and flavor. I Highly recommend you use sun dried tomatoes in this soup. The flavor added is terrific.
Be sure to add some of the sun dried tomato marinade to the soup broth to taste. It will zip up your soup base with Italian flavors.
The beans:
I used Garbanzo beans and Black beans. Kidney beans are also a win for this soup recipe. Any store bought beans are great.
DO use the juice in the cans of beans. I even rinse the cans and pour in the water to get every bit of nutrition offered.
Vegetables:
Our garden vegetables are going into this soup pot. The parsnip, purple kohlrabi, carrot, pepper, garlic sprouts and garlic cloves all came from Dave's garden.
When you shop try to find these vegetables . You can make some substitutions if you can't find all of these. Keep your choices as close as you can and try to buy organic.
These red onions are very small because Dave planted them late. They will be perfect for this soup. Soups are great for using up odds and ends from the garden. Or what you have in your Fridge Produce bin.
Serving Suggestions:
Fresh shredded Parmesan cheese is excellent served on the side and sprinkled over the soup at serving. It really adds that italian Minestrone vibe.
A fresh artisan bread is a perfect side for this Minestrone soup recipe.
I had planned to make Garlic Rosemary sourdough bread to go with this marvelous meal. Wouldn't you know it?
We lost power in our gusty wind storm so that did not work out so well. If your a sourdough baker make this bread. It's so fantastic.
Your Printable Recipe Card: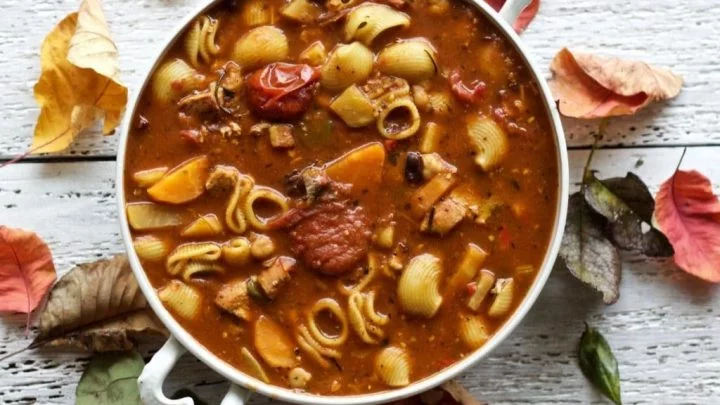 Yield:

15 servings
Chicken Noodle Minestrone
Cook Time:
1 hour
30 minutes
Chicken noodle minestrone is a hearty Mediterranean Chicken Minestrone full of noodly goodness. This Nutritionally Balanced, High-Fiber, Dairy-Free soup is so full of decadent rich flavor, you'll never guess it's good for you!
Ingredients
2 Tablespoons coconut oil
1 6 oz. skinless chicken breast
6 strips bacon
1 can black beans
1 can garbano beans
4 cups chicken broth
4 cups marinara sauce, I'm using homemade. Use whatever brand you prefer, or make a batch of mine
2 Tablespoons Balsamic vinegar
1 cup sun dried tomatoes
4 large clove garlic-minced and pressed
1 celery heart
2 peppers
1 parsnip
1 kohlrabi
1 large carrot
10 oz. noodles, I'm using shell noodles, any type will do so long as it's strong enough not to dissolve in the soup
2 Tablespoons brushetta or Italian seasonings
1 Tablespoon rosemary
2 Bay leaves
water as needed
Instructions
Set a skillet on the stove on medium low. melt the coconut oil with 1 Tablespoon bruschetta seasoning. Chop the chicken into cubes and add to the melted oil and seasonings. Chop the bacon into 1/2 inch pieces and add to the chicken. Cover and cook until cooked through.
Chop all the vegetables into small pieces.
Set a large soup pot on the stove on low.
Pour the chicken broth and Marinara sauce into the pot and whisk together.
Add the chopped vegetables, sun dried tomatoes and cooked chicken and bacon and stir.
Add the spices and set the timer for 30 minutes.
After 30 minutes, Check the soup.
When the vegetables are firmly soft, add the noodles. Add water until the noodles can cook and not make the soup too dry, to taste. The noodles will continue to suck up the water, even after the soup is done so be ready to add more water as you prefer.
Nutrition Information
Yield
15
Serving Size
1
Amount Per Serving
Calories

213
Total Fat

6g
Saturated Fat

3g
Trans Fat

0g
Unsaturated Fat

3g
Cholesterol

18mg
Sodium

882mg
Carbohydrates

29g
Fiber

6g
Sugar

8g
Protein

12g
Pin it:
SaveSave
SaveSave