This Rosemary Garlic sourdough bread is a perfect side for meat, hearty soups and stew dinners. You can make hearty grilled sandwiches with this hearty bread.
Making beautiful sourdough breads like this is not a difficult process once you get the sourdough starter perfected.
Flavorful rustic Rosemary Garlic sourdough bread is amazingly delicious. This homemade sourdough recipe with rosemary leaves and roasted garlic is easy to make and so satisfying to eat.
Sourdough recipes with starter demand a lot of time from the baker. If you already have a starter going just make sure it's very active before you begin this recipe.
The subject of sourdough begins with the starter. For those of you interested, This article is all about the food science of sourdough starter .
I use my wild yeast Sourdough starter. Follow the link to learn how to make your own wild yeast starter.
I go on a sourdough frenzy once in a while and freeze up several homemade sourdough loves. Sourdough freezes REALLY well by the way. But it never lasts long in my freezer.
If you've never made sourdough bread before go visit my Beginners sourdough Bread recipe. You'll find a complete tutorial full of tips to help you out.
In the process of getting your starter active you will create sourdough discard. I have several recipes for you that use up the discard when your activating your starter.
Don't let it go to waste. All that flour is expensive. And sourdough discard recipes as delicious!
My current favorite sourdough discard recipe is White Chocolate Sourdough cookies. They are amazing! And easy.
Artisan Sourdough Bread Recipes:
Making your own Sourdough bread is just plain worth it. Baking bread is not difficult. It just takes time. If you have the proper tools. (They don't cost much.)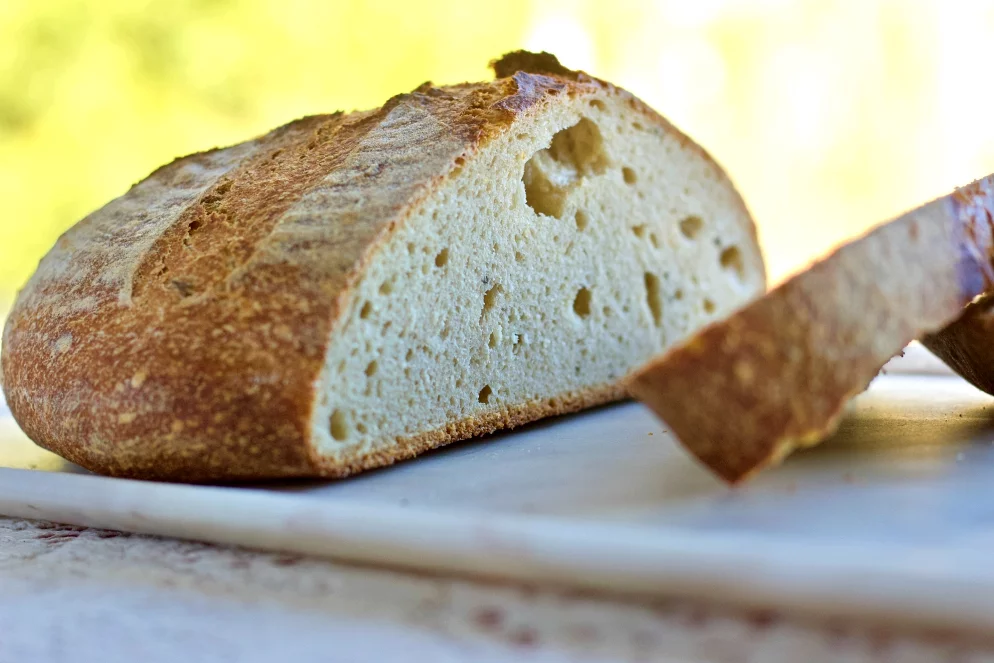 It's all about beating the learning curve. Once you have the Sourdough bread making basic methods down, it's a beautiful hobby. And way of life. Making bread is fun, creative just enough foodie science thrown it to keep it interesting.
How do I add Garlic and Rosemary to Sourdough Bread?
The fresh rosemary and the roasted garlic cloves can be added to the sourdough bread dough after the autolyse stage (where the dough rests). Add the cooled garlic cloves and fresh chopped rosemary to the bread before the kneading process. The dough will be kneaded gently until the garlic and fresh rosemary are evenly distributed throughout.
Can you add Fresh Rosemary to Sourdough Bread?
Fresh Rosemary can be added to raw sourdough bread dough. Using fresh rosemary in sourdough bread can bring the best flavor profiles. Dried rosemary is not recommended, the flavor will be dull and not robust. For best results add fresh picked, chopped rosemary into the sourdough bread.
The Flours:
This is a whole grain bread. Or rather it's a BLEND of whole wheat and all purpose or bread flour. As you see the crumb is a bit denser than my Artisan Sourdough bread. It's more the look of this whole wheat sourdough bread version of that recipe.
Keeping the majority of the flour all purpose helps keep the bread from getting over the top dense with the addition of the roasted garlic. Choose a good quality high protein flour like King Arthur or Montana brands.
You can use 100 percent whole wheat flour if you prefer. The bread will be more rustic, tougher and with a chewier crust. Just perfect for dipping in a bowl of homemade soup.
Home ground flours:
I ground my white whole wheat berries very fine in my KoMo Mio grain mill just as I was preparing to make this Rosemary Garlic Sourdough Bread.
I like my 100 whole wheat grain flour very fresh so it won't go rancid. If you buy your wheat check the date and make sure it's very fresh.
I use white whole wheat berries for my whole wheat recipes. White wheat berries make the bread texture lighter than red wheat berries and still adds the delicious nutty flavor, extra fiber and nutrients only a whole wheat flour can give you.
How to make Rosemary Garlic Sourdough Bread:
I made Rosemary Garlic Sourdough Bread in my Bosch mixer. It worked great for all the stages right up to the final shaping. This may not work in all mixers but I used mine and had good luck with it.
If you prefer to use a large mixing bowl that works fine too. I have made this recipe in a bowl by hand. It's not really any harder. Just a little more hand work. You will knead this bread (very little) rather than use the stretch and fold method.
Although you CAN stretch and fold if you want to take the extra time.
The reason I made Rosemary Garlic Sourdough Bread in my mixer is in response to those of you that have asked for a quicker sourdough bread recipe. This is only going to take you about 14 hours total.
And most if that time the bread dough is doing the work and you are doing something else. Rosemary Garlic Sourdough Bread is AMAZING.
The flavor is so good and the dense chewy crust is a treat. We love this bread. It makes a good sandwich loaf.
The full recipe is in the Printable Rosemary Garlic Sourdough Bread recipe card at the bottom of this post. Below I give you tips on roasting garlic and the rosemary.
Roast Your Garlic:
If you have you ever roasted garlic you know it's so incredible how garlic intensifies flavor when roasted in your oven. Here's how I roast garlic for this Rosemary Garlic Sourdough Bread recipe.
Roasting Garlic:
Make a bunch of roasted garlic and freeze the extra. It holds several weeks in the fridge too.
Preheat your oven to 400
Use whole bulbs of garlic. This recipe uses one entire bulb of garlic. That's a lot of garlic cloves.
Feel free to adjust the amount of garlic to your personal tastes. Especially if you use elephant garlic!
Cut the root end off the garlic bulbs.
Place each bulb on a square of tinfoil. Now wrap it tight.
Place the tinfoil wads of garlic on a baking sheet and place on your oven middle rack.
NOW.For small garlic bulbs like my French lavender variety check the bulbs after 20 minutes. Cool a bulb enough to check if the cloves are almost transparent and squishable.
But do not char them. If you over cook the bulbs the insides will dry out. For this recipe you will take the garlic and squish it into your bread dough. You don't want tough pieces or dried up burnt ones.
For large bulbs the time will need to be increased.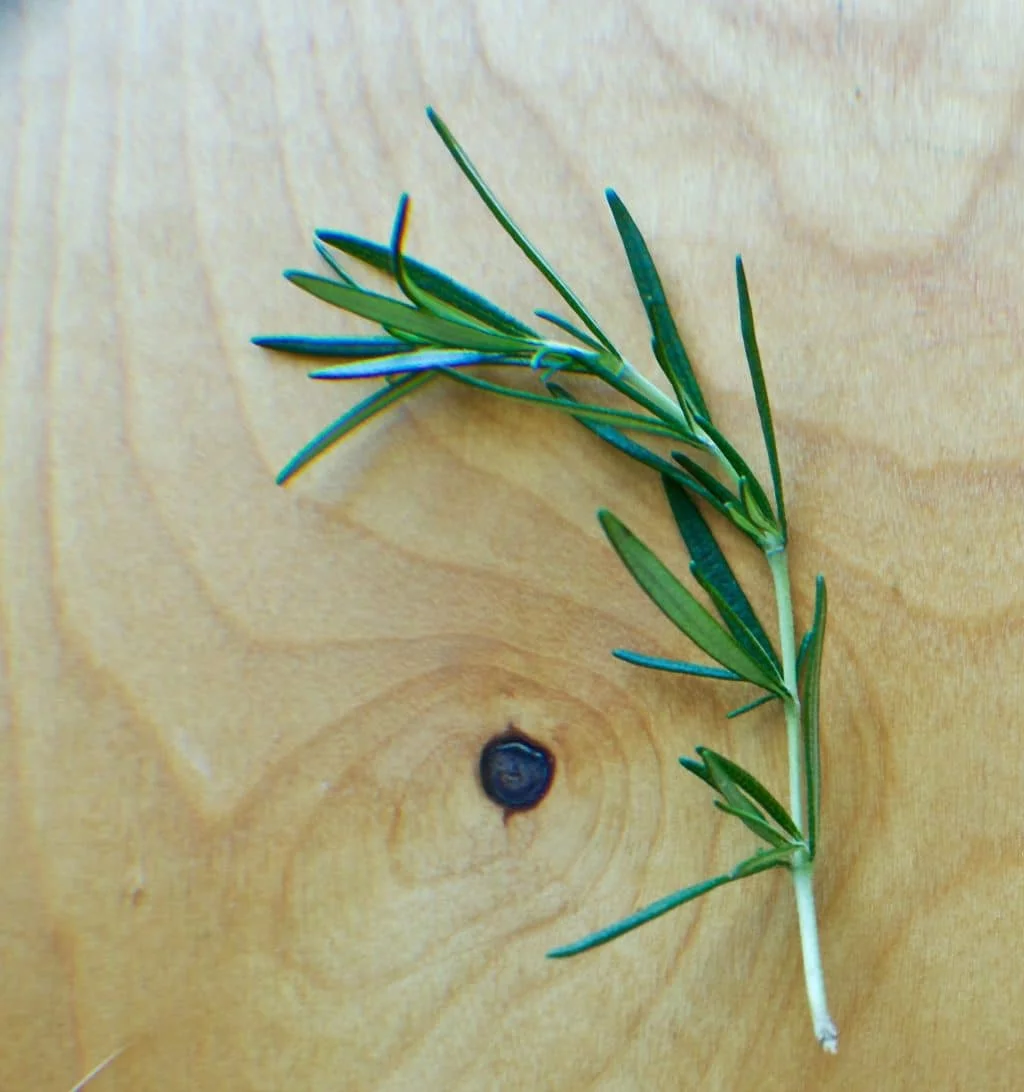 Rosemary Leaves:
Use fresh whole rosemary leaves for the best flavor. I had some rosemary leaves fresh frozen and they worked well too.
Do NOT just sprinkle in a bunch of store bought dried rosemary from the spice isle and expect to get the full bodied flavor we are going for here.
The rosemary has to balance the roasted garlic. Fresh Rosemary leaves that are chopped will release their flavors into the bread dough. That's the ticket.
Final Note on Rosemary: Be SURE to strip the fresh leaves off the stem. The stem will stay hard in the bread. Not so nice.
Psst: You can save the stems if you want to flavor a soup with them later. 🙂
Tips:
Always handle the dough only as much as necessary to help it develop the gluten. Most if this is passive work on your part. Just let it rest and rise slowly. The starter is busy working to develop the gluten.
HOW do you know when the bread is fully proofed? You will learn by feel when a particular recipe is where you want it after you've made it a few times. But you should ALWAYS do the window pane test to make sure the dough is worked enough.
If you stretch the dough and it breaks before transparency the bread is going to be a brick. Keep working and resting the dough until it passes this crucial milestone.
You may chill this dough in the fridge. Cover the bowl with a plastic bag and let it rise overnight if you don't have time to bake it before bed. A Long slow rise will usually do a bread dough good. Be careful though. You don't want it overproofed.
As a final step CHILL the dough before baking. An hour in the fridge while preheating the oven and dutch oven will help the dough be more manageable when transferring to your hot pot. And a cold dough in a really hot pot will shock the dough and give you a better oven spring.
Spray your dough with a little water in the dutch oven before you cover it for a crust with some tiny bubbles in it.
Your baking tips:
will depend on your dough ball size and how hot your oven is. And sometimes a bread can fool you. This recipe is tested at 450 or 500 degree F at 30 minutes covered in a preheated dutch oven. And then I take off the lid and bake it another 20 minutes.
I pull out the bread and bake the final ten minutes on the oven rack. HOWEVER, your oven is not mine.
After you take the lid off and see how it looks. The crumb will be set and the crust will be very pale. Now bake with the lid off.
You want a golden brown crust. It's easy to get a charred crust if you take off the lid and bake it in a very hot oven. This is NOT that big a deal. The bread will taste wonderful.
I use a pizza stone which gives me a more stable oven temperature and helps the crust. I recommend you use a pizza stone under your bread.
Your bread is done when you thump it and it sounds hollow. The Crust will also be caramelized and have shiny spots where it's been scored and the bread rises. This tells you it's done. If you have a dense thudding sound and the crust is dark but no shiny places. Put it back in. Cover the bread with foil to keep it from over browning.
Baking in a hot oven is dangerous. USE oven mitts safe to 500 degrees F. You do not want to get your hot pot halfway out of the oven and find it's just too hot to handle.
We here at Homemade Food Junkie enjoy your input on our posts and recipes.
Have you made Rosemary Garlic Sourdough Bread? Let us know how it goes for you. All our readers will benefit from your rating and experience.
You're going to love this sourdough bread dutch oven method. It makes wonderful sourdough sandwich bread too.
Grill it and make crostini with goat Cheese. So many yummy ways to use this sourdough bread. Enjoy!
Your Printable Recipe Card: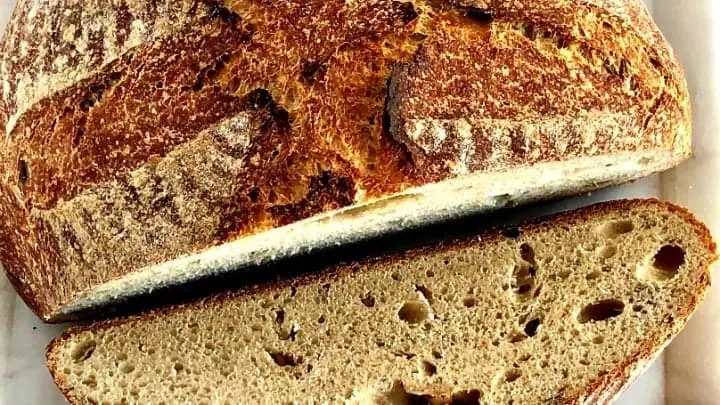 Yield:

24 slices
Roasted Garlic Rosemary Sourdough bread
A robust sourdough bread. full of delicious flavor. This bread is Perfect with meat dinners, stews, and Italian cuisine.
Ingredients
1 large bulb of roasted garlic
Avocado oil as needed
50 g active starter
365 g warm water
480 g bread flour (or high protein all purpose like Montana brand)
20 g White fine ground whole wheat flour
18 g sea salt-divided in half
1 g chopped fresh whole rosemary leaves (to taste)
Instructions
Your starter needs to be very active (pass the float test )before using it for this recipe.
TO ROAST THE GARLIC:
You may roast the garlic ahead and freeze it until needed. Thaw before using in this recipe.
Preheat your oven to 400°F (200°C).
Cut the root end of the blb off reveal the inside cloves.
Drizzle with avocado oil to coat the bulb and wrap the garlic in foil.
Roast on a sheet pan until soft. The time depends on your clove size. Start with 20 minutes and then check your cloves. Add oven time as needed.
The garlic will be soft and caramelized when ready. You should be able to take a clove and squish the insides out easily when properly roasted.
For the Dough:
Use a food scale:
Set a large bowl on the scale and press the tare button until it says zero.
Pour in the the water measure and press tare.
Pour in the starter and whisk the starter and water together.
Pour in the flour measure and then press tare.
Add half of the salt.
Combine to form a rough dough.
Autolyse:
Cover with a damp towel and Autolyse (rest the dough) for 30 to 60 minutes. This is an important step to hydrolyze your dough. Don't skip this step.
Finish the dough mixing:
Squeeze the cooled (or thawed) roasted garlic cloves directly into the bowl. I used several cloves and the flavor was good. Adjust the amount of garlic to your own tastes. A whole bulb can be a lot if the bulb is large.
Add the chopped fresh whole rosemary leaves.
Kneading:
Gently knead the dough until the rosemary and garlic is evenly distributed throughout the dough. DON"T overwork the dough.
Bulk Rise or Long cold Rise:
Bulk rise at room temperature covered until double in size, about 8 to 10 hours at 70 degrees F. OR you can cover the bowl with a lid and put it in a plastic bag and set it in the fridge to rise overnight up to 15 hours. Remove from the fridge and let warm for an hour before shaping.
Bench rest and Form:
Gently pour or roll the dough out of your bowl onto a work surface.
Shape it into a round and let rest for 5 to 10 minutes.
Gently pull the dough into a ball using your dough cutter and wet hands. Pull the dough toward you in a circular motion to tighten its shape. Set the dough ball into a greased bowl or rice flour rubbed banneton.
Final Rise:
Cover the dough and let rise 30 minutes to 1 hour until soft and 1/3 Larger.
To BAKE:
TIP: CHILLING the dough is highly recommended. So is thoroughly preheating your oven. Use a pizza stone on the bottom rack if you have one.
Set the banneton in your fridge and let it chill an hour.
Meanwhile preheat your oven for an hour WITH THE DUTCH OVEN IN IT.
Preheat your oven to 450 degrees F.
Cut a sheet of parchment paper to fit the size of your loaf with some extra to give you handles on each side when moving the dough around.
TIP: Rice flour or cornmeal in the banneton and on the dough will help keep the dough from sticking. Make sure to release the dough from the sides of the banneton with your spatula or knife gently if it sticks anyway.
Place the parchment over the banneton and dough and invert the bowl to release the dough onto the parchment.
Sprinkle remaining salt over the top of the loaf.
Use the tip of your Lame to make long cuts around the dough or score however you prefer.
Lift the dough with the parchment to transfer the dough into the hot baking pot.
Bake the dough on the center rack for 30 minutes, covered.
Remove the lid, and continue to bake for 20 minutes.
Check the temperature of the loaf at this point. If it is caramelized and the digital internal temp is 200 degrees remove to cooling rack. It's done.
If it under 200 degrees in the center of the loaf Lift the loaf out of the pot, and finish baking directly on the oven rack until the loaf is caramelized, sounds hollow when thumped and reaches 200 degrees F internal temp.
Transfer to a wire rack, and cool for 1 hour before slicing.
Notes
This roasted garlic Rosemary bread has an open crumb and a heavy crust. It's a perfect rustic country bread for soups and stews and meat dishes.
Cut this bread once it's cooled an hour.
Store it for up to three days in a plastic bag at room temperature. The crust will soften in the plastic bag making it easier to cut.
Freeze for up to a month double wrapped tightly in a plastic bag.
Nutrition Information
Yield
24
Serving Size
1
Amount Per Serving
Calories

85
Total Fat

1g
Saturated Fat

0g
Trans Fat

0g
Unsaturated Fat

1g
Cholesterol

0mg
Sodium

294mg
Carbohydrates

15g
Fiber

1g
Sugar

0g
Protein

4g
Recipe Source: http://www.ediblecommunities.com/recipes/roasted-garlic-and-rosemary-sourdough-bread