M&M cookie bars are an easy dessert recipe the whole family will enjoy. These rich and delicious cookie dough bars have a baked marshmallow topping with sprinkles and three kinds of M&Ms. This combination of sweet flavors is irresistible.
This recipe for chocolate chip cookie bars uses a buttery cookie base studded with colorful M&M and other candies. These bars are the perfect combination of chewy, sweet, and crunchy.
Whether you're looking for an easy dessert to whip up for a party, or just want a tasty treat to enjoy at home, these yummy M&M dessert bars are sure to satisfy your sweet tooth.
So grab a glass of milk and get ready to indulge in this deliciously fun and colorful dessert. kids LOVE these treats.
A bar and a cookie are distinctly different types of baked goods. A cookie is usually a small, sweet baked treat usually made from dough that's scooped, rolled or cut into various shapes and then baked. Cookies serve well on trays as finger food.
A bar, on the other hand, is a larger baked good that's typically made by baking a dough or batter in a rectangular pan, or thinner recipes make good sheet pan cookie bars. Bars come in various types, thicknesses and flavors. Cookie dough cheesecake Bars are layered bars with a cookie dough crust and cheesecake filling. Chocolate chip cookie bars with cake mix have a cake like, chewier texture than cookies. Bars typically cut easily and serve on either plates or napkins.
When it comes to party food ideas cookie bar recipes fit right in. This m&m cookie bars recipe is perfect for a quick and easy dessert. It serves a large crowd without a lot of fuss. Eat these bars as finger food. They are wildly popular with kids.
Kayti and her daughter Ellie made these bars for a foodie project during Ellie's Spring break from pre-school.
Watch Kayti and Ellie make this simple dessert together.
Ellie's eyes popped big when she saw all those pretty spring colors in the candy bowls… and SMARSHMALLOWS. She loves them.
Kids enjoy helping with cookie dough desserts. And it's a fun kids in the kitchen project. Just don't let them eat raw cookie dough.
I know. I used to sneak raw cookie dough as a kid too. It was so good. However, Salmonella is always a possibility with any raw eggs. That's no fun at all.
Kids Party Food:
These are easy party desserts. And these yummers make perfect kids party food. You can cut these into even smaller pieces for young children events and get more servings out of the batch.
Add these treats to your Birthday party menu. These are popular for an outdoor beach party, skating party or any other kind of event that requires a durable finger food dessert with a festive feel. Take them camping or on a picnic.
These delicious cookie dough bars are great for the lunchbox, School parties, fundraisers or other events.
Easy Easter Dessert:
These are a quick Easter dessert full of Easter candy. You can make them ahead a day and leave them covered on the counter. No fridge time required. And who needs Easter baskets when you can eat all the candy you want in these yummy bars?
These bars are good travelers.
Just cover the top of the cooled baking dish and cut them into squares when you arrive. Serve these treats right out of the pan or set them on a pretty party tray to make them fancy. This is an easy easter dessert recipe that the whole family loves.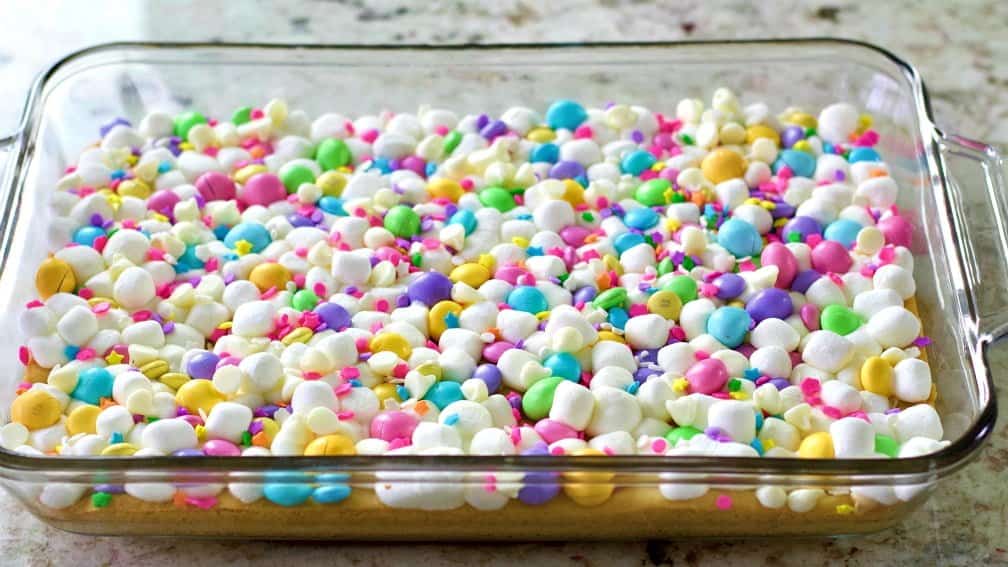 Candy And Cookies Bars like this one are perfect party treats.
These candy topped marshmallow desserts are a hit with ALL age groups. You can theme these into any holiday cookie bars by changing out the M&Ms and sprinkles for your preferred colors or season.
M&M Cookie Bar Recipe:
One 9×13 baking pan makes about 36 2×2 inch bars. That's about right. These are delicious but rich and full of fun but naughty ingredients. You won't need a huge piece.
These cookie dough bars are a twist on chocolate chip cookie dough bars. White chocolate chips fit into the color scheme with the pastel candies. AND the white chocolate chips are actually a better flavor for blending with the M&M medley we have going here.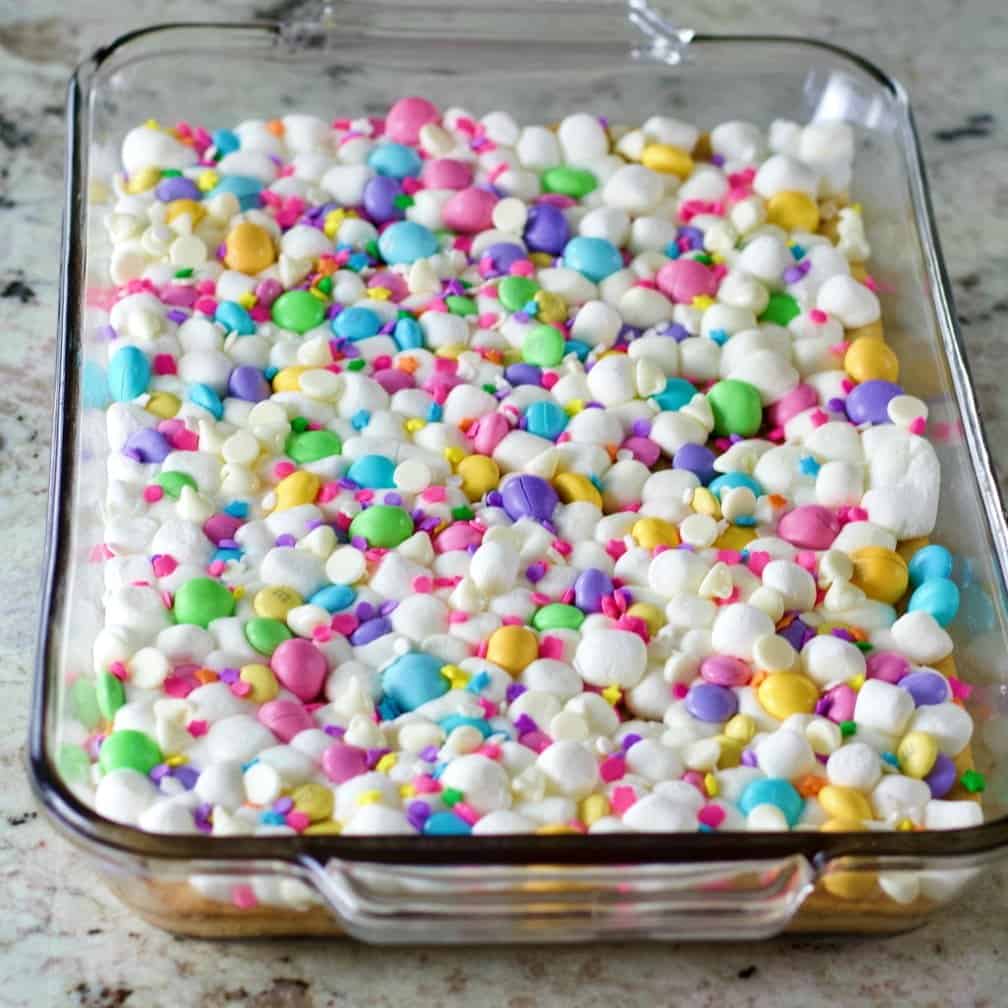 Baking Tips:
Make sure you warm your eggs to room temperature. They mix much better when warmed.
Measure out the toppings. It's tempting to throw on more candy or marshmallows than is called for.
If a little is good, more is better right? Not true in this case. Stick to the recipe.
Press in your cookie dough evenly. Keep it about the same height all over for the best baked results.
Watch your marshmallows when you bake them. They will puff and then you take them out. Don't let them caramelize. You want to keep the marshmallows a nice white color with some gooeyness to glue together the top and not ruin the look of the bars.
Cool the bars completely before cutting them. They will cut much better when cooled and set.
Do you refrigerate cookie bars?
In general, cookies bars do not need to be refrigerated unless the recipe specifically calls for it. However, there are some factors to consider when deciding whether to refrigerate your bars.
If your dessert bars contain perishable ingredients such as cream cheese or fresh fruit, they should be refrigerated to prevent spoilage. Similarly, if you live in a hot and humid climate, refrigerating your cookie bars can help prevent them from becoming too soft or gooey.
If your bars are made with shelf-stable ingredients, like this recipe and will be consumed within a few days, they can be stored at room temperature in an airtight container. Just be sure to keep them away from direct sunlight or heat sources, as this can cause the chocolate to melt and the bars to become overly soft.
In summary, whether or not you refrigerate dessert bars depends on the recipe and your specific circumstances. Always check the recipe instructions for guidance, and use your judgment to decide whether refrigeration is necessary.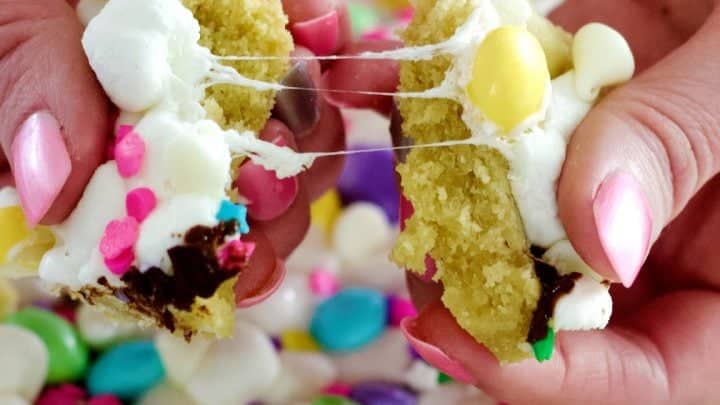 Yield:

36 bars
M&M Cookie Bars
M&M cookie bars are an easy dessert recipe the whole family will enjoy. These rich and delicious cookie dough bars have a baked marshmallow topping with sprinkles and three kinds of M&Ms. This combination of sweet flavors is irresistable.
Ingredients
Cookie dough base:
1/2 Cup butter at room temperature
1/2 Cup white sugar
1/4 Cup and 1 Tablespoon brown sugar
1 egg -room temperature
1 tsp. vanilla extract
1 -1/2 cups all purpose flour
1/2 tsp. baking soda
1 tsp. baking powder
1/2 tsp.cornstarch
1/4 tsp. salt
1 -1/4 cups white chocolate chips
Topping:
3 Cups miniature marshmallows
1/4 Cup Caramel M&M
1/4 Cup dark chocolate M&M
1/4 Cup white chocolate M&M
3 tablespoons sprinkles Spring colored
Instructions
For the cookie dough base:
Preheat oven to 350 degrees F.
Grease a 9x13 dish.
Cream together butter, white sugar, and brown sugar.
Add in egg and vanilla and mix until just combined. (Do not over mix)
In a separate medium sized bowl, add flour, baking powder, baking soda, cornstarch, and salt.
Add the dry ingredients to the wet in additions. (I like to add in thirds)
Pour the cookie dough mixture to the greased baking dish. Press it down and smooth evenly into the corners.
Evenly spread out 1 cup of white chocolate chips over the cookie dough and press them down into the dough with your hands.
Bake for 17-22 minutes or until the edges start to brown.
For the topping:
Bring the dish out and sprinkle the 3 cups of marshmallows, plus the M&M's over the top.
Bake for an additional 3 minutes or until the marshmallows get puffy but not too browned.
Evenly distribute sprinkles and remaining white chocolate chips over the top.
Cool completely before slicing and serving.
Notes
You can change the appearance of this easy dessert by simply changing out the M&Ms and sprinkles to colors suited to whatever event you have in mind. There are so many choices nowadays for M&Ms and sprinkles you can pretty much make this recipe fit any occasion.
Recommended Products
As an Amazon Associate and member of other affiliate programs, I earn from qualifying purchases.
Nutrition Information
Yield
36
Serving Size
1
Amount Per Serving
Calories

145
Total Fat

7g
Saturated Fat

4g
Trans Fat

0g
Unsaturated Fat

2g
Cholesterol

14mg
Sodium

90mg
Carbohydrates

20g
Fiber

0g
Sugar

15g
Protein

2g
More Delicious Dessert Bars and Cookie Recipes: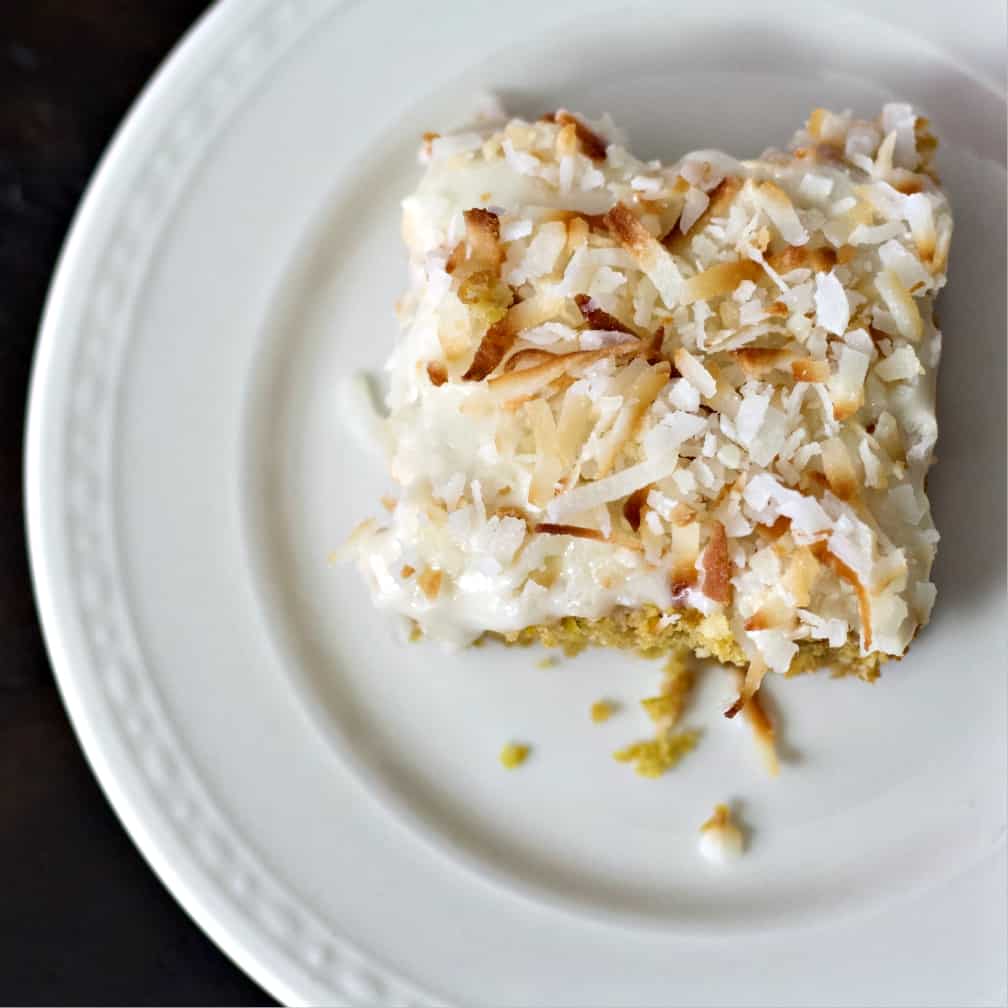 Delicious Cookies Perfect For a Party Crowd:
Follow Us:
We enjoy meeting you on our social networks. Follow us on Facebook, Pinterest, Instagram . Tag us with your pictures of our recipes and comment on how it went for you. We would love to see what you do with them.
We often like, comment and share your posts of our recipes on our daily Instagram stories.
Ask questions and rate the recipe in the comments section below. Please share what you did with this recipe. We are always looking for more and better ways to make homemade food. Other cooks love your ideas!
Recent Posts:
Recipe source: Chelsea's Messy Apron