No-Bake Blackberry Cheesecake Bars are creamy, easy to make, and give you a simple cheesecake dessert without the complex process that traditional cheesecakes require. Made with fresh blackberries, a thick cheesecake filling, and delicious graham cracker crust this blackberry cream cheese dessert will definitely become a favorite.
No-bake blackberry cheesecake bars are perfect for serving a crowd, or as family dessert. Just prepare and chill for a few hours, and they are ready to enjoy. You can make them as a sliceable bar like we did, or in individual cups for easy serving at an event. They can even be frozen and served as a refreshing replacement for ice cream.
If blackberries are hard to come by you can easily swap out the fruit and still enjoy this tasty cheesecake treat. Strawberries, raspberries, and blueberries would be fantastic toppings. If berries aren't your thing try a peach, apple, or cherry compote and top with homemade whipped cream.
We have a large selection of cheesecake on the blog, anything from crustless and sugar free to decadent and indulgent. Here are a few of our favorites. Click on any of the images to explore these recipes.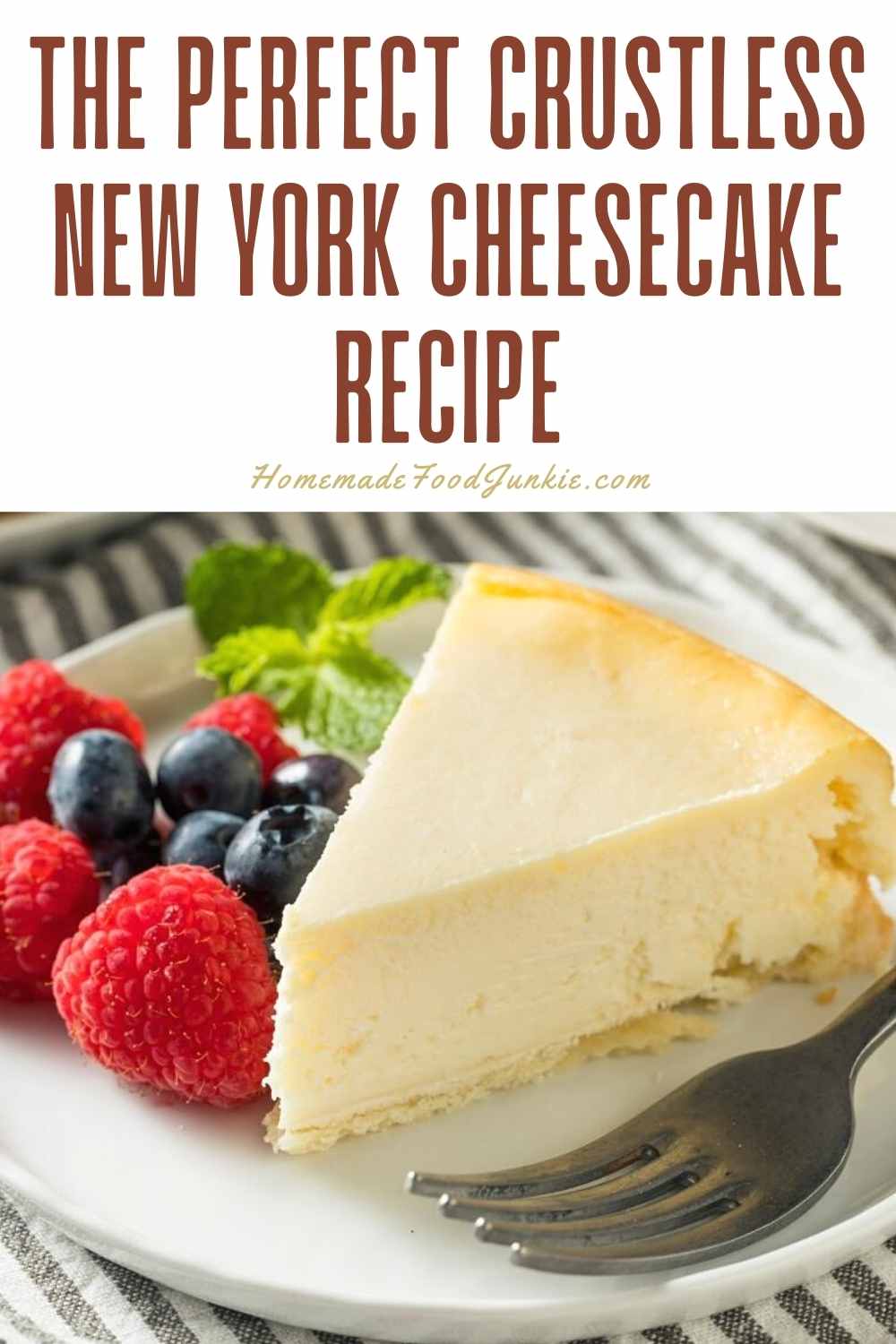 Is baked cheesecake better than no baked cheesecake?
When comparing a traditional baked cheesecake to the more modern no baked cheesecakes, there really are very few differences, and it truly comes down to personal opinion on which is superior. Baked cheesecakes will forever reign supreme for their thick, silky texture. Recipes for no bake cheesecakes will have a softer, lighter texture that is scoopable and less formal.
The ease of no-bake cheesecakes is where a lot of the appeal is. They are approachable and less formidable than traditional cheesecakes, making them great for beginner bakers and a fantastic option for a dessert at an event, which is why we love these easy blackberry cheesecake bars.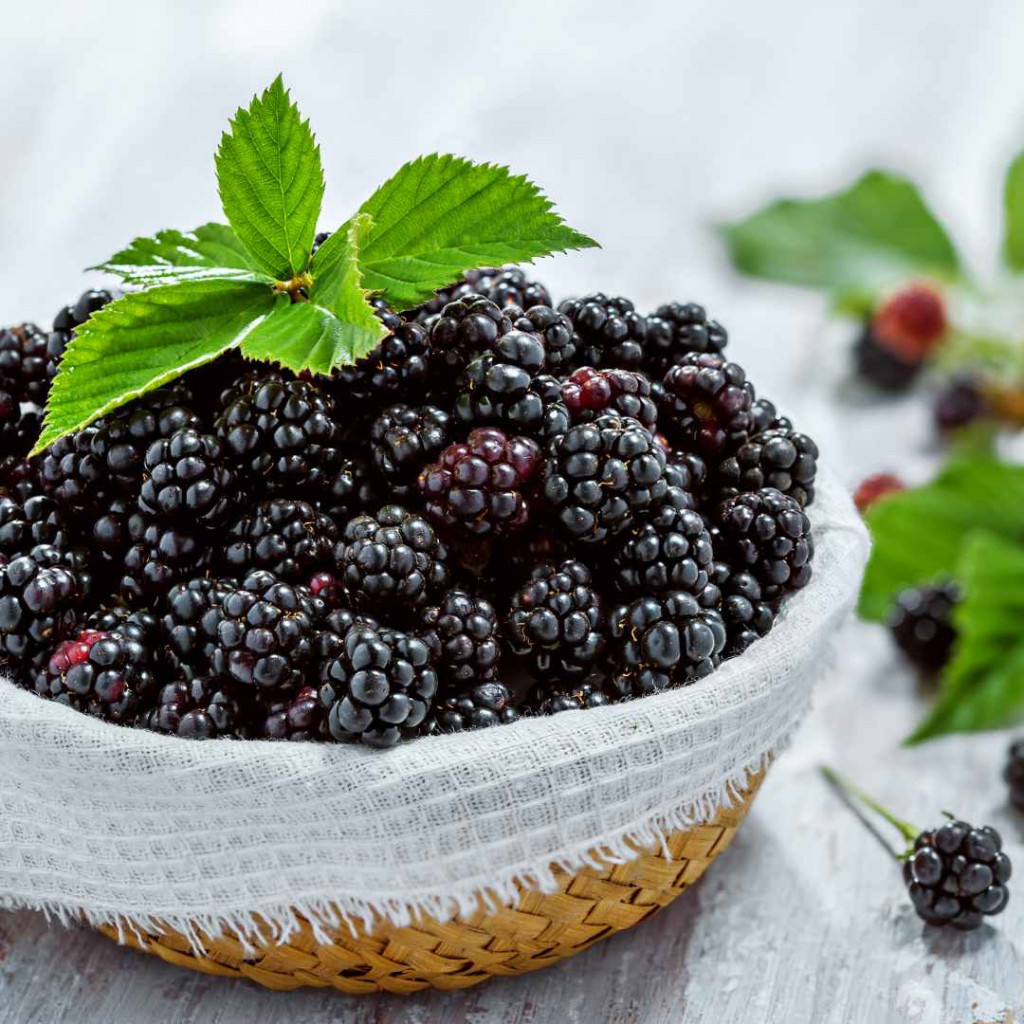 Blackberries provide excellent health benefits. Go here to check out the health benefits of these beneficial fruits. In summary, they are incredible allies against Alzheimer's disease and cancer according to recent research.
Blackberry Pie, Blackberry Cobbler and Sugar Free Blackberry Cheesecake Cups are a few reasons we pick blackberries every summer. All bramble berries are excellent for your health. However, blackberries have the highest level of cancer fighting antioxidants of all berries.
If you have blackberries and want some different recipes try our Blackberry Coconut Oil Crumble Bars, and Blackberry Barbecue Sauce.
Should you bake the crust of no-bake blackberry desserts?
No bake really does mean no bake. For no-bake cheesecake bars the crust does not need to be baked. Simply prepare, press it into your pan or cups, and fill with the cheesecake. Most often no bake crusts have a higher amount of fat, so if they are baked it can lead to a soggy crust.
How can I serve no-bake blackberry cheesecake bars?
Our no-bake blackberry cheesecake bars recipe works best when prepared in a baking dish and cut into individual bars. The other option that we recommend is to serve them in individual cups as a scoopable cheesecake dessert. If you would like to prepare these no bake blackberry cheesecake bars as a traditional cheesecake, you can use a small spring form pan. Chill overnight to ensure it is firm and set completely before removing.
No-Bake Blackberry Cheesecake Bars Recipe
Substitutions for special diets
You can substitute the topping with other berry sauces if you want to play with new version of this dessert. Homemade raspberry sauce and blueberry sauce sweetened with maple syrup make great toppings. Just add more cornstarch if you want the topping thicker.
If you choose to accommodate special diets with these no bake blackberry cheesecake bars , here are some suggestions
Coconut oil is excellent in these bars. It's a great butter and replacement for baked goods. The coconut oil adds a nice flavor component we really enjoy.
If you're not a fan of the slight coconut flavor, you can use melted butter one to one in this recipe. Or use refined coconut oil to avoid the flavor.
Neufchatel Cheese is what we use to cut on fat and calories, but full fat cream cheese will give a richer flavor and thicker, creamier texture.
Use a sugar substitute to replace the sugar in this dessert to lower the carbs and calories. You could also use raw honey or pure maple syrup.
If you need gluten free or low carb check out the crust in our sugar free pumpkin cheesecake. The crust is delicious, low carb, and gluten free.
NOTES: It's best to let these no-bake blackberry cheesecake bars chill several hours in the fridge to set properly. However, this dessert can absolutely be prepared in cups which does not require a long chill time, and will give you a simple easy serve treat.
How do I get a stiff blackberry topping?
Our no bake blackberry cheesecake bars are wonderfully versatile and can be made with a blackberry sauce, or as a thicker blackberry jelly that will hold its shape and create a beautiful top that you can garnish.
To achieve the thicker jelly like topping, increase the amount of cornstarch used. The recipe is written to give a softer topping, so add more cornstarch if you want a stiffer topping. Both version have been well received and it only comes down to personal preference. The softer more sauce like version will have a less chewy texture and present a silky consistency if you strain out the seeds.
Other tips for no-bake blackberry cheesecake bars
This recipe easily doubles to a 9 x 13 inch pan or more single serve cups for a large crowd.
Use parchment paper in the bottom of your pan for easy removal.
For best results use room temperature cream cheese.
The longer it chills the stiffer it will become making it easier to serve if you are needing to cut into it.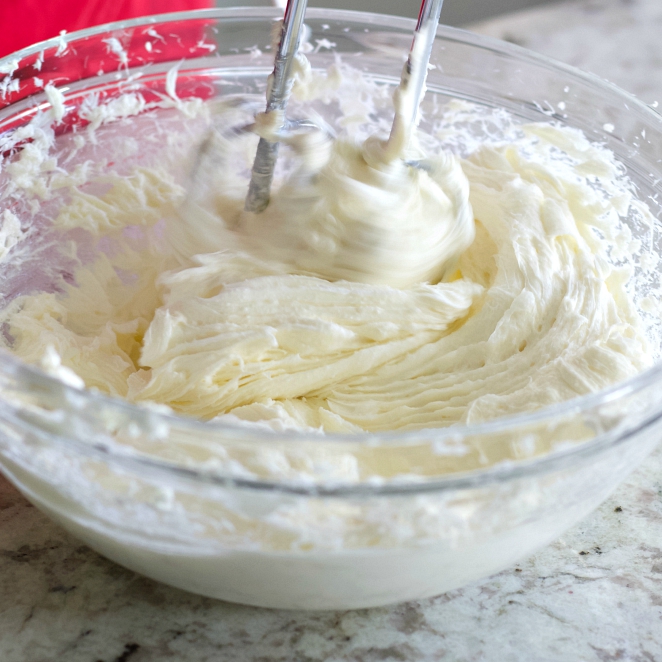 How can I garnish no-bake blackberry cheesecake bars?
These no-bake blackberry cheesecake bars can be served in a variety of ways and garnished as simple or decadent as you desire. Here are some ideas that you can try.
Top with a simple homemade whipped cream
Place fresh berries on top to let people know what it is made of
Sprinkle crumbles of the crust over the fruit topping
Garnish with fresh mint leaves or rosemary sprigs
Finish with sugared berries for a decadent vibe
Place small fresh flower on top for a summer event (remove before eating)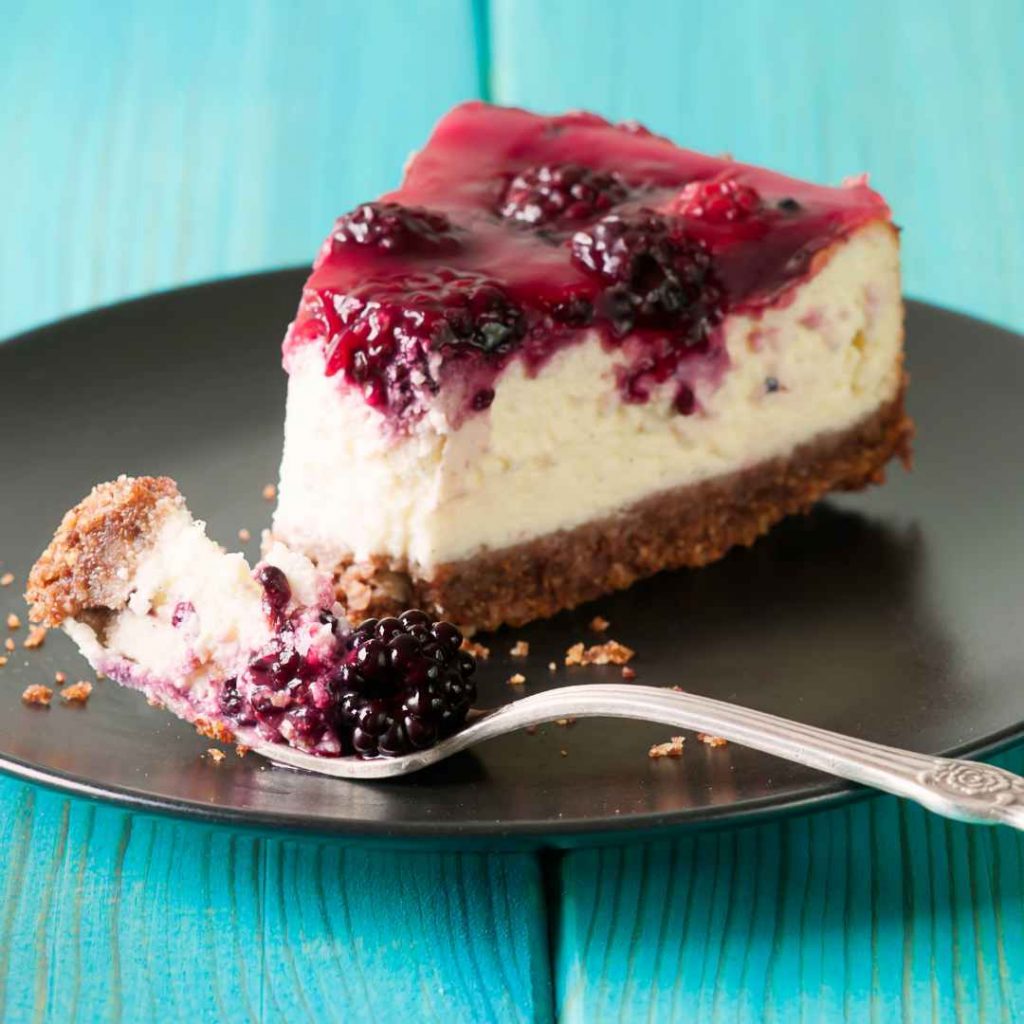 Printable Recipe For Blackberry Cheesecake No Bake Bars
Yield:

9
No-Bake Blackberry Cheesecake Bars
Total Time:
2 hours
30 minutes
No-bake blackberry cheesecake bars from Summer's delicious bounty. Yum! Don't turn on the oven. Enjoy this creamy, cold refreshment!
Ingredients
For the topping
2 cups fresh washed blackberries
1/4 Cup water
1 cup sugar
2 tablespoons cornstarch mixed with 4 tablespoons water
For the crust
1 1/2 Cup graham crackers-crushed
2 Tablespoons sugar
1/4 Cup walnuts
1/2 cup coconut oil-melted
1/2 tsp. vanilla
For the filling
12 ounces Neufchatel cheese- room temperature
1/4 Cup Greek yogurt
3/4 Cup sugar
1 tsp. vanilla
Instructions
Make the Topping
Put the blackberries, water and sugar into a 2 quart pot. Stir often. Bring to a boil.
While the blackberries are heating put the cornstarch in a small cup and add 2 tablespoons water. mix well.
Add the cornstarch to the berries and stir until thickened. Remove from heat and set in the fridge or freezer to cool until needed.
Make the crust
Pulse the graham crackers with the walnuts and vanilla and sugar in a food processor until they make crumbs.
Pour the coconut oil in a stream into the crumbs and pulse until it's well mixed.
Press the crust into the bottom only of an oiled 8 x 8 pan. Set in the fridge.
Make the filling
Combine the cream cheese, sour cream, vanilla and sugar and beat on low speed until mixed.
Mix with an electric mixer until the mixture is perfectly smooth and blended.
Assemble the Layers
Pour the filling over the crust and smooth it into an even layer.
Pour the cooled blackberries over the cream cheese layer.
Refrigerate at least 2 hours, or until set enough to serve.
Notes
Variations:
-I have used cinnamon graham crackers with good results for this crust. They are sweetened so you can reduce or omit the sugar if you use them.
-If you use regular graham crackers try adding a teaspoon of cinnamon.
-This recipe works great with regular cream cheese in place of the neufchatel cheese.
FRESH OR FROZEN BERRY NOTE:
You may use either fresh or frozen blackberries in this recipe, HOWEVER, drain the water from washing the fresh berries or defrosting them frozen. Otherwise the topping will be VERY loose.
Nutrition Information
Yield
9
Serving Size
1
Amount Per Serving
Calories

470
Total Fat

24g
Saturated Fat

15g
Trans Fat

0g
Unsaturated Fat

6g
Cholesterol

28mg
Sodium

194mg
Carbohydrates

59g
Fiber

2g
Sugar

48g
Protein

6g
These bars can served smaller since this is a rich dessert. For a potluck cut the bars into one inch by 2 inch size. This will impact the number of servings and calories.