Delicious homemade blueberry swirl cheesecake with a nutty crust. The flavorful combination of blueberries and cheesecake is outstanding. We topped this delicious cheesecake with a blueberry sauce.
This fluffy and creamy cheesecake is topped with a blueberry sauce made from fresh blueberries. The blueberry sauce is also swirled into the batter just before baking to give it a gorgeous marbled finish. Top this cheesecake with whipping cream just before serving. For a decadent look add some fresh blueberries and mint leaves.
We have made this cheesecake a number of times and absolutely love the texture and taste. The only pitfall that we have encountered is swirling the appropriate amount of sauce into the batter.
Too much sauce swirled into the batter will cause the cheesecake to not bake and setup properly. Only swirl in a small amount, just enough to achieve the marbled look and add flavor into the batter.
Here are a few of our best tips and tricks for making a perfect blueberry cheesecake.
Why is my Cheesecake Dense?
Cheesecake can be dense because the ingredients are under mixed. Properly creaming the cream cheese adds extra air into the batter and will help the cheesecake be light and fluffy. Make sure the dairy is room temperature, this will help the ingredients mix in smoothly.
Why Did my Cheesecake not set?
Over-mixing ingredients can cause cheesecakes to not properly set. If the cheesecake batter looks loose and runny when it is coming out of the oven, it likely has not set right. This is usually caused by a mixing issue.
Cheesecakes should be slightly jiggly in the center. Do not cut a cheesecake that has not had time to set and cool. Often people think a cheesecake is not set, when really it has not had time to properly cool down. A thick cheesecake may need to be refrigerated for 8 hours or longer before it is completely set up.
Will Cheesecake Firm up in the Fridge?
Cheesecake will firm up in the fridge. Cheesecake needs to be refrigerated at least 6 hours after baking and properly cooling. For best results, leave the cheesecake to harden and set in the fridge overnight. For this cheesecake we recommend leaving it overnight in the fridge.
Do not be tempted to take your cheesecake out of the fridge early. To harden and set completely, the cheesecake will need all of the allotted time in the refrigerator that the recipe calls for.
If the cheesecake has been properly baked and cooled and still seems runny, try leaving it in the fridge overnight. This can help harden up a runny cheesecake. Thick and denser cheesecakes will need longer cooling times.
What if my Cheesecake is still Jiggly?
If cheesecake is still slightly jiggly in the center, it is done baking and needs to cool. If the cheesecake is jiggling and wobbling across the entire surface, it is not done baking. Make sure to carefully asses the level of "jiggle" that the cheesecake has. Over baking the cheesecake will result in deep cracks across the surface.
If you are unsure that your cheesecake is fully and properly baked, you can take the internal temperature. A cheesecake should be 150 F when it is done baking. To take the internal temperature of the cheesecake, stick a baking thermometer halfway into the cake.
Be warned, checking the temperature of the cheesecake this way can cause some damage to the top of the cheesecake. This will not affect the taste of the cheesecake. If you want a perfect and unblemished cheesecake top, stick to the jiggle test.
Is it Bad if my Cheesecake Cracks?
Cracks in a cheesecake are not bad, it is a cosmetic blemish but will not affect the taste of the cheesecake. Cheesecakes can crack for a number of reasons, even the most experienced bakers will have a cracked cheesecake every once in a while. The main problem with cracks is they aren't very pretty and can ruin a perfect blemish free cheesecake top.
To disguise a crack, you can use whipping cream or a sauce to cover it. For this recipe we use a thick blueberry sauce over the top of the cheesecake. This sauce will go over the top of the whole cake and cover any unsightly cracking that may occur during baking.
Why should Eggs be Room Temperature?
Room temperature eggs are more viscous and incorporate easily into the batter. The yolks will easily break and mix into the batter. Cold eggs don't mix in as well and can result in a batter that is not mixed properly.
Room temperature eggs will help the batter rise more evenly during the baking process. This is important for cheesecakes and other cakes that rely heavily on eggs for texture and rise. Don't be tempted to use cold eggs when making cheesecake. It is important to follow all of the steps for this careful science to workout perfectly.
How Long does Blueberry Sauce Last?
Blueberry Sauce will last about 7 days in the refrigerator. Store the blueberry sauce in an airtight container. Blueberry sauce can also be stored in the freezer. Place the sauce in an airtight ziplock bag or storage container. Label the bag and place it in the freezer. The sauce will hold in the freezer for 2-3 months.
To reheat blueberry sauce, place it in a saucepan on low heat. Stir occasionally and evenly heat the sauce up until it reaches the desired temperature.
We have put together a printable recipe card so you can always have the recipe with you! Just hit the print button and save the recipe for the Blueberry Swirl Cheesecake.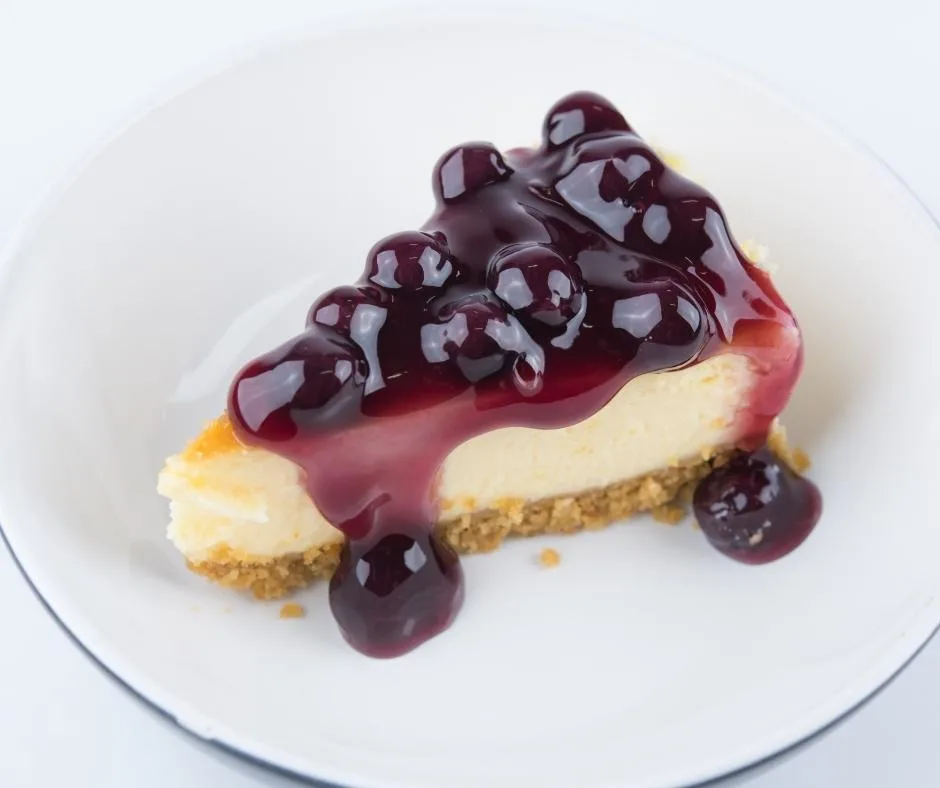 Yield:

16 servings
Blueberry Swirl Cheesecake
Cook Time:
1 hour
15 minutes
Total Time:
2 hours
45 minutes
Delicious homemade blueberry swirl cheesecake with a nutty crust. The flavorful combination of blueberries and cheesecake is outstanding. We topped this delicious cheesecake with a blueberry sauce.
Ingredients
(PUREE)
4 Cups blueberries
1/2 Cup sugar
2 Tablespoons cornstarch
1 Tablespoon fresh lemon juice
(PAT IN THE PAN CRUST)
1/2 Cup melted coconut oil
1/3 Cup packed brown sugar
11/4 Cup flour
1/2 Cup chopped nuts
1/2 tsp. vanilla
1/4 tsp. salt
1/4 tsp. baking soda
(Cheesecake FILLING)
24 oz. cream cheese (or Neufchatels low fat cheese)
1 Cup sugar
1 Cup Greek yogurt
2 tsp. vanilla extract
4 eggs, at room temp
Instructions
BLUEBERRY PUREE:
Combine berries, sugar and cornstarch in saucepan.
Bring to boil over medium heat and cook, stirring, 5 minutes. Puree in blender with lemon juice if desired or leave the berries whole. Set aside to cool completely.
CRUST:
Preheat oven to 350 degrees. Wrap outside of 9-inch springform pan with heavy-duty foil.
Combine sugar, salt, flour, soda and chopped nuts, mix well. Add vanilla and coconut oil in bowl; mix well.
Press evenly into prepared pan and bake 10 minutes
Set crust aside to cool
Assembly:
In a large bowl beat cream cheese in mixer bowl until light and fluffy. Gradually add sugar and beat until completely smooth. Beat in Greek yogurt and vanilla. At low speed, beat in eggs one at a time.
Pour batter over crust.
Carefully drizzle blueberry puree over batter. Swirl knife through batter to marbleize.
Place on oven rack. Pour boiling water into a pan 1 inch up side of spring form pan. Put the spring form pans into the oven in the Water bath.
Bake 75 minutes or until just set. Turn oven off; let stand in oven 1 hour.
Remove pan from water bath. Remove foil and allow it to cool completely.
Cover and refrigerate overnight.
Remove sides of pan. Enjoy!
Makes 16 servings.
Nutrition Information
Yield
16
Serving Size
1
Amount Per Serving
Calories

453
Total Fat

25g
Saturated Fat

15g
Trans Fat

0g
Unsaturated Fat

8g
Cholesterol

90mg
Sodium

226mg
Carbohydrates

49g
Fiber

2g
Sugar

29g
Protein

9g
More Delicious Cheesecakes:
Follow Us:
We enjoy meeting you on our social networks. Follow us on Facebook, Pinterest, Instagram . Tag us with your pictures of our recipes and comment on how it went for you. We would love to see what you do with them.
We often like, comment and share your posts of our recipes on our daily Instagram stories.
Ask questions and rate the recipe in the comments section below. Please share what you did with this recipe. We are always looking for more and better ways to make homemade food. Other cooks love your ideas!
Recent Posts:
Recipe for the blueberry sauce and cheesecake adapted from allrecipes.com