Fall means warm, rich, yummy comfort food. This Mac and Cheese Ham Casserole delivers. Stick to your ribs goodness with a creamy homemade cheese sauce enveloping noodles and ham. Delicious.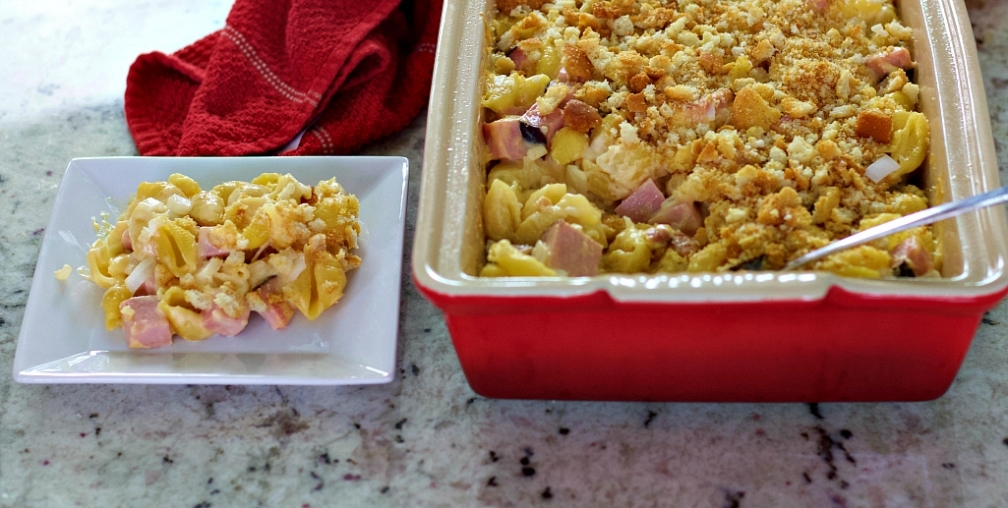 Mac and Cheese casseroles have a special place in heaven if you ask the guys around here. Anytime I'm in a hurry and ask them for dinner ideas noodly- cheesy casserole is first up for suggestions.
This particular casserole was put together when a busy week-end pushed dinner late, late late.
The family gave up on eating dinner and went straight for the pumpkin pie. So I needed a quick, easy dinner with enough temptation factor to re-ignite those hunger flames.
It worked. 🙂
This ham and noodle casserole was dessert. 🙂 It came out of the oven at 8:00 p.m. They devoured it. 🙂
Even after pumpkin pie, chips and Roasted Corn dip , this delicious casserole quickly vanished.
Rave reviews. But that's the way it is around here with noodles casserole. Pasta casseroles make fantastic comfort food.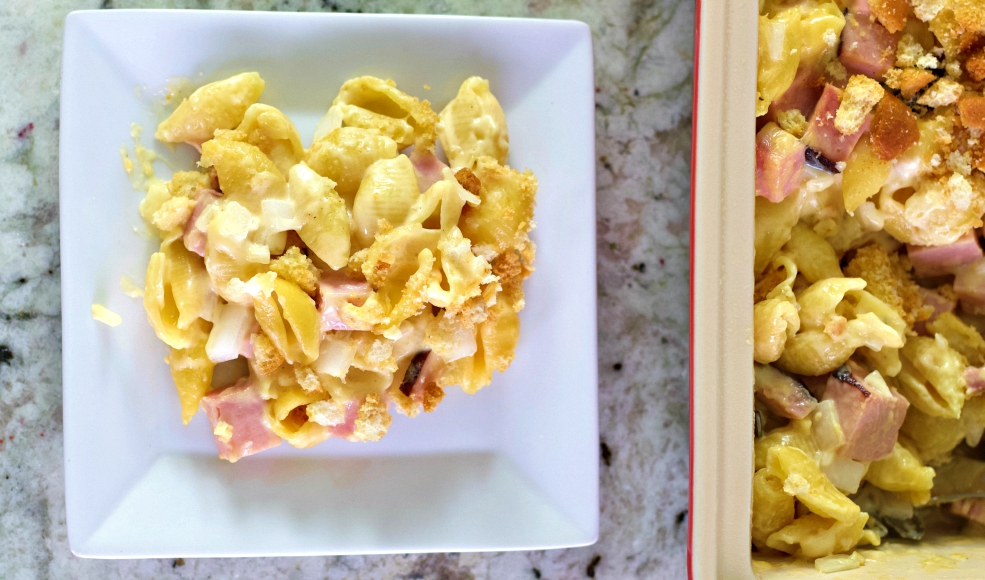 Ham and Cheese Casserole Recipe:
This baked Mac and Cheese Ham casserole is full of homemade cheese sauce yumminess. A rich, creamy cheese sauce just right for mixing with noodles and ham.
Ingredients for this Ham Casserole Recipe: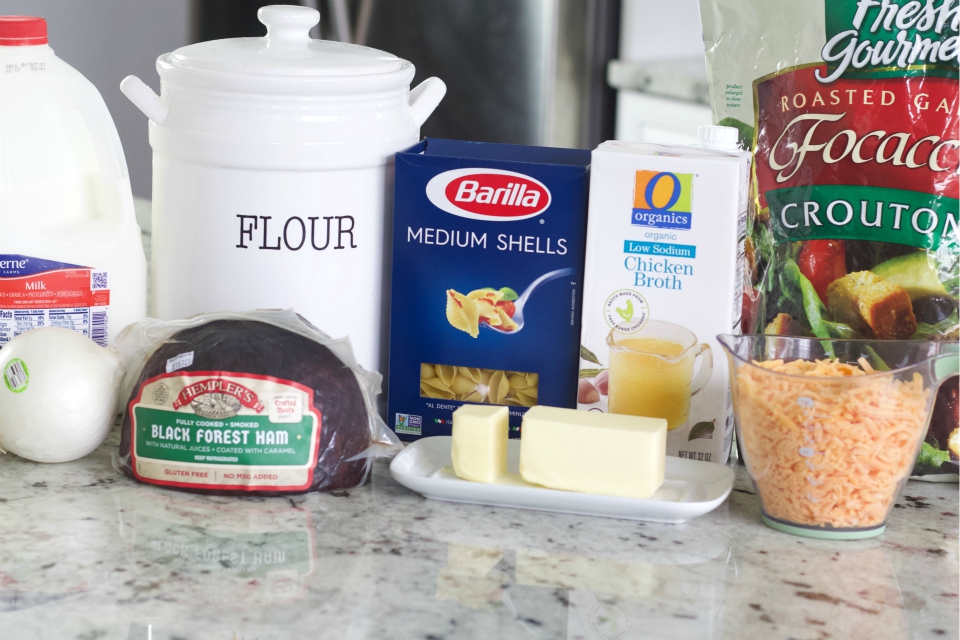 This is a dandy leftover ham recipe. Ham, Pasta, cheddar Cheese and even more flavorful ingredients make an excellent leftover ham casserole your family will love.
Ingredients List:
Black forest ham (Or ANY leftover cooked ham)
Pasta (I used shells for fun but you can substitute your favorite)
Cheddar cheese (pre shredded cheese is easiest)
Sour cream-not pictured(Or Greek yogurt)
chicken broth
milk
onion
Focaccia croutons (roasted garlic flavor) I get mine at Costco. They last forever and are so handy. Any Panko bread crumb will work but you will need to season the topping for flavor.
The method:
cook the noodles
Make the sauce
stir in the other ingredients.
Pour this ham with mac and cheese recipe into a greased casserole dish with this crunchy, fine crouton topping.
Bake until bubbling and brown.
Follow our complete VIDEO recipe demonstration of this ham macaroni and cheese recipe. look in the sidebar video or at the bottom of our printable recipe card below.
Pure, rich cheesy ham noodly happiness! Enjoy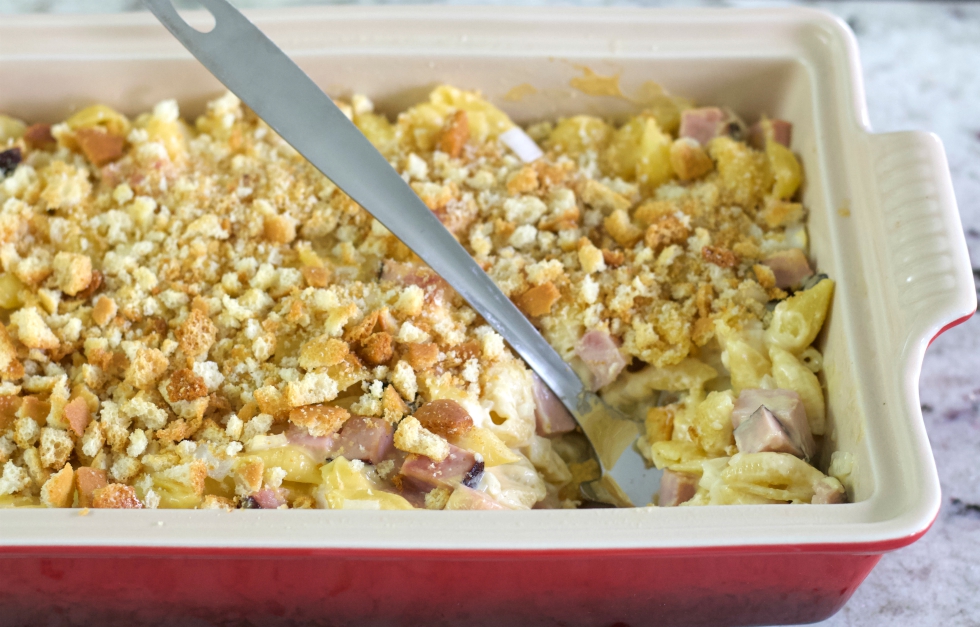 Your Printable Recipe Card:
If you print this recipe card the pictures will not print. This is to save you printer ink and paper. Please let us know how you like this recipe. 🙂
Yield:

8 servings
Mac and Cheese Ham Casserole
Fall means warm, rich, yummy comfort food. This Mac and Cheese Ham Casserole delivers! Stick to your ribs goodness with a homemade cheese sauce enveloping noodles and ham. Delicious!
Ingredients
4 Cups uncooked macaroni noodles
1 Cup yellow onion, chopped
1/2 Cup sour cream (or thick Greek yogurt)
3 cups diced, cooked ham (I used thin sliced Black Forest Ham)
2 Tablespoons butter
2 Tablespoons flour
1/2 Cup milk
2 Cups shredded cheese
1 Cup chicken broth
1/2 Cup crushed croutons (I used garlic flavored Focaccia croutons)
Instructions
Prep:
Preheat an oven to 350 degrees F.
Oil a 9 x 13 pan. set aside.
Make the Casserole:
Cook the noodles as directed until al dente, remove from heat and drain. Set Aside
Meanwhile, in a 12 inch skillet on medium heat.
Melt 2 tablespoons butter.
Add 2 Tablespoons flour and whisk together until thick.
Add milk and continue whisking.
Add chicken broth and whisk until the sauce bubbles and thickens. (see video)
Add in the shredded cheese and whisk it into the sauce until melted.
Add in the sour cream*, chopped ham and noodles mixing well. (see video)
Pour into prepared baking dish.
Sprinkle the top with crushed croutons.
Bake in the preheated oven until the casserole is bubbling and the bread crumbs have browned, about 40 minutes.
Notes
This casserole freezes well if tightly covered in foil. Defrost on counter or (in the fridge a day ahead of baking) bake as directed.
*Plain greek yogurt can be substituted for the sour cream.
Nutrition Information
Yield
8
Serving Size
1
Amount Per Serving
Calories

375
Total Fat

19g
Saturated Fat

10g
Trans Fat

0g
Unsaturated Fat

7g
Cholesterol

78mg
Sodium

855mg
Carbohydrates

28g
Fiber

2g
Sugar

3g
Protein

23g