This Mac and Cheese Ham Casserole delivers a hearty, cheesy meal filled with chunks of ham and finished with a crunchy focaccia crouton topping. This recipe is well loved during the holiday season as a side dish, but can also make a delicious family meal.
It also freezes well if you are heading into a busy season or want to bless another family with a meal. You can easily customize the seasonings and spices to suite your preferences, keeping it mild or bringing up the heat with crushed red peppers.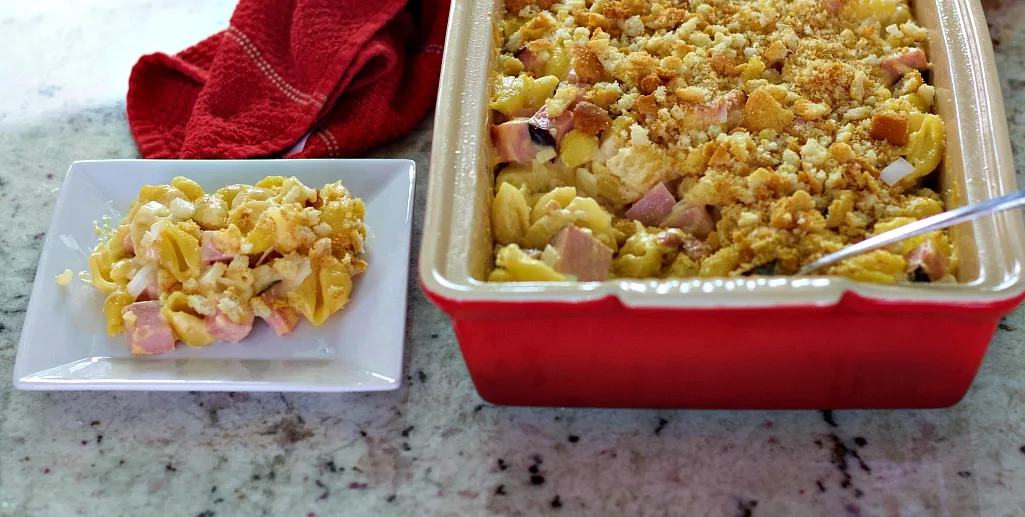 Watch us make this wonderful casserole in our full video tutorial
What can you add to Mac N Cheese to give it more flavor?
Mac and Cheese is a wonderfully mild dish that we all love for the cheese and noodles. But, if you are looking to bring your Mac and Cheese up a level there are many ways to do it. We are sharing our favorite add-ins and recipe adaptations for you to try.
Increase the protein by adding in your favorite meat such as chicken, ham, even sausage
Throw in some of your favorite chopped veggies like broccoli, peas, or spinach
Give it a tuscan spin with sun dried tomatoes, Italian seasonings, and parmesan cheese
Add mushrooms, gruyere, and a thyme and rosemary blend
Throw in some jalapenos, bacon, and dry ranch seasonings
Marinated artichoke hearts, roasted garlic, and sauteed spinach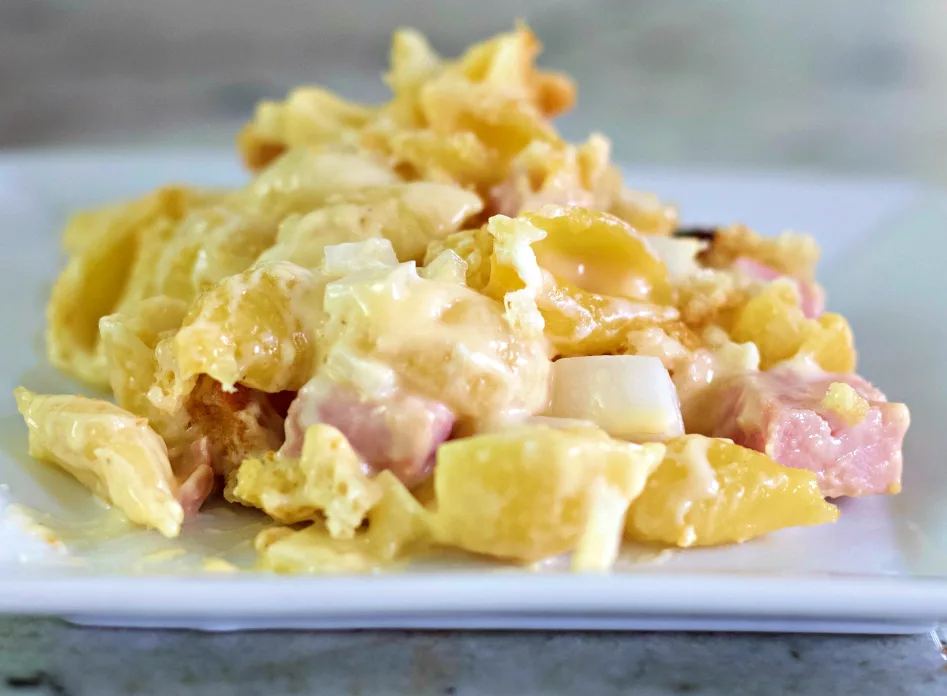 What is the best cheese combination for Mac and Cheese Casserole with Ham?
Mac and Cheese requires a lot of flavor in the cheese used. Reach for sharp cheddar, parmesan, and even smoked goudas. These give your casserole a deep nutty flavor while adding delicious creaminess to the sauce.
How do you keep Mac and Cheese creamy?
The ratio of butter to flour is one of the most important aspects of a well balanced, creamy Mac and Cheese. Too much flour will yield a dry roux that can taste floury and lumpy; too much butter will break down the sauce too much giving you a thin, watery sauce.
Using high fat dairy is another important key to cheese casseroles. Whole milk, butter, sour cream or plain Greek yogurt will build a creamy base that will blend with the cheeses giving you a thick, creamy sauce.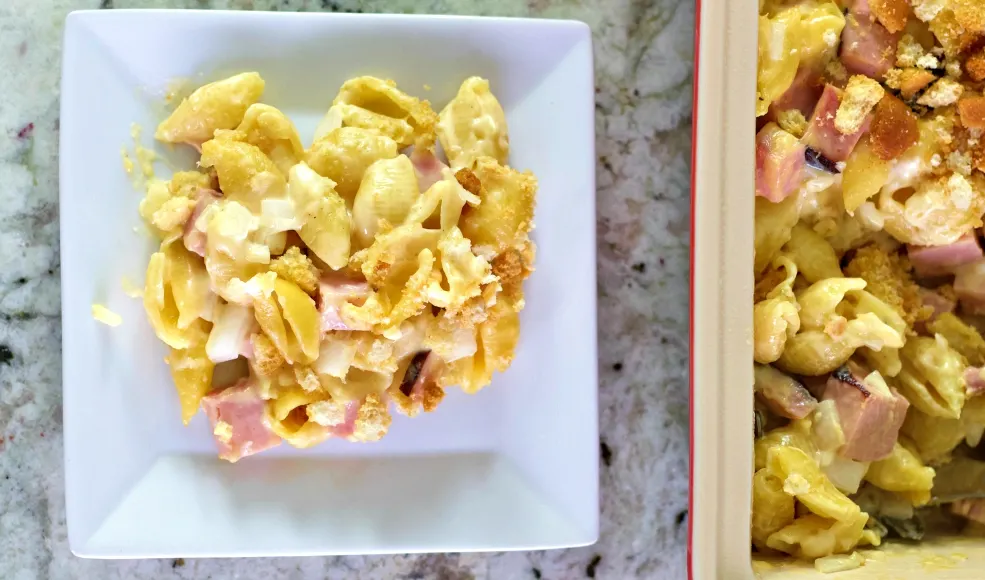 Do you cover Mac and Cheese when baking?
Covering your Mac and Cheese casserole is ultimately up to you. Some believe that covering the dish keeps it warm and melty, while others love the crisp topping that comes from baking uncovered. We tend to bake our casseroles with a foil cover and then remove it in the last 10-15 minutes of cooking to crisp up the topping.
Is it better to use heavy cream or milk for Mac and Cheese?
Heavy cream is a great substitute for milk in Mac and Cheese. Using full fat dairy is always best when preparing cheese casseroles. Cream will produce a heavenly, thick and creamy sauce that will be rich in flavor and stick to the noodles.
Using sour cream, cream cheese, and plain Greek yogurt is also an option to enhance your Mac and Cheese sauce.
Ham and Cheese Casserole Recipe
This baked Mac and Cheese Ham Casserole is made with a beautiful cheese roux enveloping noodles and chunks of ham.
Ingredients for this Ham Casserole Recipe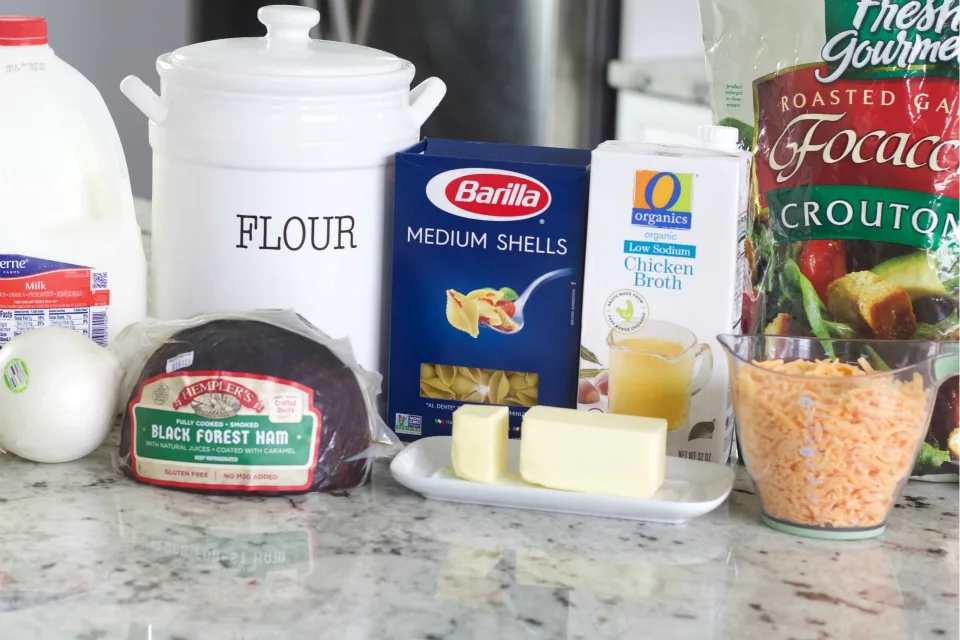 This is a dandy leftover ham recipe. Ham, pasta, cheddar cheese and even more flavorful ingredients make an excellent leftover ham casserole your family will love.
Black forest ham (or any leftover cooked ham)
Pasta noodles
You choice of cheese (we used a pre shredded cheddar mix)
Sour cream or plain Greek yogurt
Chicken broth
Whole milk
Onion
Focaccia croutons. Any bread crumb will work but you will need to season the topping for flavor.
The method
Par boil the noodles
Prepare the sauce
Stir in the other ingredients
Pour this ham with mac and cheese recipe into a greased casserole dish with this crunchy, fine crouton topping
Bake until bubbling and brown
What is the best topping to use on Mac and Cheese Casserole?
The topping choice is completely personal. You can finish your casserole with extra cheese, a bread crumb, or a crisp crouton layer as we did. Croutons give the casserole a fantastic texture and depth of flavor which we love. Bread crumbs will yield a softer finish while still bringing extra flavor to the cheese and noodle meal. Finishing with cheese will create a thick, crisp layer of baked cheese and tangy flavor.
What can I serve with Mac and Cheese?
Mac and Cheese is a popular all American dish that is loved as a creamy, cheesy comfort meal. Often found alongside bbq foods, at holiday dinners, and as a staple meal for many families; it is easy to enjoy with a variety of foods.
Follow our complete VIDEO recipe demonstration of this ham macaroni and cheese recipe.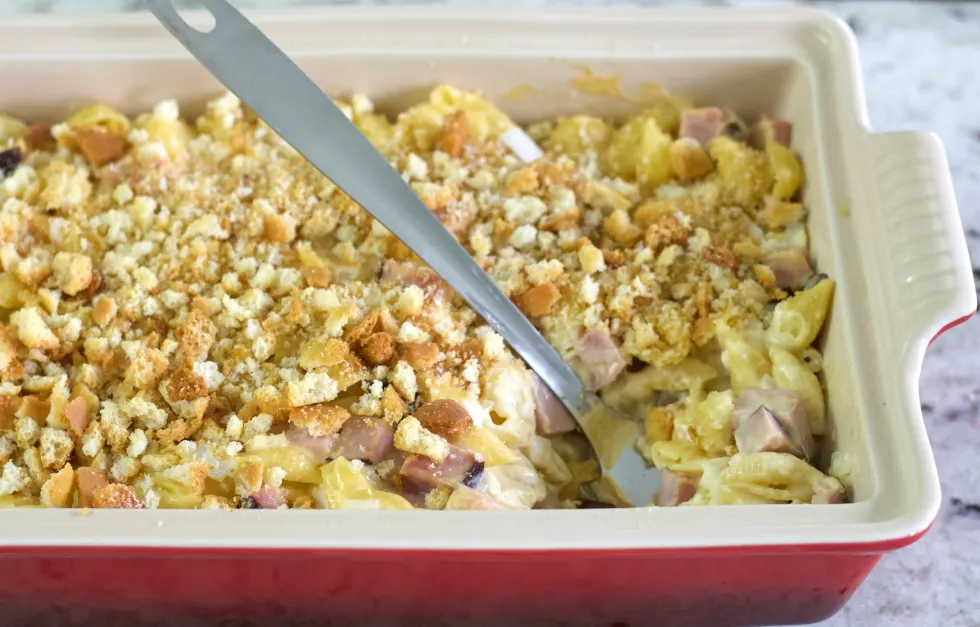 Your Printable Recipe Card
If you print this recipe card the pictures will not print. This is to save you printer ink and paper.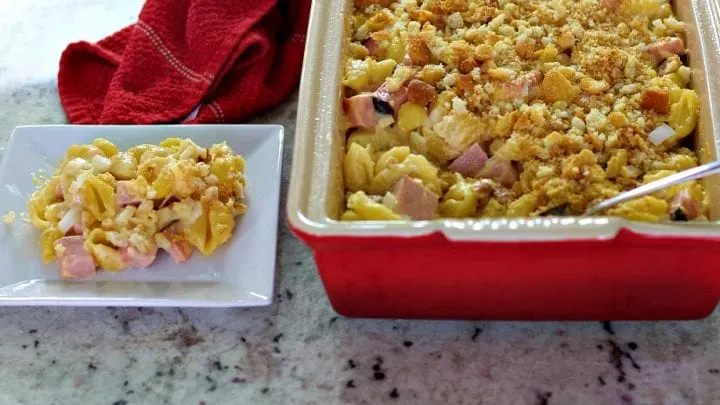 Yield:

8 servings
Mac and Cheese Ham Casserole
Fall means warm, rich, yummy comfort food. This Mac and Cheese Ham Casserole delivers! Stick to your ribs goodness with a homemade cheese sauce enveloping noodles and ham. Delicious!
Ingredients
4 Cups uncooked macaroni noodles
1 Cup yellow onion, chopped
1/2 Cup sour cream (or thick Greek yogurt)
3 cups diced, cooked ham (I used thin sliced Black Forest Ham)
3 Tablespoons butter
2 Tablespoons flour
1/2 Cup milk
2 Cups shredded cheese
1 Cup chicken broth
1/2 Cup crushed croutons (I used garlic flavored Focaccia croutons)
Instructions
Prep:
Preheat an oven to 350 degrees F.
Oil a 9 x 13 pan. set aside.
Make the Casserole:
Cook the noodles as directed until al dente, remove from heat and drain. Set aside
In a skillet on medium heat, melt 1 tbsp butter.
Saute onions until lightly transluscent
Remove onions from skillet
In a large skillet on medium heat, melt 2 tbsp butter
Add 2 Tablespoons flour and whisk together until thick.
Add milk and continue whisking.
Add chicken broth and whisk until the sauce bubbles and thickens. (see video)
Add in the shredded cheese and whisk it into the sauce until melted.
Add in the sour cream, chopped ham, onions, and noodles mixing well.
Pour into prepared baking dish.
Sprinkle the top with crushed croutons.
Bake in the preheated oven until the casserole is bubbling and the bread crumbs have browned, about 40 minutes.
Notes
This casserole freezes well if tightly covered in foil. Defrost on counter or (in the fridge a day ahead of baking) bake as directed.
*Plain greek yogurt can be substituted for the sour cream.
Nutrition Information
Yield
8
Serving Size
1
Amount Per Serving
Calories

375
Total Fat

19g
Saturated Fat

10g
Trans Fat

0g
Unsaturated Fat

7g
Cholesterol

78mg
Sodium

855mg
Carbohydrates

28g
Fiber

2g
Sugar

3g
Protein

23g
Follow Us:
We enjoy meeting you on our social networks. Follow us on Facebook, Pinterest, Instagram . Tag us with your pictures of our recipes and comment on how it went for you. We would love to see what you do with them.
We often like, comment and share your posts of our recipes on our daily Instagram stories.
Ask questions and rate the recipe in the comments section below. Please share what you did with this recipe. We are always looking for more and better ways to make homemade food. Other cooks love your ideas!
Recent Posts: