Cheesy Bruschetta Garlic Bread is over the top good!! Serve this decadent, buttery, cheesy bread with your favorite soup or Italian dinner. Comfort food heaven!
I made this yummy bread last week to accompany Kayti's popular Kale Apple Salad and my mom's 5 Cheese Homemade Lasagna (The best Lasagna recipe I have ever had!). It was a special birthday dinner for my oldest son Bill and his Fiance'.
This is a simple, but elegant, meal for a dinner party. I served Easy Toffee bits and Chocolate ice cream and apple crisp for dessert!
My oldest child is finally tying the knot! He looked for literally decades to find his best girl. I've never seen him so happy. Bill and Heather are getting married in just two weeks! This is my first time to be the mother of the groom. Does a momma's heart good to welcome such a lovely daughter in law to our family.
Heather and her mom, Bonnie (go here, here and here for Bonnie's fantastic DIY skincare recipes!), invited me to shop for 'THE DRESS' last Saturday. By the time that special day was over we had the wedding planned and all three of our dresses purchased! Heather and Bonnie, are doers. We all just went for it and enjoyed the challenge. I had so much fun with them.
Heather found a brand new wedding dress, half price at Alicia's Outlet Store if you're looking! Bonnie and I bought our dresses there too. Very helpful staff. Did I say how well Heather fits in with our frugal casual, country family?
Heather will wear her gorgeous traditional wedding dress with her favorite pair of cowboy boots. The wedding is a lovely outdoor venue at a private farm. There is even a horse and wagon involved! I can't wait!
Back to this delicious bread recipe! This recipe really ups the level of garlic bread yumminess. The garlic cheesiness and bruschetta seasonings pair wonderfully with any Italian meal. I topped it with freshly grated Parmesan cheese to accompany Lasagna.
Cheesy Bruschetta Garlic Bread is also a good side with any hearty soup. Recently we enjoyed this yummy bread with Corn Chowder . Then I paired it with Borscht. I sprinkled Mozzarella cheese on top of this yummy bread. Such a great dipping bread! The fresh oregano added its own taste of summer from my herb garden.
Recipe for Cheesy Bruschetta Garlic Bread :
The nice thing is, you can make this bread in stages. You could make the garlic butter ahead as far as you want. Having some on hand all the time is a great idea! It will solidify, of course, if you store it in the fridge. Remelt the garlic butter in the microwave just before brushing it on your bread. And it's ok to let it soak into the bread awhile too. Add the cheese and more garlic butter and the seasonings too if you like and let it sit out on the baking sheet while you prepare the rest of the meal. Then 5 minutes before serving, pop it in the oven. Easy!
Either shredded Parmesan or Mozzarella make a lovely topping over the garlic butter. If you have success with other cheeses or can suggest new ways to improve this bread feel free to add you ideas in the comment section below this post!
Instructions:
Thinly slice the garlic

Put the butter into a 4 cup bowl and melt in the microwave.

Add the garlic and 1 tsp. of the bruschetta seasoning to the butter.
You can let this sit and marinate several hours or use immediately, as you prefer.
Preheat oven to Broil on hi setting
Slice the french bread loaf in half long ways so you have two slabs of bread.
Put the slabs of french bread onto a cookie sheet.
Using a pastry brush liberally brush the butter and garlic onto the bread slabs.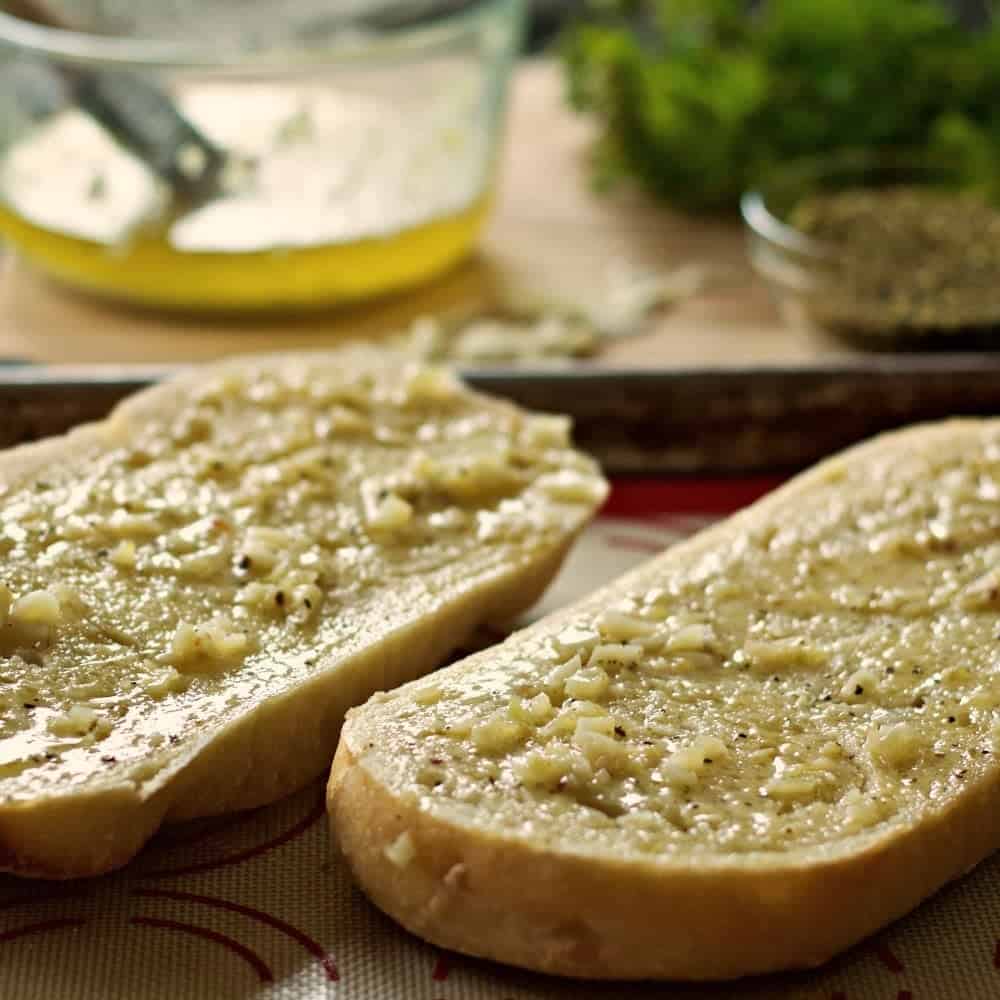 Sprinkle the cheese evenly over the buttered bread.
Brush on some more garlic butter over the shredded cheese.
Sprinkle the remaining seasonings evenly over the two loaves. Garnish with fresh oregano leaves.
Broil 3 to 5 minutes until the Cheese topping is golden brown and a bit crusty.
Cut each loaf into 2-inch slices. Serve warm
Nutritional Information:
Recipe Yield: 2 slabs Cheesy Bruschetta Garlic Bread – 24 pieces
126 Calories/ piece
Fats: 8 grams
Carbs: 7 grams
Protein: 7 grams
Your Printable Recipe:
Yield:

24 pieces
Cheesy Bruschetta Garlic Bread
Cheesy Bruschetta Garlic Bread is over the top good!! Serve this decadent, buttery, cheesy bread with your favorite soup or Italian dinner. Comfort food heaven!
Ingredients
1 loaf french bread
several cloves sliced garlic
1 cube of butter
1 tablespoon bruschetta seasonings
11/2 cup shredded parmesan or mozzarella cheese
Fresh oregano or other fresh herb of your choice for garnish
Instructions
Thinly slice the garlic
Put the butter into a 4 cup bowl and melt in the microwave.
Add the garlic and I tsp. of the bruschetta seasoning to the butter.
You can let this sit and marinate several hours or use immediately, as you prefer.
Preheat oven to Broil on hi setting
Slice the french bread loaf in half long ways so you have two slabs of bread.
Put the slabs of french bread onto a cookie sheet.
Using a pastry brush liberally brush the butter and garlic onto the bread slabs.
Sprinkle the cheese evenly over the buttered bread.
Brush on some more garlic butter over the shredded cheese.
Sprinkle the remaining seasonings evenly over the two loaves.
Broil 3 to 5 minutes until the bread toppings are golden brown and a bit crusty.
Cut each slab into 12 inch slices. Serve warm
Nutrition Information
Amount Per Serving
Calories

127
Pin it: