Our decadent Five Cheese Lasagna is a family recipe that is now in its third generation. This lasagna combines five different cheeses including fresh parmesan, mozzarella, provolone and ricotta. The sauce marries fresh ground beef and spicy Italian sausage, fresh garlic, tomatoes, and onion for a depth of flavor and texture that everyone loves. Nestled between lasagna noodles, oozing with melted cheese and finished with fresh herbs; this is one family meal that will have everyone asking for a second serving.
Mom always served it with a large salad like Tortellini Salad with Pepperoni and Homemade French Bread or Cheesy Bruschetta Garlic Bread. This can dinner can definitely stand alone as a full meal, but if you want to dress it up with side dishes and extras, you know no one would complain.
We are so excited to be sharing this family recipe with you and your families! We hope you love it as much as we do, and that it can become a family recipe for you to pass down.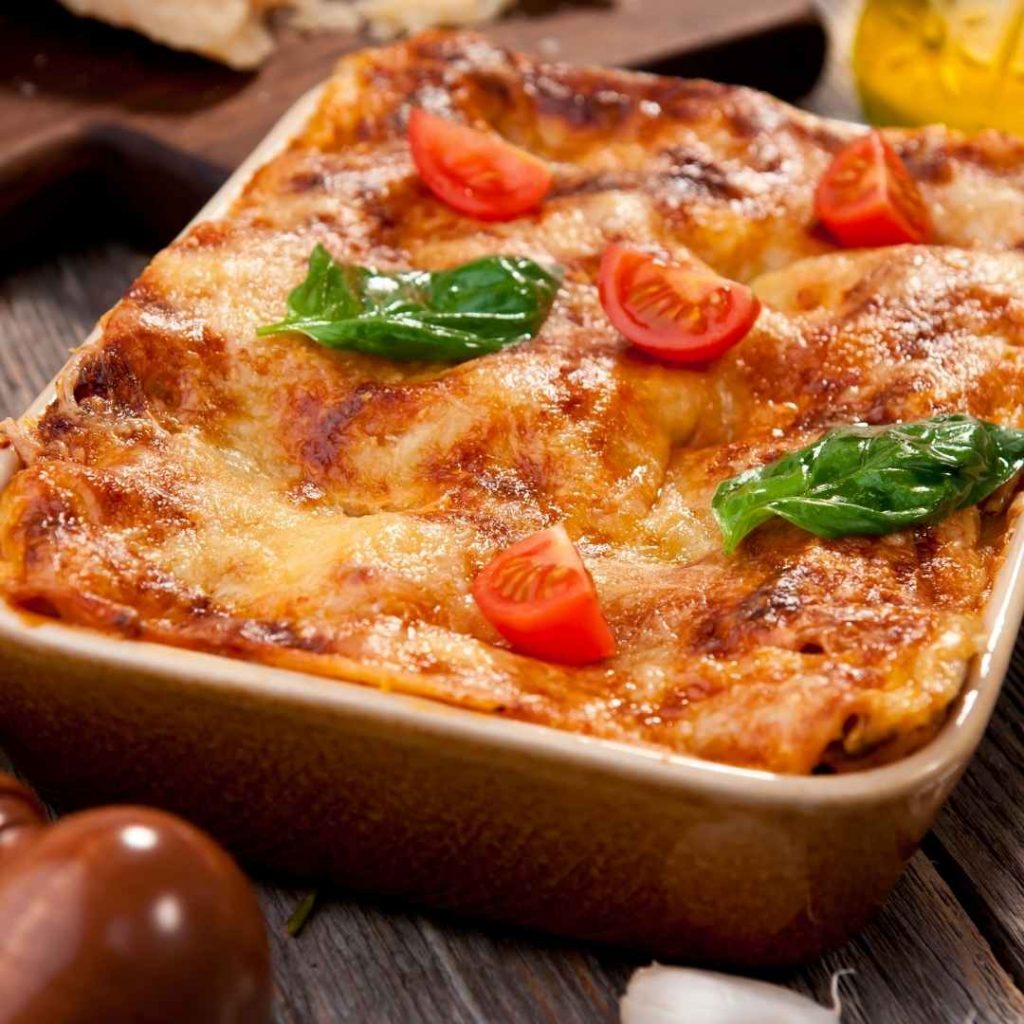 Not too long ago I had a hankering for my mom's famous Five Cheese Lasagna. Nobody makes lasagna like her. But mom retired from cooking years ago, so we struck a deal, I would make it if she showed me how. She graciously agreed to write out the recipe for this old family treasure, and came over to help me make it.
I asked mom where this recipe came from. She told me a neighbor shared the recipe with her when I was a young girl. In the spirit of sharing that we benefited so greatly from, we are passing it along to you!
The Five Cheeses
The secret to a luscious lasagna is in the cheese, and by combing five delicious cheeses you are sure to yield the best lasagna imaginable. Monterey Jack, Mozzarella, Freshly grated Parmesan, Ricotta and Provolone; these are the cheeses we use for our recipe. Find good quality cheeses and enjoy the amazing flavor they will bring to this dish.
I shredded the cheese in a jiffy in my brand new 14 cup Cuisinart Food Processor (affiliate link). This is a really good, economical food processor if you need a big one.
The Lasagna Sauce
My mom's homemade marinara sauce is a long-simmering masterpiece. Start the sauce several hours ahead and let it simmer down to concentrate the flavors. This sauce scents the house as it simmers, building anticipation for the lovely Italian meal at the end of the day. This delicious sauce is also great in spaghetti, manicotti, or wherever you need a good Italian marinara sauce.
Mom always uses bulk Italian spicy sausage and hamburger together in her sauce. Another divine combination that takes the flavor up a notch. Use mild sausage if you want to omit the heat of a spicy sausage, but do include either pork or chicken sausage.
This Five Cheese Lasagna recipe makes enough sauce to assemble two 9 x 13 pans of lasagna. If you don't want to eat that much cut the recipe in half or freeze the extra lasagna casserole for a future dinner.
This recipe freezes really well making it perfect for a long term storage meal, a meal to share with a friend or family in need of a hot dinner, or to feed a large crowd.
How many layers should be in a lasagna?
Traditionally a lasagna should have four complete layers beginning with sauce, followed by a layer of noodles, and topped with cheese. Repeat this pattern finishing with a combination of sauce and cheese on the final top layer. If you have 16 noodles you may need to add them to your first or final layer in order to use them all up.
In mom's own words" This is a basic, simple recipe that leaves a lot of room, for you to add whatever spices you choose; making it more to your taste."
Is ricotta or cottage cheese better in Lasagna?
Traditionally ricotta cheese is used in lasagna recipes, however, cottage cheese does make a great substitute if you prefer. Cottage cheese presents a similar flavor profile and texture. Cottage cheese will give you a slightly lighter consistency to your lasagna, where ricotta cheese will be a heavier, richer texture.
Why is my lasagna watery?
If you are struggling with a watery lasagna, there can be many different reasons for it. The most common include using too much sauce, not measuring your ingredients properly, using wet lasagna noodles, and Incorporating vegetables that give off extra moisture when they cook.
Allowing your lasagna too cool for at least 10 minutes is also very important so that it can set and finish cooking. If you cut into your lasagna immediately after it comes out of the oven, the liquids will still be very hot and loose.
Should I cover my lasagna while baking?
Many cooks will cover their lasagna with a loose layer of aluminum foil while baking, in order to prevent over browning on the top of the dish. This is mostly preferencial so we leave it up to you. We do not cover our Five Cheese Lasagna because we enjoy a slight crust to the top of our lasagna, but if you would like, you can cover yours for the first 40 minutes and then remove the foil in the final 10 minutes, allowing the cheese to fully melt.
Five Cheese Lasagna Recipe:
Instructions for the shorter version of the Five Cheese Lasagna:
Use your favorite bottled organic marinara sauce instead of our all day simmering sauce.
Pour the bottled sauce (you'll need several jars) into a large stock pot and simmer it all together with the cooked meat mixture while you prepare the cheeses.
Assemble the recipe as directed and bake. Several hours saved and you have a beautiful baked lasagna.
Instructions for the homemade sauce version of Five Cheese Lasagna:
Make the sauce and get it simmering on the stove. It will simmer for several hours so enjoy your home smelling fantastic all day.
About 30 minutes before you want to bake it, prepare the cheeses.
Assemble the lasagna in your two casseroles- Instructions for how to layer lasagna are in the recipe card.
Bake about 45 minutes or until slightly brown and bubbly around the edges.
Your Printable Recipe Card:
Yield:

24 1 Cup servings
5 Cheese Homemade Lasagna
Total Time:
3 hours
45 minutes
5 Cheese Lasagna is a delicious, filling meal, oozing with noodles, a rich meaty sauce, and five different kinds of cheese. Make extra for the freezer!
Ingredients
The sauce:
2 lb. ground beef
1 lb. spicy Italian Sausage, I'm using spicy chicken sausage today
2 onions chopped course
6 cloves garlic-minced
Salt and pepper to taste
3 -30 oz. cans tomato sauce
4 -6 oz. cans tomato paste
2 Tablespoons Italian seasonings to taste
The cheeses:
1 lb. skim mozzarella-shredded
1 lb. Monterey jack cheese-shredded
1 pint ricotta cheese
1 lb. provolone
1 Cup Parmesan-grated
16 oz. package lasagna noodles
Instructions
For the sauce:
Sauté meats, onions and garlic until cooked.(drain excess fat)
Add canned tomato sauce and paste into a large pot with the sauté ingredients.
Add water to adjust the consistency to your preference.
Simmer for 2 to 4 hours tasting occasionally and adjusting seasoning to taste.
Preheat oven to 350 degrees F.
Assembling the layers:
In a 9 x 13 pan spread sauce on the bottom in a thin layer
Lay noodles on the sauce
Spread another layer of sauce over the noodles.
Spread the cheese evenly over the sauce as follows:
Provolone torn into pieces to fit the pan,
Shredded mozzarella and jack cheese,
Ricotta dropped by spoonful's onto the previous cheeses.
Sprinkle parmesan over the top
Repeat sauce layer, then noodles, sauce and cheese.
Top with parmesan and bake for 45 minutes until bubbly and browned on top
Recommended Products
As an Amazon Associate and member of other affiliate programs, I earn from qualifying purchases.
Nutrition Information
Yield
24
Serving Size
1 cup
Amount Per Serving
Calories

460
Total Fat

27g
Saturated Fat

13g
Trans Fat

0g
Unsaturated Fat

12g
Cholesterol

90mg
Sodium

1176mg
Carbohydrates

23g
Fiber

3g
Sugar

10g
Protein

33g
Pin it:
Follow Us:
We enjoy meeting you on our social networks. Follow us on Facebook, Pinterest, Instagram . Tag us with your pictures of our recipes and comment on how it went for you. We would love to see what you do with them.
We often like, comment and share your posts of our recipes on our daily Instagram stories.
Ask questions and rate the recipe in the comments section below. Please share what you did with this recipe. We are always looking for more and better ways to make homemade food. Other cooks love your ideas!
Recent Posts: