Tortellini salad with pepperoni makes a delicious, filling  pasta salad. Great for hot summer days or cozy winter nights. It's a Good side dish or stand alone light meal. Lots of powerful Italian Flavor! This salad is Food Safe for an outdoor party table. Great grill side or stand alone light meal. Take it anywhere!
Fresh tortellini pasta filled with cheese makes a delicious salad base! In summer, when temperatures climb, I am a serious salad freak. Pasta salad is one of my favorite light meals! I eat it all day! In the winter, Tortellini salad is a welcome comfort food! Salads like this one often reside in my fridge. A filling, heavy, cheesy pasta salad seasoned with rich Italian flavor.I appreciate grabbing a bowl for a quick snack!
When it comes to cooking, I love to change things up. Especially in the soups and salads. Pasta salad is one of my favorite playgrounds. I love it and don't want it to get boring. So I hardly ever recreate it exactly. This recipe, as written is excellent. But do feel free to make it your own. Love spicy? Hot peppers! Hate it? Make those peppers sweet! This is popular potluck dish. I usually tone the heat for a large crowd.  The cheesy Italian pasta with pepperoni make this antipasto salad perfect for a party!
[tweetthis hidden_urls="pic.twitter.com/u0lacw8mGS"]#salads Powerful #italianfood Flavor #tortellini #pepperoni #pasta #yummy[/tweetthis]
Recipe Notes on Tortellini Salad with Pepperoni:
The combination of ingredients in this salad is flavorful!  Adding sun dried tomatoes in the winter salad version brings up the Italian presence! I add my own  Sun dried tomatoes, and use our fresh tomatoes from our greenhouse. In late summer, our peppers grace this salad. Today I added Pepperoncini peppers for a bit of  zing.
You need refrigerated, fresh, five cheese tortellini. Don't use dried cheese tortellini pasta found in the noodle section of your grocery. It cooks up a chalky cheese filling and tough noodles! I recommend getting refrigerated, fresh five cheese tortellini for the best flavor and texture.
Versatile best describes this salad. I have made several versions of this yummy salad over the years. Other than the base ingredients, let your cupboard and tastebuds be your guide. I added a list of suggestions in the recipe. There are no hard and fast rules. It's salad! Play!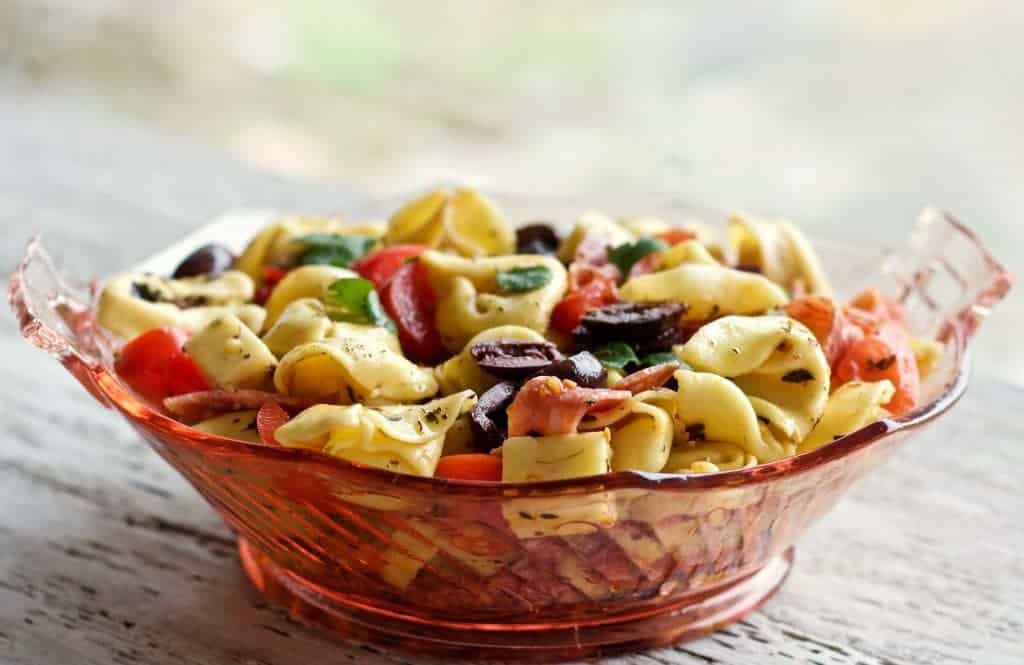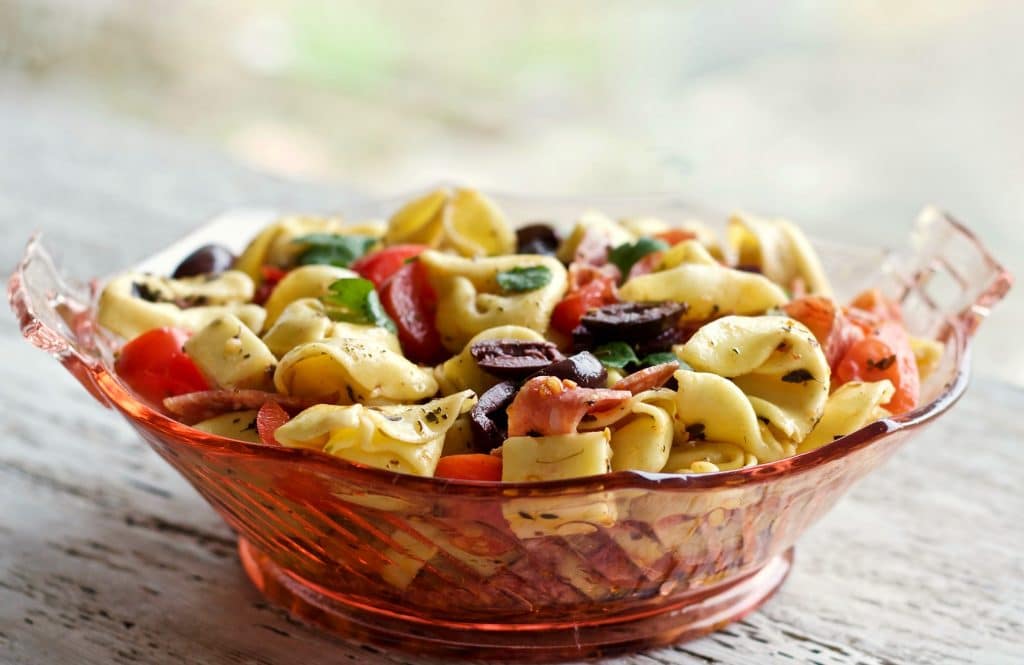 To make this salad:
Boil and drain the five cheese tortellini (not an affiliate link). You could rinse the noodles to cool them faster, but drain them after, really well!
Toss the drained pasta with a bit of olive oil and Italian seasoning to prevent them sticking to themselves while cooling.
Pour the cooked, drained pasta in a large bowl and add the remaining ingredients, except the dressing. Stir until combined.
Make the dressing per instructions; or use store bought like I did today!
Pour the dressing  and Italian seasonings over the salad.
Chill until serving; about two hours to meld the flavors.
Tortellini Salad with Pepperoni
Ingredients
1 (16 ounce) package refrigerated five cheese tortellini
2 Tablespoons dried Italian seasonings
2 Tablespoons olive oil
Add in suggestions:
8 ounces sliced pepperoni or salami, quartered
1 Sweet pepper-diced
1 Tablespoon Parmesan cheese
2 green onions, sliced
1 (12 ounce) can sliced black or kalamata olives
1 (6.5 ounce) jar marinated artichoke hearts, drained and chopped
6 ounces mozzarella or pepper jack cheese, cubed
half a basket of grape tomatoes whole or large tomatoes chopped small
Homemade Dressing:
1/3 cup extra-virgin olive oil
1 1/2 tablespoons balsamic vinegar
1 1/2 tablespoons distilled white vinegar
1 teaspoon dried Italian herb or bruschetta seasoning
salt and black pepper to taste
Instructions
Cook the tortellini according to package instructions, drain in a colander set in the sink, and rinse with cold water. Toss with olive oil and seasonings.
Place the tortellini, pepperoni, green onions, olives, artichoke hearts, and mozzarella cheese and tomatoes in a large salad bowl.
Add the salad dressing and the Italian seasonings. Gently stir to combine, and refrigerate to chill before serving. For even better flavor, let chill in refrigerator for at least 2 hours before serving.
OR…use bottled organic Italian salad dressing.
Other pasta salad Recipes you may enjoy:
Chicken Ranch Bacon Pasta Salad
Pin it: