Tortellini salad with pepperoni makes a delicious, filling pasta salad. Great for hot summer days or cozy winter nights. It's a good potluck recipe, side dish or stand alone light meal.
Tortellini salad is a filling salad made with a combination of vegetables, cooked tortellini pasta, cheese, pepperoni, and a light salad dressing. This salad can be used a main dish or for a side dish. Tortellini salad has been a popular dish for decades and remains a favorite among many households.
This salad can be changed to suit different dietary needs and tastes. Switch the ingredients out as necessary for your specific needs.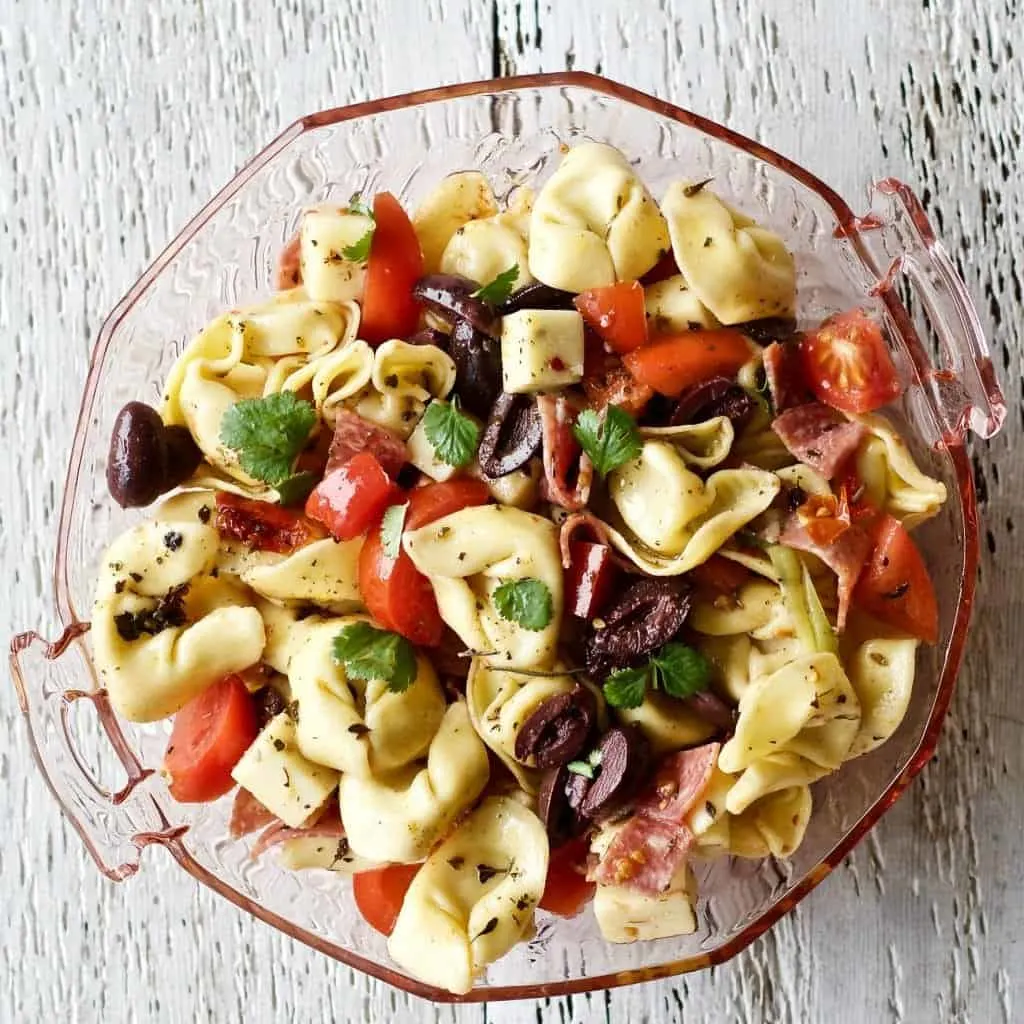 This is easy an Antipasto salad to assemble with lots of powerful Italian Flavor! This Italian pasta salad is Food Safe for an outdoor party table. It makes a good grill side or stand alone light meal. Take it anywhere!
How long can you keep Tortellini Salad?
Tortellini salad can be held in the refrigerator for 4-5 days when stored in an airtight container. This salad should be kept in a bowl with a tight plastic wrap over it, or an airtight Tupperware container. Tortellini salad can hold for two hours out of the refrigerator. After two hours, the salad should be moved to a cooler or refrigerator to maintain proper food safety.
Is Tortellini always stuffed?
Tortellini is traditionally a stuffed pasta. Tortellini can be made with a variety of fillings. Ravioli cheese is the most popular filling for tortellini. Other options include a mix of cheeses, meat and cheese, or vegetables and cheese. For this recipe we chose a 5 cheese stuffed tortellini pasta.
Can you substitute Ravioli for Tortellini?
Ravioli can be used as a substitute for tortellini in most recipes. However, ravioli has a soft pasta center that does not hold up well when mixed in salads. Ravioli tend to burst open when paired with fresh, rigid vegetables. For a pasta salad with lots of ingredients, tortellini is the better option. The tortellini is much more forgiving in the cooking and mixing process.
What does Tortellini pair well with?
Tortellini salad can be paired with a number of different dishes. This salad can be used a main dish for a filling meal, or a side dish for a potluck gathering. Here are a few of our favorite dishes to pair with tortellini salad:
Garlic Bread
Side Salad
Green Beans
Braised Asparagus
Roasted Brussel Sprouts
Breadsticks
Meatballs
Caesar Salad
Roasted Red Peppers
Sweet Potatoes
Broccoli Salad
Garlic Butter Sauce
Red Wine
What is Antipasto?
"Antipasto is derived from the Latin root "anti" meaning "before" and "pastus," which means "meal. So antipasto means the teaser recipes before a large meal.
An Appetizer tray or a salad like our pasta with pepperoni have a good antipasto vibe. Traditionally we see cured meats and cheeses alongside marinated or pickled vegetables on an antipasto tray.
This pepperoni pasta salad is almost like eating straight from an antipasto tray. It's filled with pepperoni, cheesy tortellini, kalamata olives, marinated artichoke hearts peppers and tomatoes.
The cubes of pepperjack cheese also add that zip of flavor you find on an appetizer tray. There are lots of potent flavors in this salad. And they go together so nicely.
In summer when temperatures climb this cold pasta salad makes a nice light meal replacement. I am a serious pasta salad freak. Easy pasta dishes like this one are often stored in my fridge for lunches throughout the week.
In the winter, Tortellini salad is a welcome comfort food. A filling, heavy, cheesy pasta salad seasoned with rich Italian flavor. I appreciate grabbing a bowl for a quick snack.
More Pasta Salad Recipes
Here's a few more pasta salad recipes your family will love.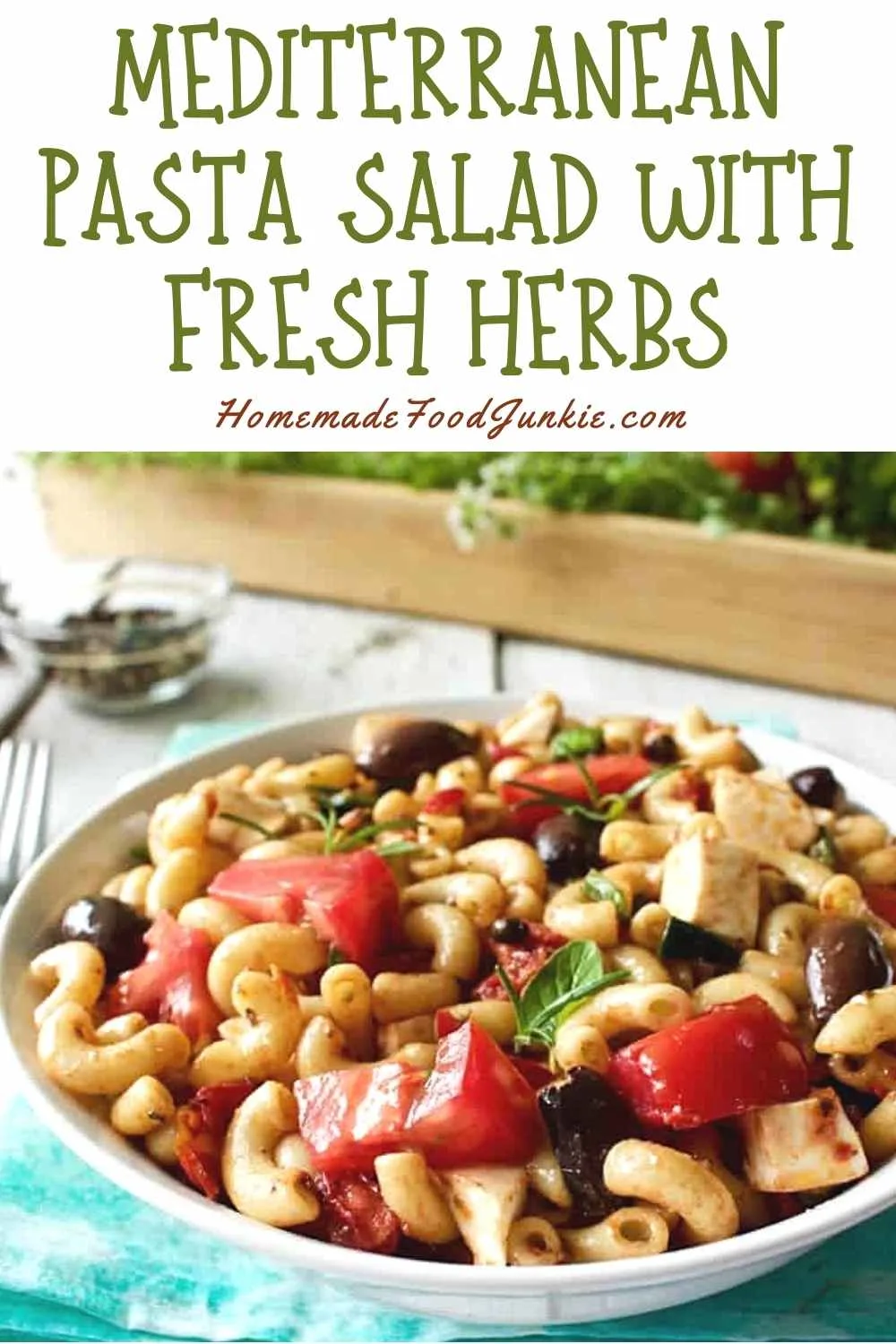 Cold Pasta Salad Recipe Notes:
This tortellini salad recipe, as written is excellent. But do feel free to make it your own.
Love spicy Hot peppers? Feel free to replace the bell peppers with them. Or add red pepper flakes. Or pepperoncini.
Hate heat? Make those peppers sweet. Jarred roasted red peppers are also good in this recipe instead of fresh peppers.
This is popular potluck dish. I usually tone down the pepper heat for a large crowd to play it safe.
The homemade Italian dressing included here is easy to adjust. If you wish you can use a bottled Italian dressing of your preference.
You can change out the pepper jack for Mozzarella if you wish. We enjoy the extra flavor pepper jack adds to this recipe.
If you are not a kalamata olive fan use black olives.
The combination of ingredients in this salad is flavorful! Adding sun dried tomatoes in the winter salad version brings up the Italian presence!
I add my own Sun dried tomatoes, and use our fresh tomatoes from our greenhouse. In late summer, our peppers grace this salad. Today I added Pepperoncini peppers for a bit of zing.
TIP: You need refrigerated, fresh, five cheese tortellini. Don't use dried cheese tortellini pasta found in the noodle section of your grocery. It cooks up a chalky cheese filling and tough noodles! I recommend getting refrigerated, fresh five cheese tortellini for the best flavor and texture.
Versatile best describes this salad. I have made several versions of this yummy salad over the years. Other than the base ingredients, let your cupboard and taste buds be your guide.
Tortellini Pasta Salad Recipe:
I added a list of suggestions in the recipe. There are no hard and fast rules. It's salad! Play!
This is an easy pasta salad recipe to throw together. And it makes a lot. That's great for a potluck or leftovers through the week. Feel free to adjust the proportions of the salad components and the dressing to suit your needs.
Want this salad even easier?…use bottled organic Italian salad dressing. There are now many choices in your grocery store if you prefer that to making the one we have here. I think you'll be very happy with our homemade salad dressing but store bought will work if you buy a good Italian dressing.
Boil the five cheese tortellini (not an affiliate link) to al dente. Rinse with cold water then drain the pasta.
Toss to coat the drained pasta with a bit of olive oil and Italian seasoning. This prevents the noodles sticking to themselves while cooling.
Pour the cooked pasta into a large bowl with the remaining salad ingredients. Stir until combined.
Make the dressing per instructions or use store bought.
Pour the dressing and Italian seasonings over the salad.
Your Printable Tortellini Recipe Card: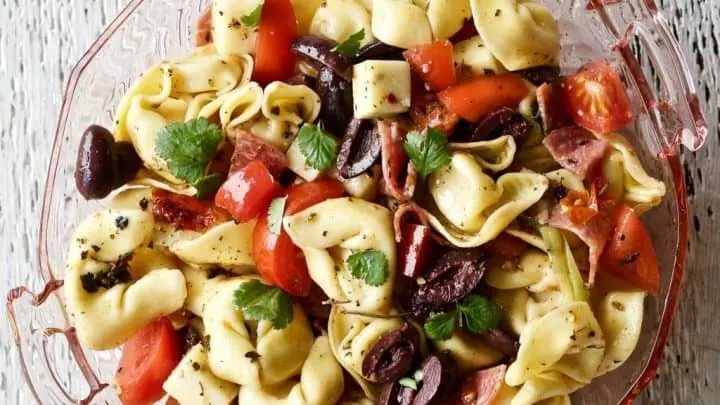 Yield:

12 1 cup servings
Tortellini Salad with Pepperoni
Tortellini salad with pepperoni makes a delicious, filling pasta salad. Great for hot summer days or cozy winter nights. It's a Good side dish or stand alone light meal. Lots of powerful Italian Flavor! This salad is Food Safe for an outdoor party table. Great grill side or stand alone light meal. Take it anywhere!
Ingredients
16 oz. five cheese tortellini
2 Tablespoons dried Italian seasonings
2 Tablespoons olive oil
7 oz. pepperoni
1 bell pepper
1 Tablespoon Parmesan cheese
2 green onions
6 oz. kalamata olives
6.5 oz. marinated artichoke hearts
6 oz. pepper jack cheese
15 grape tomatoes whole
Homemade Dressing:
1/3 cup extra-virgin olive oil
3 tablespoons balsamic vinegar
3 tablespoons distilled white vinegar
2 teaspoon Italian herb or bruschetta seasoning
1 tsp. salt
1 tsp. black pepper
1 Tablespoon flat leaf parsley
Instructions
Cook the tortellini according to package instructions, drain in a colander set in the sink, and rinse with cold water. Toss with olive oil and seasonings.
Chop the pepperoni, green onions, olives, artichoke hearts, and mozzarella cheese into cubes or bite sized pieces and put them into a large salad bowl.
Add the tomatoes either chopped for large tomatoes or whole for grape or cherry tomatoes into your salad bowl.
Whisk together the salad dressing ingredients.
Add the salad dressing and the Italian seasonings to the salad.
Gently stir to combine, and refrigerate to chill before serving. For even better flavor, let chill in refrigerator for at least 2 hours before serving.
Garnish with fresh parsley leaves at serving.
Notes
Suggested Add-ins and substitutions include:
Sun Dried Tomatoes
Switch the pepper jack cheese to mozzarella
use Black olives in place of Kalamata
You can use any peppers you prefer. Adjust the heat level to suit your purpose.
Salad Dressing:
The salad dressing ingredient proportions may be adjusted to suit your tastes. The salt and pepper really bring out the flavor of this salad.
Nutrition Information
Yield
12
Serving Size
1
Amount Per Serving
Calories

382
Total Fat

28g
Saturated Fat

9g
Trans Fat

0g
Unsaturated Fat

17g
Cholesterol

44mg
Sodium

976mg
Carbohydrates

22g
Fiber

2g
Sugar

2g
Protein

12g
Follow Us:
We enjoy meeting you on our social networks. Follow us on Facebook, Pinterest, Instagram . Tag us with your pictures of our recipes and comment on how it went for you. We would love to see what you do with them.
We often like, comment and share your posts of our recipes on our daily Instagram stories.
Ask questions and rate the recipe in the comments section below. Please share what you did with this recipe. We are always looking for more and better ways to make homemade food. Other cooks love your ideas!
Recent Posts:
Pin it: