This simple Mediterranean Pasta Salad recipe is made with kalamata olives has a delicious homemade Greek style salad dressing with lemon juice, dijon mustard, garlic, and herbs. This easy Mediterranean pasta salad makes a wonderful side dish or light lunch, perfect for brunch or any event you are hosting.
This salad works well for those that enjoy the Mediterranean diet because the ingredients and flavors are similar. This diet focuses on fresh veggies, healthy oils and cheeses, and aromatic herbs. You can pair this dish with cheesy bruschetta garlic bread, grilled salmon kabobs, a refreshing white wine sangria, or a Mediterranean sheet pan shrimp dinner.
More delicious salads
We have a large selection of salads ranging from fresh greens, antipasto, and potato or macaroni salads. Be sure to check them out if you are looking for more delicious side dishes. We even offer quinoa salads, cauliflower bacon and cheese, and exotic wild rice and citrus salads.
Mediterranean Pasta Salad Recipe
This is such an easy pasta salad recipe. Cook the pasta, chop a few veggies and whisk up that excellent salad dressing. Toss everything together and serve or refrigerate until you are ready to enjoy.
For a stronger Italian flair choose flavorful good quality olive oil, and the garlic to go in the direction of a good Italian dressing. You can also add in sun dried tomatoes, banana peppers, maybe even a bit of red onion.
Mediterranean Pasta Salad ingredients
The ingredients for this recipe are all easily found in your grocery store, and the flavor is outstandingly fresh and aromatic. Feta cheese, kalamata olives, lemon and garlic all stand at the forefront to bring a wonderfully satisfying dish.
Because the dressing is lemon based, you could consider it a lemon herb mediterranean pasta salad.
16 oz pasta
1 English cucumber
2 Roma tomatoes or cherry tomatoes
1 Cup kalamata olives
4 Cups arugula
1 Avocado
1/2 Cup feta cheese
Fresh parsley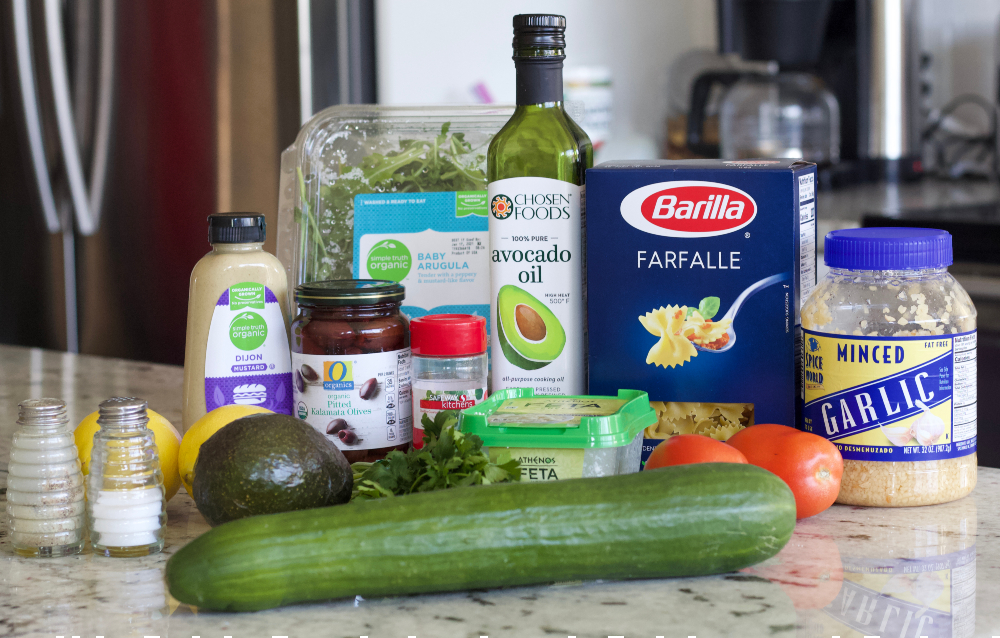 What are the five mistakes to avoid when making pasta?
There are five common mistakes that folks make when preparing dried pasta. We are sharing these to help you avoid them, and make the most delicious pasta salad.
Using the incorrect type or size of pasta. You wouldn't use spaghetti or lasagna noodles for this salad, but you also don't want to use a large noodle that is difficult to eat. For this salad opt for a small noodle like bow tie, small penne, macaroni, or fusilli.
Overcooking or undercooking the pasta. Pasta should always be cooked al dente, meaning it is only just cooked to the point of done. Over cooking pasta will make it soggy and weak. On the flip side, undercooked pasta is not enjoyable to eat as it will be gummy and tough to chew.
Not seasoning the pasta. It is always good practice to boil your pasta in lightly salted water. This will give the pasta it's own flavor and help to elevate the overall flavors of your dish.
Dressing the pasta when it is completely cooled. It's best practice to season your pasta when it is still warm after it has finished boiling. This allows for better flavor infusion.
Making your pasta dish too far in advance. Making the pasta salad too early and allowing it to sit for extended periods will not only break down the greens, it will also turn the noodle soft and even soggy. It is best to make this salad the same day you plan to serve it.
How to cook pasta for a cold salad
This salad is best if the pasta is correctly cooked to al dente. This means the pasta is firmly tender. Not mushy but cooked completely through. This takes about ten minutes in boiling water for most types of pasta. Immediately drain it and run it under cold water. Then stir the pasta gently to make sure all of it is cold before adding it to your salad.
This is a cold salad, and the arugula will wilt if the pasta is too warm. So, once your pasta is cooked and seasoned, allow it to cool before tossing it with your fresh greens. The veggies and dressing are best served cold as well.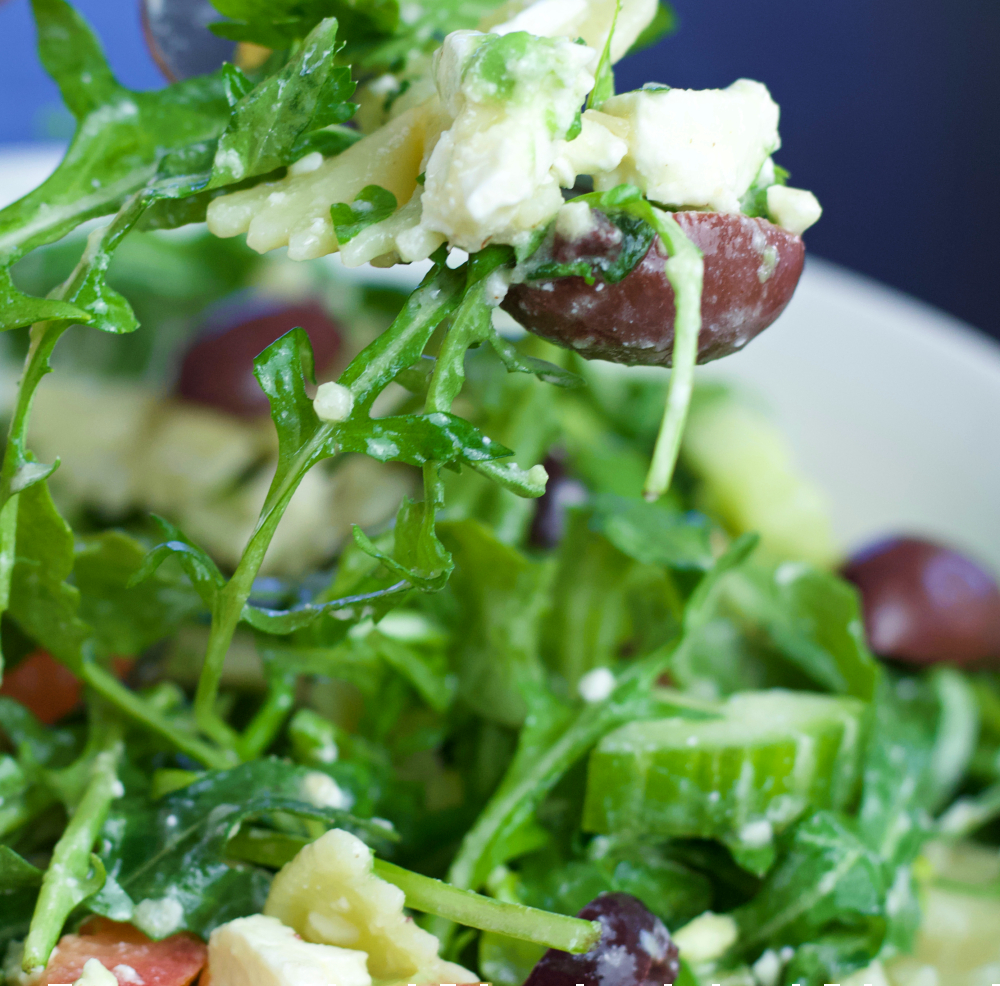 How to make a Lemon Herb Dressing
The dressing for mediterranean pasta salad is lemon based and blends beautifully with dijon mustard, garlic, oregano and parsley for a bright finish. Combine all of the ingredients and shake or blend well to infuse the oil. Pour over the salad just before you are ready to serve and allow it a few minutes to marinate.
You can make the dressing ahead of time and store it in a sealed container until you are ready to use it. This dressing does not need to be refrigerated, but if you are making a day or two ahead, we recommend storing it in the fridge until you are ready to use it.
1/4 Cup lemon juice
1/4 Cup avocado or olive oil
2 Tbs dijon mustard
1 tsp chopped garlic
1 tsp Dried oregano
1/8 Cup chopped fresh Italian parsley
Fresh ground salt and pepper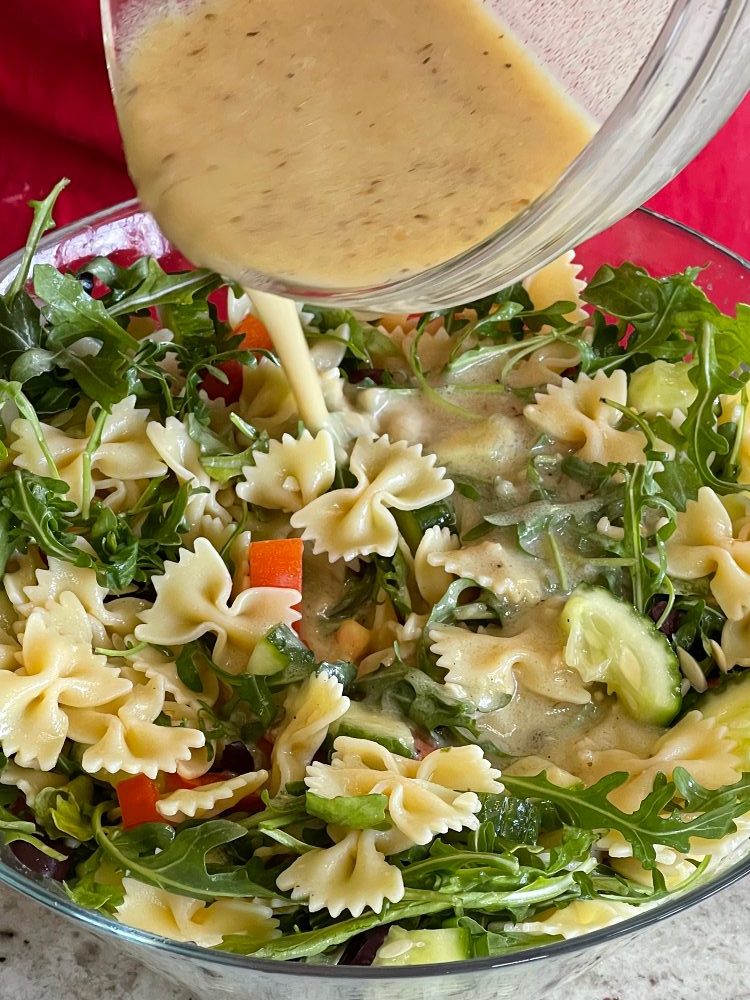 What greens go in a Mediterranean Pasta Salad?
The Mediterranean diet focuses on vegetables and leafy greens for a large portion of the meals, and this dish is no exception. Arugula is a popular choice for the fresh greens as it has a slight peppery taste and low moisture. Spinach can be used but the flavor will be different. Romaine lettuce and kale are also commonly found in this diet, but aren't recommended for this style of salad.
Fresh herbs like oregano and parsley are almost always used to bring flavor and finish dishes of the Mediterranean style.
What are popular dishes for the Mediterranean diet?
This diet is popular and respected for its focus on fresh vegetation, wild caught seafood, and healthy oils. If you are following this diet exclusively, here are some dishes that you can enjoy alongside this salad.
Quinoa salads
Roasted herb potatoes
Mediterranean white bean salad
Herb roasted mushrooms
Squash and goat cheese dishes
Roasted brussel sprouts with cranberries and pine nuts
Seasonal grilled veggies
Baked salmon
Baked shrimp with veggies
Pan seared chicken
How can I make this salad gluten free?
It you wish to make this recipe gluten free try these gluten free bow tie noodles or your personal favorite gluten free brand. Banza chickpea pasta is another popular option in the gluten free community.
How to serve this salad
This pasta salad makes a lot, so you'll need a large bowl. It is simple to serve and can be kept a room temperature for a period of time if needed, but it is best served chilled.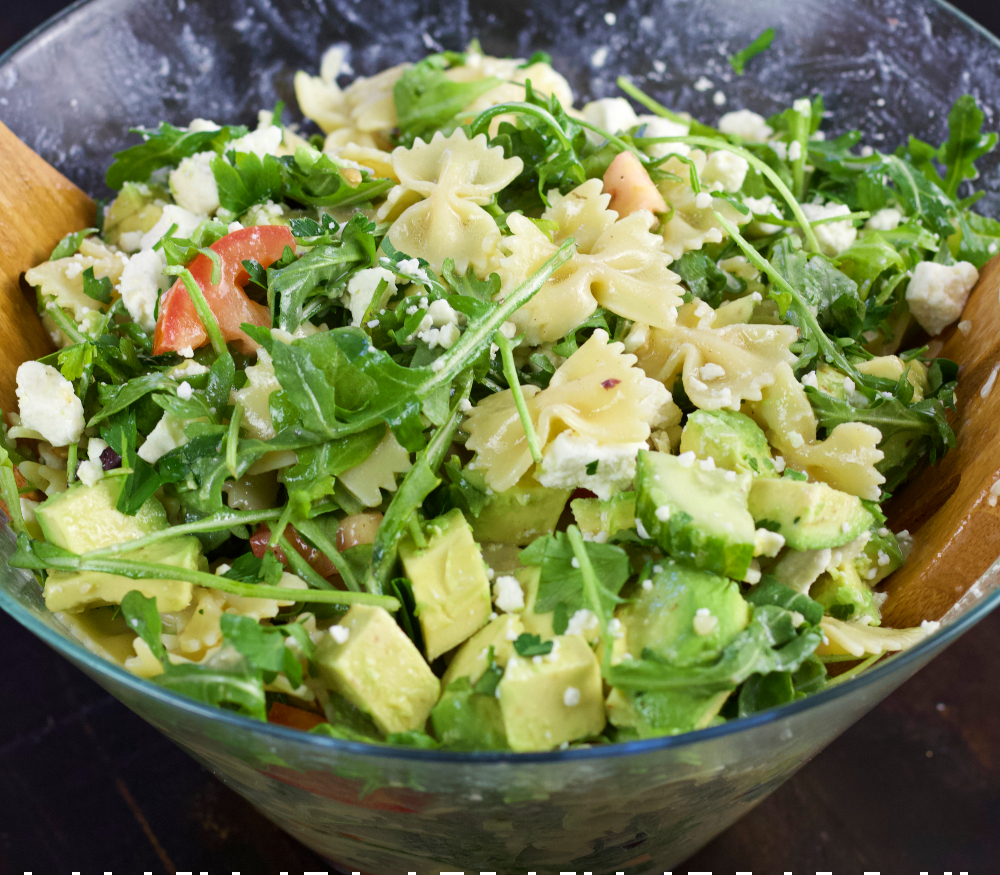 Your Printable Recipe Card
Below is our printable recipe card. The recipe demonstration video is at the bottom of the card. Just below the recipe notes and above the nutrition information.
If you print the recipe the pictures will not print. This is to save you ink and paper.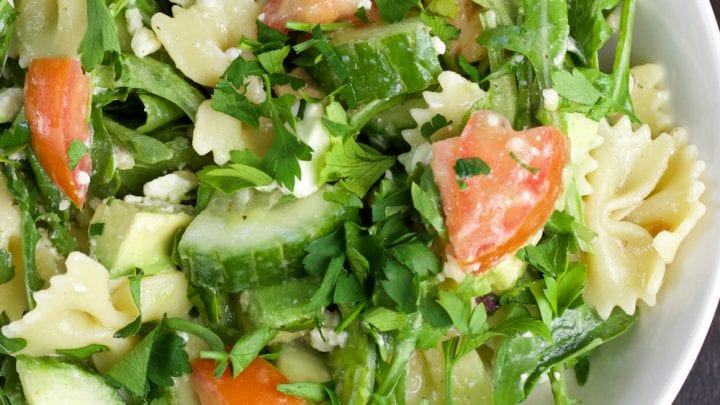 Yield:

10 servings
Mediterranean Pasta Salad with Kalamata olives
Mediterranean pasta salad recipe with kalamata olives and a Delicious Homemade Greek salad dressing makes a healthy sustaining lunch or dinner side.
Ingredients
16 oz. pasta- (We used bow tie)
1 English cucumber
2 Roma tomatoes
1 cup kalamata olives (to taste)
4 Cups arugula
1 Ripe Avocado
1/2 Cup Feta Cheese
For the dressing:
1/4 Cup lemon juice (2 lemons)
1/4 Cup avocado oil (or olive oil)
2 Tablespoons Dijon Mustard
1 tsp. chopped garlic (optional)
1 tsp. Dried Oregano
1/2 tsp. salt
1/2 tsp. black pepper
1/8 Cup Chopped fresh Italian Parsley (to taste)
Instructions
Pasta :
Set a large pot of water to boil on high heat.
Once the water boils add the pasta and cook until al dente. (about 10 minutes.)
Salad Ingredients Assembly:
Score the cucumber with a fork along its length (see video)
Slice the cucumber and quarter the sliced pieces.
add cucumber pieces to a large salad bowl.
Chop up the Roma tomatoes and add to salad bowl.
Slice the kalamata olives and add to salad bowl.
Squeeze lemons to make juice. Set aside.
Add Arugula on top of vegetables and olives.
CHECK the pasta. if done remove from heat and refer to instruction on pasta prep below. Then return to process as listed. If not done. Continue with recipe.
Dressing:
In a separate medium bowl whisk together the fresh lemon juice, oil and dijon.
Add the dried oregano and salt and pepper and whisk.
Avocado and Feta layer:
Cube the avocado and put the cubes into a small bowl.
Drizzle 1 Tablespoon of the salad dressing over the avocado cubes and mix it gently until the avocado is all coated. Set aside.
Prepping the Cooked pasta:
Once the pasta is cooked strain it into a colander and run cold water over the pasta.
Mix the pasta with hands under running cold water to get ALL of it is cold.
Immediately pour the drained cold pasta over the arugula layer of the salad.

Finishing:
Pour the remaining dressing over the pasta layer.
Add the dressed cubed avocado pieces and Feta cheese and parsley over all.
Toss and it's ready to serve.
Notes
Ingredient Notes:
Feel free to change the vegetable ingredient proportions to suit your personal taste. Add in sun dried tomatoes for a bit of a sweet bite of flavor if you want it.
We love the dressing proportioned like it is and highly recommend you leave it alone with these exceptions.
If you have a favorite olive oil of good quality it can replace the avocado oil.
The garlic is an optional dressing ingredient. It will add more Mediterranean flavor into the dressing but some people prefer it left out.

This salad will hold well in the fridge for several days if covered. The avocadoes will brown a bit but that is normal and does not impact the flavor or freshness of the salad.
Note on cooking Pasta:
This salad is best if the pasta is correctly cooked to al dente. This means the pasta is firmly tender. Not mushy but cooked completely through. This takes about ten minutes in boiling water for most types of pasta.
TIPS:
Keep an eye on your boiling pasta as you prep the rest of this salad. Overcooked mushy pasta is NOT preferred.
Make SURE your pasta does not continue to cook after you remove it from heat.
Immediately drain the hot pasta and run it under cold water. Then stir the pasta gently to make sure all of it is cold before adding it to your salad.
This is a cold salad. The arugula will wilt if the pasta is too warm. The veggies and dressing are best served cold as well.
Nutrition Information
Yield
10
Serving Size
2 Cups
Amount Per Serving
Calories

237
Total Fat

9.8g
Saturated Fat

2.7g
Cholesterol

40mg
Sodium

372mg
Carbohydrates

31.2g
Fiber

3.1g
Sugar

1.9g
Protein

7.7g
Follow Us:
We enjoy meeting you on our social networks. Follow us on Facebook, Pinterest, Instagram . Tag us with your pictures of our recipes and comment on how it went for you. We would love to see what you do with them.
We often like, comment and share your posts of our recipes on our daily Instagram stories.
Ask questions and rate the recipe in the comments section below. Please share what you did with this recipe. We are always looking for more and better ways to make homemade food. Other cooks love your ideas!
Recent Posts: