This delectable Cauliflower Salad is a delicious side dish to serve at a summer BBQ, pool party, graduation, or on the back porch while you watch the sunset. Made with fresh cauliflower, crisped bacon, cubed cheese, diced peppers and onions and finished with a creamy dressing.
This recipe for Raw Cauliflower Salad makes a fantastic meal and can be changed up to suit your family. It's a great way to use up extra veggies you may have lying around. The bacon and cheese make it a higher protein option than many other salads. It's filling enough to replace dinner once in a while and makes a sustaining delicious lunch.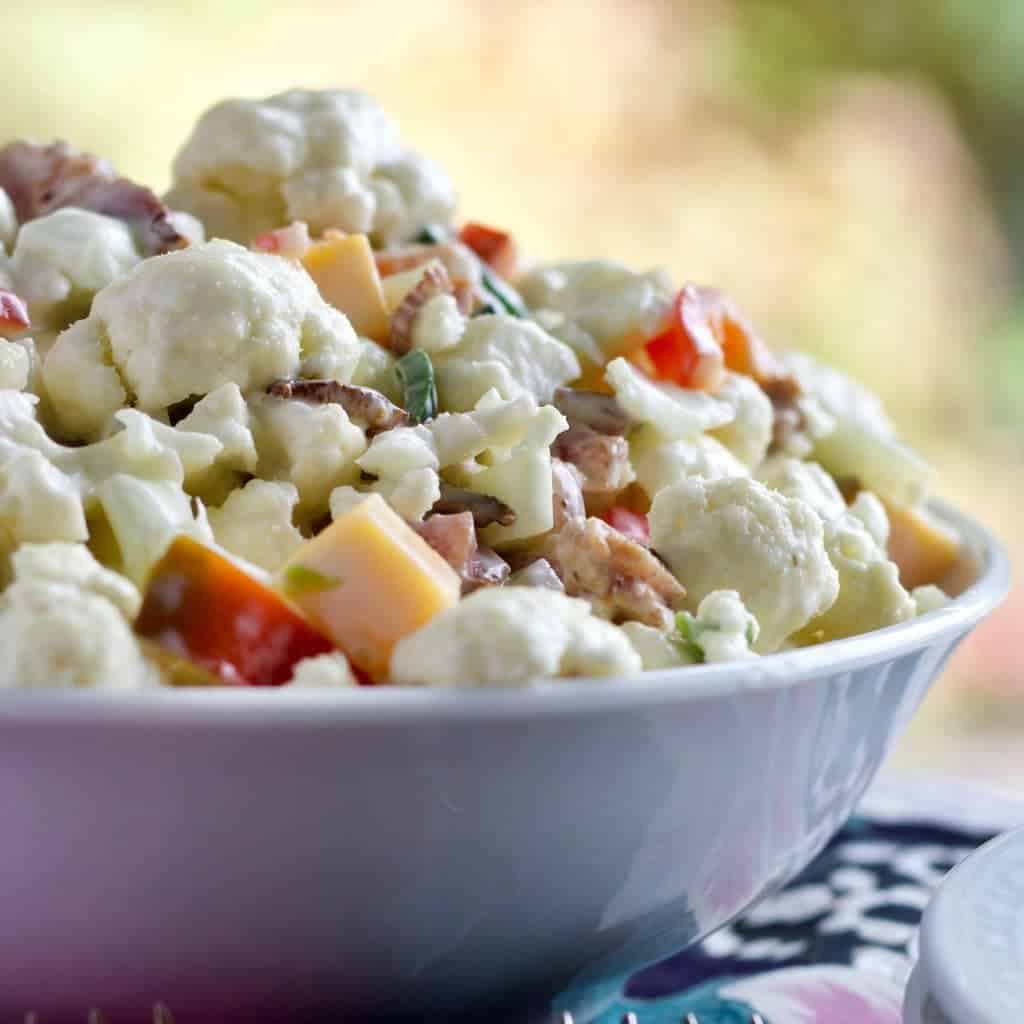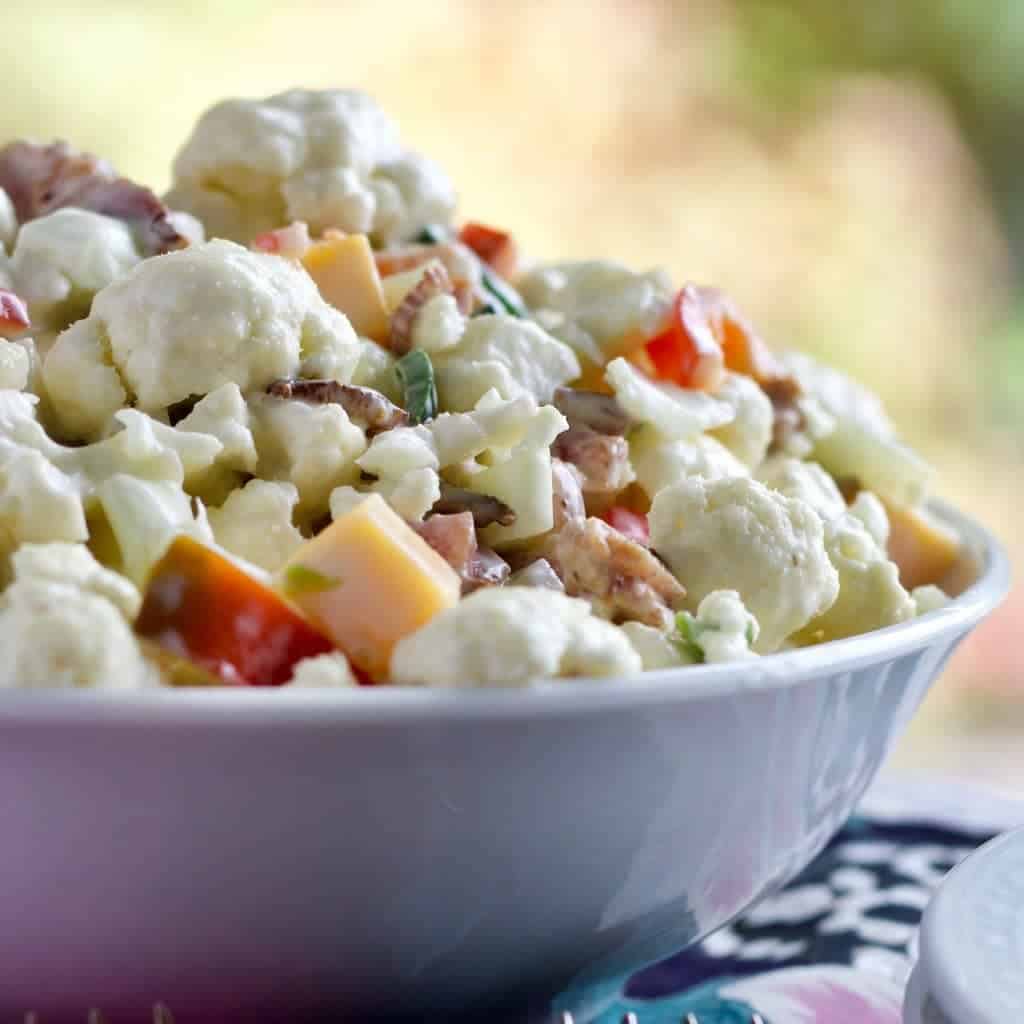 What Do You Eat Raw Cauliflower With?
Cauliflower is a great vegetable because it can be eaten raw, roasted, or steamed. It also makes a fantastic low carb replacement for rice, potatoes and other high, refined carb ingredients. You can enjoy raw cauliflower dipped in hummus or your favorite dressing.
Raw cauliflower also makes a fantastic base for a salad like this one. Wash and chop your cauliflower and pair it with your other favorite salad veggies, deli meats, and cheeses. This is our favorite way to enjoy garden fresh cauliflower.
This loaded cauliflower salad is similar to the raw Cheddar Bacon Broccoli Salad that you will find on the blog. It is one of our most popular salads and it's always well received at potlucks and events.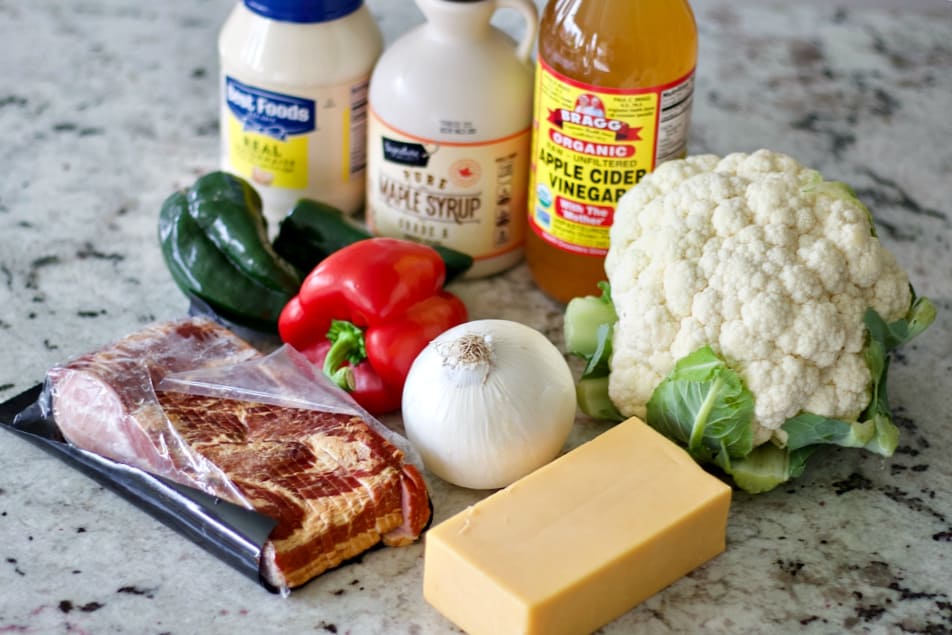 Is Raw Cauliflower Easy To Digest?
Cauliflower is a cruciferous vegetable, in the same family as broccoli, brussel sprouts, and cabbage. These veggies are high in folate, vitamin k, and fiber; but they are heavy and can be difficult to digest. Cruciferous vegetables are known to cause gas and bloating, especially when eaten raw, so be cautious of the amount you consume.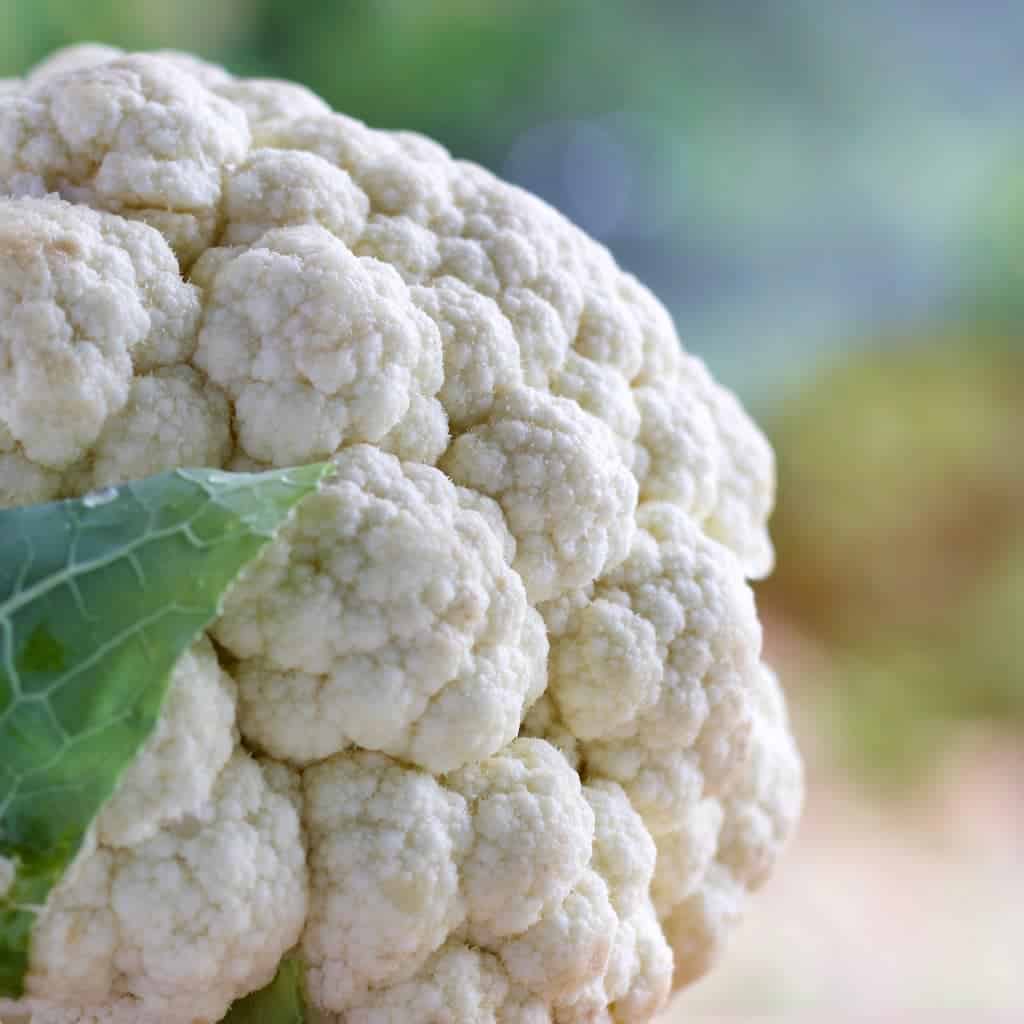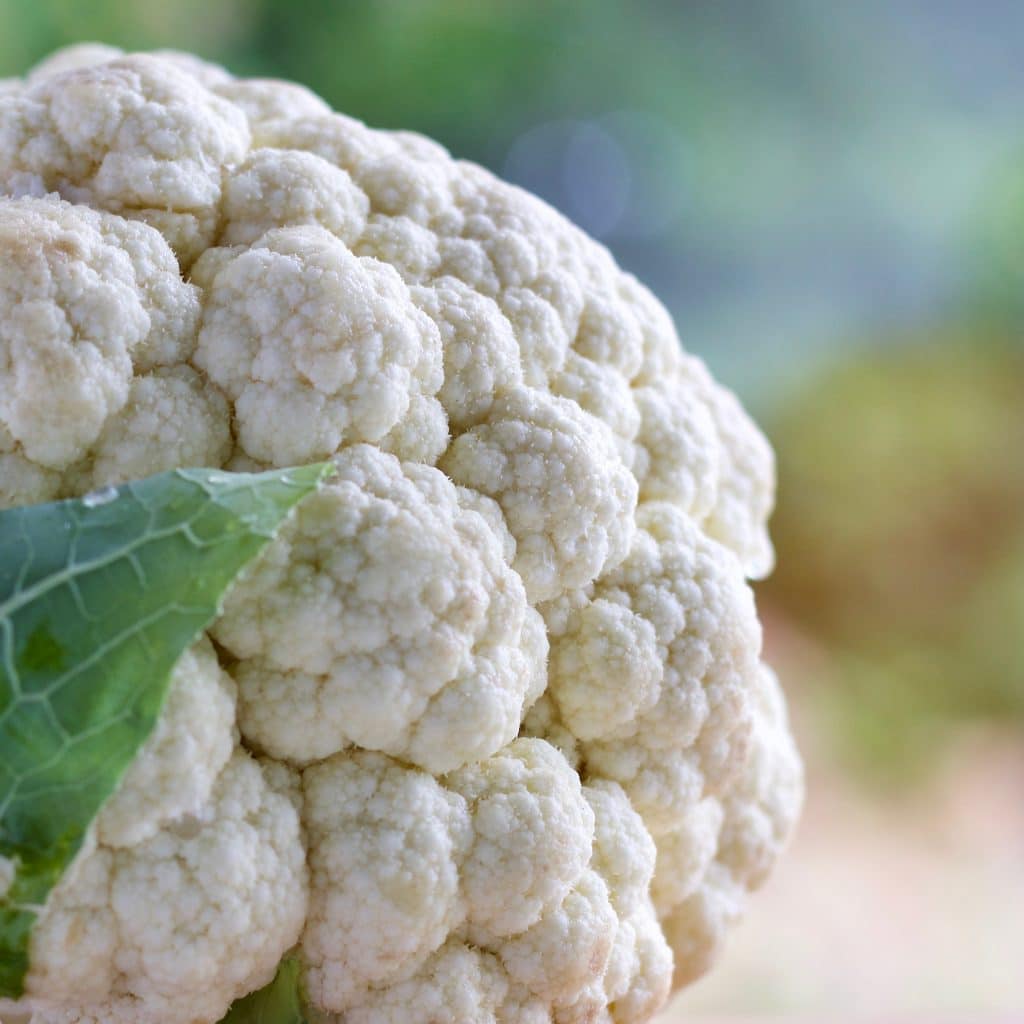 How do you prepare Cauliflower raw?
To prepare your raw cauliflower head begin by washing it thoroughly. While you are washing, begin pulling off any leaves or loose stem pieces. Set the washed cauliflower head on a cutting board and cut away the remaining stem, being careful as the cauliflower head will need to be on its side. It is easy to lose your grip on them.
Once the stem is removed, flip the cauliflower head upside down and very slowly with a small knife, cut around the internal core. Gently pull the cauliflower head apart the continue cutting around the core until it is fully released. Set the cauliflower head pieces flat and begin carefully dicing them into small, bite sized chunks.
Selecting The Best Ingredients:
Choose a beautiful large head of fresh cauliflower. Watch out for yellow spots or black moldy areas. If possible, try and find your veggies through a farmers market or food co-op as this helps support your local economy and will yield high quality vegetables for you.
The onion can be a white or red onion or a sweet onion if you prefer less of a bite. Red onions will give nice color in this salad, but some find them to be too strong.
Bell peppers can be used if you are looking for a mild, sweet pepper. If you would like a bit of heat look for Pasilla, Krimson Lee, or Cheyenne peppers. They are low to mid range on the heat scale and will bring the flavor without overpowering on the heat.
We recommend natural bacon without all the added nitrites. Here is an article that discusses the health benefits of naturally uncured bacon. Natural smoked meats for your family are an amazing choice. Yes a good quality bacon is more expensive. But the flavor is superb, the brands are usually lower in salt, and the life and processing of the animal is more humane than most commercial brands.
Deli meats can replace the bacon if you prefer. Cubed ham would also be a good choice.
If you like broccoli you can substitute up to half of the cauliflower for raw broccoli to make a healthy broccoli cauliflower salad. Broccoli will be fantastic with the ingredients and salad dressing we are using here.
Salad Dressing Substitutes:
To make this delectable crunchy salad even better for you, make a batch of our homemade Healthy Mayonnaise or buy an organic avocado oil mayonnaise. Most Commercial Mayonnaise is manufactured with low quality vegetable and bean oils, added fillers, and extra sugars. These can all be avoided by blending up our own.
If you would like to avoid the granulated sugar, pure grade A maple syrup can be used in its place. For a KETO cauliflower salad use a keto approved sweetener like stevia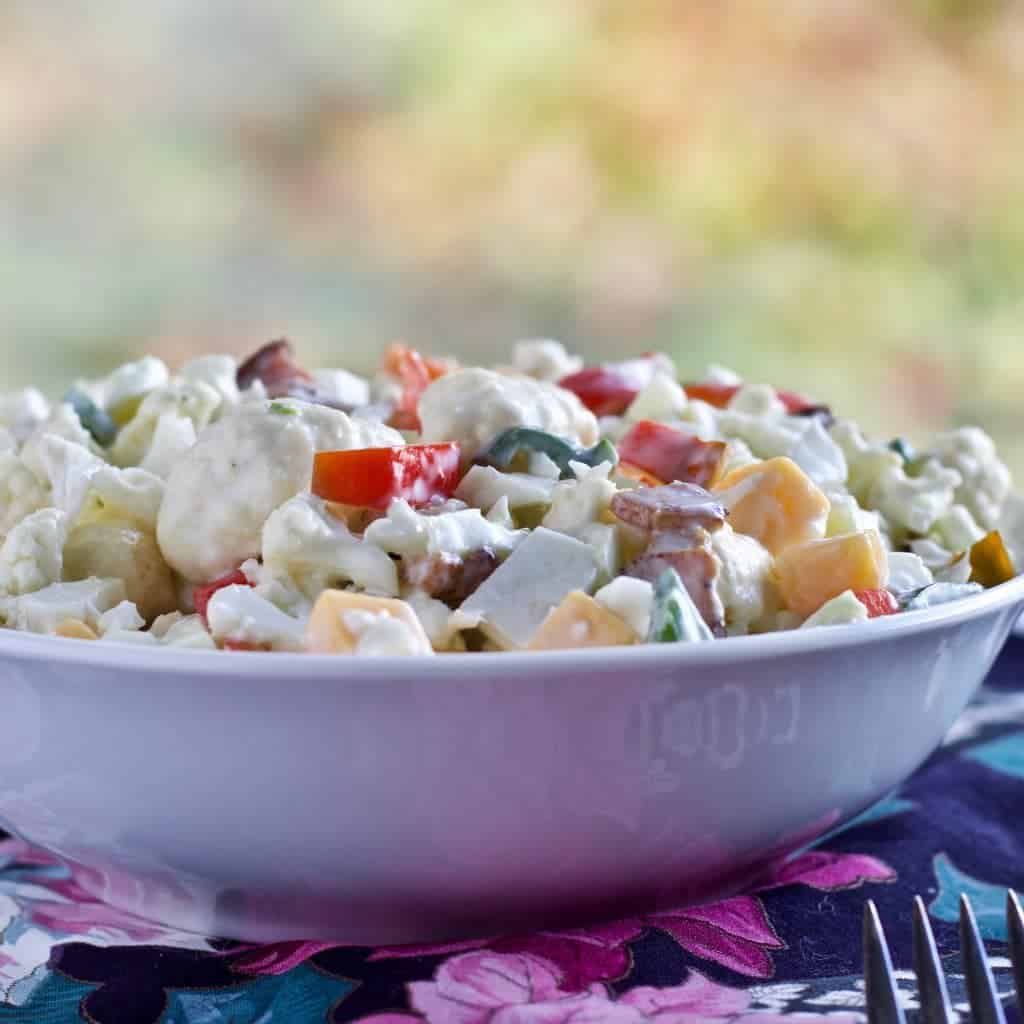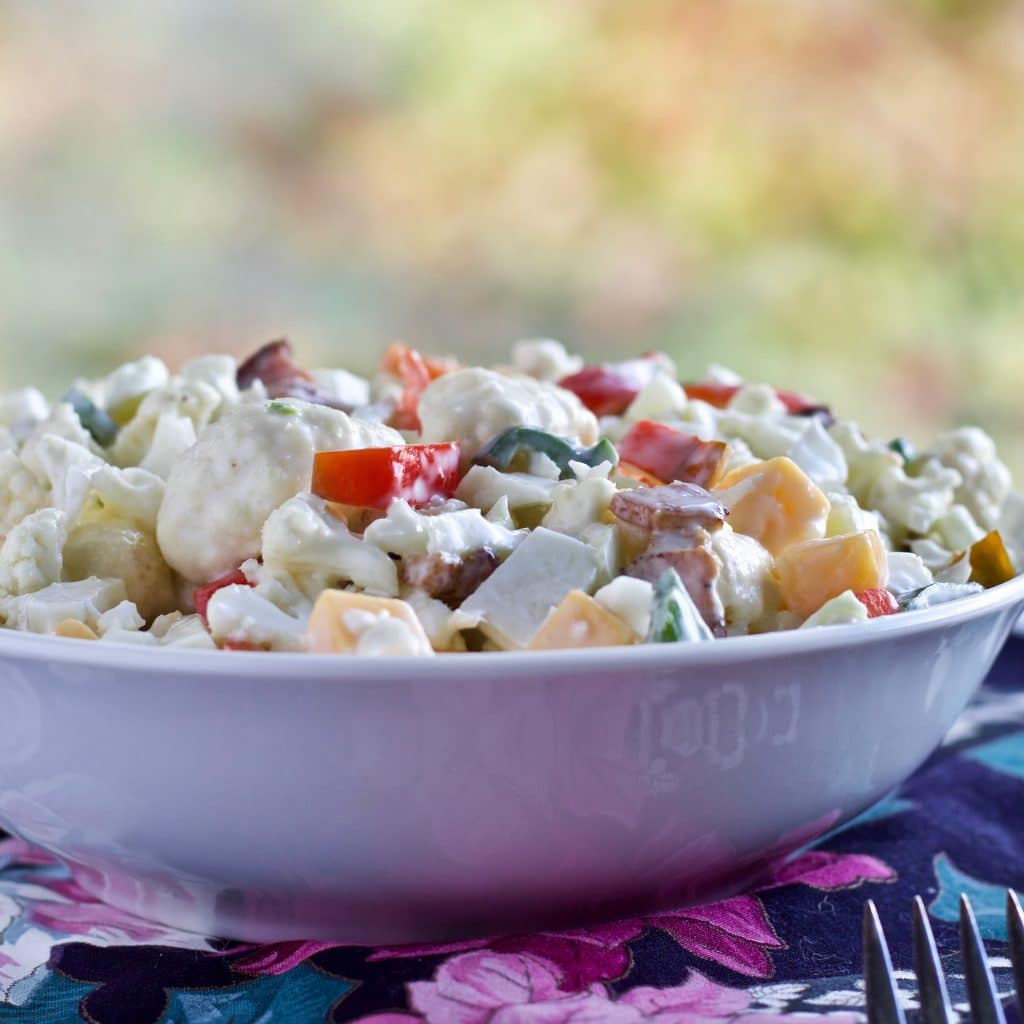 Tips For This Recipe:
This is an easy cauliflower salad to put together once you have all the chopping done. TIP: You can use your food processor for some or all of the chopping and dicing needed for this yummy side dish. Just be careful not to make the pieces too small.
Use the best quality organic ingredients for maximum nutrition and flavor.
Choose peppers that reflect your heat tolerance. Sweet bell peppers add no heat to the salad but do add crunchiness. For more spicy flavor use a number two roasting pepper(or hotter). Be sure to take the seeds and pith out of the peppers to reduce the spice.
Make or purchase a high quality avocado mayonnaise. This ensure healthy fats in this salad.
Let this marinated cauliflower salad chill with the dressing at least an hour in the fridge to marriage all the yummy flavors.
Serve it chilled and don't let this salad sit out more than 30 minutes or so to keep it food safe.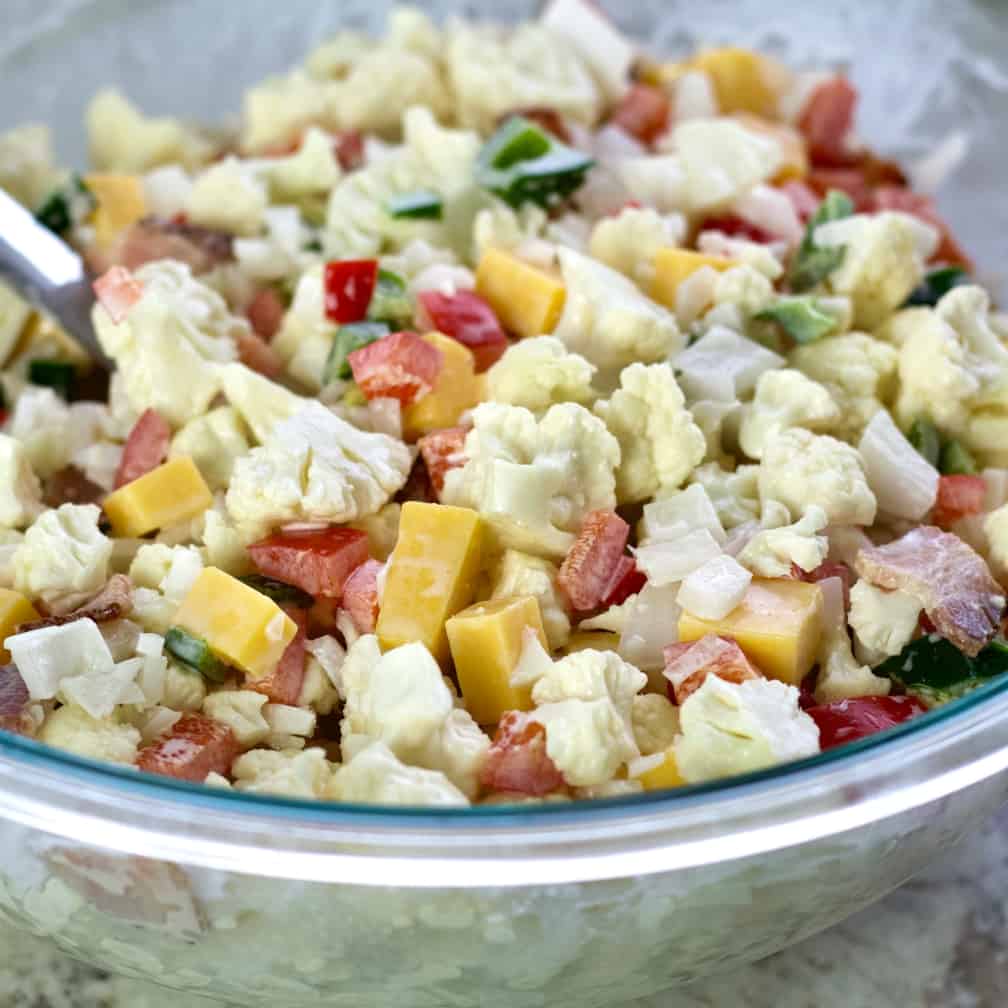 Assembling This Cauliflower Salad:
Cut bacon into 1/2 inch pieces and fry in a large frying pan until thoroughly cooked. Set aside on a paper towel to drain until needed.
Cut the cauliflower head into small bite size florets.
In a large bowl combine the cauliflower with the peppers, onion, prepared bacon and cubed cheese.
In a small bowl whisk the mayonnaise, sugar and vinegar until smooth.
Pour over the salad and mix thoroughly.
Chill an hour, then serve.
Your Printable Recipe Card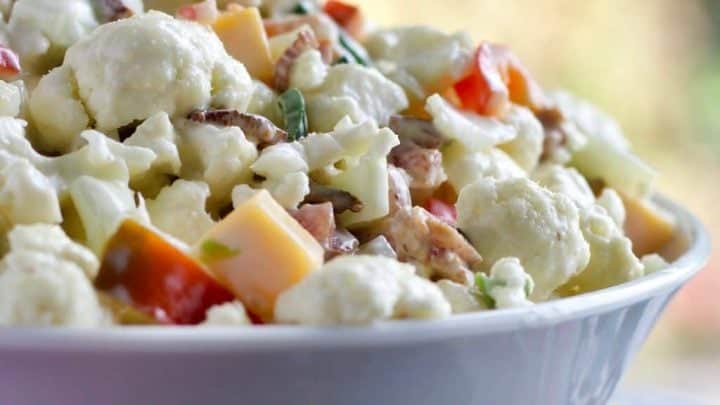 Yield:

12
Cauliflower Pepper Salad Recipe
Total Time:
1 hour
20 minutes
A crunchy low carb salad full of healthy vegetables. The creamy sweet tangy dressing provides a lovely flavor compliment to the cheddar cheese and bacon.
Ingredients
Salad:
1 Large head Cauliflower
1/2 lbs bacon, fried medium to crispy
2 pasilla or med sweet red peppers, diced (we are using Krimson Lee Peppers)
1 medium walla walla onion, diced
1 Cup cheddar cheese diced
Dressing:
1 Cup mayonnaise or miracle whip
2 tablespoons sugar, or maple syrup to taste
3 tablespoons apple cider vinegar, I use braggs brand. Excellent
Instructions
Gather Your Ingredients: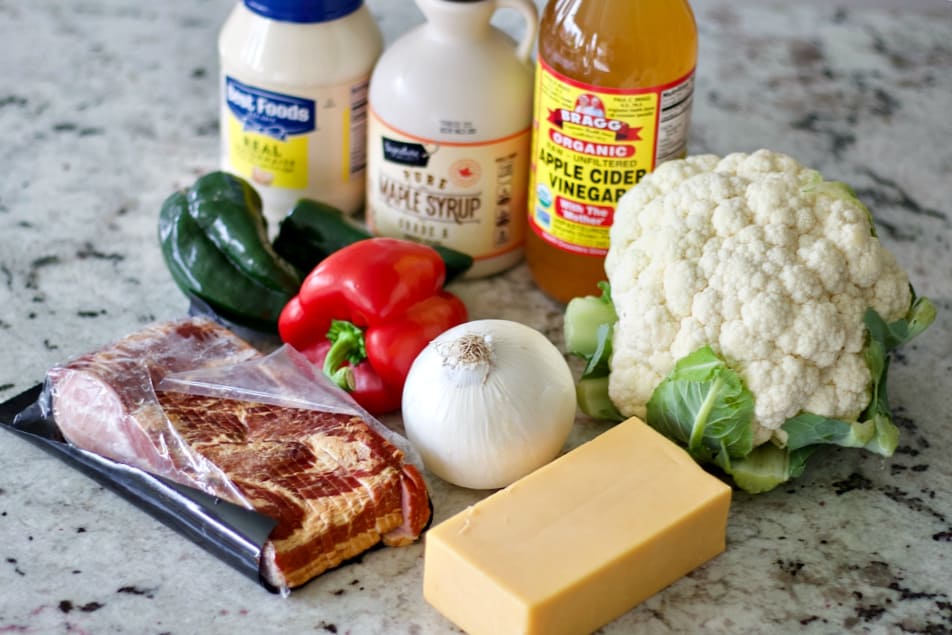 The Salad:
Cut bacon into 1/2 inch pieces and fry in a large frying pan until thoroughly cooked.
Drain on a paper towel until needed
Chop the peppers into bite sized pieces.
Chop the onion into fine pieces.c
Cut the cheese into small cubes.
Cut the cauliflower head into small bite size pieces cutting the florets tops off and breaking into small pieces. The remainder of the cauliflower dice into small pieces.
Put the cauliflower into a large mixing bowl, with the peppers, onion, bacon and cheese.
The Dressing:
In a small bowl whisk the mayonnaise, sugar and vinegar until smooth.
Pour over the salad and mix thoroughly.
Mix the dressing completely into the salad ingredients and chill for an hour or more.
Serve cold.
Notes
This salad is ready in under a half hour but also needs to cool down in the fridge for an hour to set the flavors and get a good chill.
Nutrition Information
Yield
12
Serving Size
1
Amount Per Serving
Calories

292
Total Fat

24g
Saturated Fat

6g
Trans Fat

0g
Unsaturated Fat

17g
Cholesterol

37mg
Sodium

596mg
Carbohydrates

9g
Fiber

2g
Sugar

6g
Protein

11g
More Delicious Salad Recipes: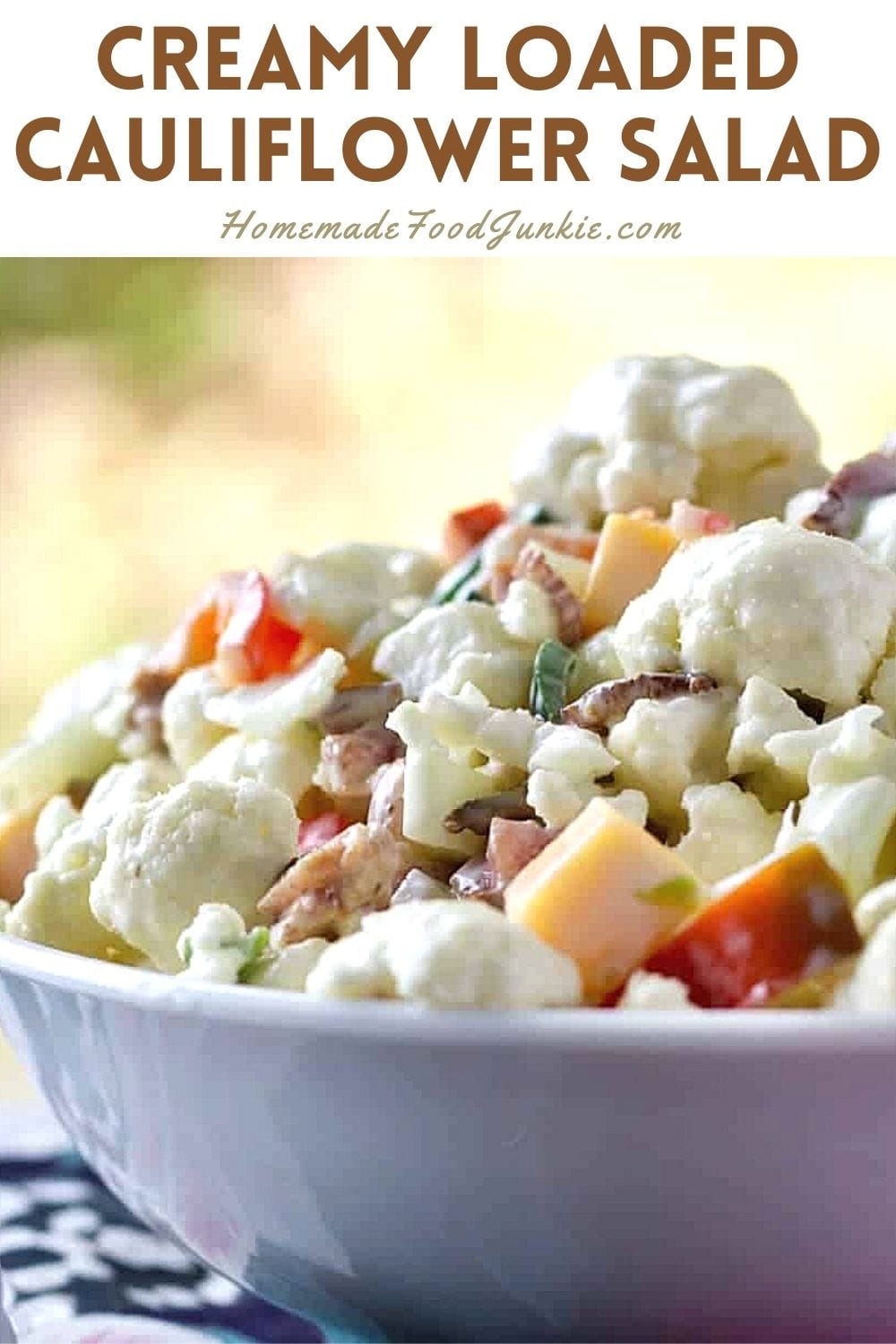 Recipe Source: tasteofhome.com