This delicious Kale Apple salad is dressed with a delicious honey vinaigrette. Pops of feta cheese and cranberries laced throughout add tangy flavor. This wonderful salad is Low-Sodium and Gluten-Free.
The time has come to gather all the produce from the garden and start making delicious side dishes and salads with it!  I'm a closet salad lover. For all of the cupcakes and delicious casseroles I make; I really do enjoy a nice crunchy salad that's bursting with flavor.
I had my gallbladder taken out a few years ago after it went south on me while I was in the military. Ever since my surgery, I have a really hard time digesting foods with a higher fat content or foods that are at all greasy.
I often have times I need to cut back to the basic food groups and eat clean for a while. This salad is just the ticket for clean eating! It's very filling, light and healthy!
You can make this salad any way you would like. It's a versatile recipe with easy to change around ingredients. I like apples, pecans, kale, and cranberries, so I kept all of those lovely ingredients.
When I make it in the future I might try adding a bit of pear to it as well! The vinaigrette dressing is awesome! It's a light, sweet dressing that pairs beautifully with the kale and the other ingredients.
[tweetthis hidden_urls="pic.twitter.com/9o1IUGYwLK"]Delicious Kale salad dressed with delicious honey vinaigrette! #glutenfree #salad [/tweetthis]
Our Spring Garden Berry Salad , Spinach,avocado,bacon and Feta  salad and Fall Garden Salad are also show stopping green salads full of nutritious ingredients to fill out your meal plan.
We love comments here at Homemade Food Junkie. Feel free to share your experience with this recipe in the comments below. We enjoy the inspiration and of your experience with our recipes. And we are always here to help and talk about new versions or tips you want to explore. Thank you for joining our Homemade Food Junkie community.
Kale Apple Salad Recipe:
This salad is so nutritious! Gluten free and full of fantastic antioxidants, vitamins and minerals! Enjoy!
Kale Apple Salad with Honey Dressing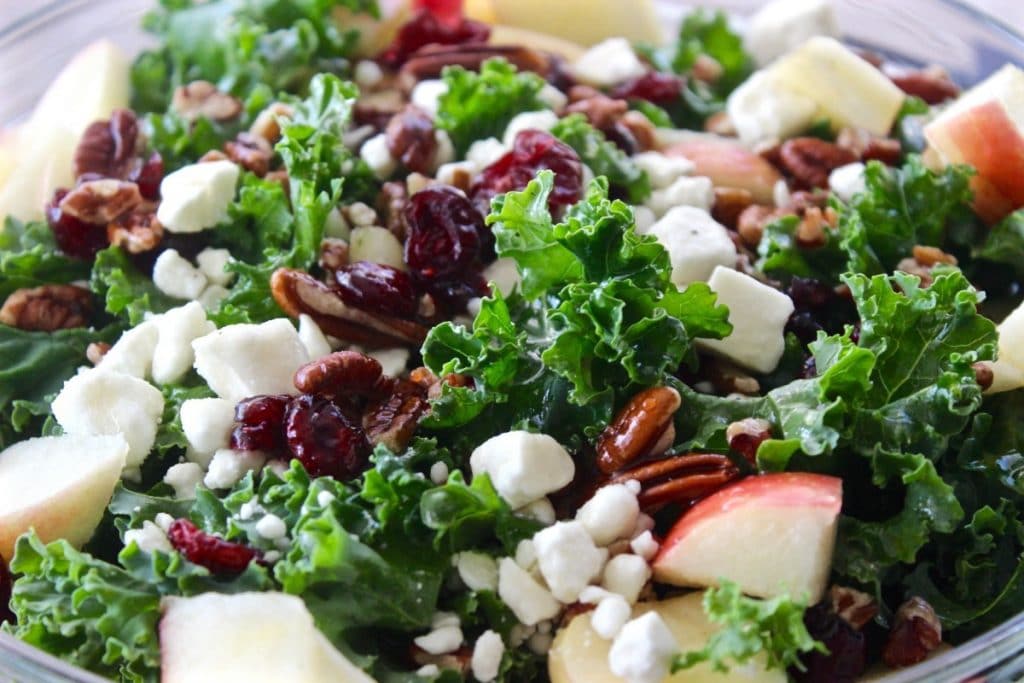 Ingredients
5 cups chopped kale
2 small diced apples
1/4 cup cranberries (dried)
1/4 cup chopped pecans
1/4 cup feta cheese
Dressing:
4 tbsp honey
4 tbsp olive oil
2 tbsp apple cider vinegar
1/8 tsp salt
1/8 tsp pepper
Instructions
Wash all ingredients and chop the kale and the apples.
Place the kale in the bottom of a bowl followed by the rest of the ingredients.
Whisk together the dressing ingredients and pour them over the top of the salad.
Refrigerate after serving and enjoy!
Homemade Food Junkie Kale Apple Salad is Featured in Cosmopolitan Magazine Best Salads For Fall Slide Show
Recipe adapted from: Jessica in the Kitchen