This crisp Kale Apple Salad features feta cheese, dried cranberries, pecans and crisp apples chunks. It is topped with a Sweet Honey Vinaigrette that balances out the bold flavors and finishes the salad with a silky smooth dressing that everyone raves about.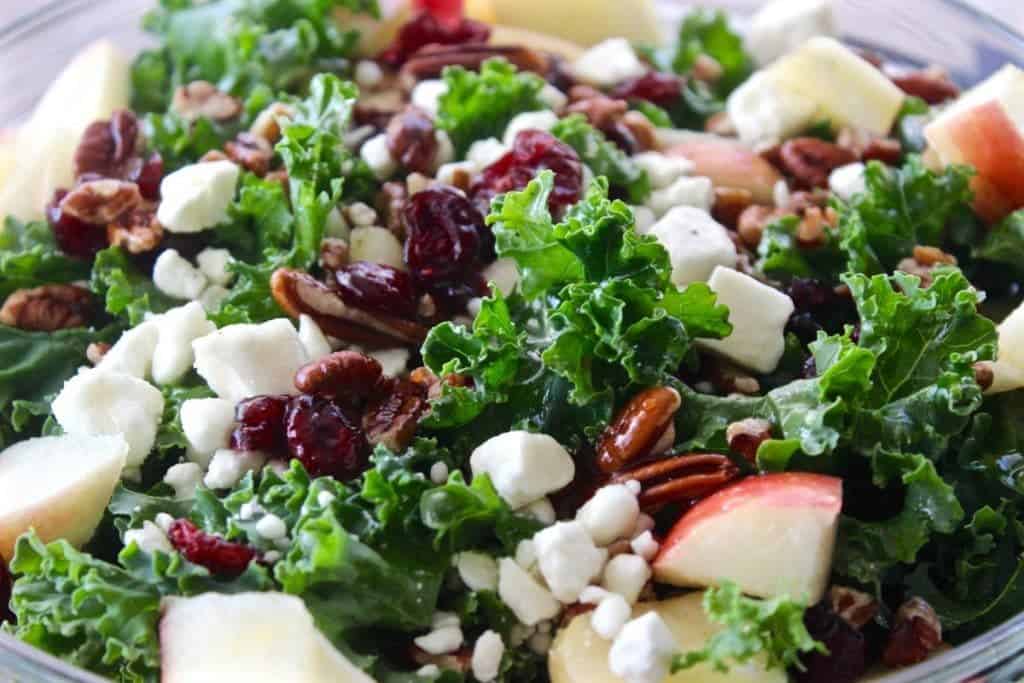 When it is harvest time we are always busy whipping up a variety of recipes that feature our fresh produce. Some of our favorites include Butternut Soups, Pumpkin Pies and Fall Garden Kale Salads. This scratch made Creamy Balsamic Dressing is also a delicious dressing for this salad.
Kale is one of the staple vegetables that can be found in the family garden, so we always have an abundance of this cruciferous green to add to smoothies, salads, pasta dinners and soups. Kale is loaded with antioxidants and high in vitamins A and C as well as folate.
How do you reduce the bitterness of kale?
It's true that kale has a strong flavor and does present fairly bitter when eaten plain and raw, however there are lots of tips and techniques you can use to make it more palatable. The stem of the kale leaves is the most bitter part of the plant, so removing the leaves from the stem will help cut down on the bitter taste tremendously.
Eating it in a salad with other ingredients that have strong flavors is also a great idea. The cranberries, feta cheese and apple that we include in our salad can hold their own next to the kale greens. The sweet vinaigrette also mellows out the strong flavor that kale brings.
Do you have to massage Kale?
Massaging the kale leaves will help soften the otherwise strong texture, and make it more palatable to eat. It is also believed to help the leaves release their bitter compounds and improve the flavor.
Once you remove the leaves from the stem gently rub them in small bunches in your hands. Be gentle with the leaves and cautious not to overdo it, otherwise you risk the leaves breaking down and becoming wilted.
KALE APPLE SALAD WITH HONEY DRESSING RECIPE
This Kale Apple Salad with our Honey Vinaigrette is the perfect side dish. It also makes a delightful light meal on its own. It is very filling, nutritious and fiber rich. By making your own dressing you are cutting down on unnecessary sugars, low quality oils and preservatives that fill the store bought dressings.
Apples, pecans, kale, and cranberries go well together. Pears would also make a scrumptious substitute for the apples, and the pecans can of course be swapped out for any choice of nut you prefer. The feta cheese adds a tasty depth of flavor and a good dose of healthy fats.
You can easily tone down the sweetness of the vinaigrette by using less honey if you find it to be too much.
Be sure to massage the kale leaves before cutting them into salad bite sized pieces.
Remove tough kale leaf from the ribs by cutting along side the ribs or stripping the leaves off with your fingers.
Sprinkle the leaves with a bit of kosher salt, olive oil, vinegar or lemon juice to cut the bitterness of the leaves even more.
Massage only one or two whole leaves one at a time.
Gently massage the kale between your fingers until you feel the leaf start to soften.
Massage the leaves until you like the softened texture being careful not to over do it or the leaves will become wilted.
What other foods can I eat with Kale?
Kale is a very nutritious and versatile green that can be enjoyed raw, boiled, baked, and blended in smoothies. We are sharing some more ideas for how to enjoy kale in a salad or light side dish that is easy to prepare and super tasty.
Quinoa and orzo make great side dishes with kale
Avocado
Mixed nuts and seeds like pumpkin, pine nuts and peanuts
Cheeses like parmesan, feta and sharp cheddar
Crispy chopped bacon or diced ham
Diced squash butternut or acorn
Chicken salads caramelized onions and brussel sprouts
Mexican street corn and kale salad
Fresh berry salad with kale and feta
Kale, cabbage and carrot pad thai salad
Yield:

10 servings
Kale Apple Salad with Honey Dressing
This delicious Kale Apple salad is dressed with a tasty sweet honey vinaigrette. Pops of feta cheese and cranberries laced throughout add tangy flavor. This healthy salad is Low-Sodium and Gluten-Free.
Ingredients
5 cups chopped kale
2 small diced apples
1/4 cup cranberries, dried
1/4 cup chopped pecans
1/4 cup feta cheese
Dressing:
4 tbsp honey
4 tbsp olive oil
2 tbsp apple cider vinegar
1/8 tsp salt
1/8 tsp pepper
Instructions
Before you begin, massage the kale leaves if you want them softer.
Place the kale in the bottom of a bowl followed by the rest of the ingredients.
Whisk together the dressing ingredients and pour them over the top of the salad.
Refrigerate after serving and enjoy!
Notes
Kale message is a process used to soften the kale.
We usually eat our raw kale leaves just as they come out of the garden. EXCEPT we pull the leafy part off the kale ribs. The ribs are tough and VERY chewy. The leaves are springy and resilient.
If you prefer to have a softer leaf in your salad you may massage the kale. This is done after you remove the leaf off the ribs of the kale. The process takes about 3 to 5 minutes.
Put the kale leaf in a bowl with a bit of oil.
Now dig in with your hands. Pick up the leaves gently between your thumbs and fingers.
Gently massage the kale between your finger until you feel the leaf start to soften.
Your kale is massaged as much as you want to continue this process.
Nutrition Information
Yield
10
Serving Size
1 cup
Amount Per Serving
Calories

149
Total Fat

9g
Saturated Fat

2g
Trans Fat

0g
Unsaturated Fat

7g
Cholesterol

3mg
Sodium

78mg
Carbohydrates

19g
Fiber

3g
Sugar

14g
Protein

2g
Follow Us:
We enjoy meeting you on our social networks. Follow us on Facebook, Pinterest, Instagram . Tag us with your pictures of our recipes and comment on how it went for you. We would love to see what you do with them.
We often like, comment and share your posts of our recipes on our daily Instagram stories.
Ask questions and rate the recipe in the comments section below. Please share what you did with this recipe. We are always looking for more and better ways to make homemade food. Other cooks love your ideas!
Recent Posts: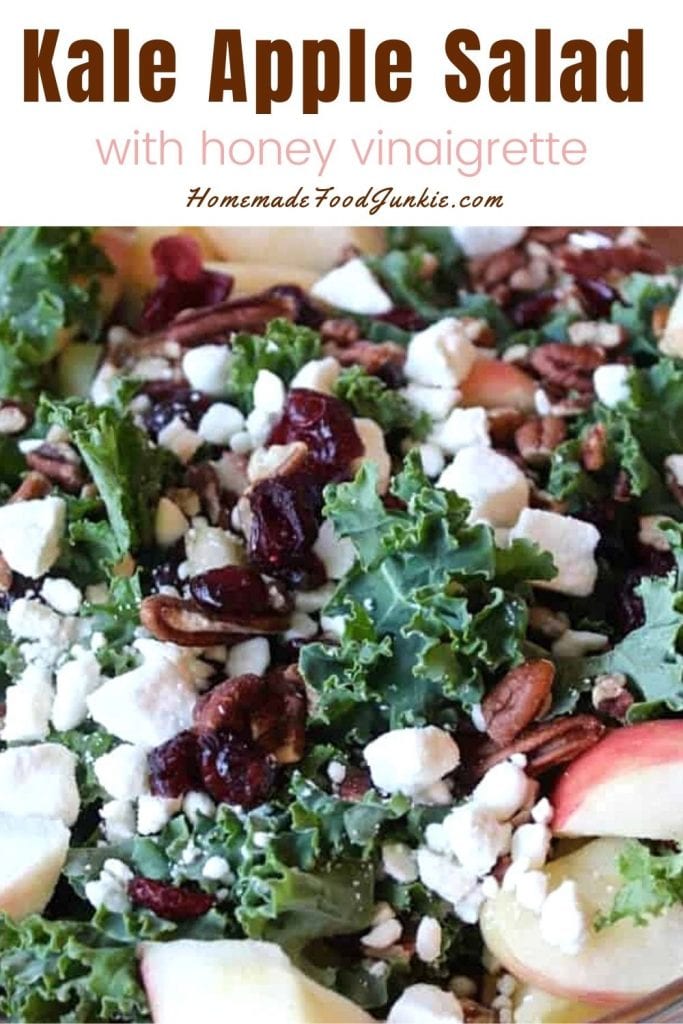 Homemade Food Junkie Kale Apple Salad is Featured in Cosmopolitan Magazine Best Salads For Fall SlideShow
Recipe adapted from: Jessica in the Kitchen