This Creamy Balsamic Salad Dressing is refreshing and tangy with a bit of sweet. Similar to a honey dijon dressing, it is gluten free when made as directed. Perfect for all kinds of salads or as a light dipping sauce for your fresh vegetables, it is versatile and sure to become a favorite.
Reader Testimony: Erica says "This dressing is so delicious! I've made similar dressings using mayonnaise. Your recipe tastes better and is healthier…win, win! Thank you."
While rummaging about in old recipe books I found this treasure. It came from my mother-in-law ages and ages ago. She makes the most fantastic salads with nutritious add-ins like walnuts, feta cheese, dried cranberries, even fresh mandarins. Balsamic Dressings make the perfect finisher to cruciferous meals as they are light and creamy with a bright flavor.
Watch our video demonstration for how to whip up this delicious dressing
Is Balsamic Dressing healthy?
Anytime you can make your own salad dressing it is always the optimal choice over reaching for a store bought brand. Balsamic dressings are known to be light and low on calories, but even the creamier ones like the one we are making are far better for your health than processed dressings or vinaigrettes.
Store bought salad dressings are often times filled with low quality oils, added sugars, preservatives, gums and chemicals for added flavor and color preservation and emulsification. By making your own you control exactly what goes into your dressing, and avoid the extras that harm our overall health.
This article by Harvard Health discusses the health problems bottled salad dressings can cause.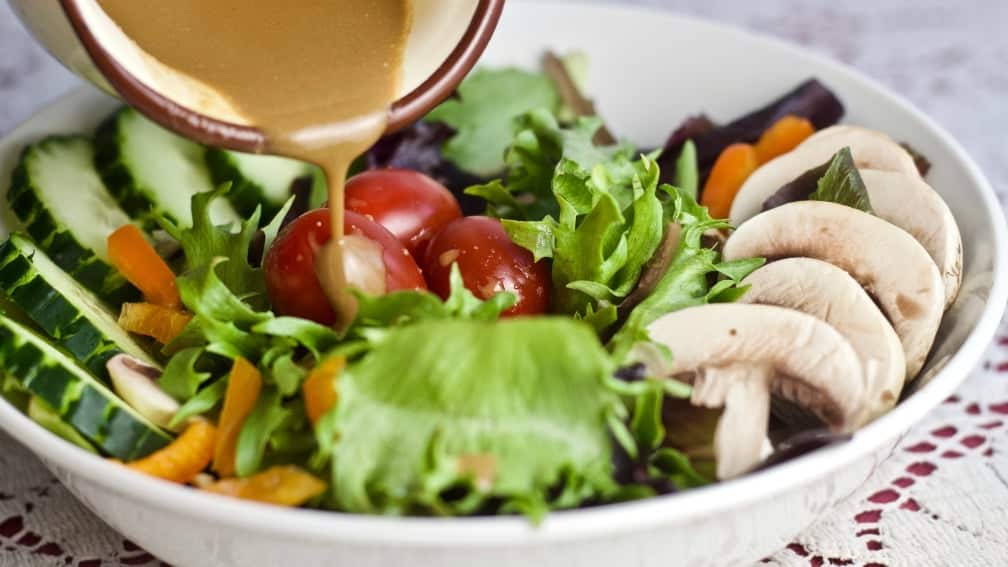 You have gone to the trouble to make a beautiful salad full of delicious nutrients and flavors. Enhance those lovely flavors with a beautifully healthy, tasty salad dressing.
What is a Balsamic Dressing made of?
Creamy Balsamic Dressing brings the palates satisfaction way up from a simple oil and vinegar dressing. By including a good quality olive oil and some rich yogurt, you give the dressing richness and body. The dijon mustard brings extra tang and a depth of flavor, while raw honey mellows out the acidity of the mustard and vinegar, while bringing a pleasant sweetness to compliment the fresh greens.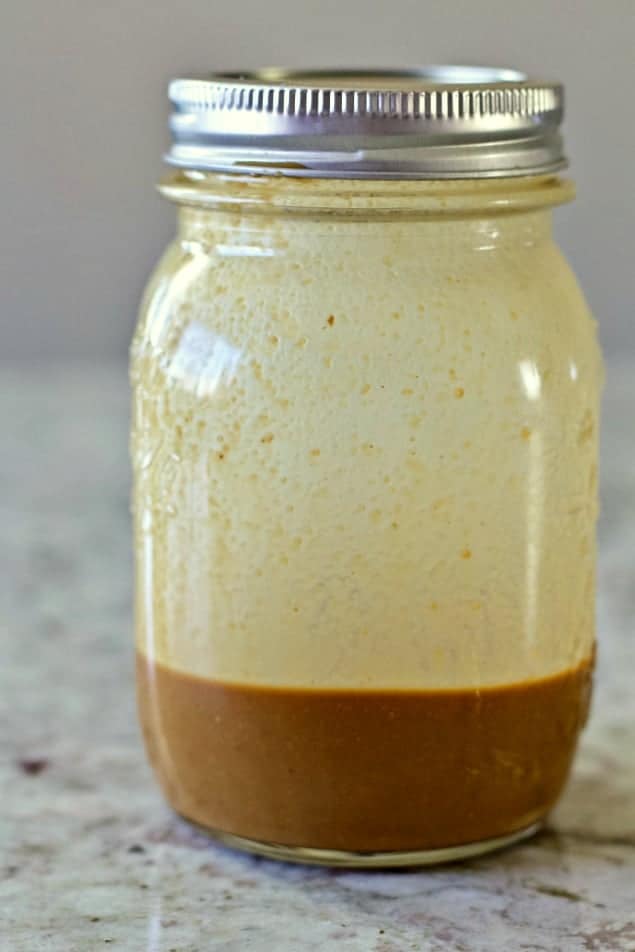 If you are looking to make your own healthy foods, check out our Homemade Greek Yogurt and Homemade Avocado Mayonnaise. These are both easy to make, very healthy, and cost effective.
Both greek yogurt and mayo are often used as bases for healthy salad dressings, so it makes sense to have these on hand. The best part is they taste fantastic and add so much as condiments to any meal.
What makes this salad dressing special is it is low calorie, with a bold, satisfying flavor. You don't need a lot of it to brighten a salad, and the honey-dijon combo is so good together.
Does homemade Balsamic Dressing need to be refrigerated?
Because the balsamic vinegar is dark and acidic, heat and light will be a problem for the shelf life and flavor integrity of this dressing. Because of the yogurt, this dressing will need to be refrigerated to avoid spoiling.
When refrigerated, balsamic dressings can be stored for up to two weeks. When ready to use, shake it well to mix the ingredients into a creamy, pourable consistency once again.
Looking for more salads and dressings?
Creamy Balsamic Salad Dressing
This

Creamy Balsamic Salad Dressing stores in the fridge. After some time in the fridge it will get a bit thick and need whisking or gentle shaking so it will pour satisfactorily.

This recipe makes about 1/2 cup of dressing. You can easily double the recipe if you need more.
This dressing has a bold flavor, so be mindful not to overdo the amount on your salad.
Pour this dressing over your green salad at serving for best results. This is an acid based dressing which means it will break down the leaf structure of your greens and can create a limp salad if not eaten after the dressing is poured on.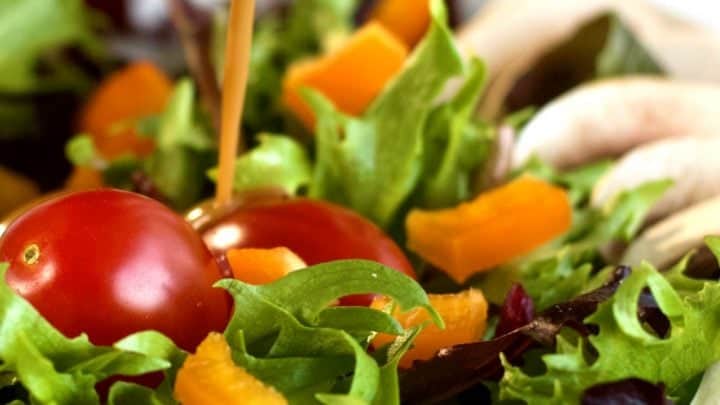 Yield:

8 servings
Creamy Balsamic Salad Dressing
A Refreshing, tangy homemade salad dressing with a bit of sweet. This dressing makes a flavorful, healthy, gluten free addition to your green salad.
Ingredients
1/4 C balsamic vinegar
1 tablespoon Tamari (Kikkoman brand is gluten free)
1 1/2 tablespoon Dijon Mustard
1 1/2 tablespoon honey
3 tablespoons yogurt
1/2 tablespoon olive oil.
Instructions
Whisk all the ingredients together in a glass bowl or salad dressing shaker bottle.
Refrigerate several hours covered to blend flavors and thicken.
Pour into a Curafe at serving.
Notes
This salad dressing stores well in the fridge, covered, up to a week.
Recommended Products
As an Amazon Associate and member of other affiliate programs, I earn from qualifying purchases.
Nutrition Information
Yield
8
Serving Size
1 Tablespoons
Amount Per Serving
Calories

28
Total Fat

1.1g
Saturated Fat

0.2g
Sodium

151mg
Carbohydrates

4g
Fiber

0.1g
Sugar

3.7g
Protein

0.6g
Follow Us:
We enjoy meeting you on our social networks. Follow us on Facebook, Pinterest, Instagram . Tag us with your pictures of our recipes and comment on how it went for you. We would love to see what you do with them.
We often like, comment and share your posts of our recipes on our daily Instagram stories.
Ask questions and rate the recipe in the comments section below. Please share what you did with this recipe. We are always looking for more and better ways to make homemade food. Other cooks love your ideas!
Recent Posts: