Healthy Homemade Mayonnaise is ridiculously easy to make and takes less than five minutes in your food processor. Avocado Oil and other healthy natural ingredients make this a must have condiment recipe.
This homemade mayonnaise is a great option for our Creamy egg salad, Smoky Potato Salad, Chicken Mornay Casserole or any other recipe you need Mayo for. Your family will benefit from the ingredients in this recipe. Nd it's very fast and easy to put together in your food processor.
In this healthy homemade mayonnaise recipe, avocado oil replaces other oils. Why? Because avodaco oil is amazingly good for you and your family. There are LOTS of great reasons to use avocado oil if you have cholesterol issues and even if you don't! At the bottom of this page I have linked an article from authority nutrition on the health benefits of avocado oil. It's worth the read!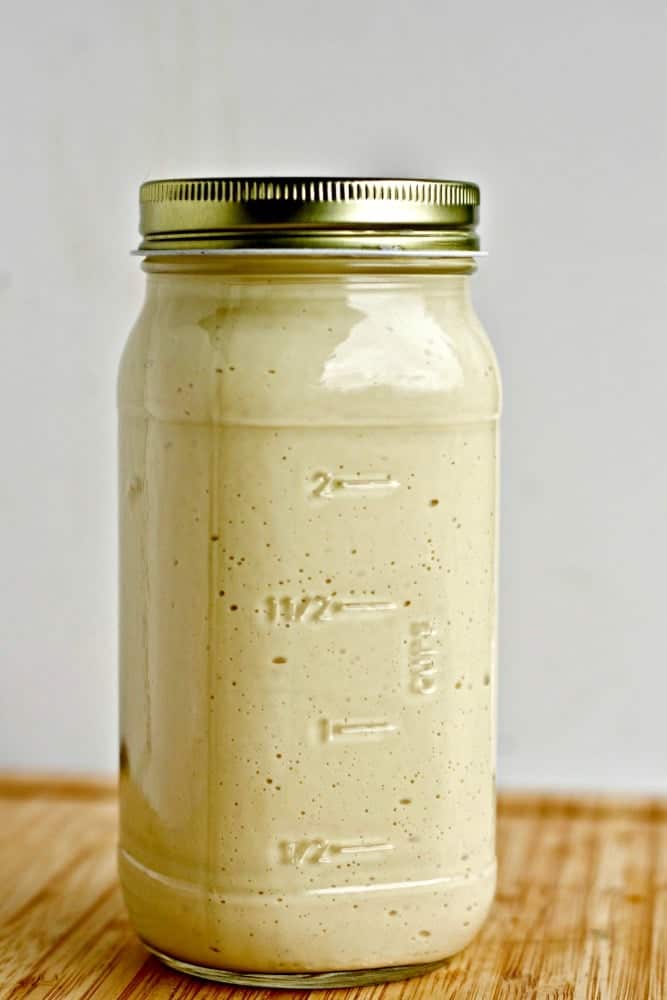 This is a basic mayonnaise recipe that can be varied easily in many ways. Add your favorite herbs and seasonings to adjust the flavor to your liking. I would advise you stay away from overusing the salt shaker and sugar bowl, however.
I added a bit of balsamic vinegar and a TOUCH of salt and My mayo fan ate it right up on his ham and cheese sandwich and told me he loves this mayo. And he's not the only one, in fact, we all enjoy this homemade mayonnaise recipe and I'm pretty sure your family will too.
This old American Favorite condiment moves up the healthy food scale quite a bit when avocado oil is used instead of regular vegetable oil.
Three Healthy reasons to choose Avocado oil:
Avocado oil is rich in Oleic acids which is considered heart healthy lowering both blood pressure and bad cholesterol.
Avocado also helps the body absorb certain nutrients in vegetables. That is an EXCELLENT reason to make your mayo with avocado. This recipe will benefit the body's ability to absorb the nutrients of recipes it's used in.
Avocado works well in all sorts of recipes, even high heat recipes. So this Healthy mayonnaise with Avocado oil has a very high smoke point which means it's going to retain all of its nutritional benefits in grilled foods(think marinades),skillet recipes and baked foods like our Garden Harvest pie.
Add the health benefits of avocado oil and the other ingredients in this simple recipe for an easy to make food processor mayonnaise ready to use in under five minutes. That's including digging out the short list of necessary ingredients.
Healthy Homemade Mayonnaise Recipe with Avocado Oil:
amzn_assoc_placement = "adunit0";amzn_assoc_search_bar = "true";amzn_assoc_tracking_id = "homefoodjunk-20";amzn_assoc_ad_mode = "manual";amzn_assoc_ad_type = "smart";amzn_assoc_marketplace = "amazon";amzn_assoc_region = "US";amzn_assoc_title = "My Amazon Picks";
amzn_assoc_linkid = "9a915181c02e3317e74658ff68003209";
amzn_assoc_asins = "B06XDW2RCL,B00GSXFKYY,B00L9WK26A,B004G7UE9K";
TIPS for Avocado oil Mayonnaise:
Safely store this mayo in your fridge in an airtight container for 2 weeks. This recipe makes about two cups mayonnaise and a little bit more. It fit just right into a pint jar all the way to the lid. This Mayonnaise can be used right away but will set up more firmly after several hours in the fridge.
The dijon mustard is a VERY important flavor component for this recipe. Don't substitute!
I made this recipe in my food processor and it worked wonderfully well. I have tried making homemade mayonnaise in a blender in the past with poor results .FYI, I don't recommend a blender for this recipe.
ALSO, I'm not kidding about using the narrow cup and pouring the oil through it's teeny pour hole. This is a critical step. You must pour a tiny amount of oil in at a time or it won't set up. (I think this is the other reason my blender recipes never worked).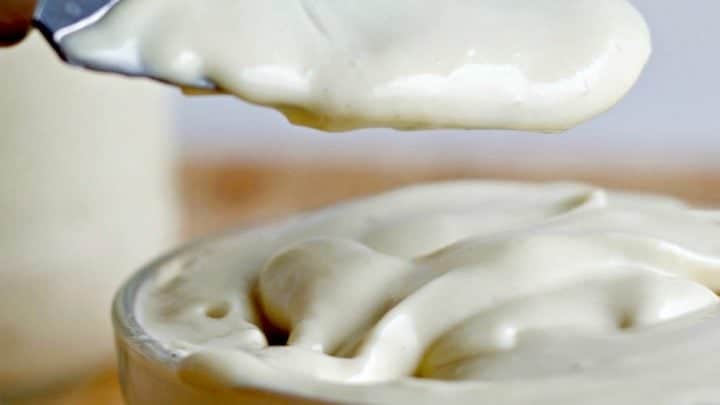 Yield:

64 servings
Healthy Homemade Mayonnaise Recipe
A beautifully simple, flavorful and healthy homemade mayonnaise you can make in just a few minutes in your food processor.
Ingredients
2 eggs
2 Tablespoons Dijon Mustard
2 Tablespoons Vinegar (wine or balsamic) or lemon juice
21/2 Cups Avocado oil
1/4 tsp. salt
Instructions
Insert your metal blade into the work bowl of your food processor.
Break the eggs into the work bowl and add the vinegar, mustard and 1 Tablespoon of the oil.
Put the lid on and Turn on the food processor for one minute.
Pour 1/4 cup of oil into the narrow cup so it drizzles through the teeny center hole in the narrow food tube.
Now gradually add the remaining oil. The may will thicken as you add the remaining oil.
Adjust the taste according to your use with whatever herbs and spices you prefer.
Nutrition Information
Yield
64
Serving Size
1 Tablespoon
Amount Per Serving
Calories

74
Total Fat

8.7g
Carbohydrates

0g
Protein

.2g
Pin it:
Healthline.com has a great article on the health benefits of avocado oil