Chicken Mornay is a delicious low-carb dinner made with chicken and broccoli in a scrumptious mornay sauce for a comforting meal that everyone loves.
Watch our tutorial for making this delicious Cheesy Chicken Mornay
It takes a bit of time to chop up a fresh head of broccoli, so use pre-chopped flowerets if you are needing to speed things along.
You can also use frozen organic broccoli florets, just be sure to thaw the broccoli before you layer it in this casserole or your oven time will have to be increased.
What is Mornay Sauce made of?
Think of a Mornay Sauce as a cheesy bechamel, which is one of the most famous French sauces that is used in a wide variety of meals. Mornay sauce is made with a base of flour, egg, milk, and butter; but then has cheese melted in creating a sumptuous sauce that rich creamy and delicious.
Traditionally, mornay sauces have a mix of parmesan and gruyere cheeses melted in. We used what was on hand which was a delicious cheddar.
Mornay sauce is the formal French name, but most of use know this form of sauce as Alfredo.
How to make a healthier Chicken Mornay
You can skip the rotisserie chicken and use fresh chicken breast to reduce the sodium and added chemicals. For this recipe you will need about 1.5 pounds of boneless skinless chicken breasts. You will need to pre cook them in a skillet.
You can also boil your chicken and shred it. Cooked chicken is a snap to shred if you place it in a large bowl and use your hand mixer to break apart the meat.
Use this Healthy Homemade Mayonnaise Recipe. This mayo is a delicious homemade recipe you can make in about three minutes. It uses avocado oil which is a much healthier oil than what you will find in store bought mayonnaise.
Finally, you can make you own Chicken Bone Broth. During that process you can shred chicken and either use if for this meal, or freeze it for later.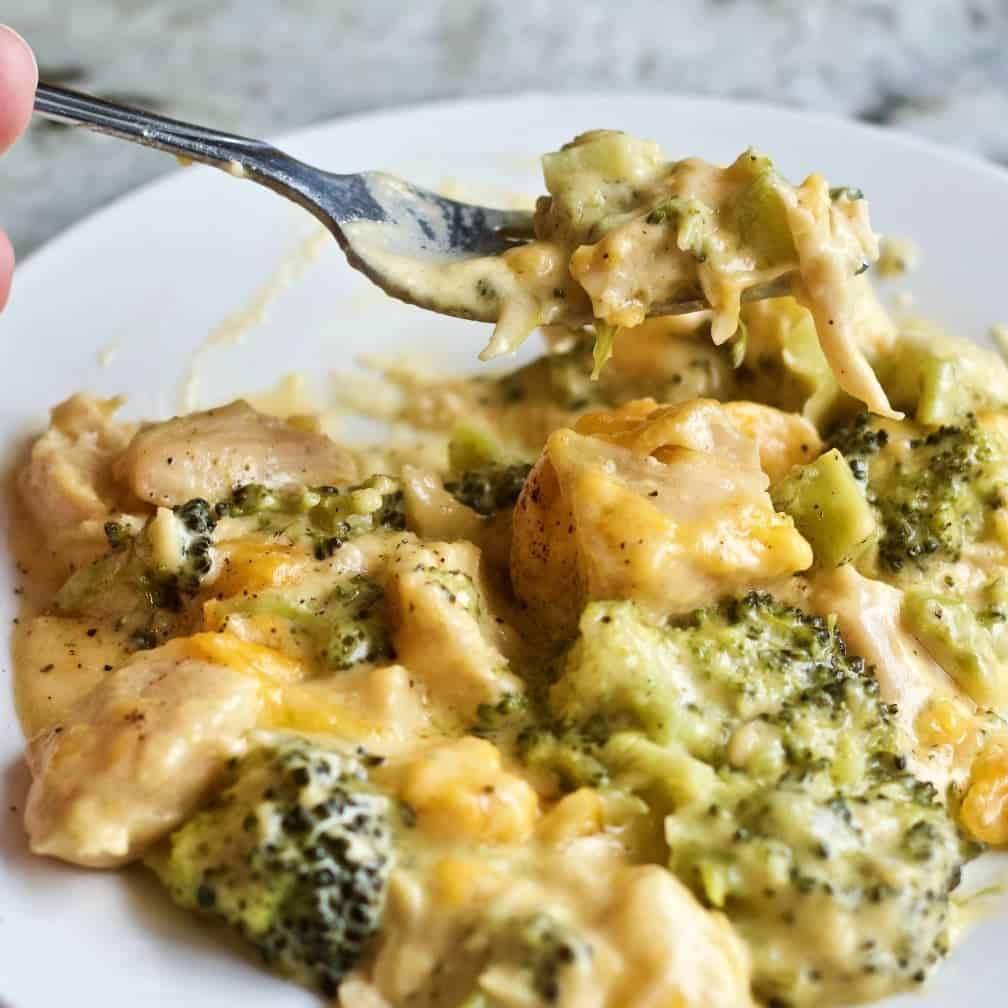 Chicken Mornay Casserole Printable Recipe Card:
Yield:

12-1 Cup Servings
Chicken Mornay Casserole Recipe
Total Time:
1 hour
15 minutes
A Cheesy chicken Mornay Casserole bursting with broccoli goodness. Chicken Mornay is a delicious low-carb dinner. This casserole is a healthier version of chicken comfort food.
Ingredients
1/2 Cup evaporated milk
2/3 cup mayonnaise
2 Tablespoons butter
1/8 cup flour
1 tsp. nutmeg, (optional)
2 12.5 oz. cans cooked chicken-undrained, OR 2 Cups pulled rotisserie Chicken
3 cups grated cheddar cheese, to taste
2 lbs fresh or frozen broccoli
Instructions
Preheat oven to 350 degrees
Grease a 9x13 casserole
Shred the cheese and set aside
Steam the broccoli until tender. Set aside
Open the cans of chicken and reserve 1 cup of the chicken broth
For the sauce:
Melt 2 tablespoons butter in a two quart sauce pan on medium high.
As it starts to bubble whisk in the flour and as it thickens quickly pour in the chicken broth and whisk in the mayonnaise.
Stir until the sauce thickens slightly and add in the milk.
Add 1 cup shredded cheese and nutmeg.
Continue to cook at a low boil whisking constantly until the sauce is thickened. Remove from heat.(sauce will thicken more as it cools).
Casserole Assembly:
Layer the broccoli in the bottom of the casserole dish.
Pour 1/2 sauce and sprinkle 1 Cup of the cheese over the broccoli.
Layer all the chicken next.
Pour the rest of the sauce on the chicken and sprinkle remaining shredded cheese on top.
Bake about 30 minutes uncovered or until golden brown and bubbly.
Notes
You can use fresh chicken if you prefer. Cut boneless skinless chicken breasts into 1/2 Inch chunks. Pan fry chicken covered with a bit of oil over medium heat (while the broccoli steams) until done.
You will need an additional 1 Cup of chicken broth to make the Mornay sauce, or replace the chicken broth with water.
More Recipe TIPS:
Using canned chicken very convenient, fast and easy BUT it may add too much saltiness to the recipe for you. Choose a low sodium canned chicken.
OR
If you prefer to use raw chicken breasts you will need about 1 1/2 lbs. of skinless boneless chicken breasts. Chop them up into 1/2 inch pieces and precook in your skillet over medium heat.
You will also need to add a 1 cup of chicken broth and seasonings (1 tsp. of salt) to your taste to get the flavor.
With the canned chicken and cheese you won't need any extra salt in this recipe. Today I have one puny little chicken breast that needs using so I cut it up and pan fried it to just done before adding it in with a 12 oz. can of chicken for this recipe.
Use THIS Healthy Homemade Mayonnaise Recipe To improve the fats in this casserole. This mayo is REALLY flavorful, you can make it about three minutes and it uses avocado oil. WAY better than store bought.
This recipe is a snap when you use store bought rotisserie chicken meat. Most store deli's have it now. I buy mine most often from Costco Pulled rotisserie chicken meat.
Purchased shredded seasoned and cooked chicken adds a lot of flavor to recipes like this one. However, if you want to cut the salt in this chicken casserole, you can boil a chicken debone it and shred the meat.
Use your own seasoning and go light on the salt. Another thing I like to do is make chicken bone broth in my instant pot, in that process I can make shredded chicken and freeze it for later.
Nutrition Information
Yield
12
Serving Size
1
Amount Per Serving
Calories

400
Total Fat

29g
Saturated Fat

11g
Trans Fat

0g
Unsaturated Fat

16g
Cholesterol

110mg
Sodium

453mg
Carbohydrates

7g
Fiber

2g
Sugar

2g
Protein

28g
If your family loves chicken casseroles, here are some of our favorites
Follow Us:
We enjoy meeting you on our social networks. Follow us on Facebook, Pinterest, Instagram . Tag us with your pictures of our recipes and comment on how it went for you. We would love to see what you do with them.
We often like, comment and share your posts of our recipes on our daily Instagram stories.
Ask questions and rate the recipe in the comments section below. Please share what you did with this recipe. We are always looking for more and better ways to make homemade food. Other cooks love your ideas!
Recent Posts: