The layer of broccoli replaces the carbs of pasta, rice or other 'stick to your ribs' fillers with excellent results. A homemade sauce adds a level of customization and extra good flavor to this delicious recipe.
This chicken casserole recipe is really, really good. I can't imagine how it got so lost in my recipe collection. When I found it and made it again it was amazing! The family loved it too!
It takes a bit of time to chop up a fresh head of broccoli. Use pre-chopped flowerets from the store to hurry up the recipe a little. You can also use Frozen Organic Broccoli florets. But you need to thaw the broccoli before you layer it in this casserole or your oven time will have to be increased.
We like frozen broccoli in the off season and we ate all our broccoli fresh from our garden last year. There wasn't enough to freeze. You can also find fresh broccoli precut in bags at the store if you really hate chopping.
Making your own mornay sauce may sound scary but believe me it's not hard at all. Just whisk a few things in a pot over heat. Remove! Not so bad.
Chicken Mornay Recipe Notes:
TIPS:
Using canned chicken very convenient, fast and easy BUT it may add too much saltiness to the recipe for you. Choose a low sodium canned chicken
OR
If you prefer to use raw chicken breasts you will need about 1 1/2 lbs. of skinless boneless chicken breasts. Chop them up into 1/2 inch pieces and precook in your skillet over medium heat. You will also need to add a 1 cup of chicken broth and seasonings (1 tsp. of salt) to your taste to get the flavor.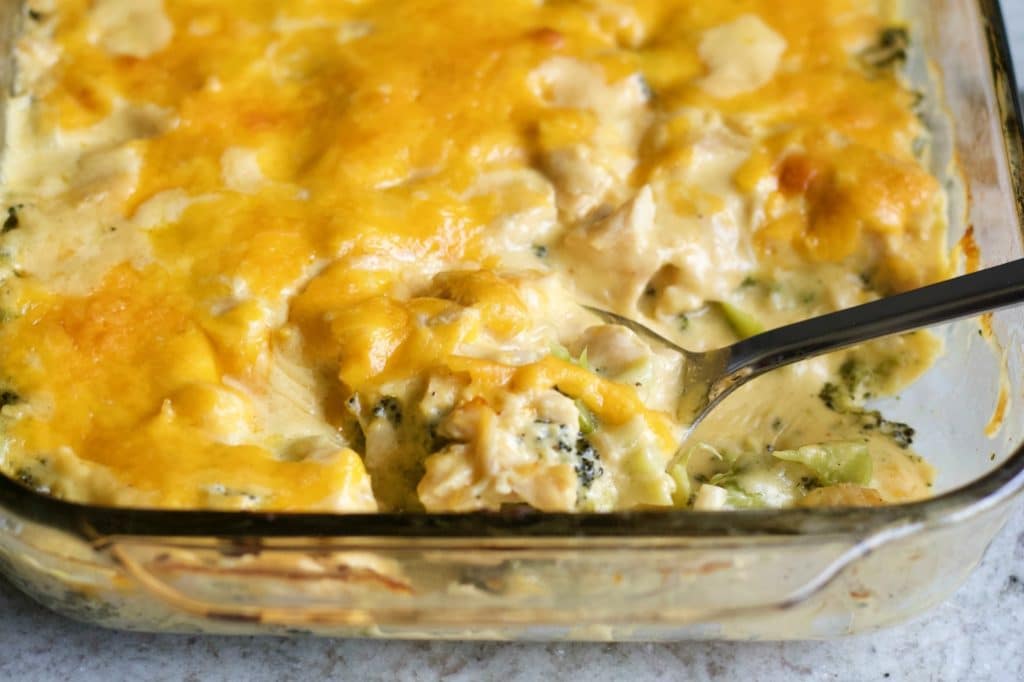 With the canned chicken and cheese you won't need any extra salt in this recipe. Today I have one puny little chicken breast that needs using so I cut it up and pan fried it to just done before adding it in with a 12 oz. can of chicken for this recipe. I am always looking for ways to use up my small extras in casseroles. That's what casseroles are for.
Use THIS Healthy Homemade Mayonnaise Recipe To improve the fats in this casserole. This mayo is REALLY flavorful, you can make it about three minutes and it uses avocado oil! WAY better than store bought.
ALSO a new development in the grocery world is a perfect match for this recipe. I love using pulled rotisserie chicken meat for recipes like this one. It's already seasoned and ready to chop up. Keep it Easy: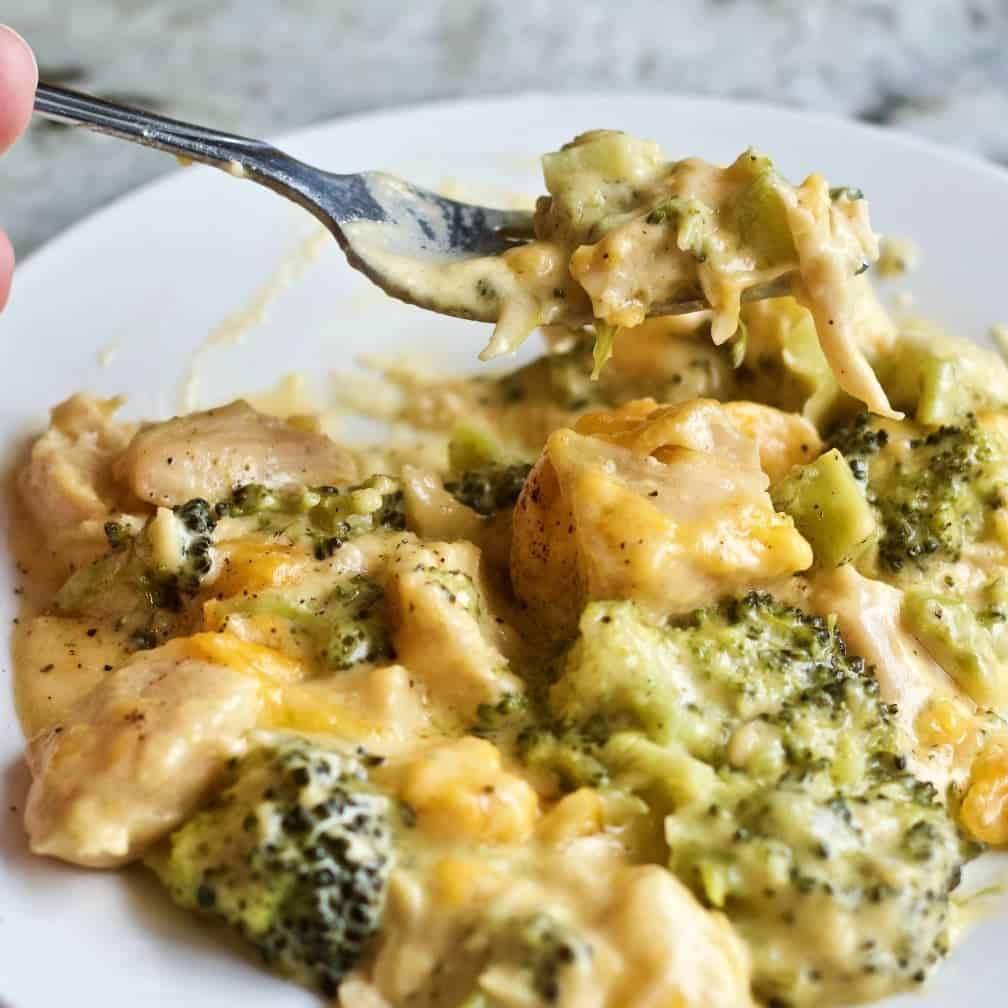 Chicken Mornay is a cheesy chicken casserole bursting with broccoli goodness. A delicious low-carb dinner. Enjoy!
Chicken Mornay Nutritional Information:
12- 1 Cup Servings
316 Calories/ serving
Fat 24 grams
Carbs 8 grams
Protein 15 grams
Here is the Printable:
Yield:

12 1 Cup Servings
Chicken Mornay Casserole Recipe
Total Time:
1 hour
15 minutes
A Cheesy chicken Mornay Casserole bursting with broccoli goodness.  Chicken Mornay is a delicious low-carb dinner. This casserole is a healthier version of chicken comfort food.
Ingredients
1/2 Cup evaporated milk
2/3 cup mayonnaise
2 Tablespoons butter
1/8 cup flour
1 tsp. nutmeg, (optional)
2 12.5 oz. cans cooked chicken-undrained, OR 2 Cups pulled rotisserie Chicken
3 cups grated cheddar cheese, to taste
2 lbs fresh or frozen broccoli
Instructions
Preheat oven to 350 degrees
Grease a 9x13 casserole
Shred the cheese and set aside
Steam the broccoli until tender. Set aside
Open the cans of chicken and reserve 1 cup of the chicken broth
For the sauce:
Melt 2 tablespoons butter in a two quart sauce pan on medium high.
As it starts to bubble whisk in the flour and as it thickens quickly pour in the chicken broth and whisk in the mayonnaise.
Stir until the sauce thickens slightly and add in the milk.
Add 1 cup shredded cheese and nutmeg.
Continue to cook at a low boil whisking constantly until the sauce is thickened. Remove from heat.(sauce will thicken more as it cools).
Casserole Assembly:
Layer the broccoli in the bottom of the casserole dish.
Pour 1/2 sauce and sprinkle 1 Cup of the cheese over the broccoli.
Layer all the chicken next.
Pour the rest of the sauce on the chicken and sprinkle remaining shredded cheese on top.
Bake about 30 minutes uncovered or until golden brown and bubbly.
Notes
You can use fresh chicken if you prefer. Cut boneless skinless chicken breasts into 1/2 Inch chunks. Pan fry chicken covered with a bit of oil over medium heat (while the broccoli steams) until done.
You will need an additional 1 Cup of chicken broth to make the Mornay sauce, or replace the chicken broth with water.
Nutrition Information

Amount Per Serving

Calories

316

Pin it this recipe and share it with your friends on social media. Comment and rate this recipe. We all want to know how it went for you! Thanks and have a great day.

A Cheesy chicken casserole bursting with broccoli goodness. Chicken Mornay is a delicious low-carb dinner. An oldie but goodie chicken casserole out of my recipe box. This casserole is a quick N easy, Healthy version of chicken comfort food.