Our Chicken Enchilada Casserole is delicious and easy to make. This recipe includes two different assembly methods. You can either fill and roll the tortillas or layer it lasagna style.
Try using our Homemade Enchilada Sauce. There is really nothing like the versatility and customizing you can do with homemade sauces. The flavor is richer and always makes a noticeable difference.
Watch our video tutorial for how to make these delicious Enchiladas two ways
How do you make really good Chicken Enchilada?
Fresh, good quality ingredients is key when making a pan of delicious Chicken Enchiladas. Homemade enchilada sauce is easy to make and will make a huge difference in the flavor quality and richness of the spices.
High quality melting cheese is important for enchiladas. Look for a blend of Mexican cheeses. The top four choices include Monterey Jack, Cheddar, Asadero, and Queso.
Should I bake Enchiladas covered or uncovered?
Enchiladas are typically baked covered in foil until heated through, and then finished uncovered to allow the cheese to fully melt and brown slightly.
What do you serve with Enchiladas?
Enchiladas are a fantastic Mexican style main dish that are well loved and wonderfully versatile. Here is a list of our favorite ideas for sides and snacks to enjoy with this meal.
Chicken Enchilada Casserole Recipe
You are going to love how versatile and easy this recipe is.
You can make it with raw chicken meat cooked and shredded or pick up a pack of packaged pre-shredded rotisserie chicken meat at your grocery deli.
Do you want an even heartier all in one pan dinner? Add in a can or black beans, black olives or kernel corn. Need the carbs lower? Use low carb tortillas.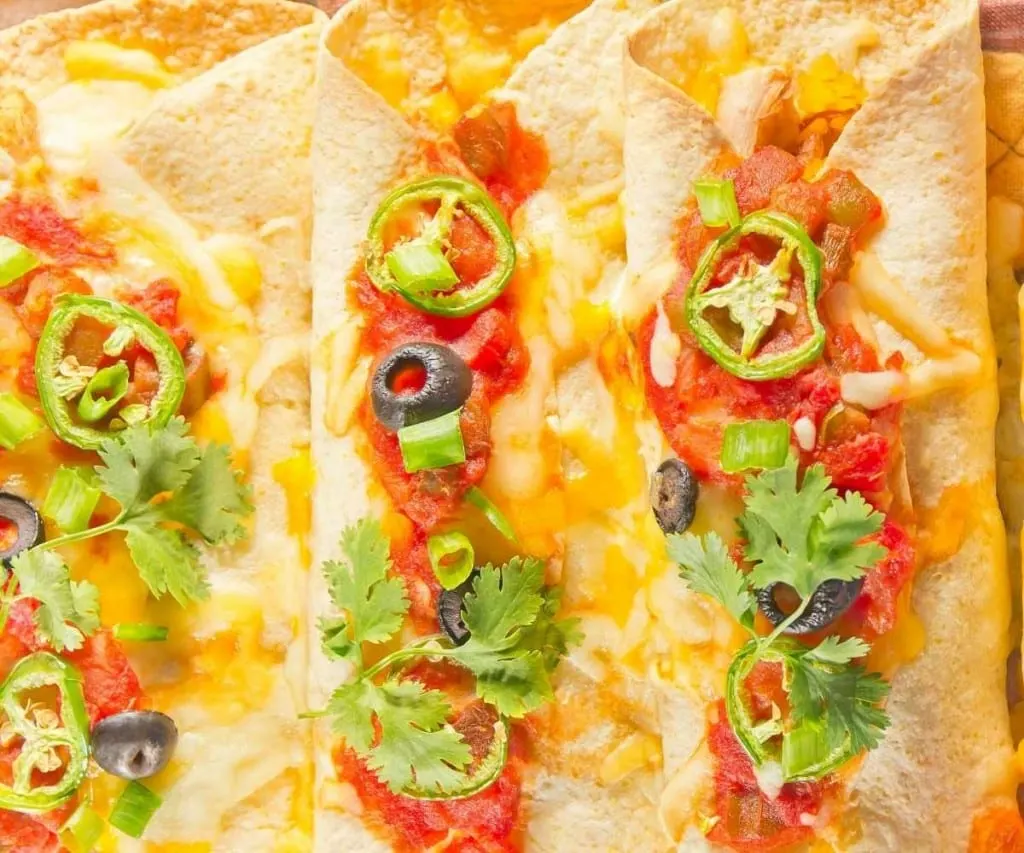 Traditional Enchilada Assembly
We assembled these Enchiladas in the traditional rolled style for a classic feel. We topped with fresh cilantro and jalapenos for added flavor and a bit of spice.
Lasagna Style Assembly
This assembly style creates a 9 x 13 pan of this hearty filling and delicious Mexican dinner. More of a scoop and serve meal with all of the scrumptious flavors of Chicken Enchiladas.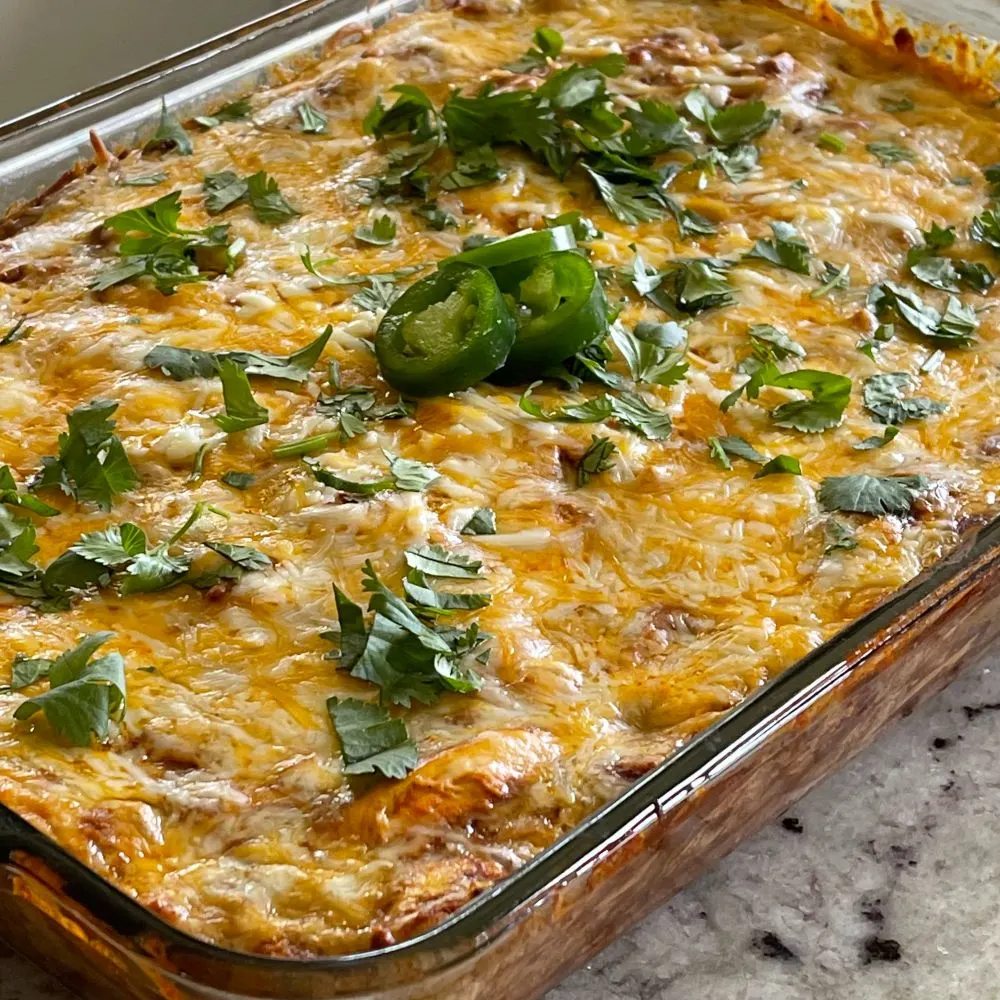 Your Printable Recipe Card
If you print out the recipe the pictures will not print. This is to save you paper and ink.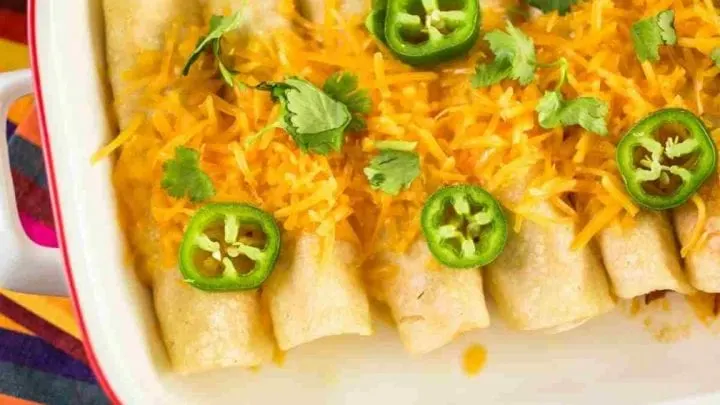 Yield:

12 servings
Chicken Enchilada Casserole
Additional Time:
10 minutes
Chicken enchilada casserole with homemade enchilada sauce. This meal is delicious and easy. This recipe uses healthful, fresh ingredients. Recipe links to make it entirely from scratch.
Ingredients
12 tortillas (Size to fit your pan-either flour or corn)
4 Cups chicken (cooked and shredded)
4 Cups cheese (grated finely)
3 Cups enchilada sauce ( 28 oz. Can is fine)
1/2 Cup onion, chopped
2 Tablespoons garlic, minced
for the Chicken Seasoning
2 tsp. chili powder
1 tsp. garlic powder
1 tsp. salt
1 tsp. cumin (or paprika, Not smoked)
2 Tablespoons water or chicken broth
1 Tablespoon black pepper
Instructions
Prep:
Preheat oven to 350 degrees
Lightly grease a 13x9 glass baking dish.
Mix together the chicken and seasoning in a large bowl reducing the chicken to small shreds completely covered in seasoning.
Add onion and garlic, 1 cup of enchilada sauce and half of the shredded cheddar cheese. Mix well.
Pour a thin layer of enchilada sauce (about 1/2 Cup) over the bottom of your oiled 13 x 9 casserole dish.

Rolled Tortilla Assembly Method:
Scoop large spoonfuls of chicken mixture into a flour tortilla. Here is our flour tortilla recipe, roll up and place in baking dish. Repeat until all mixture is used and baking dish is packed with prepared tortillas.
Pour the remaining enchilada sauce over the tortillas. NOTE: Use only the amount of sauce that works for you if presentation is important.
Sprinkle the remaining cheese on top of the sauce.As desired
Bake uncovered for 20 minutes. Check to see if cheese is melted and casserole is bubbling. If not, add another 10 minutes to the timer. If the cheese is brown, but the casserole is not done, cover with tinfoil for the last 10 minutes.
Remove from oven, let sit for about 5 minutes before serving.
Garnish the top with chopped fresh cilantro and peppers or olives as desired.
Serve with a dollop of sour cream, refried beans and rice if desired.

Mexican Lasagna Style Assembly Steps:
Cut your tortillas so they make a complete even layer in the bottom of the pan over the enchilada sauce.
Layer HALF the prepared chicken mixture over the tortillas.
Pour evenly 1 Cup of the remaining enchilada sauce over the chicken layer.
Layer tortillas over the enchilada sauce.
Repeat the chicken layer with all the remaining chicken mixture.
Pour the remaining enchilada sauce evenly over the top of chicken.
Top with remaining cheese (as desired) in an even layer.
Bake covered for 25 minutes.
Bake uncovered an additional 10 minutes to brown it.
Remove from oven and let sit 5 minutes while you garnish the top as desired.

Serving Suggestions:
Sour cream dolloped on top
Jalapeño peppers slices arranged on top.
Chopped chives or green onion tops.
Salas and chips on the side.
Refried beans and Mexican rice go well with this dinner.

Notes
You can use any size tortilla for the Mexican Lasagna assembly method. Just cut them to fit your pan.
Suggestions for add ins:

If you want to make this a one pan dinner here are some add ins that create a complete meal and increase the flavor structure.
black olives
14 oz. can kernel corn
14 oz can black beans

Nutrition Information
Yield
12
Serving Size
1
Amount Per Serving
Calories

401
Total Fat

20g
Saturated Fat

9g
Trans Fat

0g
Unsaturated Fat

9g
Cholesterol

62mg
Sodium

1148mg
Carbohydrates

34g
Fiber

3g
Sugar

3g
Protein

20g
HOMEMADE ENCHILADA SAUCE
For directions and a printable recipe for the enchilada sauce go here
Follow Us:
We enjoy meeting you on our social networks. Follow us on Facebook, Pinterest, Instagram . Tag us with your pictures of our recipes and comment on how it went for you. We would love to see what you do with them.
We often like, comment and share your posts of our recipes on our daily Instagram stories.
Ask questions and rate the recipe in the comments section below. Please share what you did with this recipe. We are always looking for more and better ways to make homemade food. Other cooks love your ideas!
Recent Posts:
casserole recipe adapted from Just A Pinch